Through the years, Apple has been constantly advancing iPhone privacy and security. Since the release of iOS 14.5, apps have asked users for permission to track their online activities. In addition, with the iOS 15 update, Apple added Private Relay, which masks your IP address. Despite these measures, it is essential to bolster security even further through VPNs when using an iPhone if you wish to retain full control over your data and digital identity.
With the ever-growing number of cyber threats, it's becoming increasingly important to use a Virtual Private Network (VPN) on your iPhone. A VPN helps secure your online communications and browsing data by encrypting it and routing it through a secure server. But with so many options out there, which one should you choose? We've done the hard work for you and rounded up the 10 best free VPNs for iPhones in 2023.
What is a VPN?
A VPN is an online security protocol that allows a user to access the internet with additional privacy and encryption. It can be used to ensure that a user's personal data remains secure while they browse the internet, or even when using a public Wi-Fi network. VPNs are especially useful for those who often perform sensitive tasks such as online banking or sending emails.
By setting up a connection through a secure server outside of their home or office, users add another layer of protection to their searches, activities, and personal information while they're online. An iPhone VPN offers users the comfort and convenience of digital privacy – wherever they go and on whatever device they use.
Why Do You Need a VPN for iPhone?
Here are the reasons why you need a VPN:
A VPN can help improve your online privacy and security.
It allows you to create a secure, encrypted connection to another network. This means that your data is protected from eavesdroppers and hackers.
A VPN can access blocked websites and content. This is useful if you are in a country where certain websites are censored, or if you want to access geo-restricted content such as Netflix or BBC iPlayer.
It hides your real IP address. This makes it more difficult for cybercriminals to target you with malware or phishing attacks.
You can use VPN to bypass firewalls and other internet restrictions. This is useful if you are trying to access the internet from a school or work network that has restrictive internet policies.
A VPN helps improve internet speed by routing traffic through a faster server. This is especially useful if you are located in a country with slow internet speeds.
You can install a VPN on your iPhone or iPad. There are many different VPN apps available on the App Store, so choose one that meets your needs.
Should You Trust Free VPNs for iPhone?
The value of a free VPN is determined by your requirements. To begin, a free VPN for iOS can only meet basic requirements because most free providers have very limited security suites. You may lose the ability to select a preferred server and location, or you may have a short and boring list of features that will not even allow you to circumvent geo-restrictions.
Second, free VPNs are constantly looking for ways to entice their users to subscribe to paid services. A free version is typically a commercial product designed to entice you to purchase a premium product. As a result, all of the limitations and constant reminders to upgrade your plan may cause you more anxiety than security.
Overall, a free VPN is more of a temporary solution for ensuring your online security and anonymity. Premium services, on the other hand, provide you with an unrestricted, unlimited, and secure browsing experience. They allow you to protect your identity even if your VPN connection is lost, block annoying ads, and access Netflix and other global streaming services.
While we usually recommend using a premium VPN, we understand that not everyone wants to pay a few dollars per month for a VPN service. Fortunately, there are several free VPN apps for iPhones. However, not all of these free iPhone VPN apps are trustworthy.
With so many untrustworthy free iOS VPNs available, it's difficult to find a good one. Many free VPNs record your data and sell it to third parties. Furthermore, some have insufficient security features, slow down your device, or drain your iPhone's battery. The worst part is that many of these untrustworthy free VPNs have 4+ star ratings in user reviews.
So to make it easier for you to choose, we listed down the best free VPNs for iPhone users. Read on to learn more.
Top Free VPNs for iPhone
Finding good free VPNs for iPhone can be challenging, so we did the research for you. All you need to do is choose from our list below to find one that works for you. Here's a summary of our list:
VPN
Pricing
Pros
Cons
ProtonVPN

Proton VPN Plus costs 4.99 €

per month

Offers free version

Unblocks streaming services such as Netflix.

Allows torrenting

User-friendly

Provides open-source applications

Money-back guarantee for 30 days

Premium pricing

Customer support response times can be slower

Hotspot Shield

Premium costs $12.99/month

Fast speed

Free of IP, DNS & WebRTC leaks

Paid app unlocks HBO, Hulu, DAZN, & torrenting

Large VPN server network

User-friendly VPN apps

No VPN kill switch

Doesn't work in China

Free app shares information with advertisers

Windscribe

$9/month

Free version with 10GB of data

Unlimited simultaneous connections

Unblock streaming sites

Supports torrenting

No DNS leaks

Highly configurable

Occasional speed issues

Few servers

WireGuard only on Android

Based in a 5-Eyes country

TunnelBear

$3.33/month

Unlimited simultaneous connections

Excellent privacy policies

Annual independent audits

User-friendly design

No multi-hop connections

Split tunneling unavailable on all platforms

Speedify

$5.99/month

Standard 256-bit military-grade encryption

Built-in kill switch

200 plus servers available across 30 countries.

Saved browsing activities, browsing histories, and connection logs

Slow connection

HMA

$4.99/month

Friendly, simple interface

Several server locations

IP shuffler

Fast speed

Monthly subscription not available in some locations

Unclear VPN server location

No multi-hop connections and split tunneling

Surfshark

$2.49/month

Unlimited simultaneous connections

Global servers

Multi-hop and split tunneling tools

Pricey

Unclear privacy policy

PrivateTunnel

$6/month

Malware blocker

7-day free trial

Consistent speed

Does not work with streaming sites

Does not work in China

No kill switch

Does not support torrenting

Logs some data

No dedicated privacy policy

OperaVPN

$4.99/month

Free Anonymous sign-up

AES-256 encryption

No data leaks

Unblocks Netflix US

Intrusive logging policy

Small server network

No VPN protocol

No kill switch

AtlasVPN

$10.99/month

Free version

Works with streaming sites

Fast speeds

Works in China

P2P allowed

Basic and lack app customization

Free version doesn't work for streaming

No browser extensions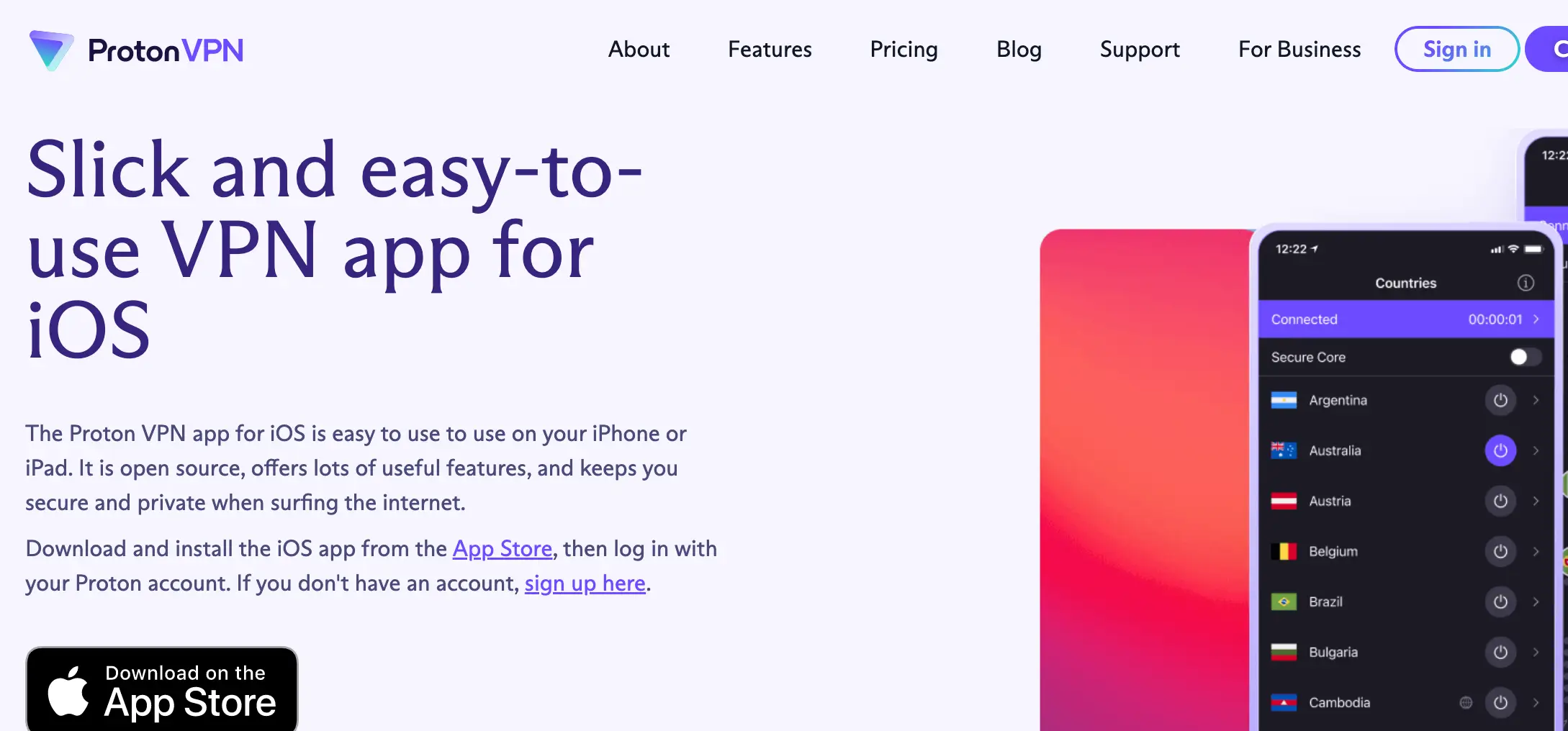 This is an excellent choice if you are looking for a reliable and secure VPN service that won't break the bank. It offers unlimited bandwidth, fast speeds, and no data caps or logs to worry about. Plus, it has servers located in over 50 countries around the world and can be used on up to 5 devices at once. Unlike other free iOS VPNs, ProtonVPN does not impose data limits, allowing you to easily encrypt all traffic at any time.
Despite the fact that there are only free servers in the three countries, these servers are well distributed to provide fast and reliable speeds. The ProtonVPN service is unique in that it allows you to use as much data as you want for free. If you need free VPN software that you can use at any time, this is your only option.
Hotspot Shield is one of the most popular free VPNs for iOS devices due to its fast speeds, strong encryption, and easy-to-use app interface. While there is a free version available, it is severely limited. It comes with a 7-day trial period and offers up to 500MB of data per day if you upgrade to its premium version.
You get a dark-themed iOS app that is easy to use. That's because all you get for free is the main window and the ability to select limited-speed servers. You must upgrade if you want to unlock the VPN's full potential.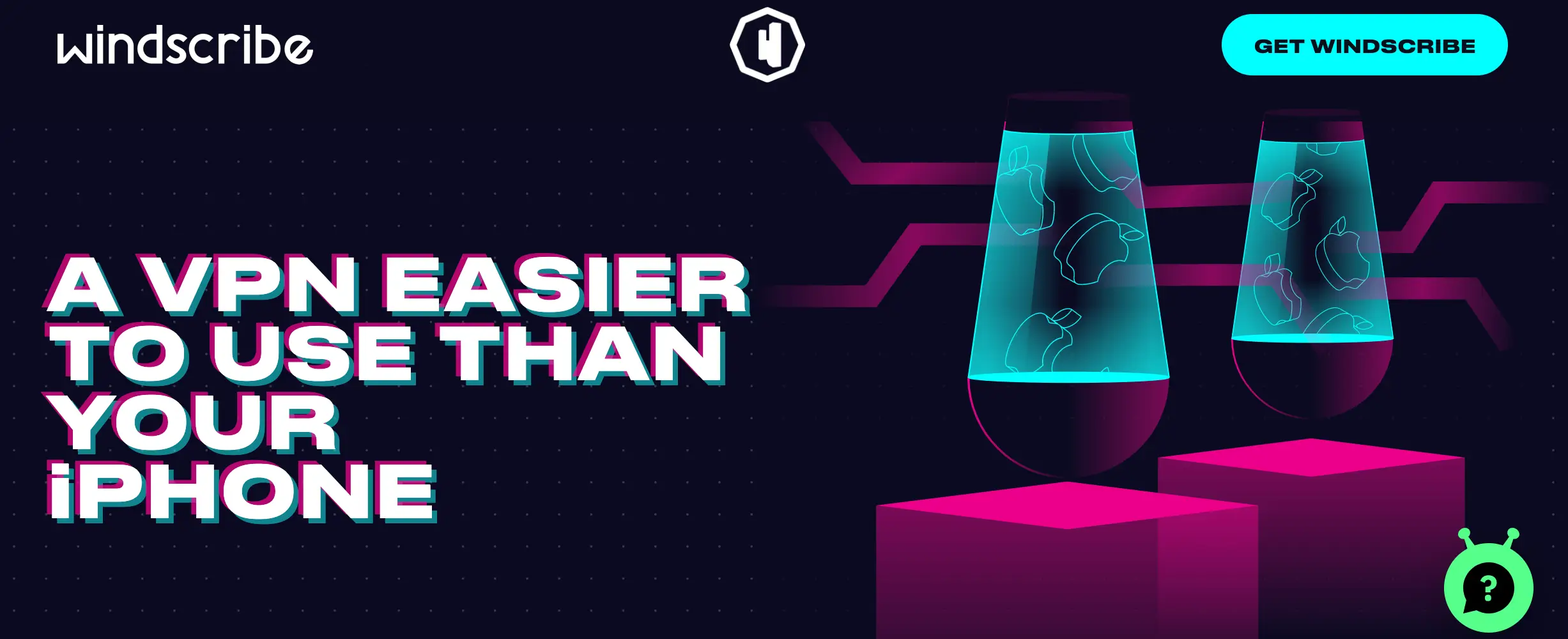 Windscribe is another great option if you are looking for a free and reliable VPN service that won't cost you any money upfront. It is the only secure free VPN that works with streaming apps like Netflix and comes with 10 GB of free monthly data. This VPN also has strong security and privacy features, as well as AES256 encryption and native apps for iPhones and iPads.
If you use all of the standard options, the Windscribe app for iOS is simple to use. To connect or disconnect from the VPN, press the large power button, and the application displays the location of the connected server as well as the new IP address. The iPhone app support for the Taptic Engine is also very nice.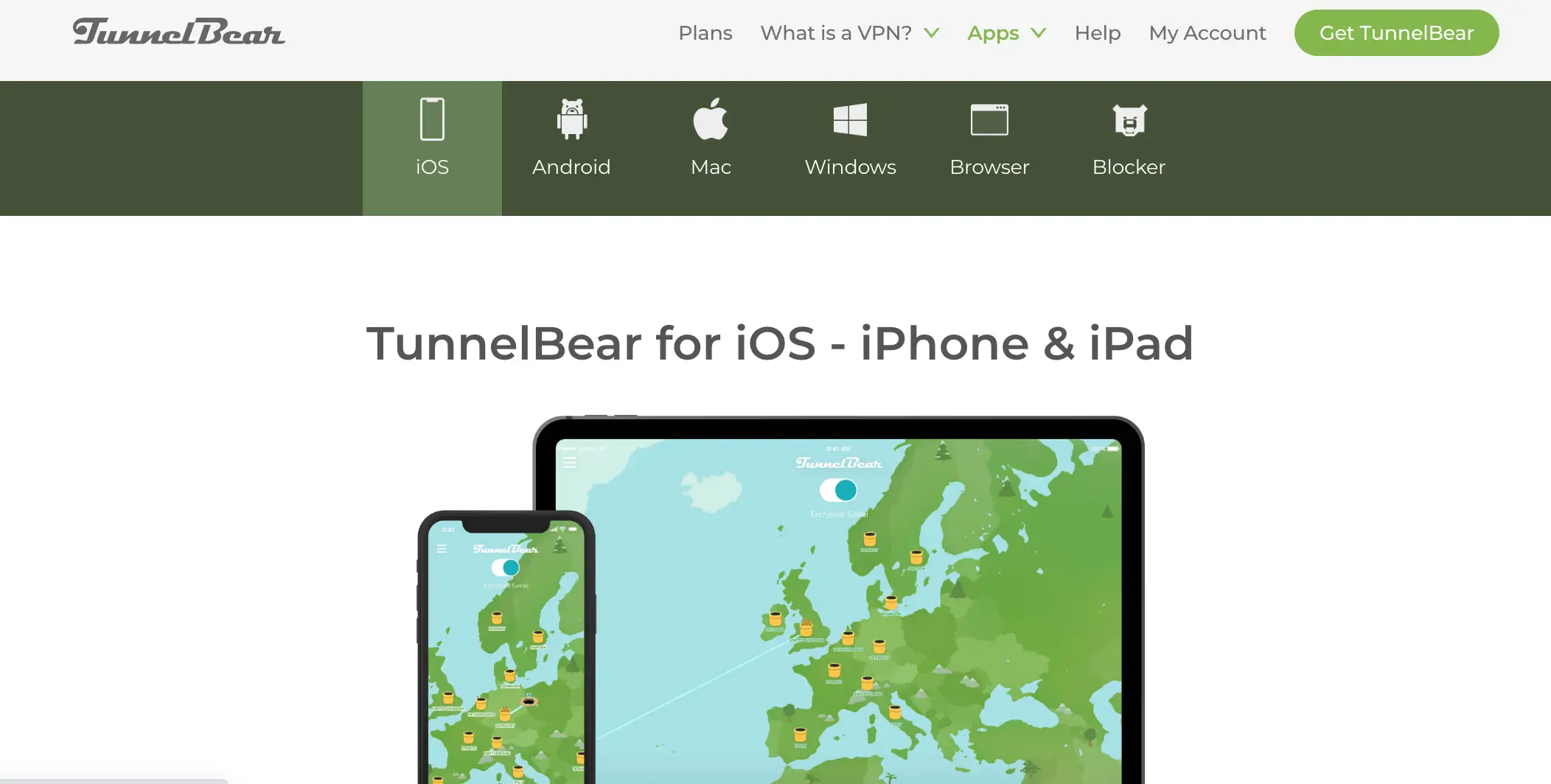 TunnelBear is popular due to its user-friendly app design, military-grade encryption technology, and zero logs policy. It also has servers located in over 22 countries around the world which makes it perfect for streaming geo-restricted content from anywhere.
You can also use one account to run 5 devices. The free version offers 500MB of data per month and supports all servers except those in Australia. You can tweet about your company to increase your monthly data limit to 1GB. Tweet once a month to get bandwidth.
TunnelBear VPN appears to have the most advanced online track-blocking and ad-blocking VPN technologies, with numerous advanced ad and tracker-blocking tools and countermeasures. This is appropriate for researchers who need to avoid being tracked online.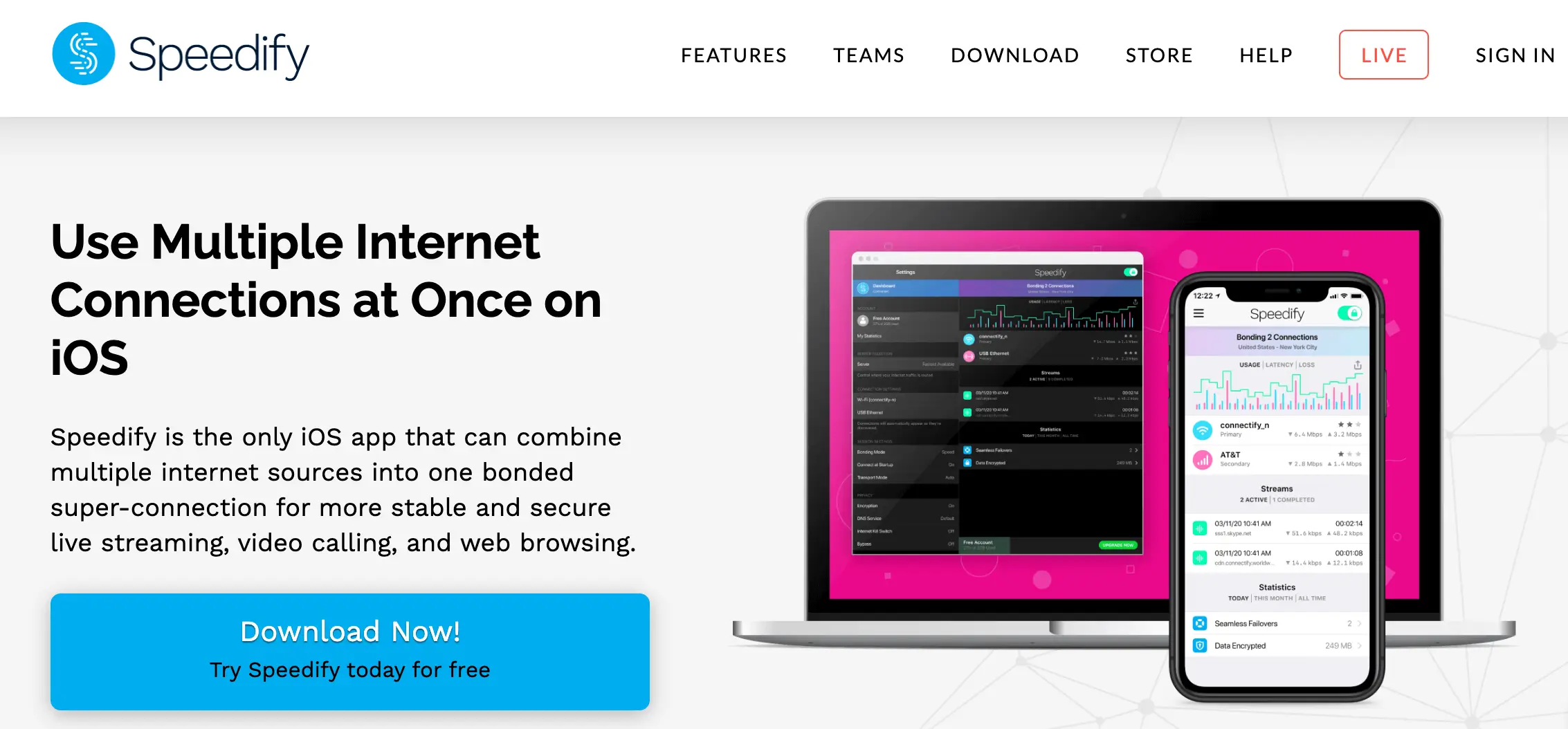 If you want a free VPN for your iPhone with fast speeds, look no further than Speedify. Their top priority is clearly speed, and it shows. Additionally, Speedify supports P2P file sharing too so that you can easily download those large files without worrying about getting caught by your ISP or government authorities.
Of course, despite a server network that spans more than 37 countries, Speedify, like most other free VPNs, does not have the best unblocking capabilities. Because you only get 2GB per month with Speedify's free iPhone app, it's not ideal for data-intensive activities. This is barely enough to watch a few episodes of any show in HD or download via P2P.
6. HMA VPN (Previously Hide My Ass)
HideMyAss has incredibly fast connection speeds as well as access to servers located all over the world including US and UK locations which makes streaming geo-restricted content much easier than ever before.
It has a massive collection of server locations as well as unique tools like an IP address shuffler. Unfortunately, HMA is still secretive about the locations of its servers, and the app lacks the privacy features we've come to expect from the best VPNs.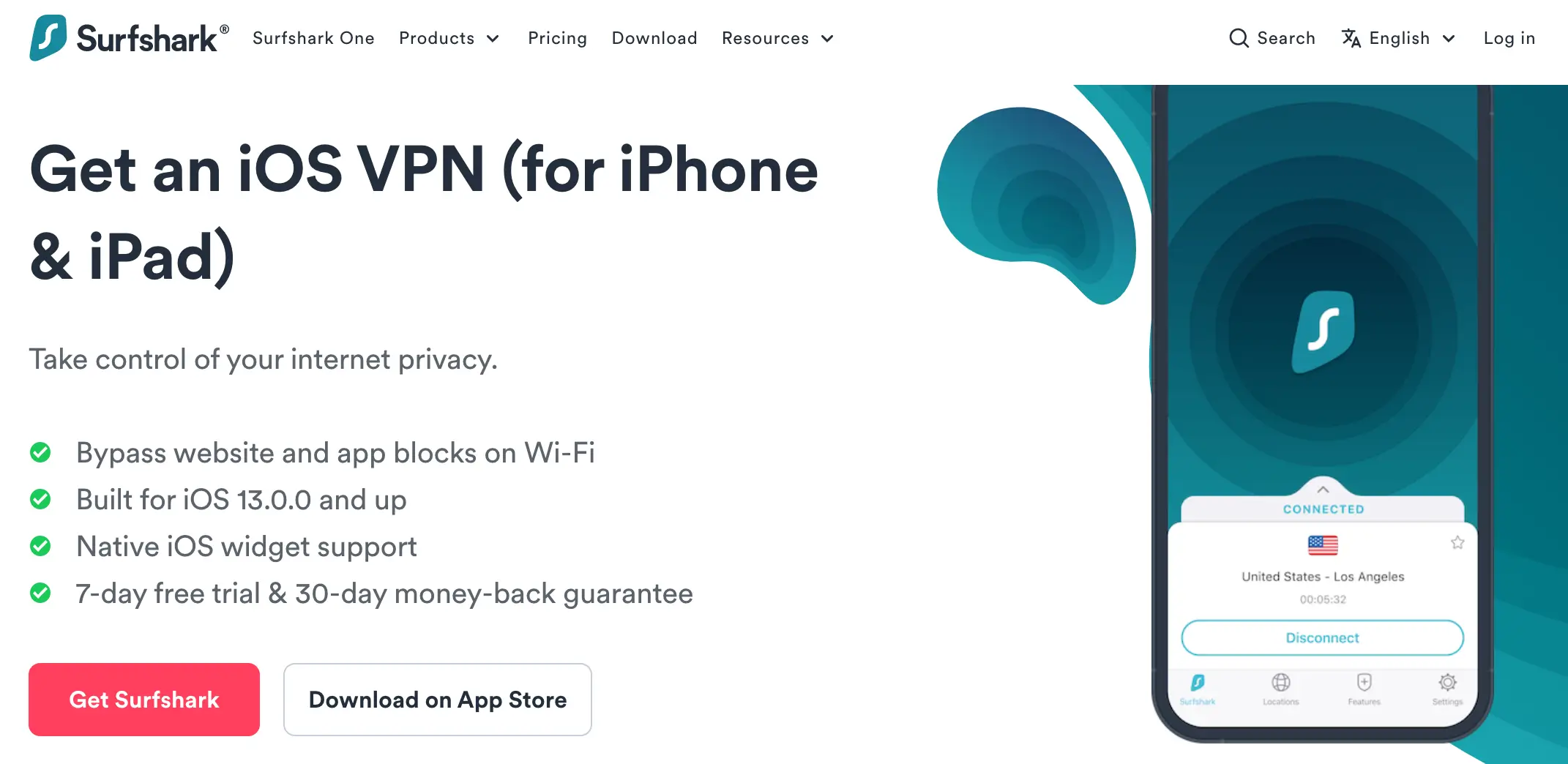 Surfshark is known for its robust security protocols such as AES 256-bit encryption technology as well as support for OpenVPN protocol making sure that your online activities remain completely hidden from prying eyes.
It has a kill switch, works with iOS 10.3 or later devices, and lets you select the protocol to use. This app supports OpenVPN, WireGuard, and IKEv2. This is a significant benefit. Surfshark's main selling point is its ability to support an unlimited number of concurrent connections.
Surfshark customers have access to over 3,200 servers in 65 countries, all of which are extremely fast. Stream, play, and join VoIP calls with ease. On all Surfshark servers, torrenting is also permitted. Surfshark is a resident of the British Virgin Islands. When privacy is a concern, this is a positive factor. Fortunately, Surfshark VPN prioritizes security and privacy.
Private Tunnel VPN was created by the same team that created OpenVPN technology. It is based in the United States and has 22 servers in 12 countries, which pales in comparison to ExpressVPN's and Surfshark's extensive network coverage.
PrivateTunnel offers a totally anonymous browsing experience since this service does not log any of your online activities or store any personal information whatsoever making sure that your identity remains completely safe while surfing online.
OperaVPN may not be as popular as some of the other options on this list but do not let this fool you since this service still offers solid performance with decent connection speeds coupled with strong security protocols such as AES 256-bit encryption technology making sure that all of your data remains protected while connected online.
However, Opera VPN fails to achieve this because it collects a large amount of user data and is owned by a Chinese company.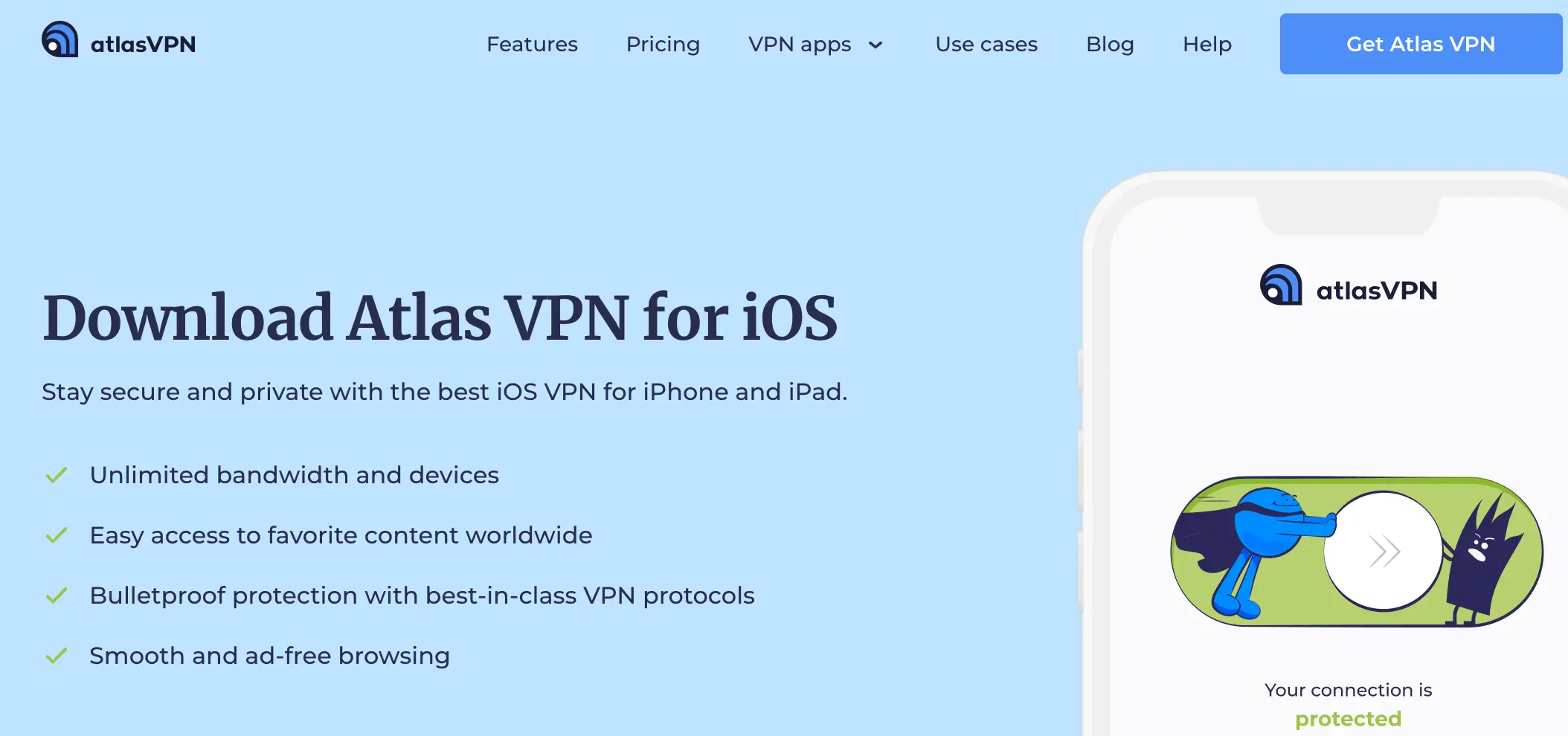 AtlasVPN has been in operation since 2019. The free version of this VPN includes advanced features such as WireGuard. While AtlasVPN claims that there is no speed limit for users of its free app, the upload speeds it provided were not nearly as fast.
As a result, AtlasVPN isn't a good choice for anything that requires fast upload speeds, such as online gaming. It is, however, an excellent choice for browsing and streaming. It provides 2GB of data per day, which is sufficient to watch a couple of HD episodes on your favorite streaming platforms, such as Hulu, ESPN, or Netflix.
Bonus: Outbyte VPN
Outbyte VPN is an incredibly powerful yet simple and user-friendly virtual private network. It provides users with a secure and anonymous connection to the internet while they browse, shop, stream content, or work remotely.
It ensures maximum privacy by encrypting all internet traffic, hiding IP addresses, and blocking ads and trackers from accessing user data. It also unlocks geo-restricted streaming services providing access to a wealth of content from other countries. All this coupled with its affordable price tag makes Outbyte VPN the perfect tool for anyone seeking online privacy and protection.
Wrapping Up
With so many different options out there these days, choosing a quality Virtual Private Network (VPN) can be tricky—especially when trying to find something good within budget constraints like staying within a tight budget or using something completely free.
That said however we hope our list serves as a useful starting point towards finding exactly what's right for each individual user's needs whether they're looking for general security measures or want something more specific such as accessing geo-restricted content from across borders without fear of detection. Whatever their need might be there's bound to be something here suitable enough from our list above.
Give us some love and rate our post!
John is a tech enthusiast who loves to explore and improve the latest technology. He shares his knowledge and opinions on the latest gadgets, apps, software, and games on Software Tested. With years of experience in writing about technology, John has a keen eye for identifying new and noteworthy products. His articles offer in-depth, opinionated insights for both tech enthusiasts and casual readers alike.