Are you looking for the best VPN for routers in 2023? As the importance of keeping data secure and private continues to grow, having a router with a reliable VPN is essential for any small business. With so many different routers and VPNs on the market, it can be hard to know which one is the best for your needs. That's why we've done the research for you and compiled a list of the best VPNs for routers in 2023.
But before we delve into the different VPN options, we should have a look at some of the factors you should consider in the best router VPN.
The 5 Essential Features to Look for in the Best VPN for Routers
In choosing the VPN best for routers, you should check if it is …
Compatible
Super fast
Streaming friendly
Easy to set up
Location-proof
1. Compatibility
When considering the best VPN for routers in 2023, make sure you select one with tunneling protocols like OpenVPN, IKEv2, and the like.
2. Fast connection
Here's the reality: if your VPN is good, your network is good to go! So, make sure your VPN provider is the fastest you can get.
3. Streaming galore
With a VPN best for unblocking streaming sites, you can easily use Firesticks, Smart TVs, and enjoy geo-restricted TV shows and movies.
4. Setup guide
If you're a first-time user, you might find setting up your router VPN challenging. This is why you should go for a VPN provider with the best customer support experience.
5. Location-proof
The best VPNs, for routers and other devices, offer tight security without compromising on server availability. If you're using a good VPN, your device should be able to hop from Miami to Milan, Milwaukee, Manilla or Mumbai as you wish.
In other words, it should have plenty of servers spread in disparate locations around the globe. This way, you'll have plenty of options at your fingertips if you want to skip a government or school firewall or gain access to an unfairly restricted program.
Having known what you should look out for before deciding on the best VPN for routers of your choice, you should now check out the different VPNs excellent for routers in 2023.
The Best VPNs for Routers in 2023
Below are the best VPNs for routers in 2023 you should consider if you want topnotch security and privacy protection for your business.
ExpressVPN
This is one of the best routers for VPN in 2023. It offers a wide range of features and benefits to make sure your network remains secure and private. With its top-of-the-line encryption and privacy protocols, it is an ideal solution for those looking for a reliable and secure connection. The router also provides easy access to more than 3,000 servers in 94 countries, allowing you to easily access geo-restricted content.
ExpressVPN also includes a built-in kill switch, DNS leak protection, and split tunneling for maximum security. With its 30-day money-back guarantee, you can be sure you're getting the best value for your money.
| | | |
| --- | --- | --- |
| Price | Pros | Cons |
| 1 month: $12.95 | Super fast | Price is on the high side |
| 6 months: $9.99 | Choice of protocols | |
| 12 months: $8.32 | | |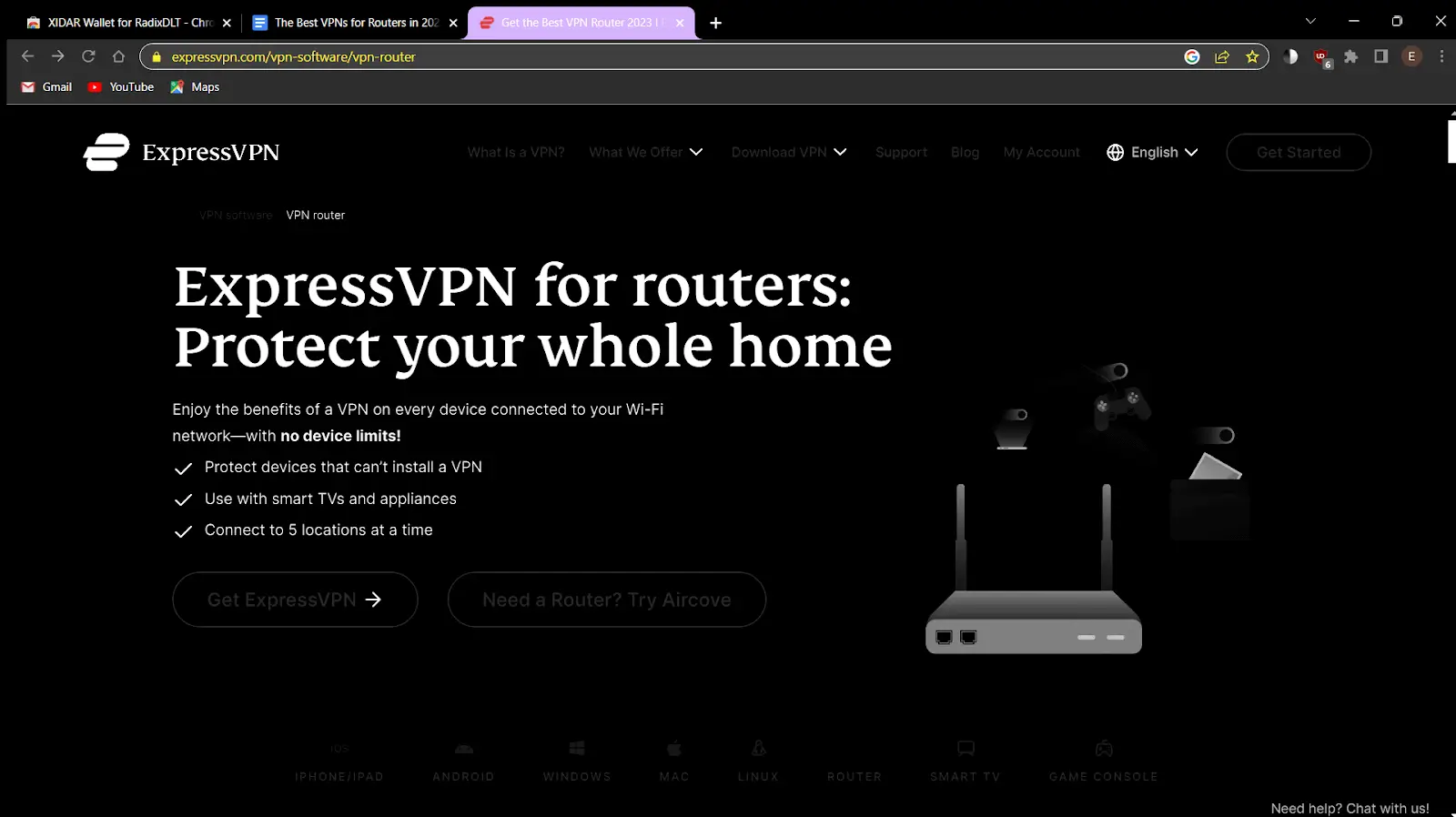 NordVPN
Also on our list of the best VPN for routers in 2023 is NordVPN. It has a variety of features that make it an excellent choice for router users. Besides offering strong encryption with the OpenVPN protocol, IKEv2, IPSec, and SSTP, it also offers double VPN encryption for extra security, an automated kill switch to protect your IP address from being exposed, DNS leak protection, and an automatic server selection feature.
The servers are spread across 59 countries around the world, so you can find a fast connection to virtually any region. Plus, there are specific servers optimized for streaming, P2P sharing, and ultra-fast connections. With NordVPN, you can connect up to 6 devices simultaneously, making it ideal for households with multiple people using the same router. In short, the VPN is affordable and comes with a 30-day money-back guarantee in case you're unsatisfied with its performance.
| | | |
| --- | --- | --- |
| Price | Pros | Cons |
| Standard: $14.49/month | Protection from DDoS attacks | No protection from voluntary data collection |
| | Prevents bandwidth throttling | Not available in certain locations |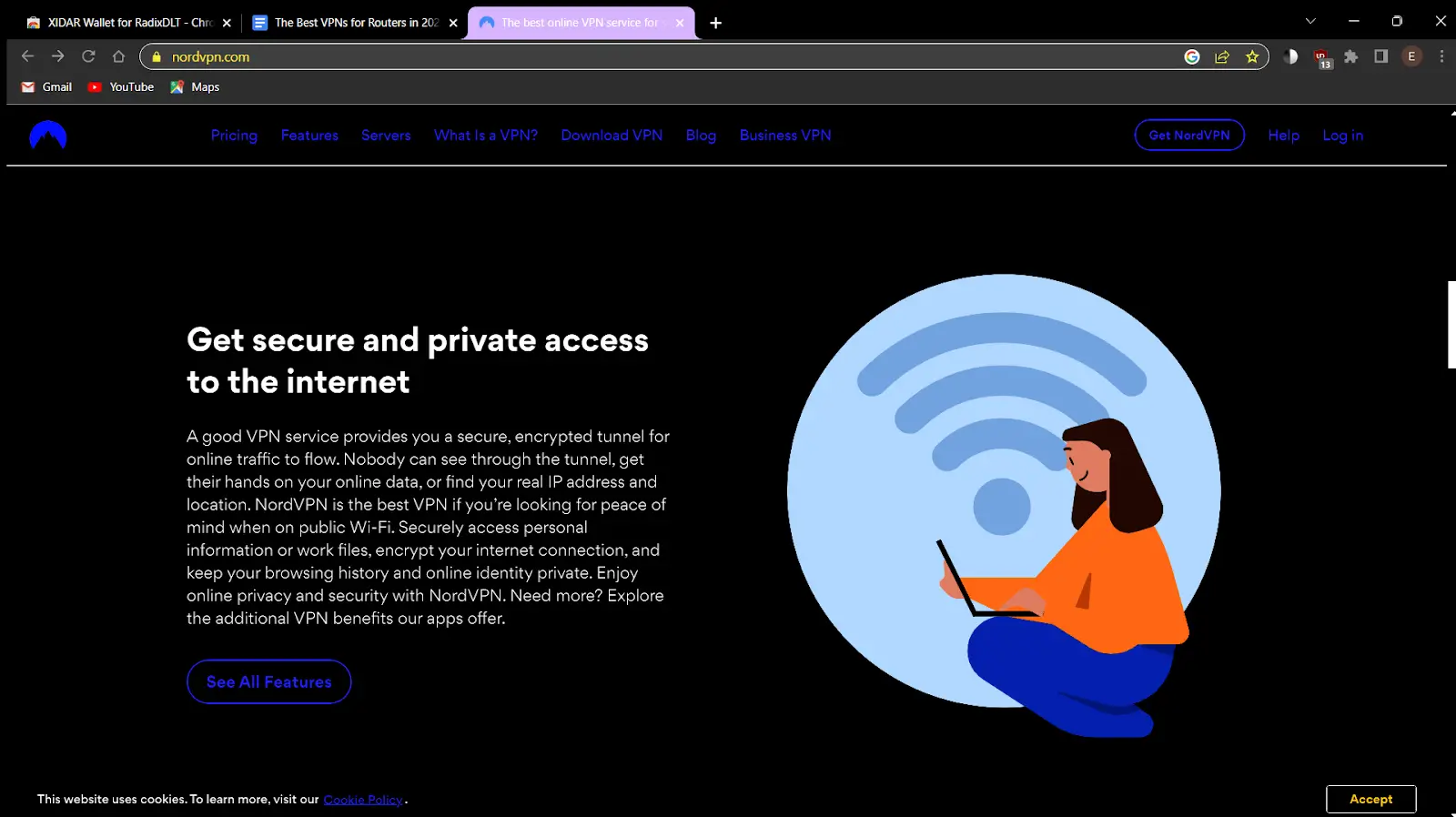 Surfshark
This is one of the best routers for VPN in 2023. It offers top-notch security features such as AES 256-bit encryption, Kill Switch and Multi-hop, and allows unlimited simultaneous connections, which makes it ideal for those with multiple devices. With Surfshark's state-of-the-art features, your router can be protected from malicious attacks.
Apart from its fast connection speed, making it suitable for streaming and gaming, it offers servers in more than 63 countries across the globe, meaning you have plenty of options when it comes to bypassing geo-restrictions. With its CleanWeb feature, you can also block malware and ads, which adds an extra layer of protection to your online activities.
Another benefit of using Surfshark on your router is that it is compatible with a wide range of routers. This means you can enjoy all its benefits irrespective of your type of router.
| | | |
| --- | --- | --- |
| Price | Pros | Cons |
| 1 month plan: $12.95 | Strong encryption | No strong social media presence |
| 24 months: $2.49/month | Very safe connection | Inconsistent P2P traits |
| 12 months: $3.99 | Multi-hop connection | |
Outbyte VPN
If you're looking for a VPN most suitable for routers, Outbye VPN is your best bet. It's secure, reliable and very efficient in connecting you to a wide range of networks. And if you're the type that doesn't need to mask your internet traffic all the time, Outbyte VPN's easy controls make enabling and disabling it a breeze.
In terms of privacy protection and encryption, the VPN boasts of a powerful technological setup. When it comes to speed, Outbyte beats its competition as it offers the fastest speed with reliable bandwidth and a steady network. With that, you don't have to worry about your streaming experience.
As one of the best routers for VPN in 2023, It provides excellent security and privacy features that make it an ideal choice for those who want to keep their data safe from hackers or any other form of intrusion. With its fast connection speed and comprehensive features, Outbyte is an excellent choice for routers in 2023.
| | | |
| --- | --- | --- |
| Price | Pros | Cons |
| Monthly: $7.99 | No logs policy | |
| 1 year: $5/month | Multiple server options | |
| 6-month plan: $6.33/month | Jet-like speed | |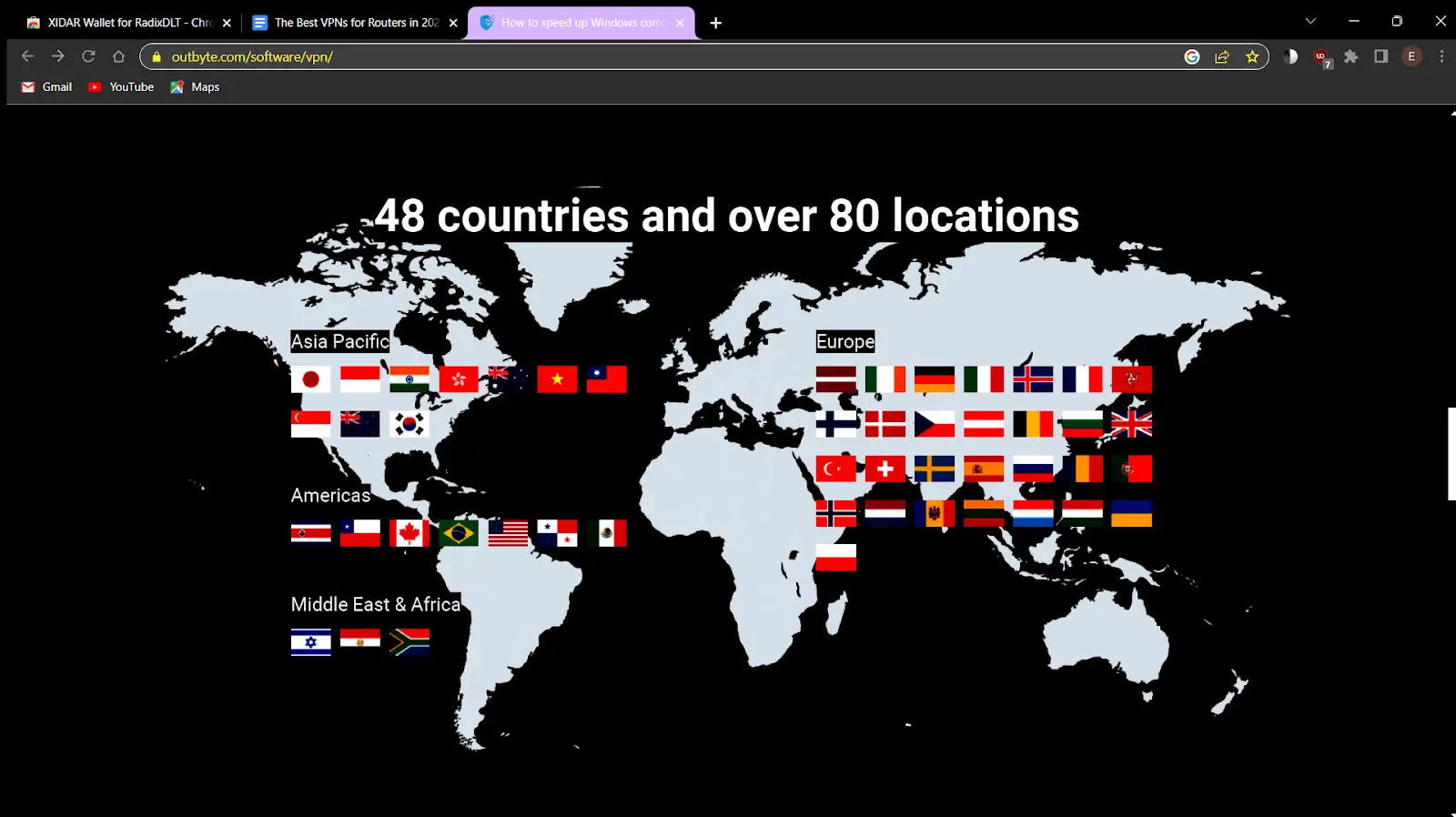 CyberGhost
CyberGhost is a great option for those looking for the best routers for VPN in 2023. It offers a wide variety of features and an intuitive user interface. Its powerful security features are some of the best in the business and it offers fast speed to keep your connection secure. It also has an extensive global server network, which means you can access content from any corner of the world.
It also includes extra features such as split-tunneling, allowing you to direct certain traffic through the VPN and the rest through your regular connection. This is useful for streaming services or other sites that may be blocked in certain regions. CyberGhost also offers strong 256-bit encryption and a strict no-logs policy, so you can be sure your data is safe and secure. Also: the service is backed by a 45-day money-back guarantee.
| | | |
| --- | --- | --- |
| Price | Pros | Cons |
| 1 month: $12.99 | Powerful protocols and encryption | Payment options are limited |
| 6 months: $6.99 | Good pricing for long-term users | |
| 2 years + 4 months: $2.03 | Good pricing for long-term users | |
IPVanish
As one of the best VPNs for routers in 2023, IPVanish offers the same features as other VPNs, such as high-speed access to global networks, strong encryption and security protocols, and zero-logging policies. This VPN has other unique features that make it stand out from the competition.
For starters, IPVanish offers 256-bit AES encryption that is specifically designed for routers. This means that your data will remain secure even if you connect to a public network or Wi-Fi hotspot. It also allows you to connect up to 10 devices simultaneously, so you can keep all of your devices secure no matter where you go.
Another great feature of IPVanish is its custom DNS settings. This lets you customize your settings to ensure that you have the best connection available to you. You can also customize your IP address masking so that your true location remains hidden while you're connected to the VPN.
| | | |
| --- | --- | --- |
| Price | Pros | Cons |
| Monthly: $11.99 | Can be used with almost any device | Privacy lapses |
| 3 months: $29.99/month | 256-bit encryption | Controversial logs |
| Yearly: $89.99/month | Multiple protocols support | Poor customer support |
VyprVPN
Another great VPN for routers is VyprVPN. It provides fast and secure internet connections, allowing users to securely and anonymously access online content. This service has top-notch encryption and allows users to switch between hundreds of servers located around the world.
VyprVPN also offers a comprehensive package of features that make it an ideal choice for routers in 2023. It has advanced protocols such as OpenVPN and Chameleon, as well as a built-in firewall. It also offers excellent customer support and a user-friendly interface. The router comes with a NAT firewall which prevents external malicious activities.
Another awesome feature of the VPN is that it's free of logs. So, no worries about the safety of your browsing history. You remain safe and browse freely in private mode.
| | | |
| --- | --- | --- |
| Price | Pros | Cons |
| For business cloud: $349/year | Topnotch security and privacy | Speed throttling |
| For business: 299/year | Zero DNS leaks | Connection time is very slow |
| | Killswitch is advanced | |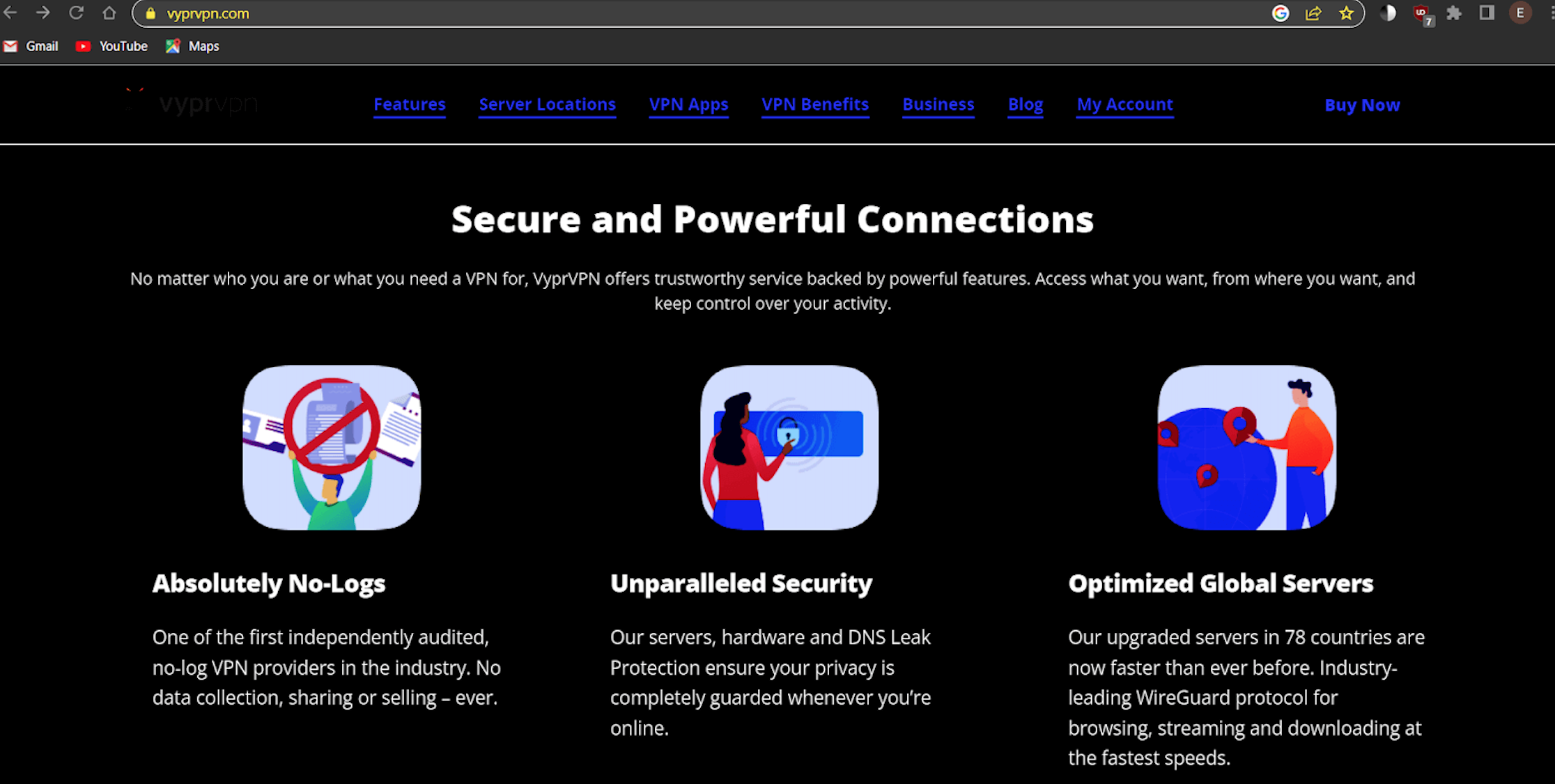 PrivateVPN
Need a VPN best for routers in 2023? Try out PrivateVPN. It offers unlimited bandwidth and speed, so you can use it for streaming, gaming, and other data-intensive tasks. It also provides excellent encryption and privacy features, making it a top choice for those who want to stay secure online. It has an easy-to-use app and supports many devices, including Windows, Mac, Android, and iOS. With servers in more than 60 countries, the VPN allows you to access content from around the world. Its no-logs policy means that your activities online are always kept private. All in all, PrivateVPN is one of the best routers for VPN in 2023 due to its affordability, ease of use, and privacy features.
| | | |
| --- | --- | --- |
| Price | Pros | Cons |
| 1 month: $9.90/month | Unlimited bandwidth | Limited to connection to 10 devices at once |
| 3 months: $6/month | 2048-bit military-grade encryption | No smart DNS feature |
| 36 months: $2/month | No data logs kept | Server speed is inconsistent |
Conclusion
If you're concerned about having the best VPN experience, you can't overlook important features such as robust encryption and security features, custom DNS settings, and excellent customer support. That's why it makes sense to take your time to know the features of the various VPN options. With this, you can then make an informed decision about which VPN for routers is best for you this year. That's where this post comes in handy.
Give us some love and rate our post!
John is a tech enthusiast who loves to explore and improve the latest technology. He shares his knowledge and opinions on the latest gadgets, apps, software, and games on Software Tested. With years of experience in writing about technology, John has a keen eye for identifying new and noteworthy products. His articles offer in-depth, opinionated insights for both tech enthusiasts and casual readers alike.