Reading time:
10
Minutes
Since Fortnite was launched in 2017, it has become the hottest battle royale game with more than 200 million registered players around the world. Developed by Epic Games, this global phenomenon is a competitive, third-person cooperative shooting game among 100 players who then fight each other for survival using weapons and tools acquired throughout the game.
Fortnite is free to download on various platforms such as PC, macOS, iOS, Android, Xbox One, PS4, and Nintendo Switch. This free-to-play game also supports cross-platform play, which you can configure via settings. This means that players can play with anyone regardless of the platform they are using.
Playing Fortnite should be simple and effortless. You just need to install the game and choose a lobby you want to join. However, it is extremely annoying if you get kicked out in the middle of the game for some reason or another. Some users who have been kicked out receive a warning that says:
You were removed from the match due to your IP, VPN, machine, or cheating. We recommend not utilizing VPN or proxy services while attempting to play Fortnite.
The banished users reported that they were not cheating nor were having problems with their device. The error also happens for both VPN and non-VPN users.
Why Do Players Get Kicked Out?
According to Epic Games, the "You were removed from the match due to your IP, VPN, machine, or cheating" message is a general notification the developers came up to ban Fortnite players. Players are booted out from their matches for various reasons, including:
Breach of code of conduct
Network conditions that might affect the overall game
IP problems
The type of VPN used
So if you've been asking: "Why does Fortnite keep kicking me out?" Now you know!
If you didn't do anything wrong when you get kicked out, then the problem is likely related to your IP address or VPN. Take note that Fortnite does not prohibit the use of a VPN. Many Fortnite players are using VPN to improve overall game experience but are not booted out of the game. So if you're getting a Fortnite VPN error, it has probably something to do with your VPN configuration, such as the server or the IP address you are using.
If you get kicked out of the game and receive an error message same as the one mentioned above, we'll show you several Fortnite VPN bypass methods to help resolve this problem.
How to Remove the Fortnite IP Ban
Fortnite players use VPN to boost their internet connection, decrease game lags, improve security, and unblock the game at school or in the office. However, not all VPNs are created equal. If you're going to use a VPN to play Fortnite, make sure you subscribe to a reliable and trusted VPN service to avoid problems.
Check out these Fortnite VPN fixes to help you deal with the IP ban.
Fix #1: Change Your IP Address.
One of the reasons why Fortnite users get banned is the IP address they are using. You can easily change your IP address by logging into your VPN client and choosing a different server. When you connect to a new server, your VPN client assigns you a new IP address, bypassing the IP ban. Just make sure to choose a server that is close to your location to keep latency as low as possible. Once you've acquired a new IP address, try logging in again and joining a new Fortnite lobby. You should be able to play now without being booted out or banned.
Fix #2: Update Your VPN Client.
If you're using a VPN client to connect to your VPN service, make sure that you have the latest version of the software. You can update your VPN client through the app itself, or you can check out your VPN provider's website for updates. Updating your VPN client is important for the smooth running of your VPN service.
Fix #3: Check Whether Fortnite's Anti-Cheat System Is Running.
Fortnite uses two anti-cheat systems to detect all forms of cheating during the game: EasyAntiCheat and BattleEye. These services are designed to launch every time you open Fortnite. But because of incomplete installation or update problems, these files might not accompany your Fortnite game.
To check if you have the EasyAntiCheat and BattleEye installers, go to your computer's Fortnite binary directory. If you are using a PC, the binary folder should be located here: C:\Program Files\Epic Games\Fortnite\FortniteGame\Binaries\Win64. If you're using a Mac, navigate to this address on Finder ~/Library/Application Support and look for the folder.
There should be four executable files inside the folder, namely:
FortniteClient-Win64-Shipping
FortniteClient-Win64-Shipping_EAC
FortniteClient-Win64-Shipping_BE
FortniteLauncher
If there are files missing in the directory, then your download is incomplete and you need to re-install the game. Follow the instructions in the next step to uninstall and re-install Fortnite.
If the installation files are complete, what you need to check next is whether these services are running when you launch the game. To check this:
Open Task Manager on Windows or Activity Monitor on Mac.
Launch Fortnite by clicking on the game icon or shortcut.
Look for the EasyAntiCheat and BattleEye services and see if they are running. If not, then you have to manually install the anti-cheat service by clicking on the executable files inside the binary folder.
Once done, try playing the game again while monitoring these anti-cheat services. If you get kicked out again, then your installation must be damaged or there might be other missing components that prevent the game from running efficiently.
Fix #4: Uninstall and Reinstall EasyAntiCheat and BattleEye.
The two cheat-prevention systems in the game can cause Fortnite connection issues. A refresh can fix this and also stop the Fortnite lag on PC. Here's how to remove and reinstall EasyAntiCheat and BattleEye on Windows 10 and 11:
Launch Task Manager. Simply right-click anywhere on the taskbar and select Task Manager from the context menu.
Look for all Fortnite and Epic Games processes in the Processes tab and shut them down. To do this, right-click a process and select End Task.
Next, go to the folder where Fortnite is saved on your computer. The standard save location for Fortnite is Program Files > Fortnite > FortniteGame > Binaries > Win64.
Look for three FortniteClient-Win64-Shipping applications in this folder. Delete them.
Next, open the EasyAntiCheat folder and run the EasyAntiCheat_Setup application.
When the program loads, click Uninstall at the bottom left corner to remove EasyAntiCheat.
Exit the program, close File Explorer and launch the Epic Games launcher.
Navigate to Fortnite in your game library, click the game's main menu and select Verify from the options.
This will run a scan of your game files and download missing items. This means you will effectively be replacing the files you previously deleted with fresh copies that should not cause any further issues.
Fix #5: Remove WindowBlinds.
WindowBlinds is a popular customization tool for Windows 10 and Windows 11 desktops. Unfortunately, some users reported that the application affected BattleEye, which in turn caused the Fortnite ban screen. So, if you are looking for how to fix Fortnite VPN ban and have WindowBlinds installed, you could uninstall it and check what happens.
On Windows 10 and 11, hit the Start button and type "cpl".
Open Control Panel and click the "Uninstall a program" link while in Category view mode.
Locate Stardock Curtains and uninstall the program.
Now reboot the system and then open Task Manager and verify that BattleEye and EasyAntiCheat are running.
If they are, you can try installing the latest version of WindowBlinds. Alternatively, you can forgo the app altogether and maintain the default Windows themes.
If you started getting Fortnite VPN bans after a recent installation, the new app might be the culprit. Windows plays host to a variety of programs and they sometimes cause issues for one another.
Fix #6: Change Your DNS Server.
If you are still wondering why Fortnite won't open after trying the fixes so far, all hope is not lost. Swapping out your current DNS server for a public or private one can help. Here, we will use Google's DNS server address to illustrate how to do this on Windows 10 and Windows 11.
Hit the Windows Logo key and type "cpl".
Hit the Enter key to launch Control Panel or simply use your mouse to click on it in the search results.
Make sure the view mode is set to Category, then click Network and Internet.
Click Network and Sharing Center.
Click the "Change adapter settings" link on the left.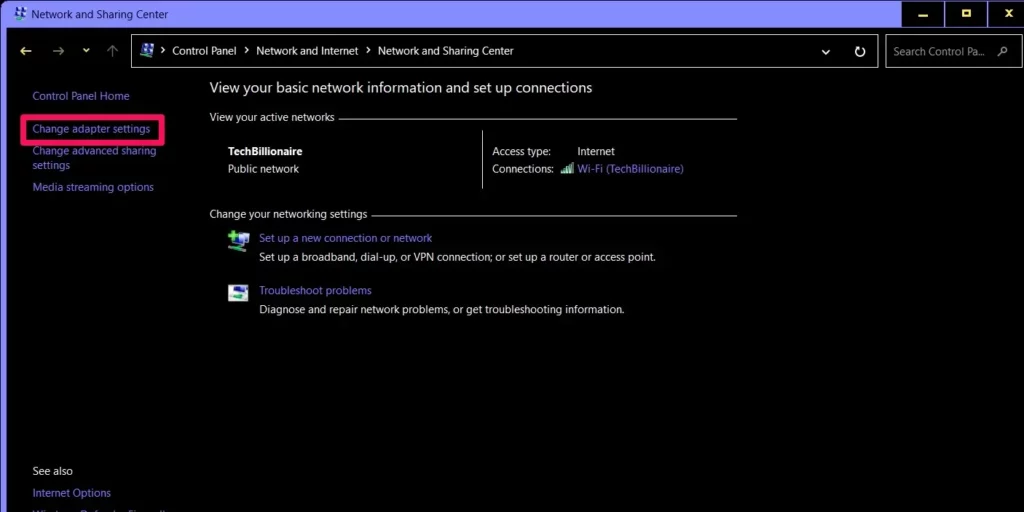 You will see all available Internet connections here. Right-click the one in use and select Properties.
Select "Internet Protocol Version 4 (TCP/IPv4)" or "Internet Protocol Version 6 (TCP/IPv6)" and click the Properties button.
In the new dialog box, select "Use the following DNS server addresses:" and type in the following in the given fields:
IPv4:
Preferred DNS server: 8.8.8.8
Alternate DNS server: 8.8.4.4
IPv6:
Preferred DNS server: 2001:4860:4860::8888
Alternate DNS server: 2001:4860:4860::8844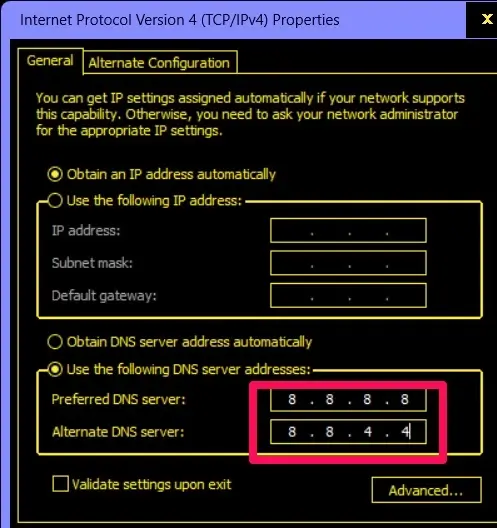 Tick the" Validate settings upon exit" button and hit OK to save and exit the window.
You can now reboot your system, reconnect your VPN and launch Fortnite. This method is also suitable if you're looking for how to stop lagging in Fortnite on Windows.
Fix #7: Uninstall and Re-Install Fortnite.
If the above solutions didn't work, your last option is to re-install the game. To do this:
Uninstall Fortnite. For Mac users, just drag the application to the Trash. For Windows users, navigate to Start > Settings > System > Apps & Features, then choose Fortnite from the list of apps. Click the Uninstall button and follow the on-screen instructions until the process is complete.
Uninstall EasyAntiCheat and BattleEye using the same instructions above.
Delete Fortnite, EasyAntiCheat, and BattleEye binary directories.
Download a fresh copy of the installer from Fortnite's website.
Install the game according to instructions.
Check the binary directory to make sure all the executables are present.
You should be able to run Fortnite without getting kicked out in the middle of the game.
How to Get Unbanned From Fortnite
Nobody wants to be kicked out of a game they enjoy. Unfortunately, many Fortnite users have suffered this fate, and not all of them live in officially restricted countries.
In short, there are three broad types of bans on Fortnite: the first is a temporary ban while the other two are more permanent. Here, we summarize them and how to get unbanned if the hammer lands on you.
IP Ban. This type of ban doesn't stay in place forever. It can happen when the Fortnite system detects a connection through a VPN. So they ban the IP address you're using. You can get around this by addressing the issue with your current VPN provider or considering other reputable VPN options.
Username Ban. This is when Epic Games bans your account for cheating or some other rule violations. You won't be able to play Fortnite with that account anymore and will lose all your progress and items. You're starting from scratch in this case. You will need to create a new user account. Delete and reinstall the game and create a new account using a VPN with a different IP address. This doesn't sound so fun but at least you get to keep your skills and can make rapid progress this time.
Hardware Ban. This is where things get really heated. If Epic Games deems your behavior particularly egregious, they can ban your machine. They do this by banning your device components like GPU and SSD. As long as these components remain part of your computer you'll no longer be able to play Fortnite on the device even if you created 200 accounts.
If you feel the decision is unjustified, you can contact customer support and ask them to overturn the ban. You can still log into your account on another computer and keep playing the game.
Final Thoughts
Using a VPN when playing Fortnite should not get you kicked out of the game. This error is more likely to be caused by an IP address conflict, outdated VPN client, poor-quality VPN service, or a faulty anti-cheat system. So don't panic when you get booted out of the game. The above Fortnite VPN fixes should help resolve this problem and get you back in the game in no time.
Disclaimer
The information provided in this article is intended to assist players experiencing technical issues with Fortnite. It's crucial to remember that all players are obligated to abide by the rules and regulations set forth by Epic Games, the developers of Fortnite, including their terms of service and code of conduct. Any attempt to bypass restrictions, bans, or security measures imposed by Epic Games could result in further disciplinary actions, including permanent bans. Always follow official guidelines and instructions when dealing with game errors or issues.
Give us some love and rate our post!