Microsoft Windows is without a doubt the most widely used operating system on the planet. It was first released by Microsoft in 1985 and now accounts for roughly 76% of the market. It's worth noting that Apple's macOS has a market share of roughly 16%, whereas Chrome OS has a market share of less than 4%. Windows' widespread popularity is due to the fact that it comes pre-installed on most desktops and laptops.
Windows computers are easier to use compared to other computers, but this doesn't mean that they are invincible. Windows has its own share of PC issues and bugs that may affect its performance. These issues range from app crashes to installation failures to the dreaded blue screen of death. And these problems can be caused by a multitude of factors, including outdated drivers, corrupted files, and incompatible software. A reliable custom software development service company carefully explores each particular factor to find the most suitable solution to fix these issues. This way, they ensure the stable performance of the system and a seamless user experience.
Getting a PC error code, such as 0x80242016 or 0x80072af9, can be frustrating, especially for those who are not very tech-savvy. Hence, it is important to maintain your PC regularly to prevent these irksome issues from happening. Of all the PC optimizers on the market, Outbyte PC Repair is among the most reliable and easiest to use.
What Is Outbyte PC Repair?
Outbyte PC Repair is an all-in-one Windows optimization tool that helps you free up disk space, enhance Windows speed, fix system issues, safeguard your privacy, and secure your computer.
The application is designed to make computer maintenance a lot easier. Instead of having to manually modify settings that users may or may not be familiar with, they simply need to click once for a full scan of the PC, and then again to address the faults the software identifies.
A major function of the application, aside from repairing PC issues, is assisting users in deleting junk files. Typically, these files accumulate in the system over time and in rare situations, can impair your computer's functionality. Temporary files, useless logs, browser history and cache, Windows obsolete files, and other unneeded items are considered junk files that are best removed from your system.
Using Outbyte PC Repair enables PC users to resolve issues that are not easily diagnosed. This tool is available for Windows 10/11, 8, and 7.
Is Outbyte PC Repair Safe?
Outbyte PC Repair is completely safe and does not contain any viruses or malware. The app went through a meticulous certification process by AppEsteem — the leading Consumer Online Protection Organization founded by Microsoft cybersecurity veterans and a running member of the American organization CleanApps.org.
The PC Repair distribution file contains safe and verified modules that are installed strictly to the program directory of your Windows OS. All additional program files are stored in a single user profile data directory. The combination of these factors helps remove all application components without any traces.
The installation process takes place with the active participation of the user, who chooses privacy settings, tasks to execute, and shortcuts to create. The installer does not change any system files or settings, but it requires elevated privileges to unpack the application to the application directory and write it to the protection directory in the registry.
PC Repair is also designed to work together with various antivirus programs so there will be no conflicts when the tool runs in tandem with a security program.
PC Repair creates a backup of system files in the Rescue Center before performing any repair. This feature allows users to undo changes made by the program in case they are not satisfied with the outcome.
Thus, PC Repair ensures safe and stable performance for the user's PC.
What Does Outbyte PC Repair Do?
Outbyte PC Repair offers various tweaks in three different categories:
All of the tool's features revolve around these categories. Its user-friendly interface allows you to access the features that you need quickly and easily. Let's look at these features one by one:
1. Real-Time Boost
In Windows, processor time is allocated to running processes based on their priority. High priority processes receive greater attention, whereas low priority activities are pushed to the sidelines and may appear slow.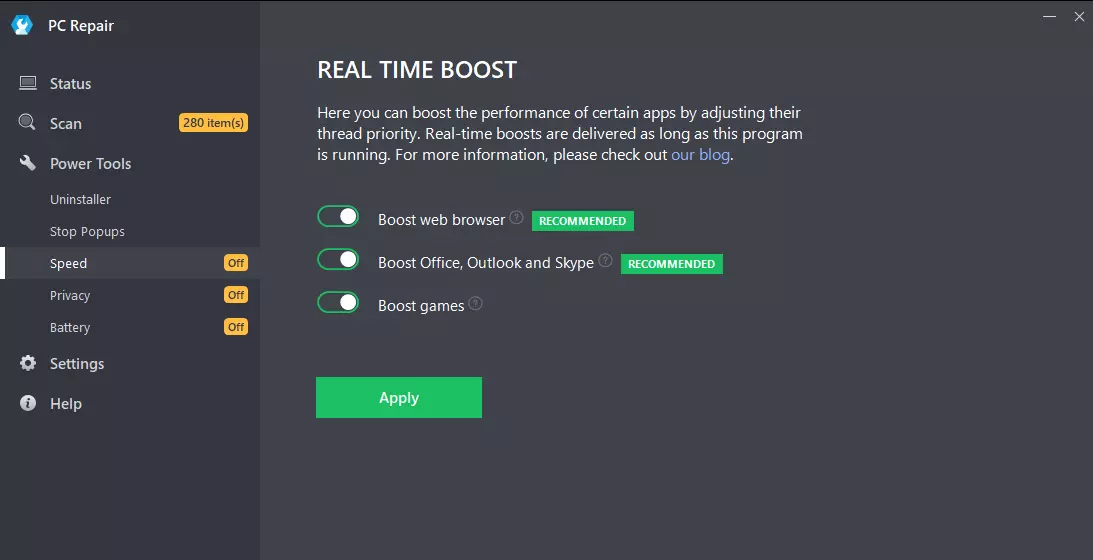 Real-time boost allows you to "cheat" the system by giving higher priority to the apps you want to be more responsive. This does not imply that your machine will run quicker. This simply means that the apps you require will receive greater CPU time. This feature allows you to prioritize certain apps for CPU processor time, ensuring that these programs have the processing power to operate optimally when you need them.
2. Save Energy
PC Repair lets you reduce your system's power consumption in three ways:
By disabling Aero mode
By pausing power-hungry services when on battery
By enabling energy saving mode when on battery
3. Disk Space
Some of your storage space will get bogged down with junk files, which over time can increase into the range of multiple gigabytes. PC Repair can help you identify and remove these files on your hard drive, to keep it in tip-top shape.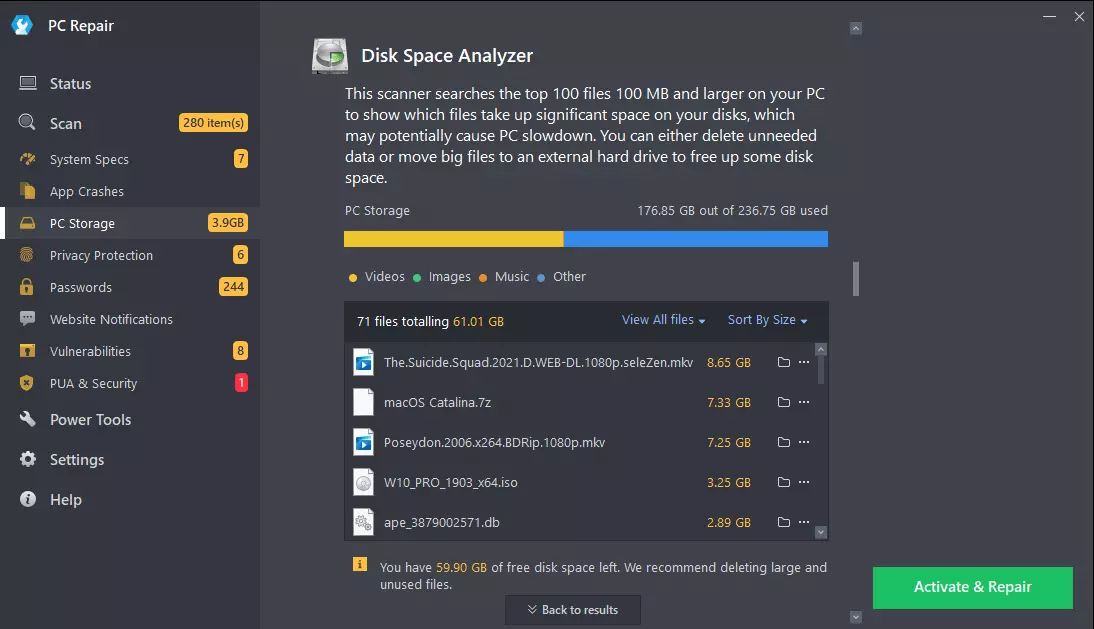 PC Repair can get rid of:
Unused System Files – Temporary Windows Update files, Restore Points, Performance counters, and Windows Defender Files
Unused web cache – Web browser, Office Web pages, Offline browsing, MSN Messenger, and Symantec Live Update files
Unused application files – App Debug logs, Media Players, Java cache, and MS Office cache
Temporary files – Recycle Bin files and Temporary Windows folders
4. Privacy Protection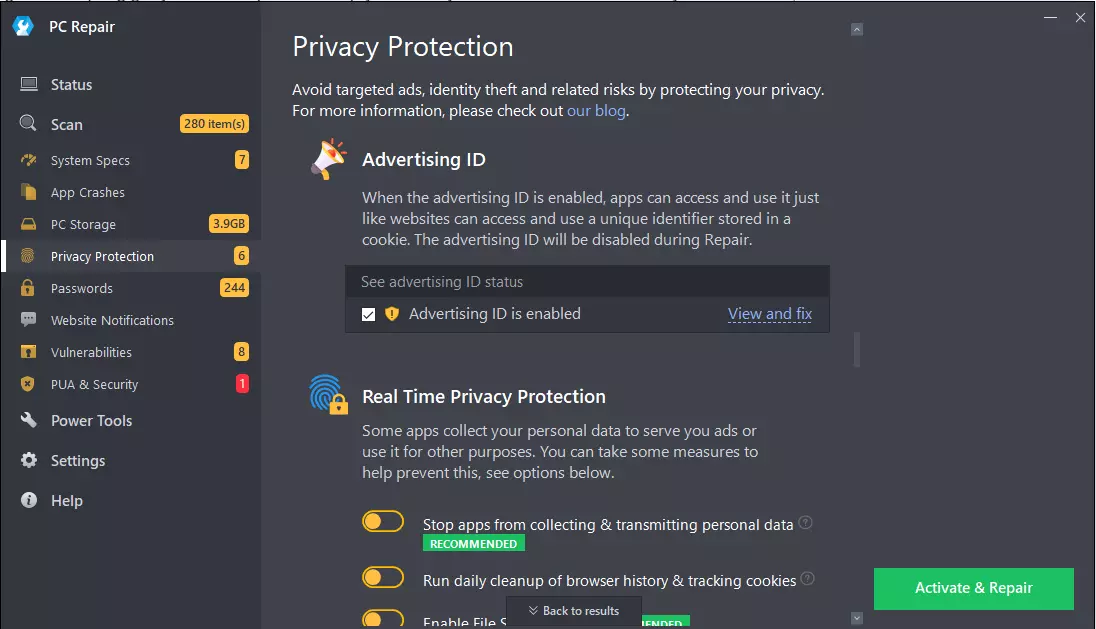 Another focus of Outbyte PC Repair is maintaining privacy by eliminating traces of your personal data and activities, and checking for traces of malicious software. Here are some of PC Repair's privacy-related features:
Deletes tracking cookies
Disables advertising on websites
5. PUA & Security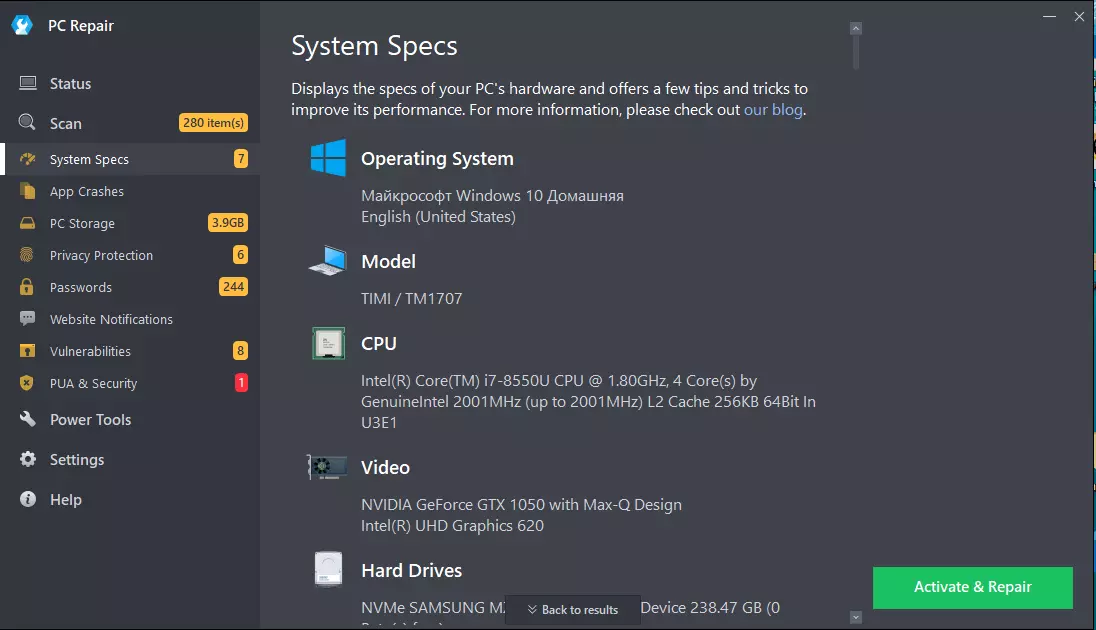 This tool also finds and removes potentially unwanted programs from your PC by checking these directories:
running processes
files that have tasks in the system scheduler
files detected as launch paths in system elements
the autoload directory
desktop
the download directory
directories where PUAs are known to leave their traces
PC Repair compares the files with Outbyte's database of common threat signatures and the cloud API of the signatures to determine whether they are malicious.
6. Power Tools
PC Repair also comes with a set of utilities that improves your PC experience.
Uninstaller
Stop Popups
Privacy settings
7. Vulnerabilities
PC Repair is equipped with various scanners to check your system for vulnerabilities and resolve some of them.
Services

—

Checks whether it is necessary to start/stop certain services, such as Windows Remote Registry, Smart Card, Remote Desktop Configuration, and Media Player Network Sharing.
Tweaks

—

Checks your system and offers to perform security optimization tweaks, such as Enable Action Center notification icon, Windows Defender: Enable real-time protection, and Disable login information caching, among others.
Windows Components

—

Checks your system's components (such as Java and Flash Player) and offers to update them.
Advertising Websites

—

Checks your system for websites that automatically open advertising links.
Security Software

—

Checks whether your computer has antivirus software installed and enables it if necessary.
8. Passwords
PC Repair checks your browsers for weak, duplicated, and compromised passwords, then warns you about them. The tool compares your system's passwords against an existing database of compromised passwords to determine whether they need to be replaced.
How to Use Outbyte PC Repair
PC Repair is a lightweight and handy application for dealing with minor issues and keeping your system optimized. To use this tool, follow the steps below:
In your web browser, navigate to the Outbyte PC Repair download page.
Click the Download Now button to get the installer. The file should be around 20MB in size.
Double-click on the installer to launch the installation.
Follow the on-screen instructions to finish the installation.
Once installed, the app will automatically scan your computer for issues that you need to address.
Click the Activate and Repair button to sign up for an account and resolve the issues.
Once you have repaired the issues detected on your computer, you can simply close the program to exit.
Take note, however, that PC Repair will continue working in the background to make sure that issues are dealt with promptly when they arise. You may choose to fully exit the app and not have it running if you like.
Pricing
You can enjoy the full version of Outbyte PC Repair for only $29.95 for a single PC license, $39.95 for a 5-PC license, or $49.95 for a 10-PC license. You can also take advantage of a 50% discount on the total cost. The license includes a quarterly subscription that can be canceled anytime.
If you would like to test the app before committing, PC Repair offers a 7-day free trial that lets you fix all detected items within each category.
If you're not happy with the tool, you can get a full refund within the 30-day money-back guarantee period.
Summary
Outbyte PC Repair is more than your typical PC optimizer. It is an all-in-one tool that helps you instantly optimize Windows while adding a layer of security protection and providing nice-to-have perks like longer battery life.
It is a good optimizer for beginners who don't know their way around Windows and those who are too busy to edit the settings manually one by one. Keep in mind that Outbyte PC Repair will also prevent your system from accumulating junk in the future, so you can enjoy fast and stable PC performance all the time.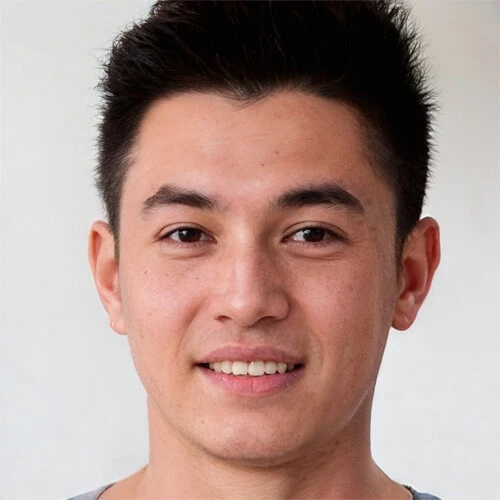 Vic is a search engine optimization expert, helping to optimize websites to make them more user-friendly. He's been in the industry for more than 10 years, and his work speaks a lot about his experience and expertise in the IT and digital marketing fields. 
Vic is the one in charge of keeping our website running smoothly and efficiently, to make sure that our readers have a wonderful experience while visiting the website. He's good at troubleshooting errors and fixing Windows issues that come up either when playing games or working on the computer. 
Vic is a certified gadget freak who feels the need to surround himself with cutting-edge technology. And this passion has helped him a lot in creating content that informs and guides users on using and troubleshooting the latest technology. He is an avid researcher who is always hungry for the latest news and updates on the most cutting-edge technology.