Fast and secure browsing is what every user deserves, so we've done our homework and prepared this guide so that you can choose the best VPN for Safari and enjoy speed and privacy when surfing the Internet.
Why Should You Add Extra Protection to Your Safari Browser?
Safari is a well-rounded browser that comes bundled with macOS and iOS. If you own a Mac, Safari is your number one-tool for accessing the Internet, so you need to make sure it is properly protected. One of the best ways to keep your Safari browser safe is by using a VPN, and we'll expand on the most convenient and reputable options a bit later.
While Apple provides Safari with powerful security mechanisms, the browser is still at risk as multiple dangers are lurking around. The digital world is swarming with hackers, predators, fraudsters, and prying eyes, and they are kind of evil that does not sleep – despite Apple's best efforts, your Mac is still vulnerable, and the number of threats is on the rise.
For instance, as of January 2022, Safari was affected by a vulnerability allowing websites to track your browsing history and personal data. In August 2022, Apple warned of a Safari-related flaw allowing arbitrary code execution. What is more, in 2022, security researcher Ryan Pickren located a bug paving the way for unauthorized camera access by making use of the Safari browser's weakness.
All things considered, if you are a Mac user and a fan of all things Apple, we recommend you to do your best and fortify your security with an extra layer of protection. Installing a reliable Mac VPN is an excellent way to get prepared in case disaster strikes – and here is why.
Why Do You Need a VPN for Safari?
Whether a student, researcher, remote employee, or regular Internet surfer, you need protection when navigating the web. The digital world is by no means a safe haven, so constant vigilance is what you should practice – even if you use a state-of-the-art browser like Safari. We recommend you to exercise due diligence and protect your connection with a good VPN. In addition to keeping threats and villains at bay, such a tool will also provide you with several other advantages. Without further ado, here are the most prominent pros for employing a VPN when browsing with Safari:
Your data is encrypted.
Your traffic is routed through a safe tunnel.
No one can see your IP address.
Your privacy is protected.
You get access to region-locked content.
You can save money using your VPN's location-spoofing capabilities.
You can securely log into a shared network.
You get to avoid ISP slowdowns.
All in all, a VPN is a brilliant tool for making the most of web browsing. Now it is time to explore the best options available in the market, and here are our top 5 picks.
The Best VPNs for Safari in 2023
NordVPN – Best For Speed
NordVPN is an excellent choice if you want to stay safe online when using the Safari browser. This VPN allows you to browse fast, make use of unlimited bandwidth and give malicious entities, ads and trackers a wide berth. With NordVPN, you get a dedicated IP address and an encrypted tunnel for your traffic, enjoying solid data protection and having the peace of mind you deserve.
A single NordVPN account lets you secure up to 6 devices, including those running macOS and iOS, and with a 30-day money-back guarantee, you can test the waters to make sure you get what you really want and get your money back if something goes wrong.
NordVPN's super-fast speeds are what makes this tool really special. It boasts 5400+ servers in 60 countries, and the average download speeds for the USA and the UK are 417.0 Mbps and 255.9 Mbps respectively.
NordVPN also offers a kill switch – a feature that prevents you from accessing the Internet if your connection is not secure. Besides, you are protected with no fewer than three encryption protocols and Double VPN, which encrypts your data twice by routing it through two different servers instead of one.
Another important advantage of using NordVPN is that it enables you to access your favorite movies and TV shows and stream safely from anywhere thanks to its Smart DNS feature.
Even if you face issues when using NordVPN, you don't need to worry – the service's 24/7 support will give you a helping hand whenever you need it.
Pros
Cons

Super-fast speeds

Kill switch

Double VPN

Smart DNS

30-day money-back guarantee

Top-notch encryption

24/7 support

No split tunneling on iOS or macOS

No browser extension for Safari (you have to operate from a standalone app for your Apple device)
Outbyte VPN – Best For Convenience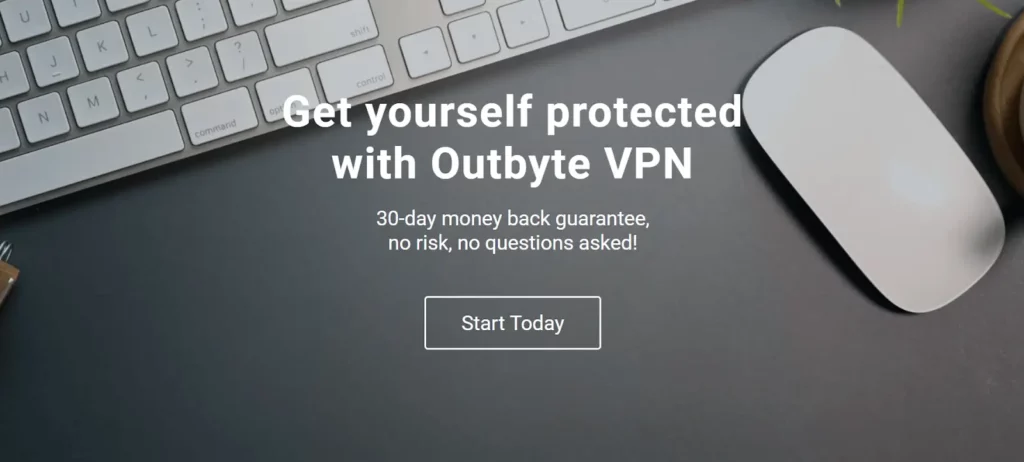 Outbyte VPN is a great choice for someone willing to protect their macOS or iOS device. This Australian VPN ensures data privacy and online security by concealing your IP address and encrypting your traffic. Besides, it offers multiple server options scattered across the world, unlimited bandwidth, and 6 simultaneous connections.
Outbyte VPN has a strict no-logs policy, boasts a user-friendly app that you can master within a few seconds even if you are not very tech-savvy and will never irritate you with ads or questionable content. Providing fast and reliable connections along with outstanding 24/7 support, this VPN service makes web surfing a safe and simple process.
You can easily get your money back should you be unhappy with the product: Outbyte VPN has a straightforward 30-day money-back policy allowing for a quick full refund with no strings attached, no questions asked.
Pros
Cons

Easy to install and use

Fast, safe and reliable

Military-grade AES-256 encryption

No-logs policy

30-day money-back guarantee (no questions asked)

Dedicated 24/7 support

Unlimited bandwidth

6 simultaneous connections

No Safari extension (you have to connect via Outbyte VPN's app)
Surfshark – Best Value For Money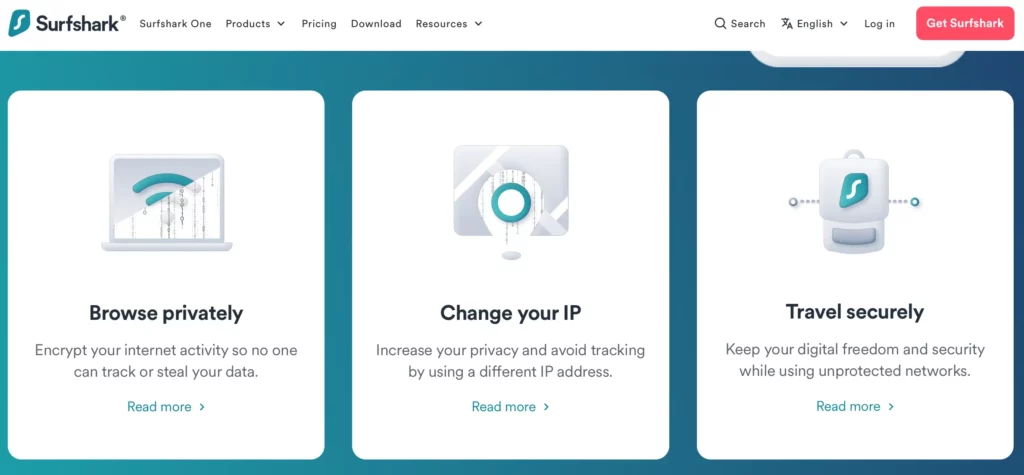 Surfshark is an affordable VPN that will make your digital life private and secure. With Surfshark in place, you can stay safe when streaming content, using public Wi-Fi and browsing from Internet-restricted countries. With its 3200+ encrypted servers, this VPN will defend you from malware, data breaches, spies, annoying ads, pop-ups, and trackers. It will also protect your email-accounts, personal ID and credit cards and will help you get around government censorship and geo-blocking.
We can safely assume that Surfshark is excellent value for money: it allows for unlimited simultaneous connections, meaning you can purchase one account for the whole family. It is not lagging behind in terms of customer service either: Surfshark offers 24/7 support and a no-logs policy, and if you are deciding on a VPN for Safari, a free trial from Surfshark can help you a lot by giving you seven days to test the tool's capabilities.
Pros
Cons

Unlimited simultaneous connections

Anti-malware features

7-day free trial

No-logs policy

Kill switch

No split tunneling for Macs or iPhones

No dedicated browser extension for Safari (you have to use Surfshark's iOS or macOS app)
ExpressVPN – Best For Comprehensive Protection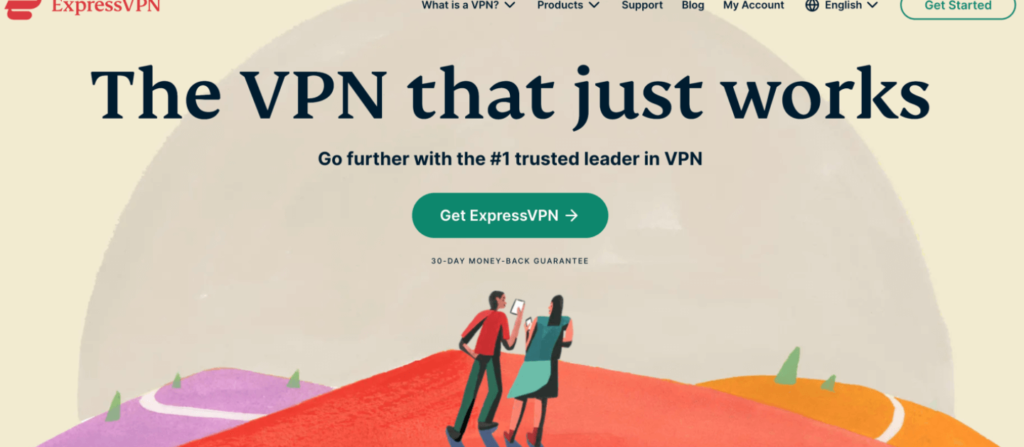 ExpressVPN is a powerful VPN that boasts fast servers in 94 countries, ensuring high-speed browsing and reliable connections. Its excellent encryption features boost your online privacy by hiding your IP address and protecting your identity and data. ExpressVPN makes you as anonymous as possible by keeping no activity or connection logs and letting you pay with Bitcoin and even use Tor to browse its .onion site.
The best thing about ExpressVPN is that it imposes no device limits – you can use it on all popular platforms, including iOS and macOS, install it on smart TVs and game consoles, and even protect devices that do not support VPNs at all! Aircove, ExpressVPN's own router, has built-in VPN protection and will protect each of the devices connected to your home's or office's Wi-Fi, and its kill switch feature will make sure you are safe should your connection drop suddenly.
Pros
Cons

Multiple servers

No-logs policy and anonymous payment options

24/7 support

Kill switch

Split tunneling for Mac

30-day money-back guarantee

A bit pricey

Could offer more customization

No dedicated Safari extension
PrivateVPN – Best For Torrenting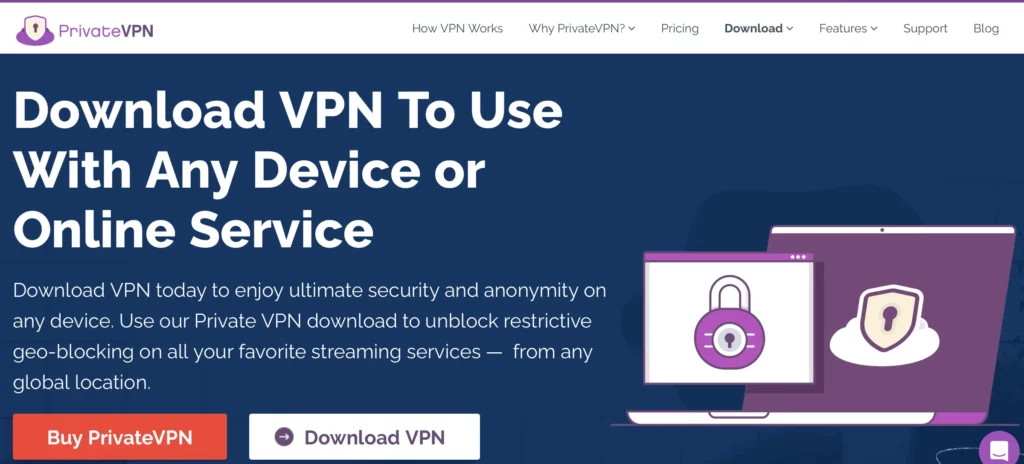 PrivateVPN is a Sweden-based VPN that offers fast speeds via its dedicated High Quality Network servers, 2048-bit encryption with AES-256, and five protocol options. This VPN works on all operating systems and supports up to 10 simultaneous connections and unlimited server switches and bandwidth, allowing you to surf the web as safely and conveniently as possible.
There is zero logging with PrivateVPN, and the service offers a 30-day money-back guarantee, so you can try it risk-free. PrivateVPN's team can even help you with the installation remotely – no extra payment is required.
In addition to its online safety features, PrivateVPN is a great choice for those who want to access and download various content anonymously. It offers port forwarding and is P2P-friendly, which is vital for torrenting.
Pros
Cons

Port forwarding

P2P-friendly

Fast servers

10 simultaneous connections

Unlimited bandwidth

Unlimited server switches

Kill switch

30-day money-back guarantee

No ad blocker

Support via live chat available only during European office hours

No dedicated Safari extension
The Best VPNs for Safari at a Glance
NordVPN
Outbyte VPN
Surfshark
ExpressVPN
PrivateVPN

Platforms and devices supported

Windows, macOS,

Linux,

Android,

iOS,

Android TV, routers

Windows, macOS, iOS, Android, Linux

macOS,

Linux, Windows,

Android,

iOS

macOS,

Linux, Windows,

Android,

iOS, routers

Windows, macOS, Linux, iOS, Android, and routers

Average speed

100+ Mbps

100+ Mbps

100+ Mbps

100+ Mbps

80+ Mbps

Activity logging policy

Strict no-logs

Strict no-logs

Strict no-logs

Strict no-logs

Strict no-logs

Money-back guarantee

30 days

30 days

30 days

30 days

30 days

Number of servers

5400

290

3200+

3000+

200

Server locations

60 countries

45+ countries

100

94

63

Data limits

None

None

None

None

None

Data encryption

AES-256

AES-256

AES-256

AES-256

AES-256

VPN protocols

IKEv2/IPsec, OpenVPN,

NordLynx

IKEv2,

WireGuard, Shadowsocks2

WireGuard,

IKEv2/IPsec,

OpenVPN, UDP/TCP

Lightway, OpenVPN (with TCP/UDP), SSTP, L2TP/IPSec, and PPTP

OpenVPN with UDP/TCP, L2TP, IPsec, PPTP and IKEv2

Number of supported devices/connections

6

6

Unlimited

5

10

Support

24/7

24/7

24/7

24/7

Only during European office hours

Best deal

2-year plan, $5.99

per month

12-month subscription, $5.00

per month

2-year plan, $2.30

per month

12-month subscription, $6.67

per month

3-year plan,

$2

per month
Safari VPN FAQs
How to choose and download a VPN for a Mac or iOS device?
1. Sign up for a paid VPN from a reputable brand.
Keep in mind that you should use a VPN designed by an established company – it is important that you entrust your security to a developer that has a solid reputation. Besides, you need to select the option that's the best fit for you, so do your best to research all the available packages.
2. Download a VPN app.
That should be easy. The download link will be available on the website where you've purchased your VPN tool. Just make sure to select the right version for your device.
3. Connect to the best server for your location.
In most cases, you will be automatically connected to the nearest server. This is because the closer your actual location is to the server through which your traffic is routed, the faster your connection will be. If you are, for some reason, dissatisfied with the server chosen by your VPN, you can switch to another one manually.
What is the best free VPN for Safari?
We strongly advise against using a free VPN for Safari since this can put your security at risk. To earn money, free VPNs often sell your personal data and bombard you with pesky ads, some of them being malicious, to say nothing of providing low-standard encryption. A free MacBook VPN won't allow you to browse with decent speeds due to limited server options, and you are unlikely to get proper support when using such a tool, so if you are looking for the best VPN for a Mac, free apps are something to avoid.
Is it legal to use a VPN for Safari?
In most countries around the world, including the USA, Canada, and the UK, VPN usage is perfectly legal, irrespective of the browser you employ. However, there are countries, like Iraq, Turkmenistan, Russia, China, and North Korea, where VPNs are either restricted or banned altogether, which is why you should be careful and use a VPN only if it is safe to do so in your environment.
Conclusion
No matter your gender, ethnicity, age, background, political views, or social status, you need an extra layer of protection when surfing the web via Safari, which has a history of security-related issues. Using a VPN will help you stay safe online, along with providing some extra features, like enabling access to region-locked content and enhancing your gaming experience.
We have researched multiple VPN options, and you can find our top picks for the most important categories above. We hope our review will help you make a well-informed choice. If you have any comments, questions or suggestions, do not hesitate to leave a comment below.
Give us some love and rate our post!
John is a tech enthusiast who loves to explore and improve the latest technology. He shares his knowledge and opinions on the latest gadgets, apps, software, and games on Software Tested. With years of experience in writing about technology, John has a keen eye for identifying new and noteworthy products. His articles offer in-depth, opinionated insights for both tech enthusiasts and casual readers alike.