Outdated drivers cause a wide array of problems for your computers. Your apps may not load properly, you won't be able to open your files, or worse: your entire system might crash. Hence, it is important that you keep your device drivers updated at all times. It is one of the secrets to keeping your hardware working smoothly.
Unfortunately, updating all your device drivers to the latest version requires a lot of work. And more often than not, you won't be able to notice that a particular device driver is already outdated unless you encounter an error or issue with the app associated with that driver. This can be frustrating because it seems like the only way to know there's something wrong with your software is when something actually goes wrong.
Well, you can prevent these frustrations by keeping your device drivers updated with Outbyte Driver Updater. This nifty little tool scans your system for drivers that need to be updated, then downloads their latest versions and installs them on your computer. This Outbyte Driver Updater review gives you an overview of what this driver updater tool and what it can do for your device.
What is Outbyte Driver Updater?
Outbyte Driver Updater updates the drivers on your computer in a single click to minimize device issues and ensure smooth performance. It is a safe, quick, and intuitive tool that should be a staple of every PC.
This tool was released by Outbyte Computing Pty Ltd., a software company that specializes in providing optimization tools for macOS, Windows, iOS, and Android devices. Driver Updater was designed for Windows 10/11 computers, but it also works with PCs running Windows 8 and 7.
When you download Device Updater, you'll be prompted to scan your computer first to determine which drivers need to be updated and which aspects need some tweaking to maximize performance. The scan is free, but you'll need to upgrade to the premium version to address all the issues. This tool costs $29.95, but it comes with a 30-day money-back guarantee in case you are not satisfied with the product's performance.
Outbyte Driver Updater Features
Driver Updater does more than just update your drivers. Here's a list of this tool's features that every user should maximize:
Excellent Diagnostic Tools
Driver Updater scours your entire system to look for outdated, corrupted, or missing drivers that you might not be even aware of. This tool then downloads the latest stable version of these drivers so you can update them in one go. No need to download the updates one by one because Driver Updater automatically does everything for you. This can help prevent or fix driver-related problems you might be experiencing on your computer.
Automatic Updates
You don't have to waste your time and energy on manually looking for the latest version of the driver. This tool finds the correct version compatible with your device type and model to prevent downloading the wrong version of the driver. Device Updater only downloads official and signed drivers designed exactly for the device being updated. The tool automatically runs a scan every time a program is opened to make sure it has the latest driver. It also runs a daily scan to check all apps.
Back Up and Restore
Outbyte Driver Updates lets you choose the drivers you want to back up in case you want to save a copy of your current driver. This is very useful when you encounter a problem with the latest driver. With a backup copy of your driver, you can easily roll back to the previous working version of the driver. You can either select specific or all of your drivers to back up.
Ignore List
If you want to exclude some drivers or apps during the scan, you can add them to the Ignore List. Driver Updater will automatically skip the items in the list and they won't be updated to the latest version.
PC Optimization (Coming Soon)
The developers behind this tool are working on additional optimization features to be included in Driver Updater. By then, Driver Updater will also be able to check for potential tweaks that the user could use to optimize the computer's performance. The tool will provide the user with a list of recommendations which the user can review and apply.
Simple User Interface
When you install the app, you'll be greeted by a simple dashboard where you can see all the features and actions you can take. The most notable feature is the Scan button which is in the middle of the dashboard and is bigger than the other buttons. There is also the Settings tab which you can access from the top menu where you can configure how you want the tool to operate.
How to Use Outbyte Driver Updater?
Driver Updater can be downloaded from Outbyte's website. Just click the Download button and install the executable file on your computer. Once installed, it will take you to the dashboard where you will be prompted to run a scan of your device. When you run the first scan, you'll notice some sluggishness because the app is checking every aspect of your computer. Make sure you have a stable internet connection while the scan is running to prevent the scan from being interrupted.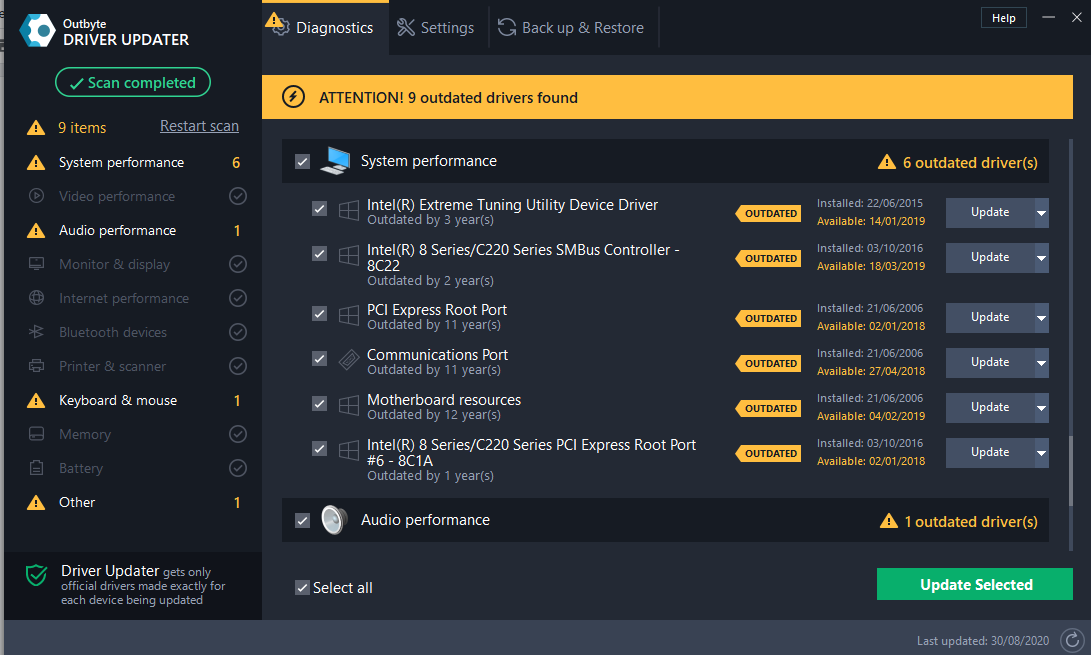 Once the scan has been completed, it will present you with a list of all the action items you need to take, and you only need a single click to resolve all these issues. However, the trial version only lets you perform the scan for free. To download all the updates and appl all the fixes on your computer, you need to upgrade to the premium version of the app. You will be redirected to the sign up page to complete the process.
Final Verdict
Outbyte Driver Updater is a great utility for keeping your device drivers and preventing issues that stem from outdated software. Unfortunately, the tool might seem costly. But, if you consider the hassle and damage an outdated driver might cause in the future, you'll realize that this tool actually helps you save money for potential repairs or replacement. Plus, it saves you from a lot of troubleshooting headaches.
Give us some love and rate our post!