How many minutes hours do you spend at night checking your social media feed or playing mobile games on your Android device before finally getting a shuteye? It's a vicious cycle – you can't sleep, so you pass the time by playing with your phone however, your phone could be the very thing that's keeping you awake. You've probably heard about how smartphones and other electronic gadgets with screens can disrupt sleep due to the blue light they emit. Blue light sends a signal to the brain that it's still morning, suppressing the production of the hormone melatonin, which is crucial to the body's sleep timing and circadian rhythm. To counter the adverse effects of nighttime gadget usage, Google is set to introduce the Android Wind Down Mode feature along with Android P later this year.
What is Android P Wind Down Mode?
Designed to discourage users from using their device excessively at bedtime Wind Down mode automatically turns on Do Not Disturb mode and fades the device's display to grayscale.
When you finally get your hands on an Android P device, setting up the Wind Down feature is very easy. All you have to do is tell Google Assistant to activate it: "OK Google, set Wind Down for 9:00 PM." When the time you chose comes, your phone will still be usable, but you won't get notifications, and your screen will be less inviting to look at. The blue light will also be canceled, so you're likely to feel sleepy sooner.
Can't Wait for Android P? Here's an Alternative Way to "Wind Down"
If you can't wait to take back lost sleeping hours and break the habit of staying up so late because of heavy nighttime gadget usage, you're in luck. With an app like Color Breeze, you can enjoy the benefits of Android Wind Down even before the release of Android P.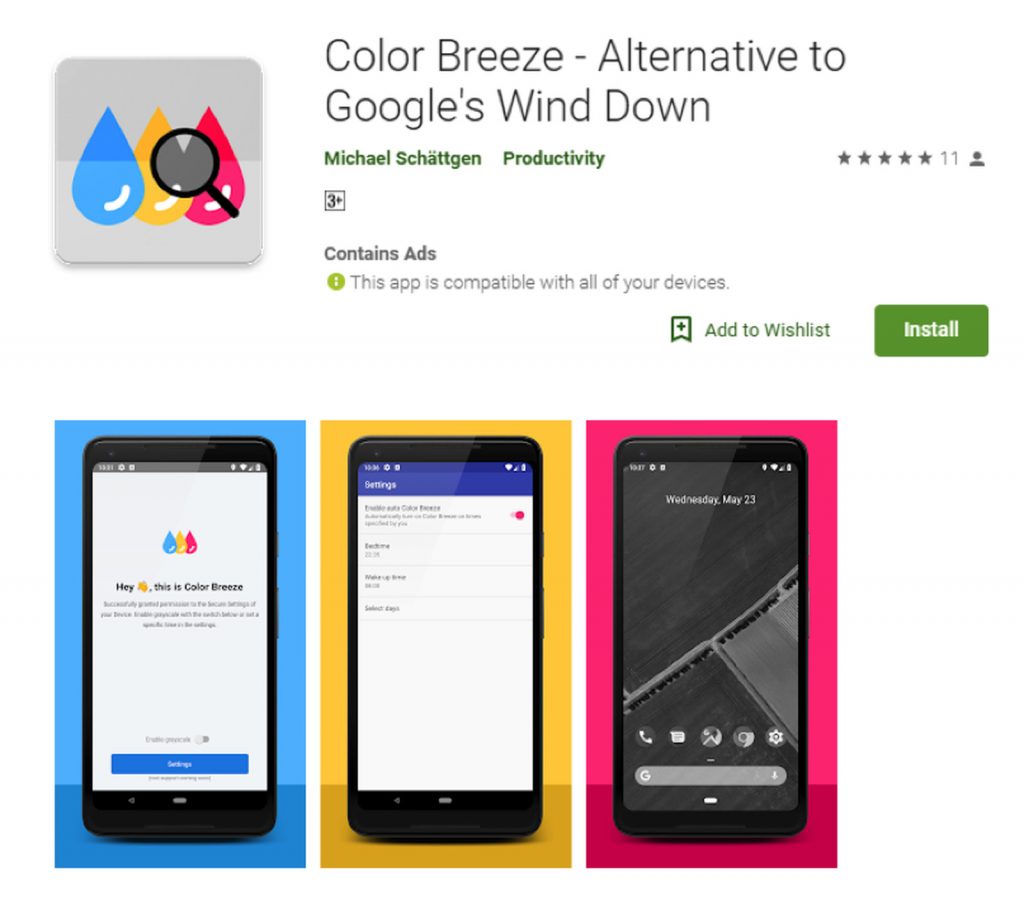 Developed by Michael Schättgen, Color Breeze is compatible with devices running on Android 4.1 and up. Just like Wind Down, Color Breeze automatically grayscales a device's screen at your set time or schedule. It also deactivates notifications.
What's so great about Color Breeze is that it lets you enjoy the benefits of Wind Down even if you don't have Android P. Furthermore, the app doesn't require rooting.
Before you download Color Breeze, consider downloading Android cleaner tool as well. By cleaning your device of junk and boosting its RAM, you're sure to enjoy Color Breeze's Wind Down function better.