Computers, by design, become notoriously slow over time, and there are many reasons behind this. However, the most common culprits are perhaps the junk and unwanted files that have accumulated after installing and uninstalling applications.
Yes, we can always remove these files ourselves and perform the necessary maintenance steps. But that can be quite exhausting. After all, we don't have the luxury of time to go through all our files and applications and find duplicate information.
This is where PC repair tools like Outbyte PC Repair and Advanced System Repair Pro come into the picture. According to the latter's manufacturer, this application is designed to make PC maintenance simple and straightforward. But how does it work, and what is its advantage over other similar applications? In this Advanced System Repair Pro review, we will give answers to your questions.
What Is Advanced System Repair Pro?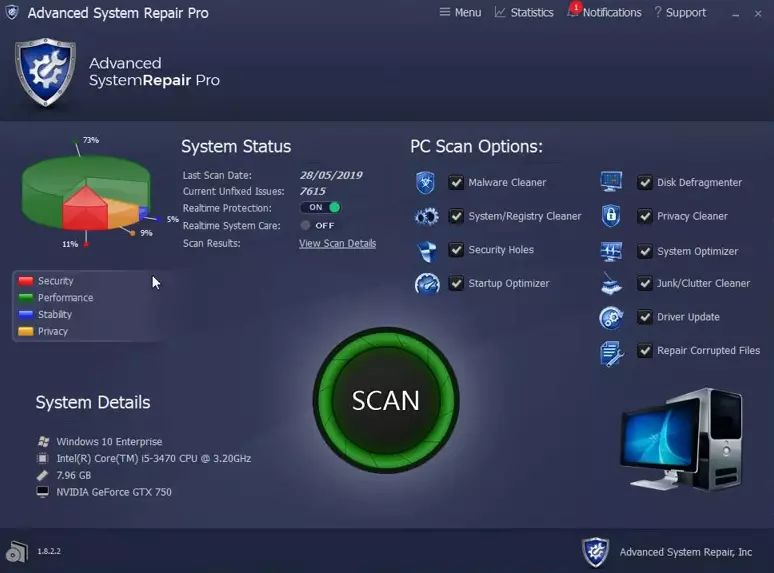 Before we delve deep into this Advanced System Repair review, let's first understand what Advanced System Repair Pro is in a nutshell.
Advertised as the ultimate PC maintenance application, Advanced System Repair is loaded with features and functionalities that aim to improve a device's performance. It is exclusively developed for Windows devices, and it is compatible with almost all Windows versions, including Windows 7, 8, 9, 10, XP, and Vista.
Advanced System Repair comes in two versions: Advanced System Repair and Advanced System Repair Pro. The first version is free, meaning any Windows user can download and use it without paying anything. But its features are limited. The latter version is paid. However, it comes with a lot of handy functionalities.
What It Does
The free version of the application can be conveniently downloaded from the manufacturer's official website. But if you don't register the software, it will be useless. You can only test the basic functions and scan your Windows device. If you want these issues fixed, you need to subscribe to the paid version.
The Pro version is quite a complex PC optimizer tool and is packed with different features, such as:
Junk Cleaner – The application can be used to find unnecessary files. This is a great feature if you have plenty of files on your hard disk that may be causing your computer to perform slower.
Application Analyzer – This feature can be used to check for applications or programs that are causing your device to become slower.
Disk Defragmentation – Every time you use your computer, files and data accumulate in the background. Over time, this will result in a slower performance because it will take quite some time for the disk to process information. Through defragmentation, data can be stored properly, which will result in faster performance.
Malware Removal – Malware entities, such as spyware, Trojans, worms, bots, and adware, can also affect your computer's speed. Removing them will improve your device's performance.
Registry Cleaner – Your computer's Registry is an essential component that stores settings for all the installed programs on your device. Unfortunately, it tends to encounter issues over time. Resolving them will make your computer more stable.
System Optimizer – This tool can be used to check your system's current optimization status. Making adjustments can significantly improve its performance.
Privacy Cleaner – You can check your computer's current privacy settings using this feature. With it, your privacy settings can be modified and tweaked if you want certain data to remain private.
Startup Manager – If you have lots of applications installed on your Windows device, it will perform slower than usual. If you're wondering why it happens, this is due to the fact that some of these applications launch at startup. You can use this application to select what applications should load at startup.
Uninstaller – You can also uninstall applications using Advanced System Repair Pro. It has a feature that scans all applications installed on your device and suggests which ones are causing your computer to be slower.
IE Extensions – Browser add-ons can also cause your system to be slow. While some of them may be helpful, others are installed unknowingly and slow down your PC. Using this application, you can find those that are causing your system to be slow.
How to Install Advanced System Repair Pro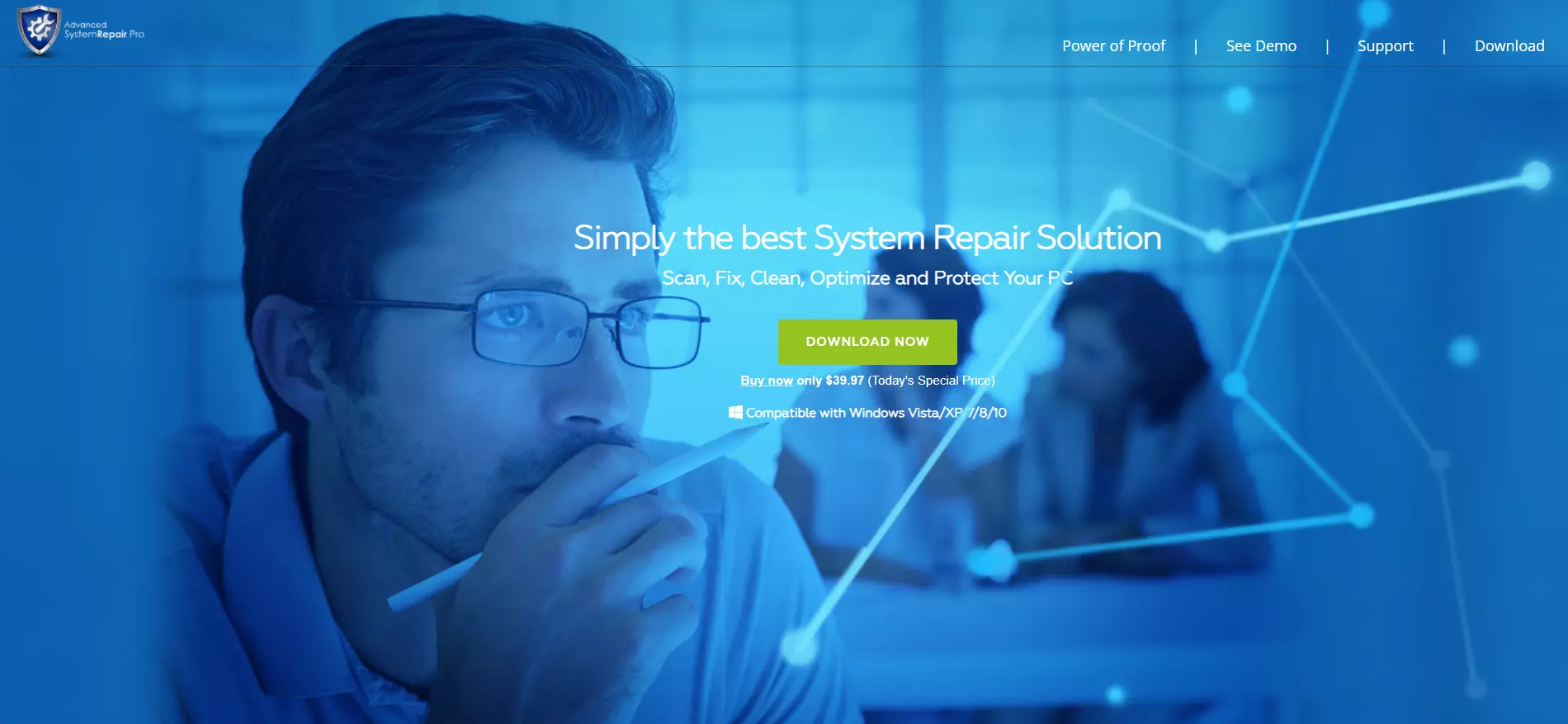 Unlike other similar applications out there, Advanced System Repair Pro has a fairly small size. And it is effortless to install, too! Like when installing a typical application, you need to download it first from the manufacturer's official website. After that, double-click on the installer to begin the download. Follow the prompts you see on your screen and restart your computer. And that's basically it!
How to Use Advanced System Repair Pro
Advanced System Repair Pro is very easy to use. Once you have it installed and running, you will see several tabs that can be used to carry out different tasks. Don't worry because the user interface is quite straightforward. So, you can easily see what button to click and what not.
The main screen is also very clear. Here, you are presented with many options: Real-Time System Care, Malware Cleaner, Privacy Cleaner, Disk Defragmenter, Real-Time Protection, and a lot more. But if you want to perform a complete scan, simply click the button that says 'Scan.'
You can choose to perform an advanced scan, though. And you have three types of scans to choose from:
Hardware Scan – It identifies issues with the CPU and RAM.
Security Scan – It finds spyware, viruses, and other malicious entities on your computer.
Stability Scan – It scans programs that usually crash and gives information about them.
What Issues Advanced System Repair Pro Addresses
Many Windows users are frustrated about system crashes and slow computer performance. And this program is said to do a good job at finding the roots of these problems and fixing them.
Below are some of the common issues that it can resolve:
Blue Screens of Death
A Blue Screen of Death, or BSOD, is a common but serious Windows problem, and it has caused headaches among many users as it makes systems unbootable. Believe it or not, even the latest Windows versions are still vulnerable to this problem.
Most of the time, users think that BSODs are triggered by hardware issues. But in truth, BSODs are generally caused by software problems.
And how does this application help? By performing a scan, it can find the files or processes that are causing the BSoD error. If the BSoD error is really caused by a software issue, Advanced System Repair Pro will fix it. However, if the issue is caused by a faulty hardware component, the application will notify you about that.
Malware Attacks
Do some of your applications and programs crash more frequently than others? Is your system loading too slowly? Your Windows device may be infected by malware.
When a program is infected with a virus, the moment it launches, the virus copies and spreads onto your hard drive. This affects your computer's memory. And before you know it, the virus may have already corrupted your whole system.
Unlike other programs that prevent viruses from entering your device, Advanced System Repair Pro can detect viruses that are already on your computer. It also removes them, finds corrupted files, and replaces them with working ones.
Corrupt or Missing Registry Entries
The Windows Registry is a database of information containing system and configuration settings, details about installed applications, and other system-related data. And when the Registry becomes corrupted, files cannot be opened. Worse, they will go missing.
The Registry can become corrupt because of the following:
Newly installed applications have deleted certain files or folders.
A malware entity has attacked your device.
There are hardware issues that caused disk corruption.
In just one click, all these Registry problems can be resolved by Advanced System Repair Pro. It even cleans the Registry to prevent any performance problems.
Windows Errors
Windows errors are the most annoying. They pop out randomly, even when you're in the middle of an urgent task.
And what makes them even more frustrating is that they don't give you any information about what just happened. You have to figure it out yourself by searching online using the hexadecimal equivalent of the error code.
Although some of these errors can be resolved after restarting, others, especially those that are related to drivers, may need a more in-depth fix.
Now, can Advanced System Repair Pro help? Yes, it has a feature that allows you to perform a deep scan of your files, find the cause of the error, and resolve it in just one click!
DLL Errors
DLL errors can be caused by malware or the incorrect installation of programs. When DLL files go missing or become corrupt, the programs that use them may not function properly.
The good thing is that Advanced System Repair Pro has a feature that deals with DLL errors. It replaces any damaged or missing DLL files with new ones. However, it has limitations. It can only do that for files that come with the operating system by default.
Is Advanced System Repair Pro Worth It?
Now, let's conclude whether or not Advanced System Repair Pro is a worthy app.
ASRP is designed to make your Windows device work faster and better. It is user-friendly software that provides information on your Windows device's health status. Its main purpose is to fix computer problems and remove threats. To get the job done, you only need to scan your system for a few minutes and wait for the results.
One of the advantages of this application is the way it combines various error-fixing components and feature improvements into one easy-to-use tool.
If you have been battling with a slugging system for quite some time now, Advanced System Repair Pro is an application that we recommend. It is safe to use and effective, and it will most likely resolve even the most persistent issues that are affecting your system's performance.
Have you used Advanced System Repair Pro before? Share your experience in the comments!
Give us some love and rate our post!
John is a tech enthusiast who loves to explore and improve the latest technology. He shares his knowledge and opinions on the latest gadgets, apps, software, and games on Software Tested. With years of experience in writing about technology, John has a keen eye for identifying new and noteworthy products. His articles offer in-depth, opinionated insights for both tech enthusiasts and casual readers alike.