Reading time:
6
Minutes
Data loss is something that we never anticipate. Irrespective of the cloud backups and many other modes of backup available we somehow tend to be negligent towards taking backup regularly. We regret it the moment we lose all our data within seconds. Now comes the recovery part, it is the most time taking task and can test your patience if you are not using the right data recovery software.
In this article, we are going to review Remo Recover, aka Remo Hard Drive Recovery Software. Let us know how this software stands out in our attempt to recover data from various data loss scenarios. Stick till the end of the article, to know whether you should be using Remo Recover for your data recovery needs.
Things you need to know about Remo Recover – Hard Drive Recovery Software
Not just a Hard Drive Recovery Software:
Although the name is Remo Hard Drive Recovery Software, the software can assist you in recovering data from any storage device that is supported by Windows and Mac. So be it a hard drive, SSD, USB flash drive, SD card, or memory card, you can recover data using Remo Recover.
Recover Files of any File Type:
Yes, Remo Recover has its support for more than 1000 file types and has special research done on more than 100 file types. What does this mean to a user? Simply put, you can recover anything that you are looking for. Be it photos, videos, documents, database files, excel sheets, etc. I cannot name all the file types but I am going to put a few common file types that you can relate to.
As previously stated, the tool is capable of recovering over 1000 file types that include:
Files and documents: DOC, DOCX, XLS, XLSX, PPT, PPTX, TXT, RTF, HTML, PDF, ZIP, and many more.
Photos and Images: JPG, GIF, PNG, BMP, TIFF, CR2, CRW, NEF, ARW, etc.
Video Files: AVI, MP4, MOV, MPEG, MPG, M4V, 3G2, 3GP, RM, WMV, VOB, OGG, etc.
Music Files: MP3, MP4, WAV, MIDI, M4b, M4A, AIFF, AIF, AIFC, RA, AMR, etc.
Multiple Recovery Options:
Once you launch the software, you will see three options on the home screen. Recover Files, Recover Photos and Recover Partitions. Based on what is your requirement you can select the option and then go ahead with the recovery process. The point to be noted is Recover Photos options are not just limited to photos but can help you recover any media files.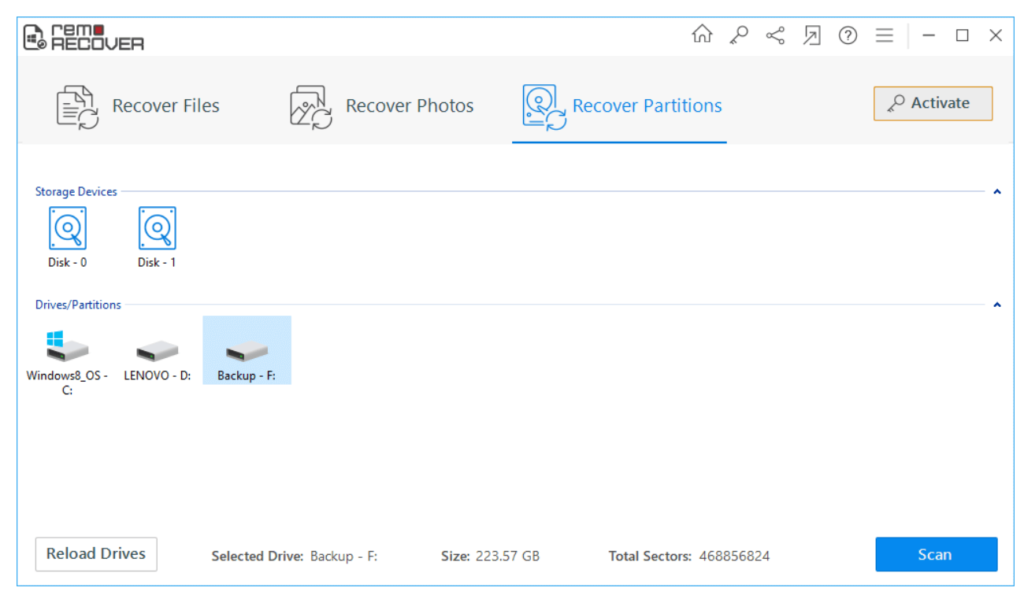 Don't Miss the Deep Scan:
When you start the recovery process with Remo Recover, within a few seconds the quick scan will be completed and you will be displayed the list of files found after the Quick scan. However, a quick scan is only helpful when you are looking to recover any deleted files. When you are performing any complex data recovery, you won't be able to see any of the files you are looking for after the Quick Scan. That is when the Deep Scan feature comes into picture.
What is a Deep Scan? Why Should I care about it?
If you take any data recovery software, they will have this feature called advanced scan or deep scan in the case of Remo Recover. Deep scan is a feature that can scan your storage device sector by sector and recover data literally from every nook and corner of your hard drive. Now, this won't happen in a jiffy, you will have to be patient and spend more time on deep scan to give you results.
Try it for Free before you Buy:
When you are looking for hard drive recovery software, it is not necessary that you have to buy the software first and then use the software. With Remo Recover you can try the software for free. Yes with the help of the Preview feature you can evaluate the recovery process and then decide whether you want to purchase Remo Recover or not.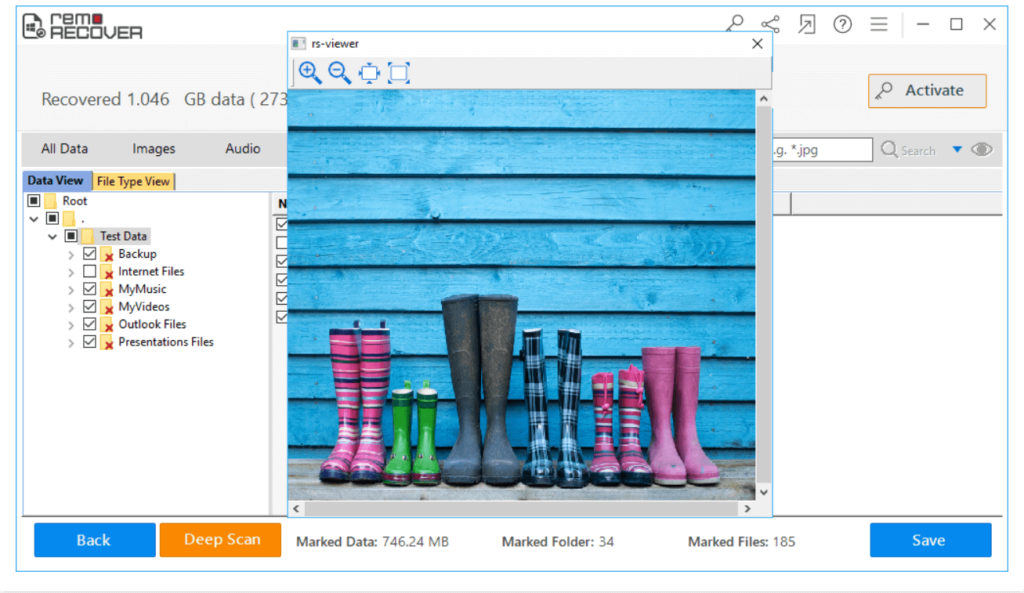 How to use the Remo Hard Drive Data Recovery Tool?
Download the tool from the official website and launch it on your system. The tool is available for both Mac and Windows.
Select Recover Files, Recover Photos or Recover Partitions as per the data you want to recover on the hard drive.
Select the drive from which the data has to be recovered and click on Scan.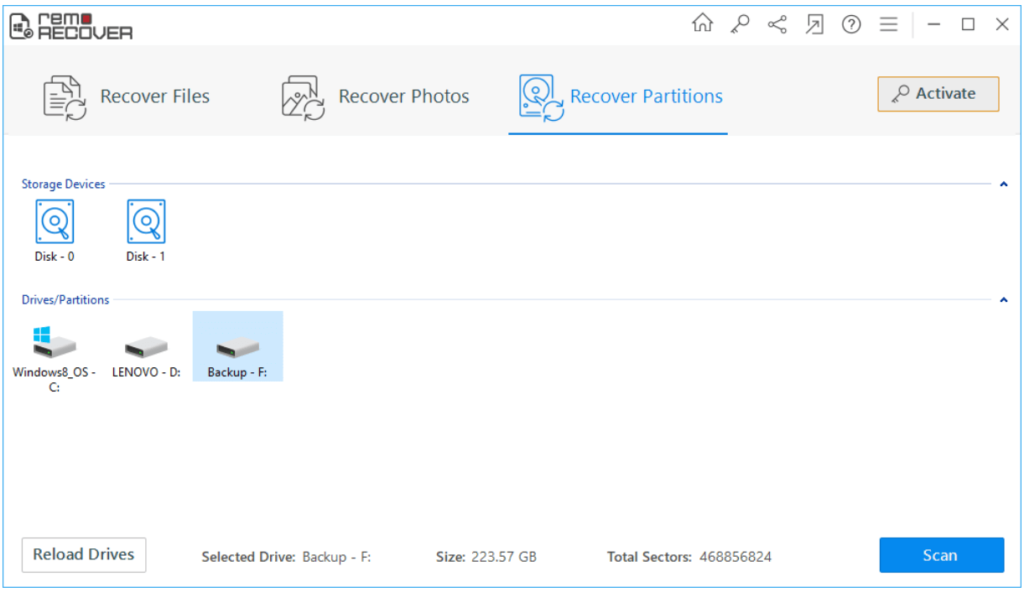 After the scan, using the Preview feature verify the data that has been recovered. You can either view it in the Data Type View or File Type View.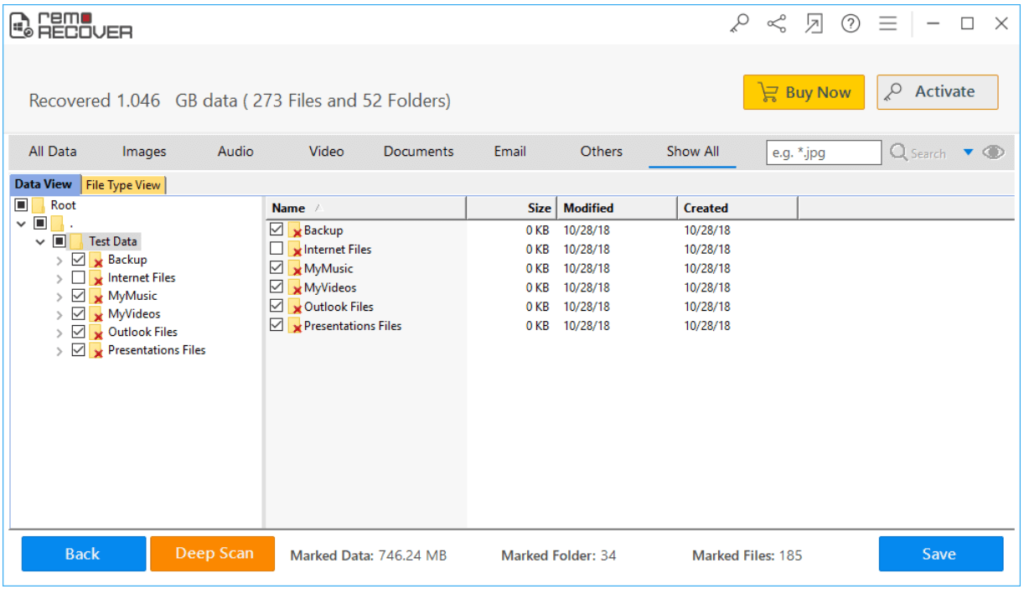 Click on the Save button once you're satisfied with the recovered data and then purchase the licence to save data to your system.
How much Does Remo Recover Cost?
Remo has a flexible pricing option based on your data recovery needs. The below snapshot should answer your question the best. To be honest, I found Remo Recover the most affordable software when compared to other data recovery software like EaseUS, Stellar and Disk Drill.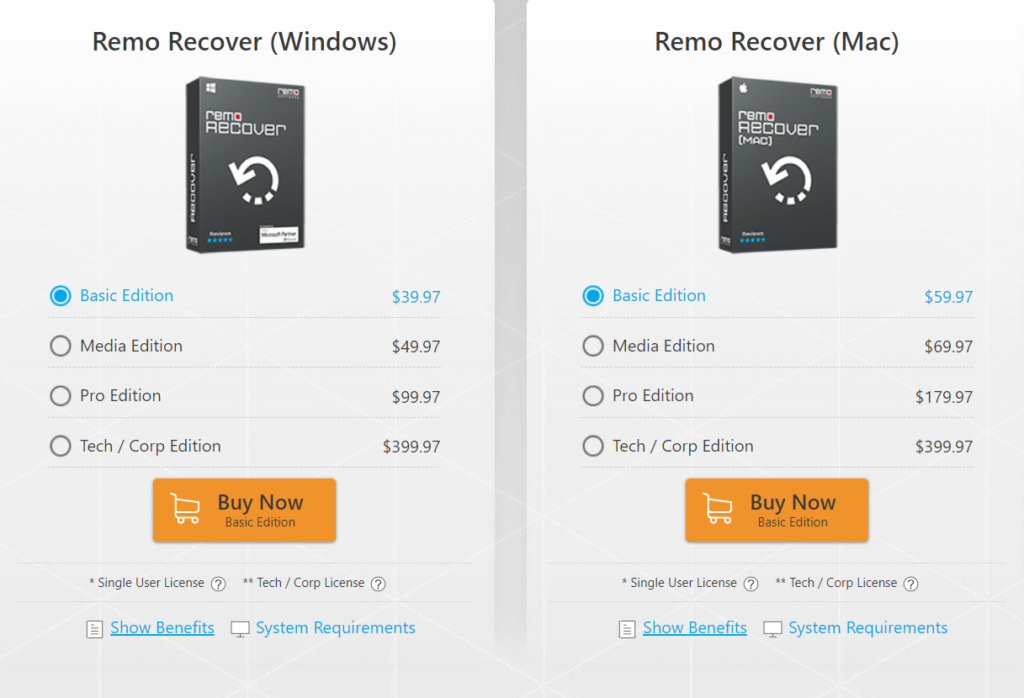 The four versions of the Remo Recover:
Remo Recover Basic Edition: This is the basic edition where you can recover deleted or lost files and is the most affordable one with its price being $39.97. If you are looking for a simple data recovery process then this version is for you.
Remo Recover Media Edition: As the name suggests, this version is helpful if you are looking into recovering media files like photos, videos or audio files. This is going to cost you $49.97
Remo Recover Pro Edition: Remo Recover Pro as the name suggests, can perform any complex level of data recovery. This version of the software is a keeper as it can come in handy under any data loss scenario. This costs you $99.97
Remo Recover Tech or Corporate Edition: This version is mainly for organizations dealing with huge data loss scenarios. I don't recommend this version for any single PC user.
Few Words about Technical Support:
While I have mentioned my experience with the software experience, it will be unfortunate if I don't mention about the customer support. The Trustpilot and Google reviews are in praise of their customer support team for their patience and support in helping the users recover their data. It is one of the most important aspects of a user experience, when a user is finding any trouble in the process of data recovery, a support team can play a vital role in making the user satisfied. Building a perfect product is easy but building a perfect customer experience is not easy. Kudos to Remo's technical support team.
Reviews on Remo Recover:
Software is rated 4.8 out of 5 in Trustpilot and Google. If you are still wondering whether to use Remo Data Recovery Software, I would definitely ask you to give it a try. It is free to try, you can be the judge after the recovery process.
Final Words:
Remo Recover is a promising data recovery tool with its extensive features. If you want to make sure you get all of your files back, Remo can be a place to start your recovery process. Before we end, make sure you take regular backup of your data to ensure no data loss happens in future. We recommend you to switch to smart backups like cloud storages to never lose your data. Do let us know your thoughts on the article and share the word if you liked our review of Remo Recover. Do visit their website and check out Remo Recover.
Give us some love and rate our post!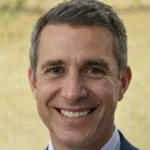 Jack is a seasoned software tester with over 10 years of experience in the industry. He takes pleasure in helping others advance in their careers and enjoys spending his free time with family, playing chess, and reading.
As a software tester, Jack ensures the software is error-free and user-friendly by detecting and reporting issues during the development cycle. His articles in Software Tested reflect his knowledge of the critical role software testing plays in the software development process.