Reading time:
5
Minutes
Time after time, tech has shown us that imagination is the sole ingredient of progress. With advancing tech each day, it has given us the chance to make dreams become reality. Long gone are the days when you could only enjoy your videos on your tiny phone's screen. Nowadays, you can simply connect your Android or your IOS phone to the television screen.
Screen Mirroring, as it's been termed, can be done using various apps, but one of the best apps in the whole cosmos is the Starzmirror app. Built as a lightweight app, it can handle all the screen mirroring you will require. It is easy to set up, can connect many devices, and offers wired and wireless connectivity.
The StarzMirror app also offers screen mirroring at flexible, below market average costs and offers a free trial for those who don't want to test the waters with both feet.
Part1. What Can You Use the Mirror App For?
Face Time
Communicate with your family and friends and that business associate on the other end of the world using FaceTime. You don't need to be confined to your tiny screen when you link up with them.
Meeting Presentation
Perfect for a remote job, you can set up the Starzmirror app for a meeting presentation.
So if you want to show the charts on a cutting-edge 3D representation of your screen, this app is your best choice.
Games
Ideally, gamers who love their games should get this app. Play your way and your choice to victory, using your TV screen as a suitable accessory.
Mirroring with Screen Off
This is also great for screen-off mirroring, as it lets you get the most out of the time you are connected.
Online Lessons
If you are a student or a worker looking to brush up on your certifications, the Starzmirror app is great.
What is better than studying online from your phone? Well, studying online from your phone using a giant screen!
By mirroring your TV to your phone, you can get the feel of a live teacher or as if you were in a physical class studying. The giant screens mimic a projector, which can help concentration levels.
People tend to slack off when they study on their tiny phone screens as compared with a bigger TV and a projector screen.
Movies or Video Entertainment
Get the cinema experience by watching your movies on a bigger screen with a surround speaker system.
See more of the cutting-edge tech used in your movies and music videos by watching them on a bigger screen. You can mirror your phone and never miss the magic of a fully crafted movie.
Screenshots
You can take amazing screenshots with the Starzmirror app. With one click on the app, you can capture breathtaking shots, even from a video.
Recording
You can also record videos with this app too. Yes, your mirror app can double as a recording tool.
So sit back and relax and record those amazing cat videos using your big screen.
Part2. 3 Steps To Set Up Starzmirror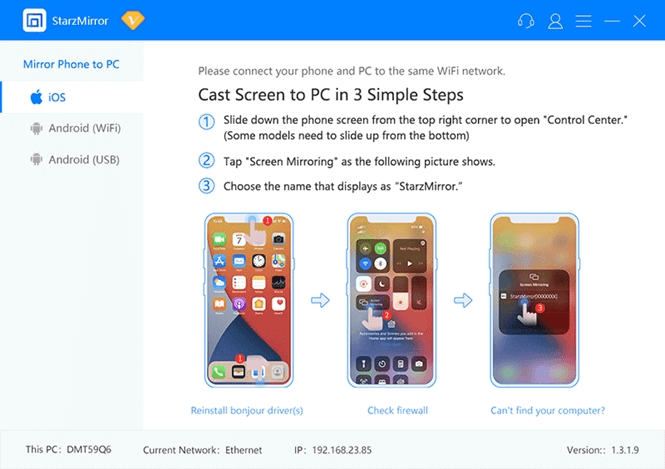 How do you get the Starzmirror app to function on your phone?
For IOS
Install the app from the Playstore (for Android) or the Apple Store (for iOS).
Slide down the screen and click the control centre.
Tap "Screen mirroring" as an option.
If you have other screen mirroring apps, they will try to compete. You want to use the Starzmirror app, so you are looking for "Starzmirror option". Click that and you are ready.
For Android
Download and open the app.
Set up your phone by following the on-screen prompts.
With USB
The Starzmirror app can also be connected via USB.
Simply load the app and select the USB cable option.
Part3. FAQs about Using StarzMirror
1. What Kinds of Devices Can You Connect?
You can connect PCs, TVs, tablets, and smartwatches. It can connect to anything that is powered by Android or IOS. So sorry, but your blender won't connect.
2. How Many Devices Can Be Connected at Once?
You can connect as many as six apps to the Starzmirror app.
3. You want the App, How About Pricing?
We have a flexible pricing system designed to fit your pocket. You can pay either monthly, quarterly or annually.
Of course, you have your preferences, but the annual payment offers mouth-watering discounts that can ease your finances.
4. Is There A Free Trial?
Yes. You can try out the app for a while, and if it fits your taste, you can get a VIP subscription. For the free trial, you get limited access to the app so it's advisable to upgrade to the VIP version of the app.
5. The Difference Between a Free Trial and a VIP Subscription.
These are the major differences between the free trial version and the paid app.
Length of Mirroring: You get 15 minutes for the free trial, but you get unlimited screen mirroring time with the VIP plan.
Watermarks: There is a watermark with the free trial, while this is absent in the VIP plan.
Screen Record Time: You get a 3-minute screen record time in the free trial version, while there is an unlimited record time for the paid plans.
Android Keyboard: There is a fixed keyboard for the free trial, while you can customize your keyboard with special keys on the paid plan.
Part4. How Can I Pay For My VIP Subscription?
Most online payment options and cards are supported. You are spoilt for choice when you wish to upgrade to a paid version. You can use the following:
Paypal
Master Card
Visa Card
American Express
Visa
Giro pay
Discover
Wire Transfer
JCB
Diners' Club International
Wire Transfer
Conclusion – What to Do Now?
The Starzmirror app is a cheap and great mirroring app that is easy to use. New users can test the free trial option.
Upgrading to a VIP plan is required to enjoy features like the VIP that you are.
There is more!
We offer a 7-day money-back guarantee if by any chance you don't enjoy using the app. So what is stopping you? Go ahead and choose the app.
Give us some love and rate our post!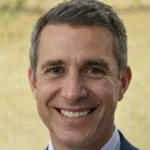 Jack is a seasoned software tester with over 10 years of experience in the industry. He takes pleasure in helping others advance in their careers and enjoys spending his free time with family, playing chess, and reading.
As a software tester, Jack ensures the software is error-free and user-friendly by detecting and reporting issues during the development cycle. His articles in Software Tested reflect his knowledge of the critical role software testing plays in the software development process.