Folders have made it easier for us to view and organize our files in a variety of ways. In Mac, you can view your files in four ways — as icons, as a list, in columns, or in Cover Flow. When you open your Documents folder, for example, you'll see these options in the upper-right side of the Mac file Finder menu. It is easy to switch between these four different folder views, and you can choose one which is more convenient for you. This article will teach you what the four Mac Finder folder views are and how you can customize them.

Sorting Items
There are so many ways for you to customize your Mac Finder. You can choose to arrange the files and folders, and sort them according to your preference or resize the columns. The easiest way to organize your files and folders is to sort them. To do this, select any of the four folder views and click View > Show View Option from the menu bar. Another way to make this window appear is by clicking Cmd + J.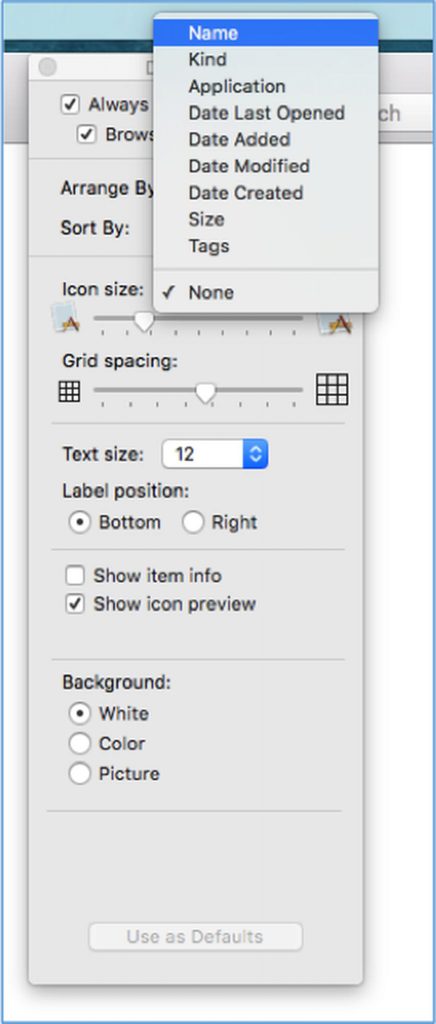 Pro Tip: Scan your Mac for performance issues, junk files, harmful apps, and security threats
that can cause system issues or slow performance.
Free Scan for Mac Issues
Special offer. About Outbyte, uninstall instructions, EULA, Privacy Policy.
A view options window will pop up for the folder you have opened. You can arrange the items on the folder according to size, tags, date modified, date created, name, kind, application, and date last opened.
You also have the option to change the size of the icons by moving the slider to the left (smallest) or to the right (biggest). Aside from icon size, you can also change grid spacing, which is the spaces between icons. If you want to make the text smaller or bigger, you can do so by changing the text size.
When you choose the list or Cover Flow view, you will notice that each column has a category or label on top of the list. These labels provide more information about the files, including name, date last modified, size and type of file. You can sort the list according to each column by clicking the name above, and vice-versa.
Arranging Items

To arrange items in a view, just click the item arrangement icon to the right of the four folder view buttons. When you click the grid-like button, a menu with a list of options for arranging the items on that folder will pop up. You can organize by name, kind, application, date the file was last opened, date added, date modified, date created, size or tags. The files in the screenshot below were arranged according to size.
Keeping Folders at the Top
When you have so many files to arrange, folders are a big help because all you have to do is put the files into the relevant folders and everything looks a lot better. However, there are times when some files can't be categorized into folders, and you're left with a combination of files and folders in the view. You can choose to have folders stay on top of the other files so you can easily access them.
To do this, click Finder > Preferences > Advanced and tick off the box beside 'Keep folders on top when sorting by the name.' When you do this, all the folders will move to the top whenever you click the Finder app icon.
Customizing Columns
When you open a folder in List, Column or Cover Flow view, all the items are arranged in columns. You can see the information of each file, including file name, date it was modified, size and file type. You can adjust the width of the columns if they seem too narrow or if the information is truncated.
To adjust the width of the column, click the column divider at the top of the window and drag the line to the left or to the right, according to the width that you want. Aside from resizing, you can also hide or show columns in the folder view. Just Ctrl-click a column to see the types of columns available. Those with checkmarks are the columns currently being displayed on the folder view. You can check the columns you want to show and uncheck those you want to hide.

You don't have to stick with the default Mac Finder view because there are many ways to organize and customize your folder views. You can modify it according to your preferences to make it easier for you to search and retrieve files when you need them.
To avoid clutter on your computer, use an app like Outbyte MacRepair to delete junk files on your Mac. It scans your Mac and removes old cache files, unnecessary log files, temporary files and all other trash files that eat up your storage space and make your file system messy.


If you're running into errors and your system is suspiciously slow, your computer needs some maintenance work. Download
Outbyte PC Repair
for Windows,
Outbyte Antivirus
for Windows, or
Outbyte MacRepair
for macOS to resolve common computer performance issues. Fix computer troubles by downloading the compatible tool for your device.
See more information
about Outbyte
and
uninstall instructions
. Please review
EULA
and
Privacy Policy
.