With the release of macOS Mojave a couple of days ago, it is important to understand the extent of what our Macs can do. Your Mac may be able to do more than you think, and you're missing out on these features that you do not know of or that you're not using. There are many things your Mac can do, which Windows 10/11 will need third-party apps to achieve. And with the release of macOS Mojave, your Mac has just become even more powerful.
One of the benefits of using a Mac is that you don't need to install third-party apps to do some basic stuff. Almost everything is built-in, and you'll only need to install third-party software for very specific tasks. Whether you need to merge multiple PDFs, do some basic editing or sign documents, you can do all of these with your Mac's built-in software. This guide will help you master all the basic tasks you can do with your Mac, learn MacBook Pro tricks and secrets, and get to know other unfamiliar features of macOS.
Here's a list of the 25 best Mac tips, tricks and timesavers to help you get the most out of your device.
Conversion using Spotlight
You've probably tried doing basic calculations in Spotlight, but did you know that you can do unit conversions in macOS High Sierra? You can type in specific unit conversions if you want, like '50 pounds in kilograms'. But if you try to put in just a number and its unit of measurement, you'll notice that Spotlight will give you the most popular conversion query, as well as some suggestions like videos, files relevant to the query, search results, etc.
So, if you type in '50 pounds', you'll see the top hit which converts 50 pounds to 22.68 kilograms. You can also see documents related to the search query, as well as Siri-suggested websites. This is very helpful when you need quick conversion.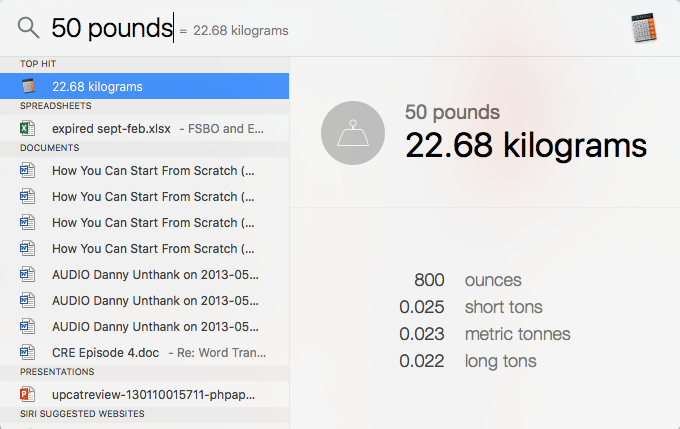 Engage with your Mac.
In the days before macOS Sierra, the only way to speak to your Mac was through Dictation. But with the introduction of Siri on Apple's desktops and laptops, engaging with your Mac has become a two-way communication.
We all know that Siri is a handy feature on iOS devices, and this AI virtual assistant only became powerful when it came to Mac. Just hold the Command + Space keys or click Siri in the Dock or Menu bar to summon the Siri that we've all grown to love on our iPhones and iPads.
Aside from asking everyday questions like 'What's the weather today?' or 'What's the traffic like from here to there?', you can use Siri to toggle system features such as Wi-Fi or Bluetooth or find specific files based on the information you give to Siri. It can even open or close apps for you and save the results of your search for later use. Just launch Siri and start asking.
Run Windows.
No Mac user would want to run Windows on their computer, but believe me, it could get handy sometimes. Whether you want to play the latest games or run some Windows-based apps, running Windows on Mac can be a neat trick.
There are two ways to run Windows on your Mac —you can either use a virtualization app, such as VMware Fusion, Virtual Box or Parallels Desktop, or partition your drive to install Windows on it.
Screenshots of all sizes.
Taking screenshots on Windows can be a hassle because you either press the PrintScreen key to capture the whole screen or use the snipping tool to take a snap of a portion of the screen. With Mac, the process is so much easier, and you don't have to use any other tool.
To take a screenshot of the whole screen, press Command + Shift + 3.
To take a screenshot of a portion of the screen, press Command + Shift + 4.
To take a screenshot of a particular window, press Command + Shift + 4, hit Space, then click the window you want to take a snap of.
If you're using a MacBook Pro with the Touch Bar, press Command + Shift + 6 to take a snapshot of the OLED strip.
Taking a screenshot on Mac just means memorizing a couple of keyboard shortcuts.
The menu bar has been with Mac since it was launched in 1984, and the option to hide/show the menu bar was introduced in El Capitan. Just go to System Preferences > General, then tick off 'Automatically hide and show the menu bar.' This will hide your menu bar, and if you want it to reappear, just glide your mouse over towards the top of your screen.

Use emojis and other exotic characters.
Aside from the regular characters on your keyboard, there is also a wide array of special characters that you can use on your Mac. Just go to the Edit menu of the app you are using, and you'll see Emoji & Symbols at the bottom. A window will appear with special characters and emoji you can drag into your documents or emails. Note, however, that not all apps or operating systems support these characters.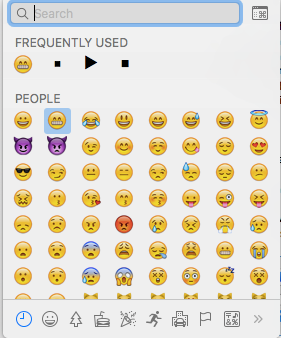 Sign documents in Mail.
If a PDF was emailed for you to sign, you don't have to print it, sign it, then scan it again. You also don't have to use any other apps to do the task. You can do it right in Mail.
Just drag the PDF into your reply email, hover over it, then click the little button that appears at the top right. You will get several Markup options, just look for the icon for signing documents. You can either add a photo of your signature or draw on your trackpad.
Rename files by batch.
Renaming a group of files is now easier on Mac. Just select the files you want to rename, then choose Rename either from the right-click menu or from the dropdown button in Finder windows. Then, you'll have the option to add text, replace text, or apply a format for renaming the files.
Sharing to friends.
When you see an icon that looks like an arrow going out of the box, that means you can share that content to your friends and contacts. You can see this icon all over macOS, but the most amazing thing about this feature is that your Mac actually keeps track of all your shares and the people you share them with. So, if your share pictures or files with specific people, these options will be stuck at the bottom of the menu so that you can easily choose these options the next time you share something.
Use Split Screen.
Working with two windows side-by-side makes it easier to work on projects that require multiple apps. To set up Split Screen, hold down the full-screen button (the green one) in the upper-left corner of the window. While you are holding the button, the window will shrink by itself, and then you can drag it to the left or right side of the screen. Release the button and the window will snap to the side of the split screen you dragged it to. Choose another window and do the same for the other side. You can adjust the dividing line between the two windows to make them smaller or larger.
Importing photos with Image Capture.
Image Capture is the easiest way of importing photos from your iPhone, iPad or DSLR —though most Mac users often overlook this feature. With Image Capture, you can import all of your photos at once and save them to your chosen folder, and you manually pick which photos to copy to Mac. You can also choose whether you want to keep or delete the original copies one by one.
Image Capture also lets you import scanned photos or documents by connecting wirelessly to your scanner. You can also connect your camera to any application that you want to use.
Annotate PDFs and photos.
Preview is now armed with more features, thanks to macOS Mojave. Aside from giving you a preview of the file, Preview will also offer lots of annotation options that are compatible with most PDF software. By using the Edit Toolbar, you'll have more options like drawing shapes, speech and though bubbles, arrows, and much more. You can also highlight text, using different colors, strikethrough, add notes or type in some text.
Edit your file and folder icons.
If you want to customize how your files and folders look, just right-click the file you want to replace the image of, choose Get Info in the right-click menu, then copy your preferred preview image. Next, click the existing thumbnail in the Preview section of Get Info and press Command + V to paste the new icon. Follow these steps for all the files and folders that you want to edit.
Use Preview to edit images.
Another function of Preview that is often overlooked is its editing features. You can crop your photos by drawing a selection, using the Rectangular Selection tool, then hitting Command + K or choosing Crop from the Tools menu. You can even make more complex selections, using the Edit Toolbar. This way, you don't have to open Photoshop every time you need to do simple edits.
Store and find Wi-Fi passwords.
If you've forgotten your own Wi-Fi password or you want to connect to a network you connected to before but you can't seem to remember the password, your Mac probably has the answer. Macs have an Apple feature called Keychain, which stores all of your passwords for websites, apps and even Wi-Fi networks. So if you can't remember your Wi-Fi password, just open Keychain Access by searching for it in Spotlight, search for the network you need the password for, and double-click the Keychain corresponding to the SSID you're looking for. Click Show password and enter your Keychain password, and voila! You've got the Wi-Fi you've been looking for.
Create keyboard shortcuts.
Keyboard shortcuts let you save time, but with Mac, you can set your own keyboard shortcuts that will be easier to remember. You can also create a shortcut for menu options that have no existing shortcuts. Just go to System Preferences > Keyboard > Shortcuts > App Shortcuts, then click the (+) button. Choose the app you want to apply the shortcut to, then type in the menu command in the next box. Next, choose your preferred key combination for the command, then click Add.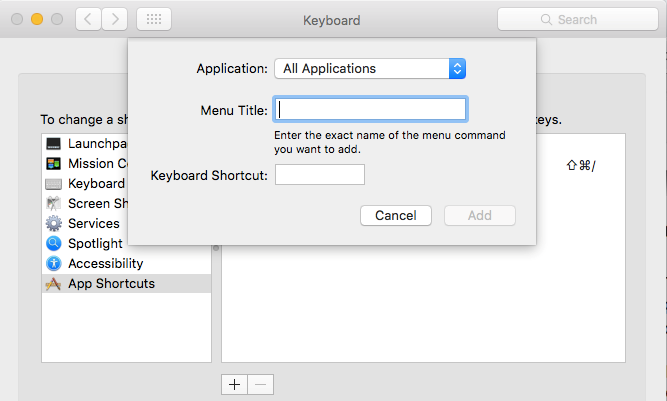 Change how your notifications are grouped.
Before El Capitan, the Notification Centre grouped notifications by app. But now, notifications are grouped according to date, so all your notifications for today will be grouped together. But if you prefer the old grouping system, you can go to System Preferences > Notifications, then look for Notification Center sort order. From there, you can choose how you want your notifications sorted out.
Access Mac remotely.
If you want to access someone else's screen, whether to help with troubleshooting or to access files remotely, all you need to do is launch Screen Sharing. You can open Screen Sharing through Spotlight, then you need to enter the Apple ID of the Mac you are trying to access. You can tell the other Mac user to look for the Apple ID in the iCloud section of System Preferences. Make sure that the other users has also enabled Screen Sharing, otherwise you won't be able to access their computer.
Once you have entered the Apple ID, a notification will pop up in the other computer, asking them to grant permission to view the screen. Once the permission has been given, you can then access the other Mac remotely.
Send and receive text messages.
Being able to receive text messages on your Mac, aside from your iOS devices, is very convenient because you don't have to get up just to send a reply. Your iPhone has to be running iOS 8.1 at least and your iMessage should be enabled. You also need to link your phone number to your iMessage account, both on Mac and your other iOS devices. Then just turn on Text Message Forwarding by going to Settings > Messages on your iPhone. There, you're all set up!
Turn your Mac into a wireless hotspot.
Aside from sharing your screen through Screen Sharing, you can also share your Internet connection and turn your Mac into a wireless hotspot. Your Mac needs to be connected via Ethernet for this to work. Just go over to Settings > Sharing, then click the dropdown menu next to Share your connection from. Choose the source of the network connection you want to share, and pick To computers using Wi-Fi. Now you have an instant Wi-Fi network!
Name conversation threads
If you have a lot of conversations on iMessage, it's easy to lose track of who said what. This is especially true if you use iMessage for both pleasure and work. The good news is that you can name your group chats to make it easy to keep track of conversations. Just click Details at the top right of the conversation window, then type the name that you want to use. For example, a group chat created for your weekly night out with your friends can be named Saturday Night Out or Weekend Plans.
Record your iOS device's screen.
Recording your iPhone or iPad's screen is useful if you need help with something, you want to create a tutorial or just to show off your game. To record your iOS device's screen, make sure that your iPad or iPhone is connected to your Mac, using a cable. Launch QuickTime Player, choose New Movie Recording from the File menu, then choose your iOS device as the camera source for recording. You also have the option to include sound, either from the built-in mic or from the audio of the iOS device. Once done, you can edit the clip, share it or upload to YouTube.
Adjust the volume in minimal increments.
When you adjust the volume on your Mac, the difference between one tap and the next could mean a huge difference in volume, especially if you're using a powerful external speakers. If you want to gradually increase the volume, hold down the Alt and Shift keys while pressing the volume up button.
Family Sharing.
You can set up the Family Sharing option in iCloud so that you can share your purchases with your family members. This is ideal for parents who want to control which purchases they want to approve or reject. They will also be able to see where everyone is and share a family calendar. To set up Family Sharing, just to go System Preferences > iCloud, then click Set Up Family.
See your computer's activities.
If you think your Mac is sluggish or you're experiencing issues with some of your apps even if you're not doing anything intensive, the best way to check the culprit is by accessing Activity Monitor. This feature shows you how your Mac's resources are being used—especially your RAM and battery.
You can open Activity Monitor from the Utilities folder or search for it using Spotlight. You will see there the current processes and how much resources they are taking up. If you think a process is hogging too much RAM and you think you don't need it, you can end the process by highlighting it and choosing Quit Process in the right-click menu. This will help ease the burden on your Mac and make it a bit faster.
But if you really want to improve your Mac's performance, you can use an app such as Outbyte macAries to boost your RAM and delete your junk files that might be causing your issues.
Conclusion:
These Macbook Pro tips and tricks 2018 remind us that there's so much more to our Macs than we used to believe. And your Mac is going to be more powerful with the release of macOS Mojave. We hope that these Macbook Pro tricks and secrets will help you in getting the most out of your Mac.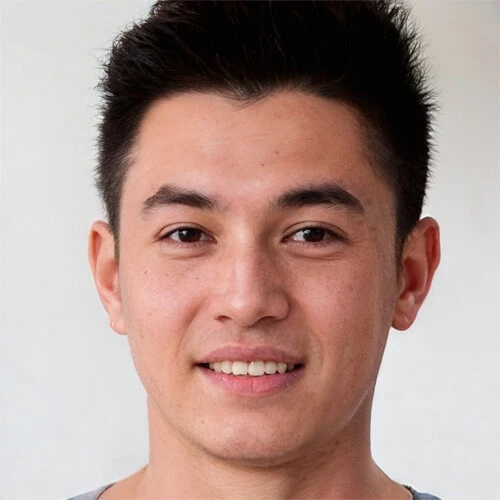 Vic is a search engine optimization expert, helping to optimize websites to make them more user-friendly. He's been in the industry for more than 10 years, and his work speaks a lot about his experience and expertise in the IT and digital marketing fields. 
Vic is the one in charge of keeping our website running smoothly and efficiently, to make sure that our readers have a wonderful experience while visiting the website. He's good at troubleshooting errors and fixing Windows issues that come up either when playing games or working on the computer. 
Vic is a certified gadget freak who feels the need to surround himself with cutting-edge technology. And this passion has helped him a lot in creating content that informs and guides users on using and troubleshooting the latest technology. He is an avid researcher who is always hungry for the latest news and updates on the most cutting-edge technology.