How to Secure your Windows Devices?
Windows is a dominant OS widely used all over the world with a market share of 77.74%, according to authentic research by Statista. Statcounter has also endorsed this fact; Windows is the preferred choice for many and enjoys maximum share among other operating systems.
On the other side, it is commonly utilized on various devices like Desktop computers, Gaming PCs, Laptops, Tablets, and even mobile phones. Due to excessive usage, it has become a primary target for cyber-criminals to attack unsecure windows devices to get massive benefits.
Unfortunately, most of the users ignore the prime importance of how to secure their Windows devices. Neither do many invest in an anti-virus/malware solution nor do people generally take any actionable steps to secure all private data on multiple devices.
For this purpose, people are using free VPNs for Windows devices. They also deploy other useful strategies to stay safe because such attacks can be intensely harmful, like heavy financial loss, stealing personal information, and leaking business reports through advanced ransomware attacks.
Additionally, the offender can sell all web browsing history to spying agencies and the government. It is an open invitation to various malware to enter into the user's system, resulting in corrupted data, theft of financial information, and other dangerous hacking attempts into your personal information.
Make Your Windows Devices Safe through Best Security Tools
There are many methods to protect Windows devices, but the following are some note-worthy strategies to stay safe using any internet-enabled platform.
1. Use a VPN Service for Security
Users can protect their devices in extremely secure ways from direct hacking, phishing attempts, stealing personal information, saving business data, conducting safe online transactions, creating a strong security layer on their systems that will encrypt all the digital traffic of its users.
This is possible by installing a VPN connection on windows devices. It is the best tool for the virtual world that conceals its users' data through military-grade AES-256-bit encryption for establishing strong security to browse safely from anywhere.
Furthermore, it is a powerful unblocking tool to access the geo-restricted content of all renowned international streaming. These include Netflix, Hulu, HotStar, Amazon Prime, Disney+, and many more to enjoy your favorite movies/TV shows!
At the same time, since work from home is on surge due to COVID-19, VPNs also tend to be extremely useful for communities worldwide. Whether you get one for personal or enterprise security, VPNs offer a huge list of remote working advantages.
2. Run Regular Updates on Windows OS
Microsoft is a premium service provider that is well aware of the possible potential threats for Windows users because their technical team is working rigorously to identify the hackers' approach towards the crimes and make preventive actions from the reported scenarios.
For this purpose, the company has scheduled periodic updates for Windows users. We all are aware that a pop-up message usually shows up whenever a new Windows update comes around. This allows users to remember performing the update to avoid any potential security threats.
If you do it manually, perhaps it's time you turned on "Automatic Updates" in the Windows update menu on their devices so a regular updating cycle should take place for cyber-security and safe working. Bear in mind updates are necessary for protection against future threats!
3. Install an Effective Anti-Virus Software
There are plenty of anti-virus software available online, but we must consider only those tested and have a positive market reputation. These are mostly available through a paid subscription.
Anti-virus software is the best tool to protect windows devices because its prime function is to detect and remove all kinds of viruses from the system. It is actively involved in scanning and digging the harmful threats and eliminating all malware from systems to secure the devices.
4. Use a Password Manager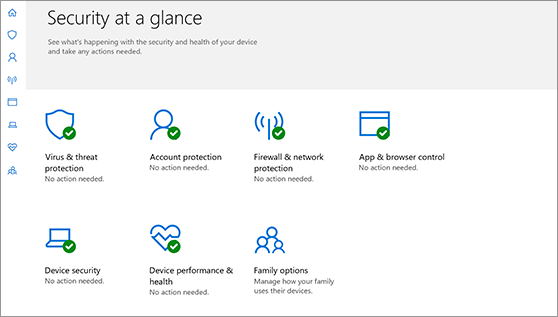 A password manager is a secure way to save multiple passwords in a concealed format, which will generate an unsuccessful attempt error to all the hacking attempts.
This tool's fantastic feature is to generate a master password for various digital channels where they don't need to remember all the passcodes. Hence, they can access all their online platforms through a single encrypted master code.
In this way, users can generate an encrypted password on their Windows devices where all the offender attempts fail to steal or see the actual password from user devices.
5. Use Sandbox Software
Sandbox is a smart tool to ensure the Windows browser is safe because it combats malicious links, images, navigations, and software.
6. Switch off the Location Feature
It is a useful trick to disable location features' functioning by simply switching it off from the user device. It will make you safe from any GPS tracking or physical identification.
7. Enable Windows Defender
A Microsoft creation; the Windows Defender is an anti-virus software made exclusively for Windows devices. The company claims that it will secure the devices through its usage to avoid all the malware, viruses, and spying actions; all you need is to enable this feature on your device.
8. Lock Your Windows Devices
Experts have recommended locking the system when away from the screen or not using it for any activity. Windows PC can be quickly locked with a short key, all you need is to press the Window logo button + L, and it will immediately close the computer.
9. Always Use a Firewall
Microsoft offers a built-in firewall option in Windows 8 and 10. This is another strong feature to add protection to your Windows devices. It can be enabled by simply turning the functioning on. Firewalls can be also customized as per user requirement.
10. Download Authenticated Software
Always verify the provided information for the software you are downloading. If it's not that famous, you shouldn't install it. Only consider downloading from reliable sources like Windows Mobile Store, Google Play Store, and Apple App Store.
Final Thoughts
Windows is excessively used worldwide on PCs, Laptops, Tablets, Gaming systems, even on mobile phones but we do not give much importance to secure them.
This can put you at risk of several hazards like phishing attacks, stealing and selling business and personal data, financial damages, etc. Therefore, we all must pay serious attention to secure our Windows devices by implementing all the useful strategies discussed above.


If you're running into errors and your system is suspiciously slow, your computer needs some maintenance work. Download
Outbyte PC Repair
for Windows,
Outbyte Antivirus
for Windows, or
Outbyte MacRepair
for macOS to resolve common computer performance issues. Fix computer troubles by downloading the compatible tool for your device.
See more information
about Outbyte
and
uninstall instructions
. Please review
EULA
and
Privacy Policy
.