Did you encounter an Msvcr71.dll error when opening an app on your computer? This usually happens when the affected DLL file becomes missing, deleted, corrupted, or damaged in such a way that the app relying on it can no longer use the DLL file as it was designed to be used.
An issue with the registry, malware infection, malicious program installed to the computer, or a problem with the computer hardware may be the trigger of this Msvcr71.dll error.
What Is MSVCR71.dll Missing Error in Windows 10/11?
You might likely encounter this error when you try to launch games, with an error warning that tells you that the application failed to start because MSVCR71.dll is missing or was not found on your computer.
Normally, like other DLL files, the Msvcr71.dll file is a Windows system file that belongs to the Microsoft Virtual Redistributable C++ package on Windows 10/11. This is why uninstalling and reinstalling the Virtual redistributable C++ package is one of the common solutions to fix the MSVCR71.dll missing error on Windows 10/11.
When problems with this particular DLL file pop up, the errors notifications might vary according to the program you are trying to launch. Here are some of the usual error messages you might encounter:
The file msvcr71.dll is missing.
Msvcr71.dll Not Found
This application failed to start because msvcr71.dll was not found. Re-installing the application may fix this problem.
Cannot find [PATH]\msvcr71.dll
Cannot start [APPLICATION]. A required component is missing: msvcr71.dll. Please install [APPLICATION] again.
The program can't start because msvcr71.dll is missing from your computer. Try reinstalling the program to fix this program.
Most msvcr71.dll error messages appear when trying to run a particular program, but might also be seen when installing a particular application, starting or shutting down Windows, or possibly even when installing a fresh version of Windows.
This error is not something new. A lot of users have also come across this error with other Windows programs or operating systems that use the file, including Windows 10/11, Windows 8, Windows 7, Windows Vista, and Windows XP.
What Causes MSVCR71.dll Missing Error In Windows 10/11
The MSVCR71.dll is missing error in Windows 10/11 might seem like a very serious issue to you, especially if you can't open the app that you want to use. But don't worry because there are many other users who are having the same error and a lot of them have managed to fix it with some simple solutions.
Usually, the MSVCR71.dll error occurs due to corrupted, deleted, or missing respective DLL files. According to the affected users, a lot of programs depend on the MSVCR71.DLL file that throws this error. So, if there's an issue with the file, this error comes up. You might be wondering how the file got deleted or corrupted. There are several scenarios that we can think of.
It is possible that you deleted the DLL file unknowingly or that a system cleaning program removed it from your computer. Or it could be that your overactive security program detected it as malicious and deleted it. It is also possible that a malware infection has corrupted the file on your computer, triggering this error when Windows can't find it.
How to Fix MSVCR71.dll Missing Error in Windows 10/11
Here's something to keep in mind: Do not download DLL files from a website that you don't trust completely. DLL files are system files and they are crucial to the running of your computer. Hence, it's important to only use trusted and official sources when downloading files like Msvcr71.dll.
When you get this error, one of the things you can try first is to start Windows in Safe Mode. This might be your only option for completing most of these fixes if the msvcr71.dll file is stopping Windows from booting normally.
Let's look at these solutions one by one:
Solution 1: Restore Msvcr71.dll From the Recycle Bin.
A missing Msvcr71.dll file could simply mean that you or a software on your computer accidentally deleted the file and sent it to the Recycle Bin. If the Msvcr71.dll file has been deleted recently, then it is surely kept in the Recycle Bin. Just make sure that you haven't permanently deleted it by emptying the Recycle Bin.
This step should only be done if you're sure that the Msvcr71.dll file you are restoring is not a malicious or damaged file that was deleted for a valid reason in the first place. If you just deleted it by accident, then restoring should be no problem.
Solution 2: Run a malware scan of your entire computer.
But if you do suspect that the msvcr71.dll error you are getting is somehow related to malicious programs that infected your computer, then running a scan using an [sc name="antivirus-program"] to remove the infection should resolve your DLL problem.
Solution 3: Reinstall the software that uses the msvcr71.dll file.

If launching a specific program prompts the DLL error to appear, then reinstalling it might refresh the file and get rid of the error. For instance, if you're getting this error when playing Roblox or Minecraft, then you should reinstall these games.
The official and legitimate msvcr71.dll file that Windows uses is usually located in a subfolder of the C:\Windows\ folder, so reinstalling the app will most likely save a new copy of the DLL file on that folder.
To reinstall the program, follow the instructions below:
Open Control Panel via Power User Menu.
Click on the Uninstall a program link located under Programs.
Find and click on the program you want to uninstall by scrolling down the list of currently installed programs.
Click on the Uninstall, Uninstall/Change, or Remove button to uninstall the program.
Restart your computer even if there is no prompt.
Check if the program you uninstalled has been fully removed.
Install the most updated version of the app you just uninstalled.
Restart your computer and test the reinstalled program.
Solution 4: Search your PC for Msvcr71.dll backup copy.
It is possible that the app that installed the original DLL file has multiple copies elsewhere. What you can do is find those copies and move it to the location from where the msvcr71.dll file is missing.
For instance, not only does Windows save a copy of msvcr71.dll in a \Windows\ folder, but so does Adobe Photoshop, SUPERAntiSpyware, Adobe Acrobat, and other programs. All you need to do is go to the installation folders of these programs and copy the working DLL file from there.
You should be clear where you need to copy msvcr71.dll to. Some DLL error messages specify which folder the DLL file is missing from. But if not, take note of the program that triggers the error and go to that program's installation folder.
Alternatively, you can use free file search tools if you don't want to use Windows' built-in search option.
Solution 5: Download the VC++ Redistributable package.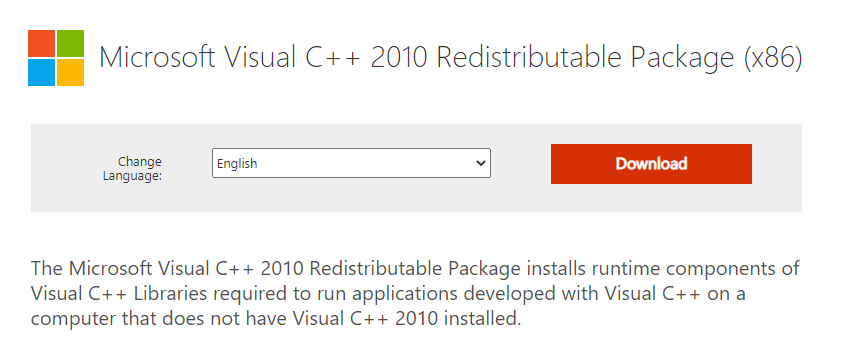 MSVCR71.dll's description indicates that it is related to the Microsoft C Runtime Library. This means that it includes a low-level set of instructions that other applications depend on to work.
Microsoft usually packages these runtime libraries together, then releases them to the general public as a single installer. Several affected users have claimed that this DLL error has been fixed after installing the Microsoft Visual C++ 2010 Redistributable Package (x86).
Just click on the link, download, and install the program. Once done, restart your computer and try launching the application again. If this doesn't resolve the issue, move on to the next solution.
Solution 6: Perform an SFC scan.
System File Checker or SFC is a built-in Windows utility that checks system files for corruption and tries to fix them. These system files also include missing DLL files.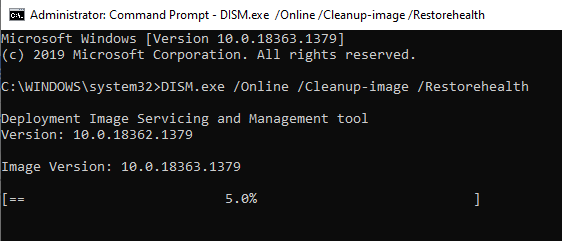 To run a scan, follow the instructions below:
Launch the Command Prompt (CMD) with administrator privileges by typing in CMD in the search bar, right-clicking on Command Prompt, and clicking Run as administrator.
After that, enter this command: DISM.exe /Online /Cleanup-image /Restorehealth
Press Enter to run the command.
Wait until the scan reaches 100%.
Next, execute the following command: sfc /scannow
If you receive Windows Resource Protection did not find any integrity violations after the scan is completed, this means that the scan didn't detect any errors with your files.
But if you got Windows Resource Protection found corrupt files and successfully repaired them, then the SFC has fixed the errors it detected. You should check if the DLL problem has been fixed.

This DLL fix is only applicable if you're experiencing an Msvcr71.dll is missing error when running SQL Developer for the first time after installation. This seems to be a common problem when installing SQL Developer. Take note that certain problems might occur if you make changes to the Registry Editor incorrectly so create a backup before proceeding further.
To edit the registry and fix this DLL problem, follow the instructions below:
Open the Run dialog box by searching for it in the search bar.
Type in Regedit and hit Enter.
When the Registry Editor opens, navigate to the following address: HKEY_LOCAL_MACHINE/ SOFTWARE/ Microsoft/ Windows/ CurrentVersion/ App Paths.
Add a new KEY named sqldeveloper.exe.
Create a new STRING VALUE called Path.
Set its value to the sqldeveloper pathway + \jdk\jre\bin.
Close the Registry Editor.
Restart your computer for the changes to take effect.
Solution 8: Replace the DLL file.
Because these types of DLL errors are common, a lot of sites took the initiative to back up the Windows DLL files that often go missing. However, keep in mind that not all these DLL repositories are trustworthy. Some bundle the DLL file with malware and others are outright letting you download malicious files. So, download DLL files only from websites that you trust.
Just download a copy of the msvcr71.dll file from the internet and save it on your computer. Just to be safe, scan the downloaded files for malware infection.
After the download is completed, open the download folder and copy the DLL file. These are the folders where you need to copy the msvcr71.dll file, depending on your PC:
C:\WindowsSystem32\ for 32-bit version of Windows
C:\WindowsSysWOW64\ for 64-bit version of Windows
Paste the DLL inside the correct folder. If the DLL exists in that folder, don't replace it. It just means that the file is on your system already, but it got unregistered for some reason. If this happens, you can register or re-register the DLL file so that Windows becomes aware that it exists.
To do this:
Launch the Command Prompt (CMD) with administrator privileges by typing in CMD in the search bar, right-clicking on Command Prompt, and clicking Run as administrator.
Type in the following command: regsvr32 msvcr71.dll.
Press Enter.
Restart your computer just to ensure the registration is complete. Try launching again the program that was raising the error to see if it has been fixed.
Solution 8: Use System Restore.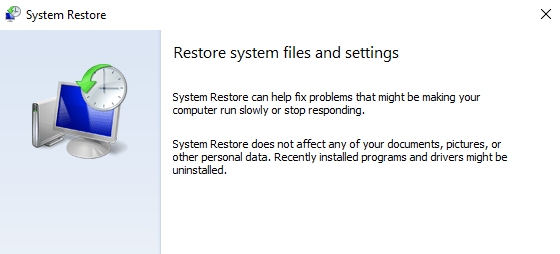 If the DLL error persists at this point, you can try reverting your PC to a previous time using System Restore. This will revert the important system files back to the state they were in at an earlier period, which could be what you need if the msvcr71.dll error was triggered by a change made to an important file or configuration.
Still Getting Msvcr71.dll Errors?
If the solutions above did not fix the msvcr71.dll file error, you need to repair your installation of Windows. A Startup Repair, formerly known as Automatic Repair, is your best bet if Windows 10/11 isn't starting correctly. Startup Repair can be accessed from the Advanced Startup Options menu. Doing this should restore all your DLL files back to their working state as if they haven't been modified or changed.
You can also choose to perform a clean installation of Windows to fix the msvcr71.dll error. A clean install of Windows deletes the current installation along with all of the files on the hard drive. Then, it will install a new, fresh copy of the OS, resolving any issues you are currently experiencing.
Give us some love and rate our post!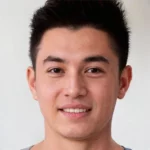 Vic is a tech enthusiast who loves to be up-to-date with the latest and greatest technology in the world. He creates content that educates and helps users with their tech-related questions. Vic manages our website to ensure that our readers have a seamless experience while browsing. He excels in troubleshooting errors and resolving Windows issues for gaming and work purposes.