Reading time:
9
Minutes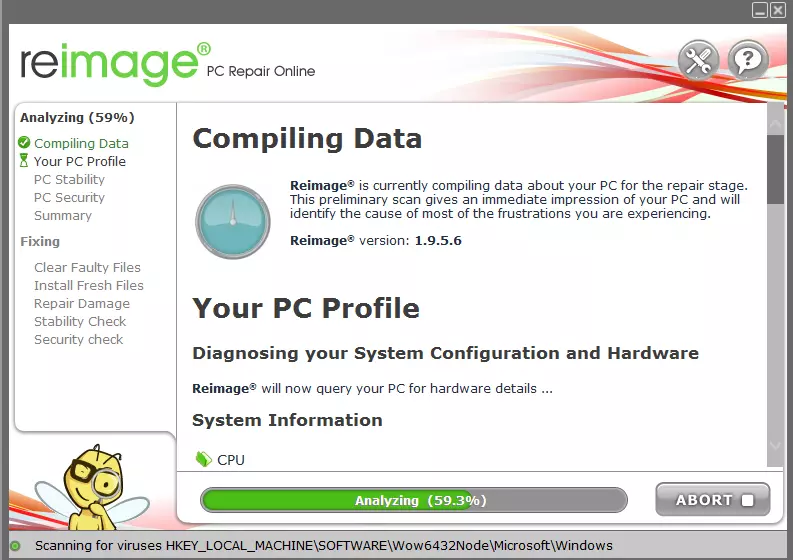 Occasionally, a computer can be infected with malware that causes such severe damage to the operating system that simply removing the offending infection is ineffective. The computer will freeze, crash, and perform slowly. In these cases, a full reinstallation of the Windows operating system is frequently required.
This does not have to be the case thanks to the revolutionary Reimage software. Reimage can repair your Windows operating system so that it runs perfectly again, saving you the pain of having to reinstall Windows.
Reimage Repair is a kind of utility you want to have installed on your device whether you are a Mac or a Windows user. It also has a dedicated mobile app that works with Android phones. Without the assistance of a technician, this app allows you to easily clean and repair your computer and restore it to peak performance. The software removes all junk, fixes bugs, and protects your system from threats that interfere with the proper operation of your machine.
This Reimage PC Repair online review takes a closer look at what this software does and doesn't do and the myths that surround it.
What Is the Reimage Repair Tool?
Reimage Repair, also known as Reimage, is a utility software program created by Reimage Limited. The Tel Aviv-based company specializes in creating system repair solutions for Macs, Windows PCs, and mobile devices (only on the Android operating system so far).
Like Outbyte PC Repair, Reimage is a PC repair tool. It is a complex cleaning, repairing, and optimizing solution that helps average users resolve performance issues without having to take their computers to a licensed technician.
Reimage also assists in the repair of malware damage, among other things. This tool can perform a quick and clean Windows reinstallation and repair. Furthermore, it reduces the amount of time users must wait for repairs.
Reimage, contrary to popular belief, does not cause systems to lose programs, user data, or settings. It's possible that the culprit is a virus or another type of malware. This Reimage Repair review will prove why this program is safe and what contributes to the virus scares that people read online.
Is Reimage Safe?
To begin with, Reimage is NOT a virus. You may come across old forum threads that discuss the software and call its legitimacy into question. A few years ago, Reimage was promoted alongside other programs, and inattentive users unknowingly installed it.
As a result, such users review Reimage and falsely label it as a virus or blame it for "scareware" tactics after it displayed errors on their computer despite the fact that it is completely legitimate software. Bundling is no longer used to promote this software; instead, many well-known and reputable websites recommend using the software for Windows repair.
Users who start seeing ads or pop-ups in their browsers, for example, may start blaming the software, when in reality, they simply install software carelessly and end up with adware and other potentially unwanted programs on their systems. In such a case, Reimage Repair would be the program to use to recover the system from such issues. Millions of users have put their trust in the software, which they say keeps their computers clean and error-free.
Various online scanners, such as McAfee or Norton, can confirm the reliability of the software and its domain. Finally, the software has been certified by AppEsteem, a company that monitors app behavior and certifies trusted apps.
If you are dissatisfied with the program's notifications or scan results, you can easily uninstall it from the Control Panel.
How Does Reimage Repair Work?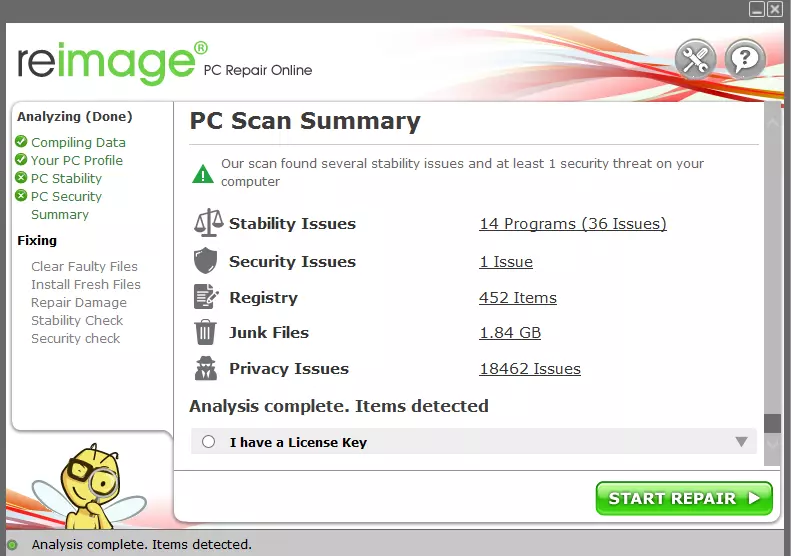 Reimage Repair is specifically designed to repair problems with your personal computer.
When you download and install this app on your computer, it will immediately run a scan to see what issues are affecting your device's performance.
This program will scan your hardware and analyze your system's hard disk speed, CPU power and temperature, security, and memory.
It will then scan for malware such as computer viruses, spyware, rootkits, worms, and other potentially harmful programs. Finally, the scan will determine which programs and applications crash the most frequently.
Once you have been given a complete summary and description of your computer's problems, the Reimage Repair program will begin to fix these issues and reverse any damage that has been done by utilizing its entire database of replacement files.
The program accomplishes this by utilizing clean files from the company's extensive database of over 25,000,000 system files. The database is updated on a regular basis to ensure that you always have the most up-to-date system files for your computer.
Consider a case where a virus has changed a critical registry key. Reimage can replace the key with a clean copy from its database. After that, Windows should run smoothly once again.
Reimage Repair Features: What The Tool Can Fix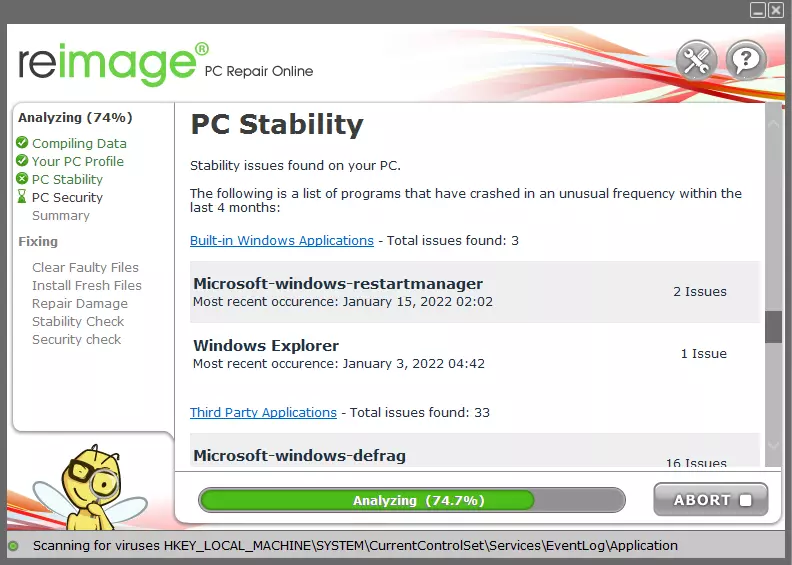 Keep in mind that in our review of Reimage Repair, we take note of the main functions and the limitations of this app. So it may not show how powerful this tool really is. During the process, the following problems are diagnosed:
Hardware Issues
The Reimage Repair tool will first look for hardware problems. It is designed to detect issues such as low memory, slow hard disks, and CPU power and temperature problems. These are the issues that cause your computer to run slowly or not respond to your requests correctly or quickly enough.
Malware
The tool's anti-malware engine (powered by Avira AntiVirus) will check the computer's security after the hardware scan is completed. It will detect and remove all traces of malware, such as spyware, adware, Trojans, ransomware, rootkits, worms, unwanted system tools, and other illegal or dishonest software. As a result, it will notify you of both visible and hidden threats in your computer system.
Windows Errors and Stability Issues
Reimage focuses on computer stability issues after it detects all malware on your PC. It finds out why your computer keeps rebooting at random times, and it fixes system crash errors that cause Blue Screens of Death (BSoDs), PC freezes, and other problems.
Reimage Repair examines various aspects of your computer to identify the source of a problem, whether it's a corrupted Windows Registry key, a damaged DLL, a missing file, or something else. It can also fix software that has been installed incorrectly. Overall, you won't have to worry about system errors because Reimage will find the best solution for you.
Finally, the program includes an operating system recovery feature that allows users to replace critical Windows system files with new ones so that the computer can be properly restarted. To replace damaged or missing system files, Reimage Plus has an online database with over 25 million continuously refreshed and updated operating system components.
The software can also restore default system settings and registry values, undoing any damage caused by malicious programs or hackers. What's more, if you don't like the results, you can revert to the pre-repair state.
What It Can't Fix
To avoid disappointments later, it is critical to fully comprehend the software's functionality before purchasing it. Here are the things that this program cannot do:
Malware Protection
Reimage is not, and has never been, an antivirus. Its purpose is to detect and repair computer system damage.
Even if you have Reimage Repair installed, you are still vulnerable to malware attacks. Malware can infect your system without triggering Reimage.
An antivirus program's job is to keep your computer safe. Most antiviruses have even begun to provide similar functions to those of Reimage. They can detect and update out-of-date programs and repair corrupted registry components.
What Reimage can do for you is repair damage caused by malware. After fixing security and stability issues with Reimage, you should scan your system with antivirus software to remove malware disguised as OS files.
Third-Party Software Repair
This tool cannot be used to replace files from third-party programs or apps that are not pre-installed on your PC, such as Microsoft Office, Adobe Software, and Mozilla Firefox.
If, on the other hand, a third-party program shares files with the operating system, the Windows repair tool will repair them.
Hardware Failure Repair
When you run a scan with this program, it will detect hardware problems such as low memory, slow hard drive speed, and CPU power issues.
However, the program's repair function does not resolve such problems. To optimize your system's hardware, you must replace defective hardware components yourself.
Reimage Repair Installation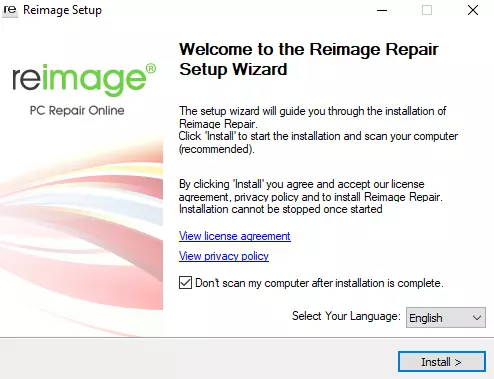 Reimage Repair for Windows is compatible with XP (32-bit) versions with XP Service Packs; Vista (32- and 64-bit) Home Basic/Premium, Business, and Ultimate editions; 7 (32- and 64-bit) Starter/Home Premium/Ultimate/Home Basic/Pro/Enterprise editions; 8 (32- and 64-bit) versions, including Windows 8 Pro; and, of course, Windows 10/11 (32- and 64-bit) versions.
For the app to function properly, your computer must meet the following requirements. It must have a 1GHz 32-bit (x86) or 64-bit (x64) processor (single or multi-core), 512 MB of system memory, and a 40GB hard drive with at least 15 GB of free space. Reimage, like any other piece of computer maintenance software, requires Internet access.
Download the ReimageRepair.exe installation file to your Windows computer to begin the installation process. Make sure you get this file from a reputable source, such as the developer's official website.
Locate the install file in your Downloads folder and double-click to open it. Click the Install button in the bottom-right corner and follow the on-screen instructions.
After launching the application, you can perform your first scan and go through the repair process to optimize the performance of your system. Reimage's uninstall procedure is similar to that of most other programs.
To uninstall Reimage from your Windows computer, go to the Control Panel. Then, select Programs and Features to see a list of programs installed on your device.
How to Uninstall Reimage Repair

If you've decided to uninstall Reimage, simply follow these steps:
Type Control Panel into the Windows search box. Click on the top result. Control Panel can also be found in the Windows menu.
Now, in the Programs section, click Uninstall a Program or Add/Remove Programs.
Locate and select Reimage or Reimage Plus, then select Uninstall.
Follow the uninstall wizard's instructions. You can choose to remove the software completely or keep Active Protection, which will notify you of any detected viruses or system errors.
Reimage for Mac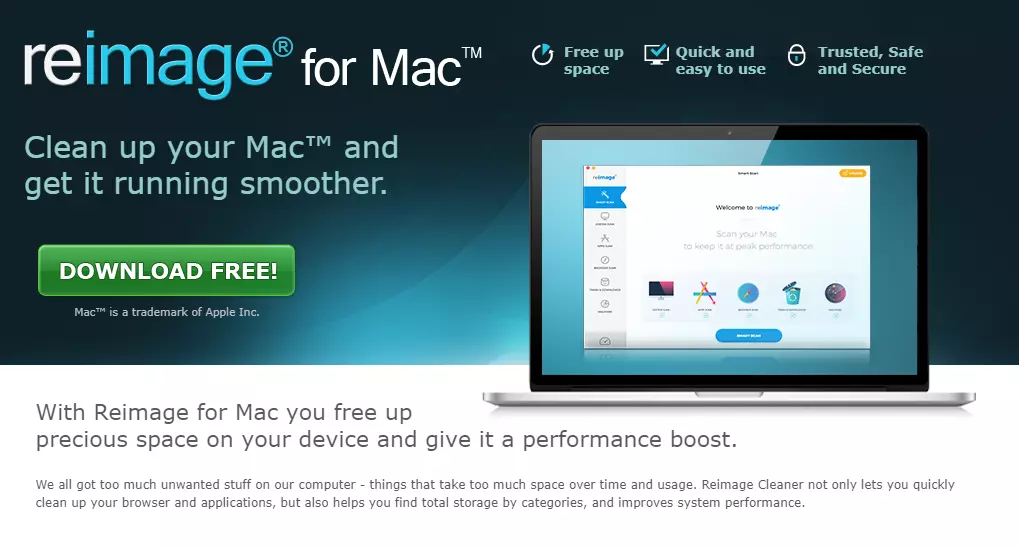 Reimage for Mac is less complex than the Windows version. It is more of an optimization tool than a complex repair tool. It works with OS X Mavericks and later.
Reimage for Mac is useful if you want to free up disk space by removing unnecessary data such as caches, browser history, and other junk files. The software analyzes your storage space and how it is being used, assisting you in making the best use of that space.
You can also view useful information about your hardware and apps, such as which ones slow down your Mac's performance, which ones take up too much space without being necessary, and so on.
Reimage for Android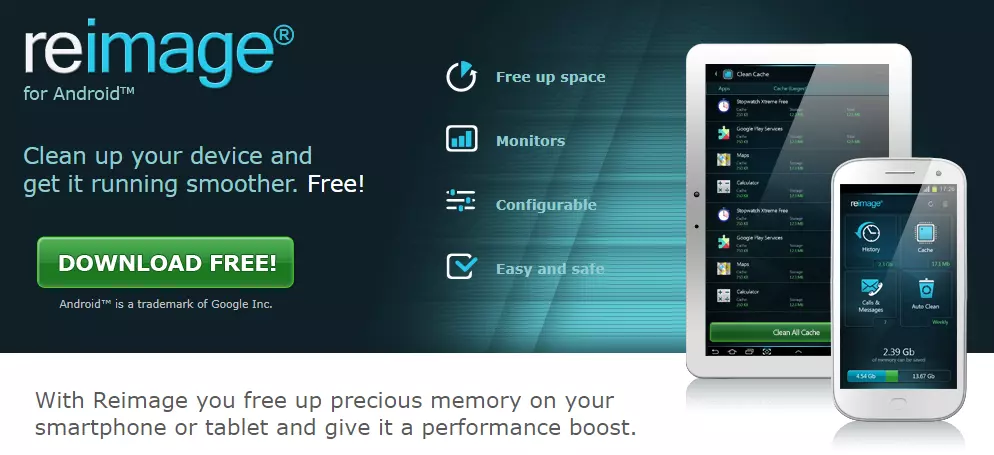 While iOS users cannot use Reimage at the moment, if you have an Android device (version 2.3 or higher), you are in luck. Reimage also has a mobile app available for free download from the Google Play Store.
The Reimage mobile app is free to download, or you can upgrade to the Reimage Pro version, which is a paid app with more features.
Reimage is a useful cleaning app that assists you in removing all the junk from your phone/tablet, such as browser history, text history, unwanted caches, and so on. You can schedule weekly cache cleanups and see which apps use the most memory on your phone at any given time, allowing you to close the ones you don't need.
Summing Up
To summarize, Reimage is a great deal if you don't want to bother with lengthy manual computer repair instructions and would rather have the problems fixed automatically. You can use this software to perform a simple computer cleanup after malware wrongdoings, restore corrupted or missing files, and repair Windows errors.
Give us some love and rate our post!
John is a tech enthusiast who loves to explore and improve the latest technology. He shares his knowledge and opinions on the latest gadgets, apps, software, and games on Software Tested. With years of experience in writing about technology, John has a keen eye for identifying new and noteworthy products. His articles offer in-depth, opinionated insights for both tech enthusiasts and casual readers alike.