Reading time:
10
Minutes
The 0x800700b7 error code on Windows 10/11 is affecting users' daily routines. However, there are ways to fix it and prevent it from happening again in the future. In this article, we will discuss the meaning of the error code and the steps to resolve it.
What Is Error Code 0x800700b7?
System Restore is an important tool that works by restoring Windows to an earlier and functional state. It is especially useful when you encounter issues with your Windows device that cannot be fixed. By using this tool, you undo the recent system changes.
However, as any other Windows tool, the System Restore utility can encounter problems. The provisioning failure 0x800700b7 error is just one of those problems.
The System Restore 0x800700b7 error is generally associated with corrupted or missing system files. It may be a result of an incomplete uninstallation of software programs and components. However, system file corruption may also be caused by malware attacks or hardware issues.
The System error 0x800700b7 may manifest itself in various ways. But most of the time, it comes with the error message "an unspecified error occurred during system restore 0x800700b7" or "app container profile failed with error 0x800700b7."
What Causes Error Code 0x800700b7?
The error code 0x800700b7 on Windows can be triggered by different things. We'll enumerate some of them below:
Network issues – If your network connection is not properly established while installing an update or doing an action, the error 0x800700b7 can appear. To fix this, double-check your connection and ensure you are connected to the internet. Check the Ethernet cables and ensure your connection is stable.
Damaged system files – System files play an integral role in the Windows 10/11 environment. If they get damaged, errors such as 0x800700b7 code may show. Fix these damaged system files by running an SFC scan.
Temporary and junk files – As you use your computer on a day-to-day basis, temporary and junk files accumulate and eat up significant system space. And as a result, you no longer have enough resources for more important things. Getting rid of these files can sometimes resolve issues such as 0x800700b7 error.
Incorrectly uninstalled programs – Sometimes, we just uninstall a program by hitting the Delete button. But doing so will not suffice. It will only leave files that hide in your system and interfere with essential processes. Uninstall programs properly to avoid issues like this.
Hardware issues – When a hardware component is not compatible with some software programs or vice versa, problems may arise. An example is the error 0x800700b7.
Overly sensitive security suite – Antivirus and security suites may block processes, which they think are a threat to your device. Disabling them temporarily can resolve problems such as error 0x800700b7.
Registry problems – The Windows registry is home to many instructions and information needed to run the operating system efficiently. When there are problems with the registry, errors such as 0x800700b7 can surface.
Malware entities – And lastly, malware entities can mess with the processes on Windows. They can even corrupt system files, which results in more complicated problems. Getting rid of these malware entities can fix the most common Windows errors.
Ways to Fix System Restore and Xbox Error Code 0x800700b7
If you are among those who find dealing with the error 0x800700b7 on Xbox or System Restore, the fixes below should be of great help. You don't have to test all the fixes, though. You can go ahead and try the best one which you think works best for you.
Fix #1: Check Your Network Settings
The error 0x800700b7 may appear because of problems with your network settings. Thus, make sure that your Wi-Fi or Ethernet settings are enabled and allow both computers to share files. Here's how to do it:
You can access Network Settings in Control Panel.
From there, open Network and Sharing Center, choose Change Adapter Settings and select your adapter from Network Connections.
In the Advanced Settings for that connection, check File and Printer Sharing for Microsoft Networks. If you don't see it there, you'll need to install it by clicking Install from a list or specific location (Advanced).
Finally, restart your computer and try again.
Fix #2: Run System File Checker
The System File Checker (SFC) utility can scan your computer's registry and hard drive for errors and recover damaged files.
To run the SFC utility, follow these steps:
Search your Start menu for Command Prompt, right-click on it, and select Run as administrator.
Once you're in Command Prompt, type sfc /scannow and hit Enter.

After waiting a few minutes for SFC to complete its scan, you should see a prompt at the bottom of your screen confirming that all repairs were successful.
Once done, check if the error 0x800700b7 persists.
Fix #3: Clear Temporary Files
Many programs create temporary files and folders that are stored in your user directory. Clearing these out can help alleviate problems when you're updating a program or installing new software.
To repair these corrupt system files, you need to clear them out first to generate new ones. Follow these steps:
Type %LocalAppData%\Temp into a search box and then click Select Folder.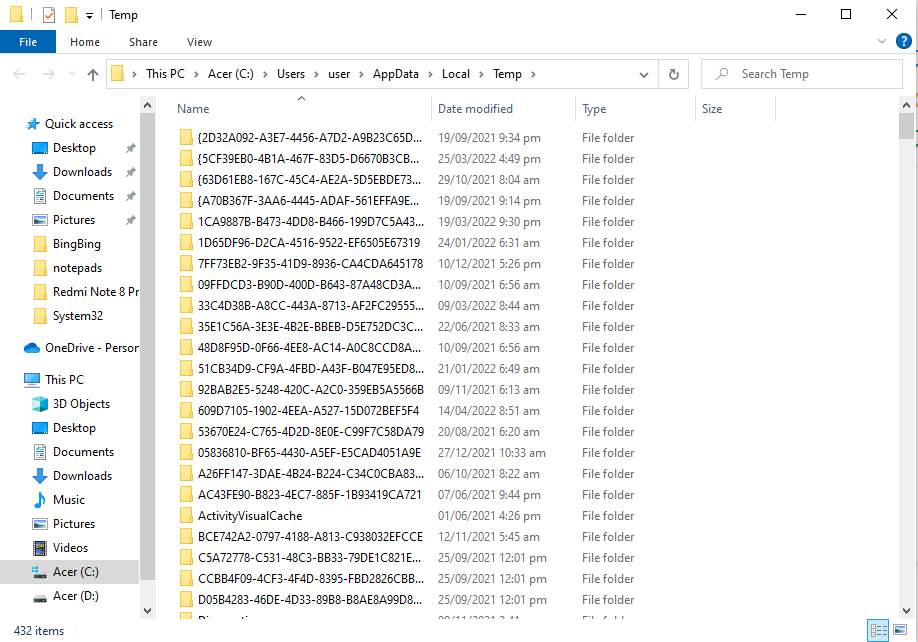 From there, select everything inside of Temp and delete it.
And then, repeat with %LocalAppData%. That should clear out all of your temporary files.
Now, restart your Windows PC and check if the error 0x800700b7 is gone.
Fix #4: Uninstall and Reinstall Programs
The first step in figuring out why you're getting the error code 0x800700b7 is to find out what software or action is causing it. If you're not sure how that works, here's a quick explanation:
When you install a program, Windows creates special files (called registry entries) to record where its files are and other information about it. If there are problems with your registry, you might get error messages when you try to use certain programs. To fix them, all you have to do is remove and reinstall those problematic programs – which should fix any errors that have been caused by a bad registry entry.
To uninstall programs on Windows 10/11, do the following:
Type Control Panel into the search box. Click the top-most result.
Next, select Programs and navigate to the Programs and Features section.
Find the problematic program where the error 0x800700b7 appears. Click on it.
Select the Uninstall button.
Confirm your actions by hitting Yes then follow the instructions on your screen.
Fix #5: Delete Junk Files
The first solution that is commonly recommended when you get the 0x800700b7 error code is to delete junk files. This will almost always fix your issue, so it's definitely something you should try if you are having such trouble.
Here is your guide on how to fix it:
Head into Disk Cleanup by going through Control Panel and then clicking Free up disk space by deleting unnecessary files under System and Security.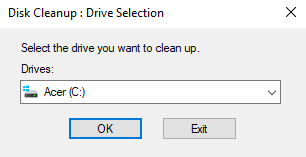 Once there, choose all of your drive options (C: in most cases) and check all of the boxes in front of Temporary Files.
Wait for it to scan and then delete what it finds before rebooting your computer. You'll likely see an immediate improvement when you log in again. If not, move on to some other solutions.
Alternatively, you can use a third-party PC repair tool to get rid of junk files on your system. There are plenty of PC repair tools available on the market today, so you will not run out of options.
Fix #6: Enable Automatic Updates
To fix the 0x800700b7 error, you may want to enable automatic updates on Windows 10/11. The easiest way to do that is by following these instructions:
Go to Settings in your Start menu, then head over to Update & Security and choose Windows Update from there.
In that menu, just make sure you've got it set so that it automatically downloads and installs any updates it finds for Windows.
Restart your computer once you're done doing that, and check again – the update should now be downloaded without the error! If not, continue to another fix.
Fix #7: Look for Solutions Online
When you run into the error 0x800700b7 while installing a Windows update, you may want to check Microsoft's support website. Specifically, look for articles about your error code.
For example, if you have an error that reads 0x800700b7, then open up Google and search for 0x800700b7. This should direct you to some pages that provide additional information on how to troubleshoot or fix your error code.
If there are no specific articles related to your particular error code, try searching for a related general problem. Chances are good that it has already been identified and a solution has been posted.
Fix #8: Check for Hardware Problems
Another troubleshooting step you must not skip is to check if there are any problems with your hardware. If a device has an issue, such as a faulty driver or corrupted software, it may not be properly communicating with Windows.
You can check for hardware issues by restarting your computer and then pressing F8 when you see Starting Windows on your screen. This will take you to a menu where you can choose advanced options that allow you to run different tools, including Device Manager and System Restore.
You can also open Device Manager directly by typing Device Manager into Cortana's search box and then clicking Device Manager when it appears in her search results.
Fix #9: Disable Your Antivirus or Security Suite
Antivirus and security suites are quite infamous for causing error codes to appear, and the error 0x800700b7 is no exemption. Thus, to rule out the possibility of having an overly protective antivirus, try to disable it first.
To do that, head over to the system tray icon in the taskbar and find the icon of your antivirus. Right-click on it and select Disable. This should disable your antivirus temporarily. Then re-do the action where the error 0x800700b7 appears. If the error is gone, then you can re-enable the antivirus again since you need it to ensure your device remains protected.
Don't worry about threats while your antivirus is disabled, though. You still have Windows Defender up and running in your background.
Fix #10: Modify the Registry
This fix may sound too technical, but it's actually not. As long as you follow the steps thoroughly, you should get by and be able to resolve the error 0x800700b7 like many affected users.
To modify the Windows registry and fix the error 0x800700b7, do the following:
Press the Windows + R keys simultaneously to launch the Run utility.
Input regedit and hit Enter.
Scan the left pane of the window and navigate to this location: HKEY_LOCAL_MACHINE\SOFTWARE\Microsoft\Windows NT\CurrentVersion\Schedule\TaskCache\Tree\Microsoft.
Then right-click Windows and choose Export. This will create a backup of the primary contents of the folder in case something happens in the process.
Give the folder a name and save it.
Next, right-click on Windows and choose Delete.
Exit the Registry Editor and restart your computer.
Upon restart, launch System Restore.
If the error 0x800700b7 persists, double-click on the registry backup file you created to restore it.
Fix #11: Restore Windows in Safe Mode
If all else fails, you can restore Windows 10/11 in Safe Mode. Here's how:
Press the Power button to access the Start menu.
Now, hold the Shift key on your keyboard and choose Restart.
Windows will now reboot with the Advanced Startup Options window. Select Troubleshoot.
Go to Advanced Options to access more settings.
Choose Startup Settings and tap Restart.
Then press the number 4 key to start Windows in Safe Mode.
Once Windows restarts, input System Restore into the text box. Choose the Create a restore point option.
Hit the System Restore button.
After that, select the Choose a different restore point option.
Tap Next to continue.
Select a system restore point and press Next.
Then tap Finish.
Summary
The 0x800700b7 error code can be frustrating to deal with if you aren't sure how to fix it. Luckily, this guide will walk you through the process of resolving this error, step by step, so that you can get back to using your computer!
The fixes also include checking your network settings and running the System File Checker utility. If that doesn't resolve the error, try to delete temporary and junk files. These files are quite notorious for messing with crucial system processes and programs. Enabling automatic updates may also work at times because we all know that Windows updates often contain fixes to known errors such as 0x800700b7.
You may also disable your antivirus temporarily and see if the error 0x800700b7 is gone. But if you do this, make sure you enable it again since your antivirus suite plays an integral role in your computer's security.
Do you know other reasons the 0x800700b7 error appears? Do you have other solutions that can resolve the error 0x800700b7 once and for all? We'd like to hear them. Comment below!
Give us some love and rate our post!
John is a tech enthusiast who loves to explore and improve the latest technology. He shares his knowledge and opinions on the latest gadgets, apps, software, and games on Software Tested. With years of experience in writing about technology, John has a keen eye for identifying new and noteworthy products. His articles offer in-depth, opinionated insights for both tech enthusiasts and casual readers alike.