With the majority of the workforce working from home and most schools and universities switching to online classes, malicious actors have bigger and more diverse targets for online attacks. In fact, the International Criminal Police Organization or INTERPOL has recently raised alarms regarding the drastic increase in cyberattacks during the COVID-19 months.
The alarming spike in cybercrime has made it all the more important to invest in a good antivirus software. There are several popular antivirus in the market right, but one of the oldest and most well-known security companies is Kaspersky. You're probably familiar with this name or you have used one of its apps before. If you've used Kaspersky products before, you'll understand why it is one of the most trusted antivirus today.
Kaspersky has a wide range of security products that cater to various security needs, but this review will discuss Kaspersky Security Cloud, the free antivirus offered by Kaspersky.
What is Kaspersky Security Cloud?
Protection doesn't have to come at a high cost, and Kaspersky proves this to be true with its free Kaspersky Security Cloud. It provides full-scale malware protection, plus some suite-level features — all for free. This antivirus is equipped with Kaspersky's core malware-protection technology, without the bonus features.

Now, don't be confused. This is not the free version of Kaspersky's premium Anti-Virus suite. Instead, Kaspersky Security Cloud is the stripped-down version of the commercial Kaspersky Security Cloud suite.
Aside from the top-notch malware-detection engine from Kaspersky, it is also equipped with features that were not available in the old Kaspersky Free Antivirus. These features include a file shredder, an on-screen keyboard, a data cleaner, a privacy cleaner, a scan scheduler, and an email scanner. Also some of these features just give you a tease of the full version, these are enough for Kaspersky Security Cloud to be considered the best free antivirus today.
What Does Kaspersky Security Cloud Cover?
Kaspersky Security Cloud is powered by the same malware-detection engine as the other paid products. This means that whether you get the free or the paid software from Kaspersky, you'll be able to enjoy the same level of malware protection. This free security app not only blocks online attacks, but also includes a limited access to Kaspersky's Secure Connection VPN and a password manager.
Kaspersky Security Cloud works well with Windows 7, 8.1, and 10, but you'll need to download an older version for Windows XP and Vista.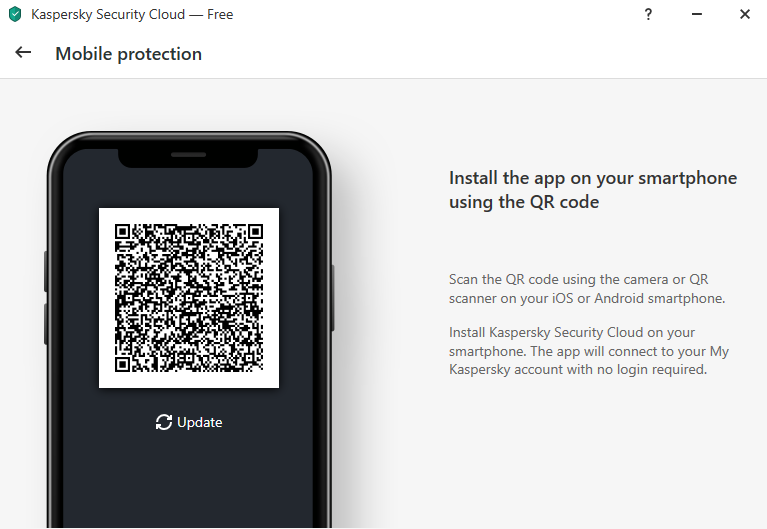 Kaspersky Security Cloud does not only protect computers, but mobile devices as well. It also covers your Android and iOS devices. It also comes with a password manager and limited access to the Kaspersky Secure Connection VPN. You'll only get up to 15 password entries in the password manager and 200-300MB daily usage of the VPN.
Kaspersky Security Cloud Pros and Cons
Just like any software, this free Kaspersky Security Cloud program comes with its own advantages and disadvantages. Let's list them all one by one.
Pro:
Lots of New Features
Unlike other free antivirus, Kaspersky Security Cloud comes with bonus features that are quite useful. When you open the dashboard, you'll see eight tiles that contain the main features of the app, namely: Scan, Database Update, PC Cleaner, Password Manager, Privacy Protection, Safe Money, Mobile Protection, and Secure Connection. When you click More Tools, you'll see more features, though most of them are locked. Out of the eight features, you'll only be able to actually use six, because you need to upgrade your package to be able to use PC Cleaner and Safe Money. Still, that's more than other free antivirus programs have to offer.
Lightweight Performance
Compared to the previous versions of Kaspersky products, Security Cloud does not consume too much resources, even when doing a full scan. You can smoothly perform your tasks without worrying about any slow downs or crashes. You won't even notice when the app is running in the background. This is a big improvement for the company because resource-usage is one of the disadvantages of the previous app versions.
Same Level of Protection
As mentioned earlier, Kaspersky uses the same malware-detecting engine for all of its products. If you're only after core malware protection, the free Kaspersky Security Cloud should provide the same level of protection as the paid products.
Automatic Updates
You don't have to worry about updating the malware database because Kaspersky automatically does that for you. But if you want to be sure, just click the Database Update on the dashboard to manually update your malware information.
Strong Malware Protection
Kaspersky got impressive, almost perfect scores from independent antivirus testing labs around the world. It provides real-time protection against malicious URLs, has very good phishing detection, and impressive ransomware protection. It can even detect new strains of malware because it uses behaviour-based detection. So even if it cannot recognize the infection, it will still flag the attack based on its activities alone.
Clean and Simple User Interface
When you open your dashboard, everything you need is there. You only need a single click to use a feature that you need. Surprisingly, the menu is found at the bottom and the upper part of the dashboard serves as a notification area to alert you of important events or details that you should pay attention to. The dashboard uses icons more than text, which gives it a clean and minimalist look.
Cons:
Limited Password Manager and VPN
As mentioned earlier, these services are just designed to attract users to upgrade to the paid version. You'll only be able to enter 15 passwords into the password manager, which would only probably cover your email and social media accounts. For the VPN service, you can only use up to 200MB per day, and up to 300MB if you create an account.
No Phone Support
When you check the Support page, you'll read there that technical support by phone and online form are not available to users of free Kaspersky Security Cloud. So when you encounter an error or glitch, you're all by yourself. What you can do is to check the FAQ and join the community to get tips from experienced Kaspersky users.
Limited iOS Features
Some of the features that are on the desktop and Android versions are not available to iOS devices.
How to Use Kaspersky Security Cloud
To download Kaspersky Security Cloud, you can go to the product page on your browser, then click Download Now. Android users should head to the Google PlayStore and iOS users should check the App Store to download the mobile versions of this app. Once downloaded, install the security software on your computer and personalize your dashboard.
You'll be prompted to do a full scan the moment you open your dashboard. This is important to clean out all the threats on your computer or device. You will also be prompted to update the database to make sure you are protected from the newest threats.
When you click Scan, you'll see different scan options, including Quick, Full, Selective, External device, and Vulnerability scans. Kaspersky also runs automatic scans, such as Idle Scan and Rootkit Scan.
When it comes to malware protection, Kaspersky is one of the best in the industry. And it doesn't matter whether you're using a free or paid product. Kaspersky Security Cloud is an excellent security app for security-conscious users on a tight budget.
Give us some love and rate our post!