It's hard to believe that a few years have already passed since the first resume builder sites beWhat Are the Best Resume Builder Sites Today?gan popping up on the internet. Since then, these services have continued to grow in popularity, with more and more job seekers relying on them to help build their professional resumes.
But with so many different services available online, it can be difficult to know which one will help you to get an ATS-proof resume online. That's why we've created this list of the best resume builder sites right now.
What Is a Resume?
Before delving into the best resume builder sites of the year, let's briefly discuss what a resume is and why you might want one. It's important to understand what makes resumes unique and how they differ from cover letters and job applications.
In its most basic form, your resume is an advertisement for yourself—an easy-to-read summary of your skills and accomplishments that you can send out to prospective employers. It's useful to understand exactly what information is appropriate on a resume.
Education: Include relevant details about where you went to school (including degrees or certifications,) when you graduated, and any other relevant credentials. Be sure not to leave anything out unless it's irrelevant. If that's the case, note N/A (for not applicable) next to that part of your education section.
Experience: List all relevant jobs with their dates and duties/responsibilities. Also, include volunteer experience if it relates to your career goals. However, keep volunteer work separate from paid work on your resume so it doesn't look like you're padding your experience.
Skills: List specific skills that are particularly pertinent to the job for which you're applying. Be sure to list soft skills as well as hard skills. Soft skills include personality traits, such as reliability, initiative, communication skills, teamwork, leadership skills, etc. Hard skills refer to concrete abilities such as proficiency in Microsoft Office programs or knowledge of HTML coding.
Extra Information: Include anything else that would add value to your application packet, such as awards you've won at work or community service positions held outside of work hours. Be careful not to overdo it here. Stick with relevant items only!
Formatting Your Resume: There are several different ways you can format your job resume, including chronological order (the most common way), functional order (also known as skills-based order), and hybrid formats combining elements of both chronological and functional orders.
Why Have a Professional-Looking Resume?
Having a professional-looking resume is important for almost everyone. Whether you are applying for your first job or you want to transfer to a new company, you need to have a high-quality resume. Sure, you can easily look for resume examples to refer to, but there will be some pitfalls that only experience can help avoid.
Those who have gone through several job and education transitions know how important it is to have a great looking resume. If you are just entering the workforce, then having an expertly crafted resume will help ease your transition into getting an entry-level position with an organization. It should highlight accomplishments, skills, and experiences that show what value you bring to organizations while not being too bold or outlandish when it comes to skill sets or educational achievements that don't match what employers are seeking right now.
What Are Some Notable Resume Builder Sites in 2023?
In a job market that's increasingly competitive, job applicants are looking for any advantage they can get over other candidates. One way to set yourself apart is by customizing your resume for each position and employer you apply to, making it a valuable tool for recruiters—and getting your resume placed at or near the top of every pile.
However, with so many great resume builder sites out there offering flexible designs, intuitive interfaces, and professional customization options, it can be tough to know which sites will best suit your needs.
Below, we've listed our picks for resume builder sites that could help get you back on track or build one that is entirely new!
Resume Builder Site #1: Resumekit.com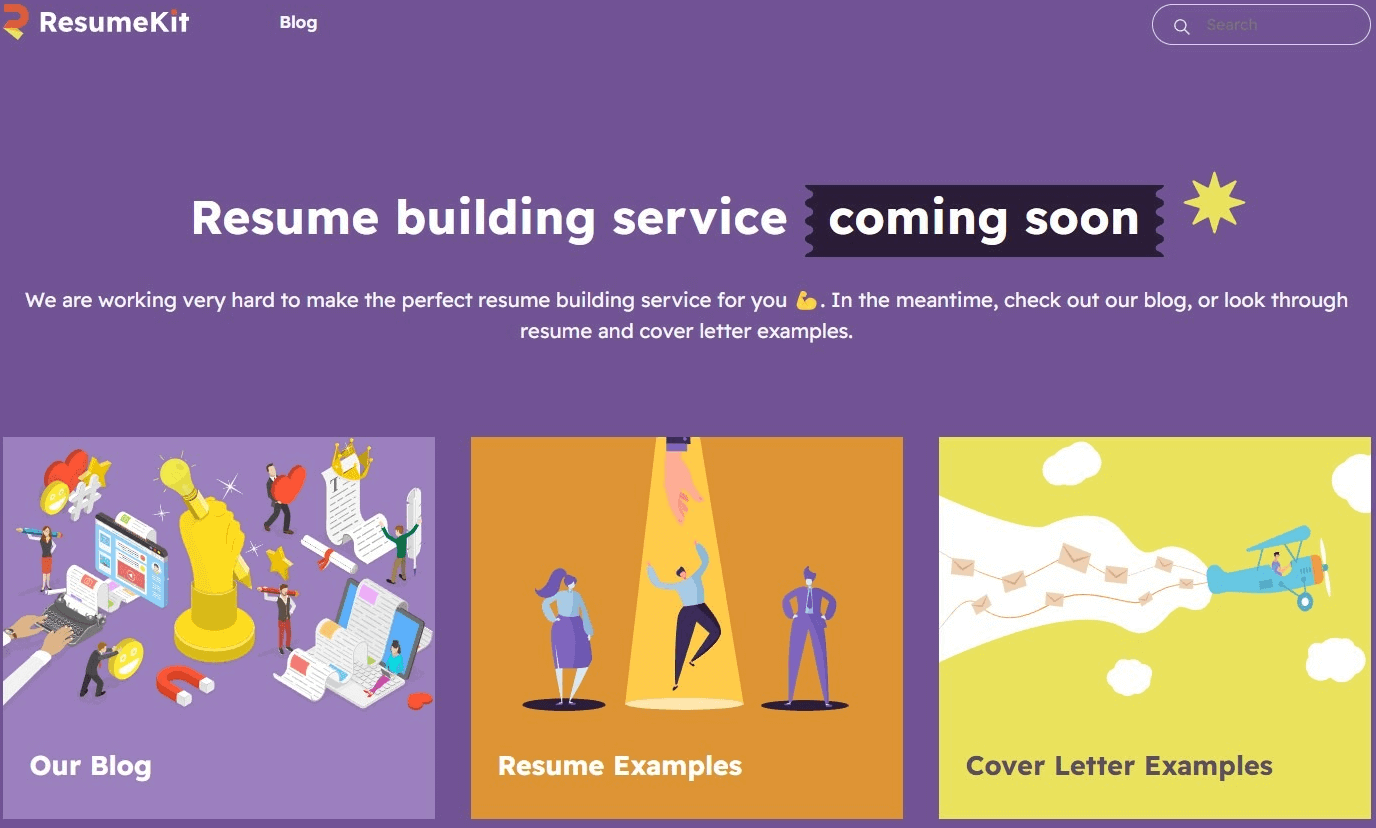 ResumeKit aims to provide an easy-to-use resume builder with a host of features and resume templates to choose from. They even have a ResumeKit blog to help you build an effective document. The templates are basic but look professional and are a good place to start when you don't know where to begin.
This site is best for those who want something simple and straightforward, without too many bells or whistles. You can still refer to your existing resume if you want to update it or just want some inspiration on how to format your new one.
At the moment, ResumeKit is being developed and improved, but they are looking to offer premium services that include more access to design options, professional editing, and career coaching.
If you're considering creating a professional-looking resume, you might consider exploring their services.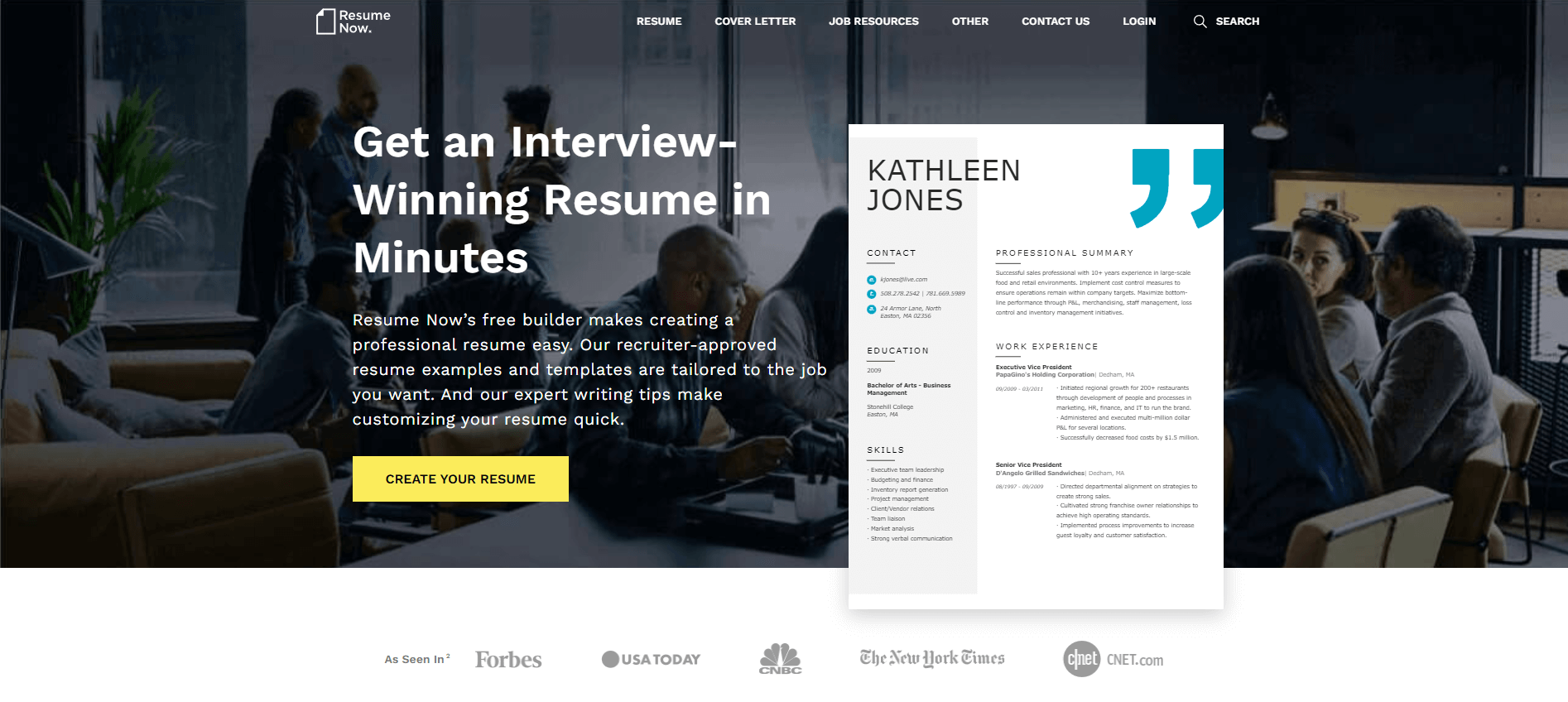 This website is considered by many to be one of the best resume builder sites. It is able to create a unique and professional resume for you without having to download any software onto your computer or mobile device. Simply fill out their forms, make an account, and you can use it as much as you want!
Not only does it allow for creating your own stylish resumes easily but it also offers other things, such as having experts review your resume so that they can pinpoint its weaknesses and then provide tips on how to improve it. This service provides resume advice on a variety of different things such as making sure that it's engaging enough (i.e., have strong action verbs!) and ensuring that there aren't any mistakes in grammar or spelling.
With Resume Now, you can create a custom resume in 4 easy steps. First, find the perfect resume examples from 64,000 resume samples available. Second, choose a resume template that is best for your experience, job, and industry. Third, start customizing your resume using some pre-written suggestions and professional editing tools. Finally, format it, download it, and start applying for your dream role!
In addition to customizing resumes, Resume Now offers tools to refine your resume. They can review your resume before you start sending it off. They will ensure that all skills required for the job are highlighted and that every section is clear and accurate. And best of all, they provide professional advice to further your chances of landing your dream job.
In the event that you don't feel confident or simply don't know how to make a resume, you can let their team of professional writers create a resume for you. In a matter of three days, you can get a customized resume that will make you stand out.
And if you don't know how to write a cover letter that will go with your resume, Resume Now also has the perfect tool. With their cover letter builder, you can quickly create the ideal companion for your professional resume.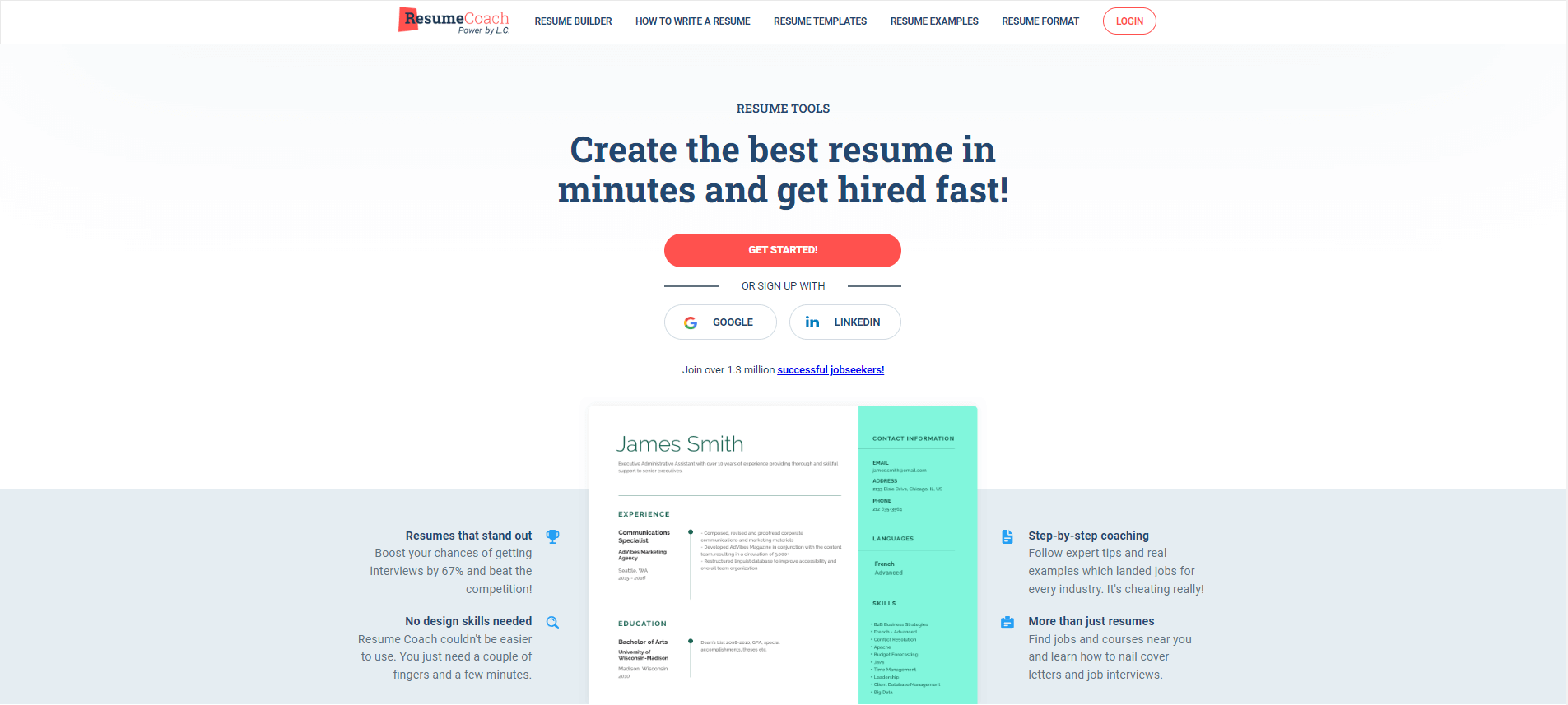 This site is designed to help you create a resume that will get you noticed for all of your strengths. Your resume will have every piece of information needed to land that job: objective and summary, education, experience and expertise, and interests.
Each section has prompts guiding you through what information to include. Even if you don't know exactly what to write here, simply adding some basic details can be a huge help. If your latest job doesn't fit easily into one of their categories, they also give you space to add a customized line that explains it.
With ResumeCoach, you can indeed craft the best resume in minutes and get noticed by employers. To build a resume, start by picking a resume format. They have a wide range of styles and colors available to choose from. And then, highlight your winning skills and personality to make your resume stand out. And finally, you can send your resume and prepare for job interviews.
ResumeCoach claims that users of their service tend to get hired faster. They report an average hiring time of 23 days after using their service. However, it's always a good idea to independently verify any claims made by a service provider.
ResumeCoach provides tools to simplify the resume writing process.
Resume Builder Site #4: Zety.com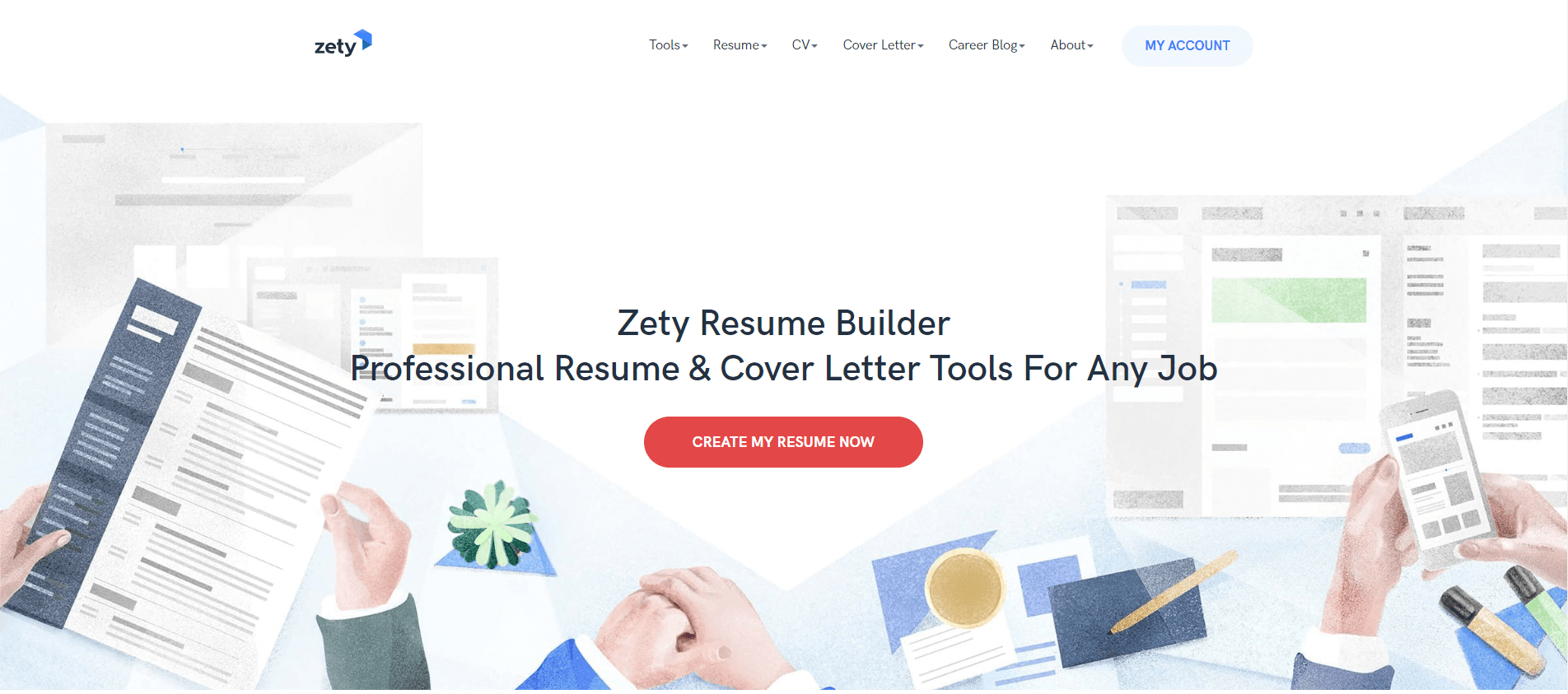 When it comes to finding a job, many sites offer resume-building and job search functionalities. One such site is Zety.
At Zety, you have an opportunity to design a beautiful resume that highlights all of your professional accomplishments. It also offers candidates access to networking opportunities and coaching resources.
What's great about Zety is that everything has been thought out, from navigating site functions to understanding where certain fields should be placed on a resume. This means you can quickly put together a high-quality resume with less time and effort required!
To start, you can choose from Zety's 18 professional, creative, modern, and elegant resume templates. You can then customize the colors and layout to any format you want: reverse-chronological, combination, or functional.
And if you are completely new to the whole resume building process, Zety's resume builder will guide you through it, one step at a time. The platform generates writing tips that come from professional and certified career experts who have helped people get more job offers.
You can also improve your resume by changing font types, spacing, and sizes. You can bold, italicize, or underline some texts that need to be highlighted. And no, you don't need to use Microsoft Word for this. You can do all this using the builder.
To boost your chances of being invited to a job interview, you can create a cover letter to go with your resume. Choose a cover letter template and start convincing hiring managers to schedule an interview with you.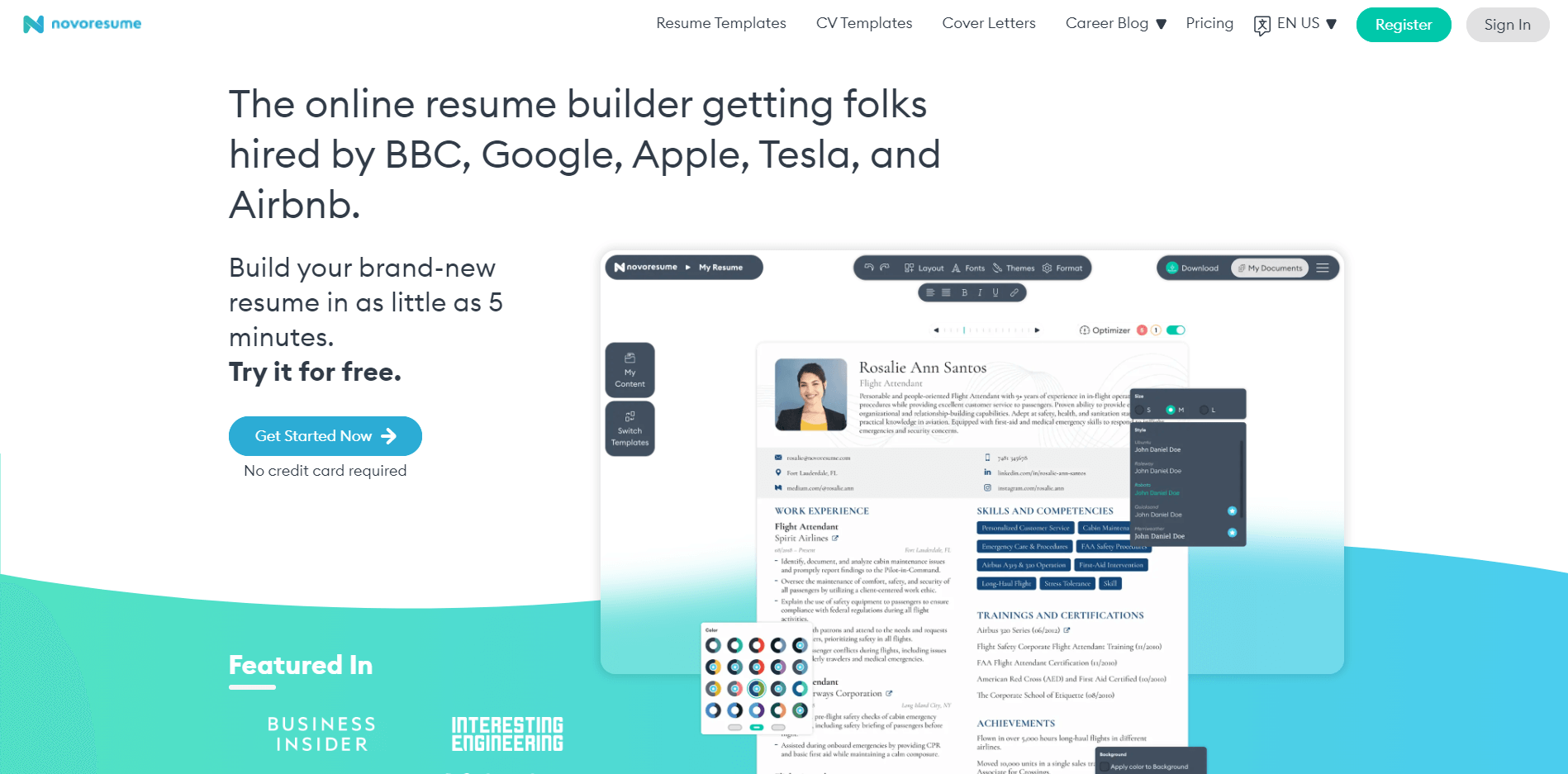 Novoresume offers its users resume templates that can be customized with a color scheme, style and fonts. While it isn't free to use, Novoresume is one of many online resume builders that allows you to take your resume to the next level. In other words, if you have trouble coming up with a perfect layout or design for your resume, there's no need to fret. Novoresume has done all of that work for you.
The best part is that all you have to do is fill out your information and personal brand summary and then let Novoresume do all of the legwork for you. You will save plenty of time without having to worry about creating a masterpiece on paper first.
You can easily pick one handcrafted resume template and start building your own resume from there. Modify sections and customize them to your needs. Add a bit of personality, and hit that Download button. It's so easy to use. Even those who never made a resume before can build one in a few minutes.
Like other resume builder sites online, Novoresume has a real-time feedback feature to ensure you create an error free-resume that impresses hiring managers!
Conclusion
Resume builder sites can be great tools to help you create the best resume possible, and we've listed some notable ones in 2023 based on current feedback. If you want to make your resume as good as it can be, then start by checking out these sites! We think you'll like them – we've put considerable effort into making sure that this list only contains the very best resume builder sites available today.
And if you're looking for help on how to write a resignation letter to transition smoothly from your previous to your new job, make sure to check out some professional services providers who could assist you with writing it. There are great resources and places that anyone would look into when trying to prepare for a career transition.
If there are any other platforms you think should have been included here, feel free to let us know about them down in the comments section below!
Give us some love and rate our post!