Reading time:
5
Minutes
One of the easiest ways to personalize your Mac is by using your photos as a screensaver. You can choose from Apple's collection of photos, or you can use your own pictures stored in the Photos app.
The screensaver rotates through your album of photos, giving your Mac a more personal touch. It would be better looking at fun photos during your vacation abroad or cute pictures of your pet, instead of the generic screensavers built into macOS.
Changing your desktop background and screensaver is really simple. Follow the steps below to set your Mac to use photos from your Photos Library as a screensaver:
Click the System Preferences icon from the Dock.
Click Desktop & Screen Saver, and go to the Screen Saver tab.
Choose the style you want from the menu on the left. Make sure you click a photo-based style, otherwise you won't be able to use the Photos Library as a source. Mac experts recommend choosing any style above the Flurry and Arabesque options.
Once you've chosen your screensaver style, click the Source dropdown menu on the right pane.
Select Photo Library from the options. If your Photos app does not have any images, you won't be able to see this option.
Wait for the images to load. The media list on the left menu will be populated with all your Moments, Collections, Places, Albums, and other folders.
Choose the category that you want to use, then hit the Choose button.
Click Preview to see how the screensaver looks when it is activated.
This screensaver only works when you are logged in because the Photos app requires admin privileges to be accessed. But once it's set up, you'll be able to enjoy a trip down memory lane every time your screensaver is activated.
Why Did My Custom Screensaver Disappear?
Recently, several users have complained that their custom screensaver is missing on Mac. For some users, the screensaver was replaced by a generic one, while the screensaver just totally stopped working for others. There are also times when the screensaver reappears, only to stop working the next time it is supposed to be work.
When users try to set up the screensaver once again, the Photo Library disappeared as a Source option even though it is available under the Desktop tab. This issue is not critical to the macOS system, but it can be annoying staring at a collection of generic photos as your screensaver.
But why does the Mac custom screensaver disappear? The main reason why the screensaver disappears on macOS Mojave is because of a bug. Users have noted that the screensaver disappeared after installing some system updates. After the installation, the screensaver either stopped working or is showing a default folder.
Unfortunately, you can't undo an installed update on Mac. What you can do, however, is to set up the screensaver again. If the Photo Library doesn't show up as an option, give the solutions below a try.
How to Fix Screensaver That Disappeared on macOS Mojave
Apple has not yet released any official fix for this bug, so the only way to get back your old screensaver is to set it up again using the instructions above. If you come across any problems, such as the Photo Library missing, simply follow the fixes outlined below.
But before setting up your screensaver once again, it is important to clean up your system first for duplicate photos, junk files, and other unnecessary files that clog your system. Cleaning up your Mac has never been easier with Mac repair app.
Here are some common issues you might encounter when setting up your screensaver and how to fix them:
Problem #1: Source Dropdown Menu Is Missing.
Once you've chosen a screensaver style from the left menu, you should see the Source dropdown option on the right pane. If you're seeing Screen Saver Options instead, you might need to choose a different style because the one you've chosen doesn't support photos as a screensaver.
You can choose from the first 12 screensaver options, namely:
Floating
Flip-up
Reflections
Origami
Shifting Tiles
Sliding Panels
Photo Mobile
Holiday Mobile
Photo Wall
Vintage Prints
Ken Burns
Classic
If you choose any style below Flurry, the Source option disappears.
Problem #2: Photo Library Does Not Show Up as a Source Option.
If you can't see the Photo Library in the Source dropdown menu, it could only be two things: one, you don't have pictures saved in the Photos app, or two, your Photos library is not designated as the System Photos Library.
If you don't have photos on your Photos app, just move your pictures to the Library to populate it. Then try setting up the screensaver again.
If you think your Photos Library is not set as System Photos Library, here's how to fix it:
Quit the Photos app.
Hold down the Option button, then launch the Photos app.
Choose the photo library you want to use as the System Photo Library.
Once Photos opens the library you chose, click Photos > Preferences from the top menu.
Click on the General tab, then click Use as System Photo Library.
You should now be able to use the Photo Library as a source for your screensaver photos.
Problem #3: The Screensaver Does Not Work.
If the screensaver does work after you set it up, there might be other issues preventing it from functioning properly. Here are some fixes you can try:
Reset the screensaver preferences. Deleting the screensaver .plist file can reset its preferences and might resolve any issues you are experiencing with this feature. To delete the screensaver file, go to Finder and hold down the Option key, then click Library > Preferences. Search for all .plist files related to the screensaver and move them to the Trash. Once done, try setting up your screensaver again and see if it made any difference.
Boot into Safe Mode. You can use safe mode to isolate problems with your Mac and try configuring the screensaver from there. Once you've set up your screensaver, reboot normally and check to see if it is now working.
If you're using multiple displays, you have to set up the screensaver on each of them separately. To do this, click System Preferences > Mission Control, uncheck Displays have different spaces. Select the screensaver you want to use for each display and restart your computer.
Summary
Staring at a screensaver showing your personal photos is much more fun and interesting than looking at a blank screen or a generic screensaver. Setting up your Photo Library as your screensaver should be a straightforward process, but updating your macOS can mess with your screensaver settings and cause issues. If your screensaver disappeared or reverted back to default, you can use the fixes above to get it working properly again.
Give us some love and rate our post!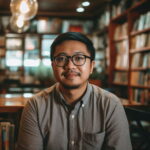 Vic is a tech enthusiast who loves to be up-to-date with the latest and greatest technology in the world. He creates content that educates and helps users with their tech-related questions. Vic manages our website to ensure that our readers have a seamless experience while browsing. He excels in troubleshooting errors and resolving Windows issues for gaming and work purposes.