Reading time:
4
Minutes
Do you ever wonder why learning a new language is so challenging? Well, you are not alone. Adults have a harder time learning new languages than children. Young adults and children have flexible brains that can easily connect an additional language. But why is it a challenge for you?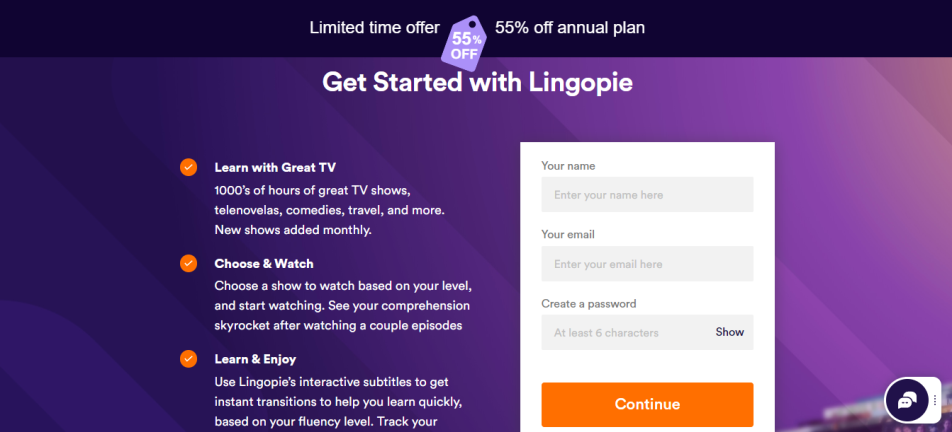 Simply, language learning challenges your mind. To learn a new language, you have to train your brain to new cognitive frameworks and follow a consistent and sustained practice. This article will share one of the best tools with learner-friendly features suitable for autonomous learners.
How Language Learning Through TV Works?
Mastering a new language isn't impossible, but that's only if you get the hang of the right techniques. For instance, when you learn to play basketball, you don't only focus on learning new rules: you need practice, improvement in muscle memory, and need to adapt to new drills in your life. Similarly, when you are learning a completely different language, instead of learning grammar and vocabulary, you have to practice your linguistic muscles. But, how can you do that?
The answer to this question is through TV. Well, this might sound preposterous, but various instances of research show the efficacy of learning a new language through TV shows and movies. Besides grammar and vocabulary, learning through TV shows will help you understand cultural mannerisms, nuances, and slang words. That way, you can read, speak, and understand like a native. Isn't this edutainment?
What is Lingopie?
Lingopie is a pretty simple and straightforward platform that makes language learning interesting and fun. On this platform, you can access wide-ranging TV shows and movies with native content. It enables you to understand nouns, verbs, and all the words through advanced subtitles and other significant features. Lingopie uses different learning techniques such as reading, listening, and helps you absorb natural conversation. As a result, you can immerse into a foreign language and discover results in few days.
Lingopie is a tool designed for language learning. The reason why you will love this application is because of its extensive features such as flashcards, playback speed options, and auto-pause. So, if you want to learn a language, Lingopie would be the best choice. Now you can explore an alternative to popular translation tools and consider Lingopie for language learning. That way you can enhance your foreign language skills and have some fun.
How Lingopie Helps Language Learners
When you head over to Lingopie's website, you can register yourself for a free trial. Once you complete the process, you can choose whichever target language you want to learn. The free trial may last for a week, which is enough to evaluate the potential of this application. Here are some features that Lingopie offers its users:
1. Foreign Language TV
Lingopie offers a variety of movies and TV shows, so you get the hang of the foreign language through native content. But you're probably wondering why you choose Lingopie when you already have Netflix. While some users have expressed concerns with streaming platforms, Lingopie offers a dedicated space for language learning. In contrast, you can watch all your favorite TV shows on Lingopie without any disturbance.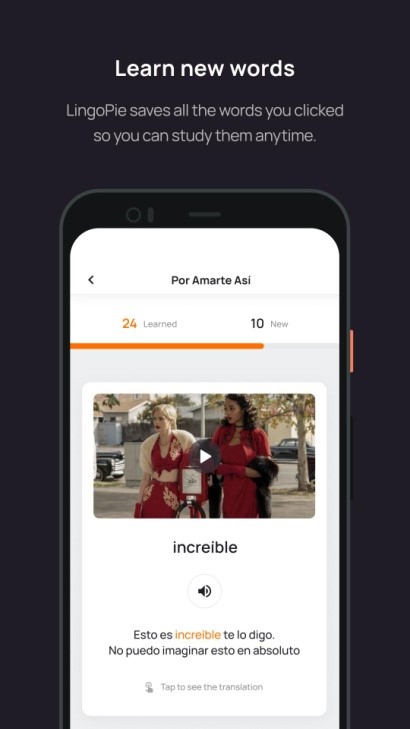 Secondly, Lingopie is not an ordinary platform. The website's interface aligns with your brain's working mechanisms. One major feature is that they offer dual subtitles. This indicates that you can watch TV shows and naturally understand the target language. In addition to that, the platform facilitates you with various other tools, such as:
Flashcard sets
Instant translation
Different levels
Slow reply
Repetition tools
2. Mobile Access
After registering with Lingopie, you get access to the mobile application. This way, you can keep up the learning process, maintaining consistency. The smooth interface allows for a steady learning curve and enjoyable experience. Their mobile app is available for both Apple and Android devices.
3. Advanced Caption Option
Besides standard caption options, you can also switch between English and foreign language captions. Moreover, the app also enables you to display captions in both languages so you can maximize your comprehension. Therefore, you can understand the vocabulary and sentence structure by turning in both captions. However, this is only possible when you evaluate your progress by switching to a foreign language.
4. Progress Tracking
You can track your progress through this language learning program. That's how it differs from other learning tools. Also, you can analyze the vocabulary you are learning, giving you a personalized experience. You receive recommendations based on that progress. With their new flashcard feature, you can also identify the words you mastered.
Give us some love and rate our post!