The consequences of having your data stolen should never be underestimated. In 2019, the average cost of a data breach is $3.92 million, according to Security Intelligence. In fact, hackers stole the information of over 57 million Uber riders and drivers in 2016 and forced them to pay them $100,000. And even though the Equifax breach happened in 2017, the company is still paying off the $4 billion settlement fee as of today.
Cybersecurity is a huge concern nowadays, and investing in reliable security programs has become a necessity, not just for businesses and big brands, but for individuals and small businesses as well.
One of the easiest ways to protect your personal data and online privacy is by using a VPN. This tool encrypts your traffic and routes it through a secure digital tunnel to prevent third parties from spying or monitoring the user's activities. The end-to-end encryption also ensures that the data remains safe even if it is intercepted or leaked somehow.
Another main function of a VPN is to protect the user's identity by masking the IP address. When the user connects to a VPN server, the user is assigned a temporary IP address, so that all online activities will never be traced back to the user's real IP address. Whatever you do on the internet remains private.
There are so many VPN service providers in the market today, and each of them have their own set of features and functionalities. In this article, we will look at the Hidden24 VPN and how it works. We will also discuss the different features, as well as the drawbacks of using this VPN.
What is Hidden24 VPN?
When you visit Hidden24 VPN's website, you'll be greeted by this question:
Ever had the feeling you are being watched?
Hidden24 claims to provide anonymity, safety, and integrity for its users when they are online.
Hidden24 is a relatively small VPN service provider that operates a bit differently compared to most of its competitors. Because of this, it offers some advantages to some users looking for anonymity, privacy, and the capability to unblock services that other VPNs don't.
Hidden24 was created in 2005 by a group of Swedish journalists, initially as a response to Sweden's snooping laws. Now, it has evolved into a commercial VPN service that anyone can use. It offers servers located in the UK, US, Spain, Germany, France, Italy, and Sweden. It may not offer a lot of location choices, which you usually get with some providers, but it should be enough for users in the US and Europe who are looking to connect to a local server. It also covers the key regions for unblocking streaming services, such as Netflix and BBC iPlayer.
Hidden24 Pros and Cons

Here is a summary of the features of Hidden24 VPN:
Choose between L2TP/IPSEC and PPTP connections only
No custom clients, you need to manually set up connections
Servers in 7 countries, including the United Kingdom, USA, Germany, Spain, France, Italy, and Sweden
One connection permitted per account only, though you can set it up on as many devices as you like
No logging
2048-bit unbreakable encryption
Operator-class internet connection
Netflix Unblocking
Hidden24 is basically a not-so-popular VPN that caters to a smaller client base. Smaller VPN providers, such as Hidden24, are able to slip by unnoticed by major streaming services, so they are not getting blocked. The US server is able to easily access Netflix US without issues and users can watch US shows without triggering a proxy warning. Aside from Netflix US, Hidden24 can also stream BBC iPlayer without problems when connected to the UK server.
However, it is worth mentioning that there a lot of cheaper, and even free VPNs right now that would give you the same unblocking power, with more features.
Connection Speed
Hidden24 is generally a basic VPN with not so many features, but one thing that is surprising about this service is its speed. Hidden24 uses 2TP/IPsec, which is known as a fast protocol. This means that your internet speed should not take too much of a hit when you connect to any of the Hidden24's servers.
It has relatively good connection speed, with only around 6% to 7% internet speed drop, according to VPN speed tests. These are great real-world results that prove a pretty negligible drop in speeds. This speed makes it comparable, or even better than many other VPN providers. Although the connection speed in some of the other VPN servers may not be as fast as that of the UK and US servers, they are basically good enough for most activities and devices.
IP and DNS Leaks
One of the things that users need to check when using a VPN is whether there are any leaks of any kind — IPv4, IPv6, or DNS. Having no leaks is one of the best measures of privacy and security that every VPN should ensure.
According to tests, Hidden24 does not suffer from IPv4 leaks. It also has no DNS leaks that would allow the internet service provider to see what the user is doing online. However, when IPv6 is enabled, there were IPv6 and DNS leaks detected. This is probably the reason why Hidden24 recommends disabling IPv6 when using the VPN service.
When checking for DNS addresses, results show that none of the DNS addresses listed belong to the user's ISP, which is good news. Unfortunately, Hidden24 uses Google DNS to resolve its DNS requests, which means that Google is able to detect that the user's IP address has requested to visit specific websites. Ideally, a VPN service should resolve the DNS requests using its own servers. If this is not possible and the only option is to use Google DNS, the VPN service should proxy those requests before sending them to Google to prevent third parties from tracking your activities.
Security and Privacy
Hidden24's headquarters is based in Sweden, which is a relatively secure place for a VPN to be based. It has a stable and democratic government, with no strict data retention laws that can force VPN services to save logs and share them with authorities. Unfortunately, Sweden has been known for engaging in some secret dealings with 5 EYES countries, which is deemed not ideal.
However, there are several highly reputable and popular VPNs that are based in Sweden, including Mullvad and PrivateVPN. Those VPNs never had any run-ins with the authorities and are performing actually well, which means that Sweden can be considered a good base of operations.
According to Hidden24's website, one of the advantages of this VPN is that they do not log anything. Unfortunately, there is no way to verify this because there is no Privacy Policy to support its claims. When checking through the website, there is only a Terms & Conditions which has very limited information. It does not list down what type of information the website collects or how it is used, which casts a shadow of doubt in terms of trustworthiness. It can be hard to trust a commercial VPN service with no Privacy Policy when even free VPNs have one. In the end, it is impossible to confirm whether Hidden24 really retains zero logs or whether it is GDPR compliant.
Hidden24 VPN also lacks several features that other VPNs offer, such as a kill switch, DNS leak protection, whitelists, and others. This makes Hidden24 less secure compared to most of its competitors. In fact, Hidden24's security is entirely dependent on the encryption technology it uses and the protocols it offers.
Hidden24 VPN Encryption
According to the website, Hidden24 encrypts the user's network traffic using a 2048-bit unbreakable encryption. It is estimated that a 1,024-bit RSA key will not be broken within the next five years, so imagine what it would take to break a 2,048-bit with a computational power that is five to 30 times greater than that for 1,024-bit keys. When you consider this, you'd think that Hidden24 is pretty secure.
However, Hidden24 only provides two encryption protocols for its users, namely PPTP and L2TP/IPsec. Between these two, it is safer that you to stick to L2TP because it is more secure than PPTP, which is now considered obsolete.
Hidden24 uses a pre-shared key in its implementation of L2TP. This is not considered completely secure because it could result to your connection being compromised by a man-in-the-middle or MiTM attack, where the user is redirected to a fake server. This security issue is compounded by the fact that L2TP has already been cracked by the National Security Agency or NSA, as evidenced by the documents revealed by the whistleblower Edward Snowden.
So technically, Hidden24 does not offer any secure protocol that would give you peace of mind. Between the obsolete PPTP and the insecure L2TP, you'd be wondering whether you're actually getting the protection that you're paying for.
Ease of Use
One of the important things you have to know about Hidden24 VPN is that it does not have an app. It doesn't have a desktop or mobile client. Instead, it takes advantage of the built-in VPN settings in Windows, Android, iOS, and macOS.
This approach actually has its own advantages and disadvantages. Looking at the positive side, having no apps means you only need to create your account using your username, password, and other details to be able to use the service on any device. You don't need to download or install any software. This save on storage space (though most VPN apps are lightweight and just consume a few MBs). Moreover, it also means less drain on other resources, such as memory and battery life.
On the other hand, having no app means that Hidden24 is limited to the features and protocols that the operating system offers. There is no extra security features, such as a kill switch that would stop any data from being sent or received when the VPN gets disconnected.
Another drawback is that there is no OpenVPN support. Although it is debatable whether OpenVPN protocol is faster or more secure than other protocols, there is no question about OpenVPN's ability to be configured to run on different ports. What does this mean? This ability makes it much easier to disguise VPN traffic and bypass firewalls that can easily block other protocols, such as L2TP/IPsec.
You also have to bear in mind that using an operating system's built-in VPN configuration means that it will apply to all internet traffic. You'll have no option to exclude certain apps or to limit the VPN to work on certain web browsers only.
In terms of ease of use, manually configuring the VPN means tweaking some settings, which is not for everyone. Not all users have the technical knowledge to set it up, even with the instructions on Hidden24's website. Although it is relatively simple to connect and disconnect the VPN connection in most OS, enabling and disabling the connection as needed can be a hassle. There is no way to automatically turn on the VPN service when your computer connects to an unknown or open Wi-Fi network or when you open a particular app. There are also no notifications that would pop up in some operating systems to inform you when the VPN becomes disconnected.
The most important drawback is that a lot of devices don't support VPNs natively. Only major operating systems have built-in VPNs, including Windows, macOS, Android, and iOS. Other devices, such as the Amazon Fire TV, can't be directly protected by Hidden24. What you can do is configure your router that supports VPN connections natively.
At the end of the day, Hidden24 is not the easiest VPN to use. There are rumors, though, that the company is planning to build an app, which would hopefully resolve these performance issues.
Pricing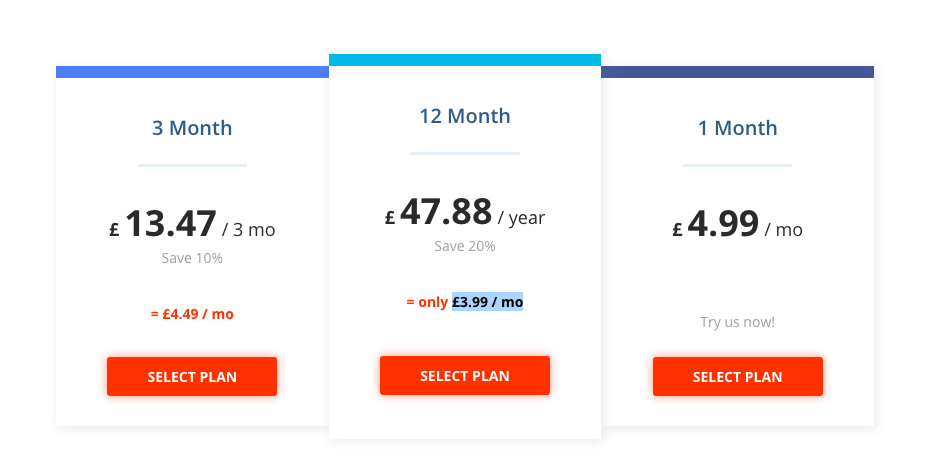 Hidden24 offers three different subscription plans, but these plans only vary in the period of time a user is subscribed to the service and the discount received. If you plan on subscribing to this VPN service, you have to understand that you cannot change your mind because Hidden24 does not offer refunds or money-back guarantees.
According to the websites Terms & Conditions page:
Please note that we do not offer any refunds. The reason is that because of the service we provide (making you anonymous), we cannot – and should not – log any user activity in the system. That means we have no way of knowing if a user have activated the service or not, and thus it's not possible to offer refunds.
Hidden24 costs £4.99 per month, or equivalent to $6.28. This lets you connect to the VPN service using just one device. The same is true of all subscription plans – you can only connect one device at a time. Other VPN providers allow you to connect around five to 10 devices to their servers with a single subscription. There are even VPN services that allow unlimited simultaneous connections for a cheaper subscription fee.
If you subscribe to the 3-month plan, you'll only have to pay £13.47, which brings down the monthly cost to £4.49. And if you subscribe to the annual plan, you'll save 20% by paying £47.88 or £3.99 per month.
It is easy to see that this VPN service is actually expensive for the paltry service it offers to its users. There are several VPN services, some are even much cheaper than Hidden24, which offers better VPN service.
How to Use Hidden24 VPN
Using Hidden24 means signing up an account, which is quick and easy. Just go to the website, then select an account username and password, type in your email address and country, then pay for your subscription. Hidden24 does not accept PayPal nor Bitcoin, but credit card only.
After purchasing your subscription, you will be redirected to the Getting Started page that shows the basic PDF setup guides for configuring the service on Windows, Macs, iOS, and Android devices. Setting up your VPN should be easy and should take only a minute or two. For Windows users, you just need to access the built-in VPN module by navigating to Settings > Network & Internet > VPN. From there, you can set up and save your new connection, which should be instantly accessible from the network icon on your system tray.
Once everything is configured, you should see all the basic information that you need to manage your account from the web dashboard. There you can access your subscription details, profile information (email, username, password), renewal options (automatic or manual), and support.
Bottom Line
Hidden24 offers a very basic VPN service and limited VPN features, which includes the unblocking of Netflix US and iPlayer. However, there is also the question regarding its no-logging policy and some issues with the IPv6 and DNS leaks. Plus, it has no apps you can use on your device and you need to configure it manually. That is much of a hassle for a service that costs you more than $6 per month.
So if you're looking for a reliable VPN service, whether for work or personal use, we suggest that you look for other VPN providers. The price you're going to pay for the basic VPN service provided by Hidden24 is not just worth it. And there's no way for you to try it because it doesn't have a trial period, refund policy, or money-back guarantee.
Give us some love and rate our post!