Technology plays a massive role in fleet management today. In fact, 86% of fleets now use telematics. This is a sharp increase when you consider that only 48% of fleets were using such technology back in 2017. It's clear to see the direction the industry is moving in.
However, it is not enough to simply have fleet management software (FMS) in place. You need to choose a fleet management tool with care. It needs to align with your goals and offer useful insights that can help you to move your business forward.
With that being said, below, we will take you through the options available to you in more detail so you can find the perfect fleet management solution for your needs.
What is fleet management software?
Often shortened to FMS, fleet management software is computer software that gives users the ability to complete a number of tasks relating to their fleet.
Some of the different tasks that can be managed via these tools include:
Vehicle acquisition
Reducing costs associated with managing a fleet
Fuel economy
Electronic logging device (ELD) compliance
Fleet tracking
Driver retention
Driver safety
Your tool will gather, store, monitor, process, and generate reports on critical fleet data. You will then be able to export such information to any other business tools you use, as well as importing your own data from external sources, including insurance databases and gas pump processors. This ensures you have a complete view of everything relating to your fleet in one place.
The different metrics you can track with FMS
Maintenance metrics – such as maintenance expenses and number of diagnostics
Trip metrics – such as average duration and the number of trips
Behavioral metrics – such as harsh acceleration and average speed
Utilization metrics – such as fuel data and mileage
Identification metrics – Such as driver ID, location ID, company ID, and vehicle ID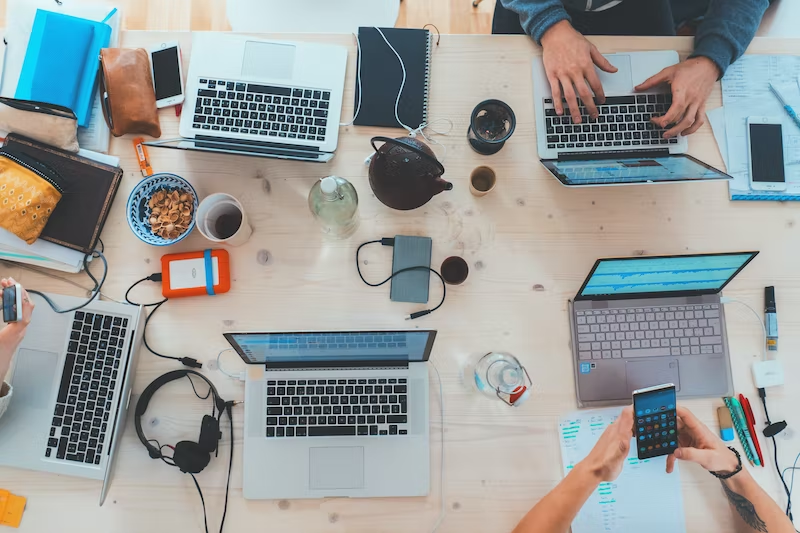 What are the best fleet management tools available?
There are a number of fleet management tools for businesses to select from today. Below, we will take you through some of the best options:
Fleetio
Fleetio prides itself on giving users one clear platform for all fleet maintenance requirements. It is an outstanding tool for maintaining fleet compliance with the DOT regulations to ensure that your business does not end up on the wrong side of the law.
You can expect an efficient process in terms of fleet maintenance, from triggering maintenance to resolution, ensuring you have all of the data you need throughout the process.
Deal with unexpected issues efficiently
One of the biggest difficulties about managing a fleet is dealing with unexpected issues. This is something Fleetio has realized, offering immediate resolution and enabling you to fully automate routine maintenance workflows. From issue resolution to inspections, you can automate these to boost uptime, ensuring compliance and safety as well.
Make the most of the Fleetio Go mobile app
The Fleetio Go mobile app works seamlessly and includes lots of helpful features. Automatic notifications, repair status monitoring, and the ability to add comments are some of them.
A range of useful and innovative features
Not only does Fleetio assist with maintenance matters, but you have everything you need for fleet management, equipment management, and fuel management. Some of the different features you can expect include the following:
Understand the true cost of running a fleet with reporting
Assign equipment and vehicles to operators and drivers
Resolve issues efficiently to optimize uptime
Track part quantities, record your usage, and easily reorder
Ensure you are compliant with electronic inspections
Plan, track, and schedule service tasks and expenses
Stay on top of all of your preventative maintenance requirements
GPSTrackit
If you are using a fleet management tool for the first time, and you are searching for something that is very easy to get to grips with, GPSTrackit certainly fits that bill.
The company has established itself in the industry for offering a simple payment structure and low costs. It is for this reason that over 12,000 fleets have been served by GPSTrackit.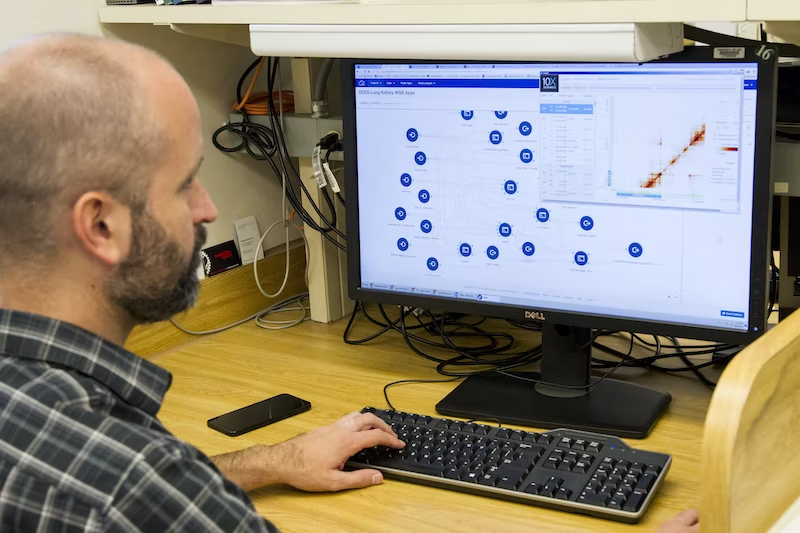 Some of the different features you can expect from this cloud-based software are as follows:
Data collection
Form creation
Two-way communication
Route planning
Route tracking and optimization
With these features, you have an effective way of increasing vehicle lifespan, shortening idling periods, and decreasing fuel costs.
Alerts you get from GPSTrackit
You will get alerts based on unauthorized use, geofencing, harsh braking, and speed. However, low prices often come at a cost, and in this case, the tracking speed is noticeably slower when compared with the other software mentioned in this post, so do keep that in mind when choosing.
In terms of support, you can expect telephone customer care and unlimited training services.
GeoTab
MyGeoTab is a fleet management software, which is web-based and scalable to suit your company's needs. If you really want to enhance the value you get from data, you can use the MyGeotab's Software Development Kit (SDK). This enables you to customize the software so that it is 100% matched to your fleet's requirements.
Making data collection and assessment a lot simpler
One of the main features of using this tool is that data collection is made a lot simpler, meaning you have information that you can act on.
For example, you may want to figure out how driving habits are being impacted by fuel consumption. The data will be normalized into a common measurement unit, ensuring fuel management is simplified.
Benchmarking fleet management
You can create benchmarking reports for your fleet, which enables you to compare the activity of one group to another so you can assess idling trends and other items. Trend lines and benchmarking are excellent for companies in terms of visualizing performance.
For instance, you can benchmark a group of vehicles' MPG in various locations to determine how drive behavior is impacted by different types of weather.
Excellent tools for managing drive behavior
With MyGeotab, you also have the ability to influence safe driving behavior with coaching tools and in-vehicle driver feedback.
Some other features that are worth mentioning include engine health and maintenance alerts, route optimization, FPS vehicle tracking, and robust engine data reporting.
Samsara
Samsara provides vehicle telematics that goes beyond GPS tracking. You can optimize your fleet effectively and make the most of exceptional geofencing and location tracking.
The platform is championed for its "to-the-second" GPS tracking and intelligent geofencing, which gives you outstanding visibility so that you can enhance route performance and give your customers a better service.
Automate your fleet with advanced vehicle and fuel diagnostics
Samsara provides you with the data and tools you need to find opportunities to make more profit. Utilization data enables you to right-size your fleet, identify fuel waste, reduce downtime, and automate preventative maintenance.
If you are currently in the process of electrifying your fleet, Samsara could be the perfect tool for you. You can assess vehicle emissions and costs so that your business is able to make intelligent electrification decisions. You can confidently procure EVs using advanced fleet management tools to make savings.
You can also streamline communication from the office to the field. Simplify your reporting and admin by going paperless.
Make the most of flexible deployment options
The flexible deployment options are another reason why a lot of businesses choose Samsara.
Samsara is equipped with USB, RFID antennas, bluetooth, and Aux inputs
Flexible and diverse coverage; run engine diagnostics on all vehicle types
G-force, speeding, and location monitoring – FMCSA-approved ELD with offline data storage
Make the most of rapid 4G LTE cellular connectivity – You will have a 10x speed advantage in comparison to 3G devices
Verizon Connect
We are sure that Verizon is a name you are already familiar with! The communications company offers an advanced fleet management software solution for businesses to make the most of. Encourage safer driving, boost worker productivity, enhance fleet operations, and track all of the vehicles in your field with this tool.
Some of the main features you will find on Verizon Connect are as follows:
Tachograph compliance – You can download tachograph files and plan driver activities to make sure your business is compliant at all times.
Field service management – Schedule work orders, provide accurate ETAs, and view job progress for enhanced consumer satisfaction and improved field communication.
Asset tracking – Monitor assets, trailers, and heavy equipment to enhance uptime, utilization, and security.
Enjoy integrated video to coach drivers and mitigate accident risk
A unique feature that you get with Verizon Connect is Integrated Video. Leverage the powerful mixture of driver data, AI, and HD driver so you can coach your drivers effectively and lower risks.
Reveal Field combines fleet tracking, dispatching, and scheduling
Reveal Field is another feature that is worth a mention. You can use real-time job updates and vehicle tracking to make the most of outstanding field visibility.
You can provide improved ETAs, and receive notifications if jobs aren't on-time. You can also simplify scheduling with an easy-to-use calendar, which you operate via a drag-and-drop tool.
Plus, you are able to push job assignments directly to a tech's smartphone with the mobile app so you can speed up dispatching.
FleetWave
FleetWave is another fleet management tool that helps you to keep your business moving. You can leverage intelligent data to find out how to optimize your fleet. You can also integrate pretty much any third-party app, meaning your processes will be as efficient as possible.
Create bespoke reports and get actionable insights
With FleetWave, you can make it easy for the right people to get all of the information they need. Dashboards can be amended to suit the individual user, department, job role, and much more.
You can also generate and view analytics in real-time, predict trends, and create graphical reports. This gives your business the platform it needs to overcome challenges, make informed decisions, and act quickly to capitalize on the opportunities that come your way.
A centralized management system
You can monitor workshops, vehicles, drivers, and much more from one place. This gives you complete visibility, ensuring you have improved control over your entire fleet and assets.
FleetWave has also ensured that businesses can keep all of their virtual paperwork organized. You will have no trouble capturing and storing relevant information and documents, for example, technical specs, driver profiles, and contract photos. You can also input and manage orders effectively.
A system that grows as your business grows
Business growth is an objective for most. You can be sure that this tool will keep up with your business, no matter how big it becomes. You can continue utilizing the solution, irrespective of how many sites, regions, or workshops you manage.
So, if you are in charge of a number of fleets or you have plans to expand your current fleet in the future, FleetWave will continue to facilitate this and ensure efficient management, rather than being a barrier.
Empower your business with leading fleet management software
We hope that this post has given you a great insight into some of the different fleet management tools available on the market today.
To select the best tool, you need to consider your current fleet size, the locations you cover, the sort of business you conduct on a day-to-day basis, and where you see yourself in the future. It's not about choosing 'the best fleet management software on the market' – it's about choosing the best fleet management software for YOUR BUSINESS.
Don't forget to consider the implementation process as well! If you already leverage software of some sort, you will want to find out how your new FMS and existing tools can work in harmony.
John is a tech enthusiast who has always been fascinated by the latest gadgets and devices. Growing up, he was always the one who volunteered to test out the new software or phone update. He loved finding ways to make technology work better for him and his friends.
John is a self-proclaimed techie and he loves nothing more than writing about the latest gadgets, apps, software, and games on Software Tested. He's always up-to-date on the latest trends and he's passionate about sharing his knowledge with others. If you're looking for insights and opinions on the latest tech products, John is your go-to source.
John has been writing about technology for years and he has a wealth of knowledge to share. He has a keen eye for spotting new products and services that are worth writing about. If you're looking for an in-depth, opinionated take on the latest tech products, ask John is your go-to source. Whether you're a tech enthusiast or just trying to keep up with the latest trends, Ivan's articles are sure to give you something to think about.