Reading time:
5
Minutes
Everyone keeps a file editor on their device. However, these tools may not always meet the evolving needs of customers. It is because people want to access the solution, regardless of their location and the availability of their own device. In such cases, an online PDF editor might be a suitable option.
These PDF editors work just like mobile applications and provide the complete solution on a web browser. You do not need to install any app, and you can access your data by creating an account on such platforms.
Today, we will review 5 online platforms offering PDF editing tools at an affordable price. All these platforms are famous and share millions of active users.
1. CocoDoc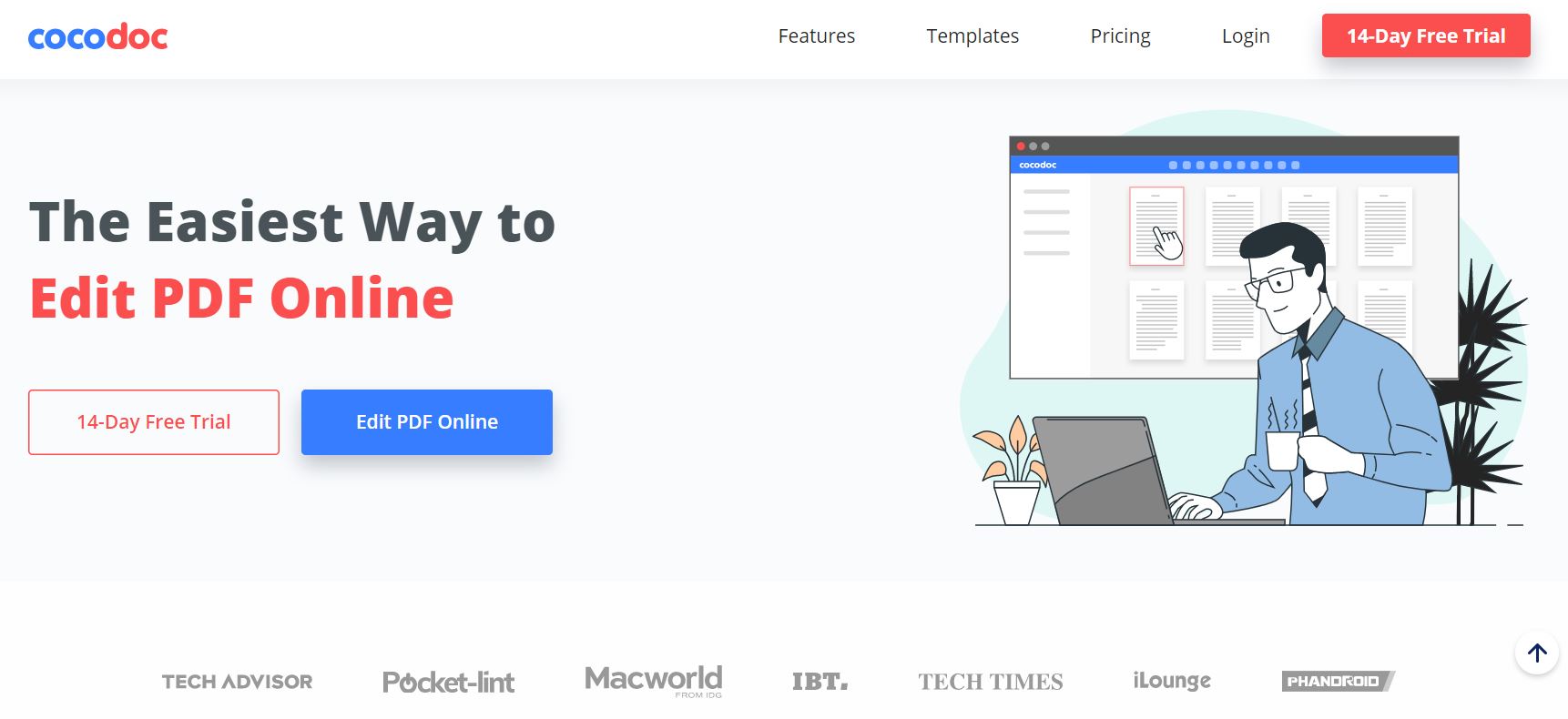 CocoDoc's website is one such platform that lets you read or edit your PDFs online. It comes with hundreds of tools designed to help you modify your PDF any way you want. This platform has the most active users who live to keep things simple.
When you visit the website, you will find a clean and easy user interface, helping you find the tools you need. All the tools are offered through separate links to make it easier for beginners. This way, you can click on the tool to add a watermark without worrying about any other tool. Similarly, you can directly access the PDF converter without using all the features to do it manually.
You can explore the website and its free trial to learn more about the solution. You will find all the tools that you need to edit your PDF documents.
Who Should Use CocoDoc?
CocoDoc is a perfect solution for beginners and professionals who wants to use a complete PDF editor. The platform has all the required tools to edit a PDF. Also, people looking for an affordable solution can go for this platform as well.
2. Adobe Acrobat DC
Many file editors might be familiar with Adobe. However, this version is called Adobe Acrobat DC as it is unlimited to the PDF editing tools. It was launched as an exclusive service for PDFs as people did not want to pay the whole subscription fee to use a single tool.
Just like other applications from Adobe, the Acrobat DC is quite an interesting platform to use. You can visit the website and use the online version to edit all your PDF documents and forms. It has many advanced tools that give you proper experience in editing your files.
The subscription fee can be a bit expensive for some users. Overall, it is an excellent platform to use a trusted online PDF editor.
Who Should Use Adobe Acrobat DC?
Professionals looking for an advanced tool to edit PDFs should go for Adobe Acrobat DC. It is because the platform has some complex tools to do some major editing. Additionally, it requires some editing knowledge to work. Thus, it might not be the perfect solution for beginners.
Also, users who occasionally use PDF editors can find it a bit expensive to use.
3. iLovePDF
iLovePDF is an online PDF editor that offers various tools to help you edit your files. The platform is quite simple and offers all the available options on its homepage. You need to tap on the feature you want to use. It offers a free version which can be used multiple times without account registration.
However, you will need to subscribe to its membership to access the premium features. The free plan is limited to the web version, and you won't face any problem using it.
It also offers a customized plan for businesses. Thus, you can consider that membership plan for multiple users.
Who Should Use iLovePDF?
Anyone can use the web version of this tool without paying a single dollar. Thus, a beginner or professional looking for a free tool can check out this one. You will find all the tools with a single-click solution. Also, you won't need to register for the first few uses on this platform.
4. PDFescape
PDFescape is another PDF editor that lets you edit your files online or through a Windows application. The desktop version is free to use and works with all the famous web browsers. The best part is that its web version supports the annotations that a lot of platforms lack.
It also lets you read any PDF in different modes. The nighttime reading mode makes it much easier to read all your files whenever you want. The editor of this platform is quite effective as it has all the tools you need.
Who Should Use PDFescape?
We recommend this platform to people who want a safe and effective way to edit PDFs. The main user base of this platform uses the Windows application version. However, the web version is interesting as well.
5. PDFarea
PDFarea is noted for its simple user interface. You will find all the tools on its homepage that works with a single click feature. The best part is you can download all the features separately. It means you can use a PDF converter while avoiding charges for all other tools.
The tools are equipped with all the features you want.
Who Should Use PDFarea?
People looking for separate desktop applications for PDF editing tools can use this platform. You can download any feature and use it however you want. However, you will need to pay a one-time fee to download them.
Final Words
The online PDF editors are an excellent alternative to desktop and mobile applications. The above list includes the top 5 tools you can use to edit your files. While these platforms offer varied features, many users find CocoDoc to be a favorable option.
This might be due to the platform offering a range of tools at a competitive price. Additionally, the web version of this platform prioritizes user safety. Still, you can check all these tools and decide which one's for you.
Give us some love and rate our post!