Reading time:
5
Minutes
Good writing is important because it ensures that the message is conveyed clearly and effectively. While spell check can help, it is still important to carefully choose your words and sentences to make sure they make sense and convey your intended message. Writing with good grammar and spelling is important in all forms of communication, from emails to text messages.
But because of spell checker tools built into most text applications, editing an email, an article, a blog post, a message, a social media update, and other text has become more convenient. You no longer have to wonder whether you spelled a certain word correctly or what preposition to use in your sentences. Spell check would highlight what needs to be edited, and oftentimes offer suggestions, particularly for spelling mistakes.
The Mail app on Mac has its own spell check feature to make sure you are sending out professional-looking emails. It checks how words are spelled as you type and offer suggestions before you even finished typing the whole world, making the email composition a lot faster.
But what happens when the spell checker breaks down? One thing is sure: we're doomed.
Several incidents of spell check not working in Mail have been reported in previous versions of macOS. And recently, some macOS Mojave users have also noticed that their Mac's Mail is not spell checking.

For some reason s, the spell check was not able to recognize simple spelling mistakes. For example, a working spell check would automatically change "las" or "las5" to "last" since it is the closest word to the typed letters. But with spell check broken, simple errors like these get away without being noticed. Simple mistakes are not recognized by spell check in Mac, but it can detect severely misspelled words, though.
The weird thing is that this problem only affects the Mail app alone. Spell check works fine for other programs on Mac, such as Word, TextEdit, Notes, Messages, etc.
What Causes Spell Check Problem on Mac Mail?
Spell check not working in Mail is not a critical system error, but it can be a huge problem if you're relying heavily on this feature and does not do your spell checking manually.
There are a few factors that can lead to spell check not functioning properly, and one of them is incorrect settings. If you do not have spell check properly configured on Mac's Mail app, you'll most likely encounter problems such as this.
Another cause is a corrupted .plist file, particularly with Mac's Mail app. Using the wrong language for your keyboard also brings up this problem.
How to Change Spell Check Settings in Mac
When you're having problems with spell check on Mac, the first thing you need to check is whether it is enabled or not. You also need to make sure that the configurations are correct for the feature to function properly.
Take note that the Mac system's spell checker is different from the grammar and proofreading features included with apps such as Word, which has its own settings.
To turn on automatic spell check in Mail:
Click the Mail icon in the Dock to open it.
Click Mail from the top menu, then choose Preferences .
Click on the Composing tab.
In the dropdown beside Check spelling, choose as I type.

To turn on automatic spell check when composing an email:
Click Edit from the top menu, then click Spelling and Grammar .
Tick off Check Spelling As You Type . For older Mail versions, you might need to click Check Spelling > While Typing.
Make sure that Correct Spelling Automatically is also ticked off.

Just like other programs, spell checking works by comparing the words you are typing against those that are in the app's list of accepted words. If the word is included in the list, it won't be automatically corrected or marked as incorrect.
Other Methods to Fix Spell Check on Mac Mail
If the configurations are correct and "Las3" is still being accepted by spell check as correct, something else must be wrong somewhere. Here other fixes you can try to get the spell check working normally again:
Fix #1: Reset Mail App Preferences.
If the problem is limited to the Mail app alone, then it is possible that the fault lies with the app itself and not the system's spell checker. There must be issues with some of the app's preferences. Resetting Mail's preferences should do the trick.
To do this:
Close the Mail app and all its running processes.
Open Finder , then click Go while holding the Options key. This should reveal the Library folder.
Click on Library > Preferences.
Look for com.apple.mail-shared.plist or com.apple.mail.plist, then drag the file to the Trash.
Restart the Mail app.
Take note that resetting the Mail app's preferences means you'll be deleting all your email settings. So after a reset , the setup wizard will launch and you need to set up all your emails again.
Fix #2: Check Your Keyboard Settings.
Another factor that you should look into when spell check is not working, is your keyboard.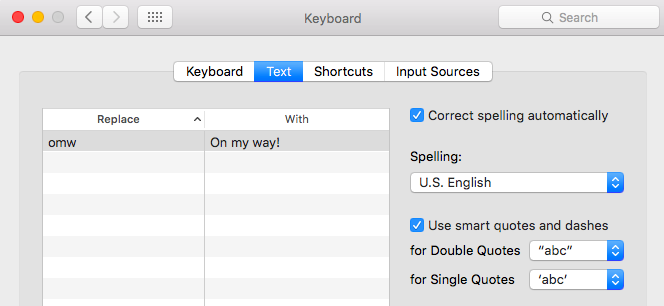 Go to System Preferences , click Keyboard then go to the Text tab. Make sure that Correct spelling automatically is ticked off. Under Spelling, choose U.S. English from the dropdown menu instead of the default Automatic by Language. After doing all these, restart your Mac and check if spell check is now working correctly.
Fix #3: Clean Up Your System.
If you're experiencing minor issues on your Mac, such as faulty spell check, you might consider using a tool like Outbyte macAries to clean up junk and cache files. Make sure to check if the tool aligns with your system needs.
Final Note
The spell check feature is extremely useful for checking spelling and other minor errors on emails, messages, and articles. However, it is not good to rely entirely on spell check for all your proofreading needs because it has its own limitations. For example, it can't differentiate between the to, too, and two, and how they supposed to be used in a sentence. So it is a good habit to sweep through what you've written to make sure that there are no errors left.
Give us some love and rate our post!