Safari is the default, built-in browser on macOS and iOS devices. It is easy to use, lightweight, battery-efficient, and has a great interface. Safari also offers support for third-party extensions and plugins that can improve your overall browsing experience. For example, you can install a password manager to help you store your passwords, or a note-taking extension to grab texts or images from a webpage.
But as with all other browsers, Safari extensions can also cause issues for your Mac. Outdated extensions can lead to your browser being sluggish or even crashing. There are also times when you need to uninstall an extension or a plugin because it does not work the way you expected it to, or the extension is misbehaving and causing other issues. Fake extensions and plugins developed by hackers can also be used to infect your computer with malware and steal your information.
Fortunately , deleting an extension or plugin from Safari is a straightforward process. But what if you encounter a persistent Safari plugin that can't be deleted no matter what you do? Some plugins and extensions are actually capable of regenerating after getting deleted because some of their files are scattered across your system.
The Evercookie, for example, is a persistent JavaScript-based application developed by Samy Kamkar that is intentionally impossible to delete. It produces zombie cookies in your browser that just won't go away no matter how hard you try to wipe them away.
And this is the same thing that happened to one Safari user who posted in the Apple forum about a plugin that can't be totally deleted even after removing the website data associated with the plugin. The user even tried searching via Finder but he couldn't locate the item and move it to Trash.
Here are several ways to delete Safari cookies, plugins and extensions — even the most persistent ones.
How to Remove Safari Extensions via Extension Manager
The easiest way to delete Safari extensions is by using Safari's built-in extension manager. To uninstall an extension, simpl y follow the steps below:
Open Safari.
Click Safari from the top menu, then click Preferences. Another way to do this is by pressing the Command + , keys.
Click the Extensions tab. You will see a list of all the extensions installed on your browser.
Choose the extension you want to remove and click the Uninstall button.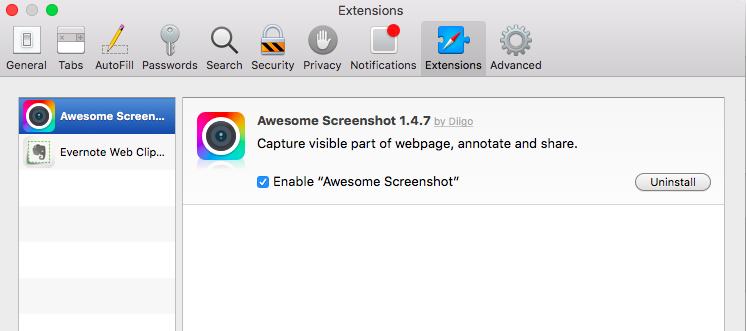 This will uninstall the extension from Safari and should resolve any issues you are experiencing.
How to Remove Safari Extensions via Finder
If you can't open Safari or access the extensions manager, another way to delete extensions is by using Finder.
To do this:
Open Finder and click Go > Go to Folder.
In the dialog box, type in ~/Library/Safari/Extensions/.
This is where all your installed Safari extensions are stored. Right-click on the extension that you want to delete, then select Move to Trash.
Go back to Finder and go to this folder next: ~/Library/Safari/Databases.
Delete everything inside that folder.
Next, go to ~/Library/Safari/LocalStorage. Delete all the contents of this folder as well.
Open Safari, click History > Show History , and delete all websites related the extension you deleted.
Don't forget to empty your Trash to make sure all the unwanted elements are completely gone. Once you have deleted the extension and all the data associated with it, re-launch Safari and see if the issue has been resolved.
How to Remove Plugins
Safari plugins improve browsing experience by providing additional functionality to your browser. Some websites even require users to install or enable a plugin to be able to access the content of the webpage. For instance, although most websites are already optimized for HTML5, there are still websites that use Java or Flash. In this case, you need to install a Java or Flash plugin for the content to be displayed.
However, plugins should only be used when you need them. After installing a plugin , don't forget to turn off or remove it, otherwise it will remain active unless you do something about it.
If you want to remove a Safari plugin, follow these steps:
Open Finder and click Go > Go to Folder.
Type in ~/Library/Internet Plug-Ins/ in the dialog box.
If the plugin you want to remove is not in this folder, go to /Library/Internet Plug-Ins/ instead.
Once you find the plugin, right-click on it and choose Move to Trash.
Make sure to empty your Trash to completely delete the plugin.
How to Remove Persistent Plugins and Extensions
If the plugin or extension you removed keep s re-appearing even after you've deleted everything and emptied the Trash, then you need to remove all junk files from your computer. Doing this manually takes a lot of time and there's no guarantee that everything will be deleted. Instead, you can use a third-party tool such as Mac repair app to help you get rid of all trash in a single click.
Summary
Plugins and extensions are designed to enhance browsing experience. But when these add-ons cause you more trouble than convenience, you can use any of the above methods to remove them from your Safari browser.
Vic is a search engine optimization expert, helping to optimize websites to make them more Google and user-friendly. He's been in the industry for more than 10 years, and his work speaks a lot about his experience and expertise in the IT and digital marketing fields. 
Vic is the one in charge of keeping our website running smoothly and efficiently, to make sure that our readers have a wonderful experience while visiting the website. He's good at troubleshooting errors and fixing issues that come up either when playing games or working on the computer. 
Vic is a certified gadget freak who feels the need to surround himself with cutting-edge technology. And this passion has helped him a lot in creating content that informs and guides users on using and troubleshooting the latest technology. He is an avid researcher who is always hungry for the latest news and updates on the most cutting-edge technology.