How To Get A Refund From Apple Store
There are times when apps don't work the way they should or the way they were advertised. There are also instances when you purchased the wrong app by accident, or one of the kids purchased the app without your permission. Sometimes, they are just plain broken, faulty or cannot be downloaded from the Purchased tab. It can be annoying and frustrating when these things happen, especially if you need or want the app. The good news is that you can ask for your money back. But how does an Apple App Store refund work? This article will explain how you can ask for an Apple App Store refund, what the process entails, and what rules govern this process.
Apps That Disappear From the Purchased Tab
All of the apps that you purchased or downloaded should still be accessible in the App Store in case you want to re-download them. You can see the apps you've bought in the Purchased tab of the App Store, so you don't have to pay for them again if you want to download the apps once more. But what happens when the apps vanish from your App Store's Purchased tab? EA fans made a huge uproar a few years ago when games like Dead Space and Need for Speed completely disappeared from the App Store. It wasn't your regular game-got-dropped-off-the-store drama where games disappear from the App Store due to bugs or faulty updates.
In the previous version of App Store, developers can completely pull out their app from the store while making it still available for those who already bought it through the Purchased tab on their App Store. So even though the app is no longer available on the App Store, those who bought it before can still re-download the app. However, that's no longer the way things work now. Today, when developers remove their app from the App Store, they are also removed from the Purchased tab. It means that you can no longer download your purchased app because it is completely gone from the App Store. If this happens, you can always apply for an App Store refund or an iTunes refund, depending on the Apple product you purchased.
Just an added tip – to make sure that the apps disappearing is not a computer glitch, run Outbyte MacRepair to delete cache files, broken downloads and other types of trash files that might interfere with your apps' performance.
Is It Possible to Get an App Store Refund?
Absolutely. You can ask to get your money back, and there's a huge chance of your refund being successful, especially if you do it soon after making the purchase. Apple is willing to refund purchases as long as the reason is valid. However, if you're from Europe, then you don't even need to give a reason for your refund. European law requires Apple to issue refunds within 14 days of purchase without asking for a reason.
Those outside the UK and EU, and those who have had their apps for more than 14 days can still request for a refund, but the process is a bit more complicated. First, you need to provide a reason for the refund. Second, there is no obvious way to ask for an Apple App Store refund. You need to do your research. And lastly, your request will have to be reviewed by a team at Apple, and they may need to contact you for more information before making a decision. In the past, Apple has refunded accidental app purchases or apps bought by kids without their parent's permission. However, the company only does this once per customer, so you have to use this chance sparingly.
How to Get an iTunes Refund
If you've purchased a movie or a song by accident, or the file you've downloaded is broken, you can request an iTunes refund to get your money back. To do this, follow these steps:
Open iTunes on your computer. The first step is to open your iTunes app by clicking the icon on your PC's desktop or your Mac's Dock. Make sure you are logged in with your Apple ID. You can check this by looking at the upper-right corner of the iTunes window. If you don't see you Apple ID or email, that means you are not logged in. Click Sign in and type in your Apple ID and password.

Access your account info. Once you're logged in with your Apple ID and password, click your name, and a drop-down menu will appear. Scroll down the drop-down menu and choose Account info. You will be asked to sign in again using your Apple ID to access your account information.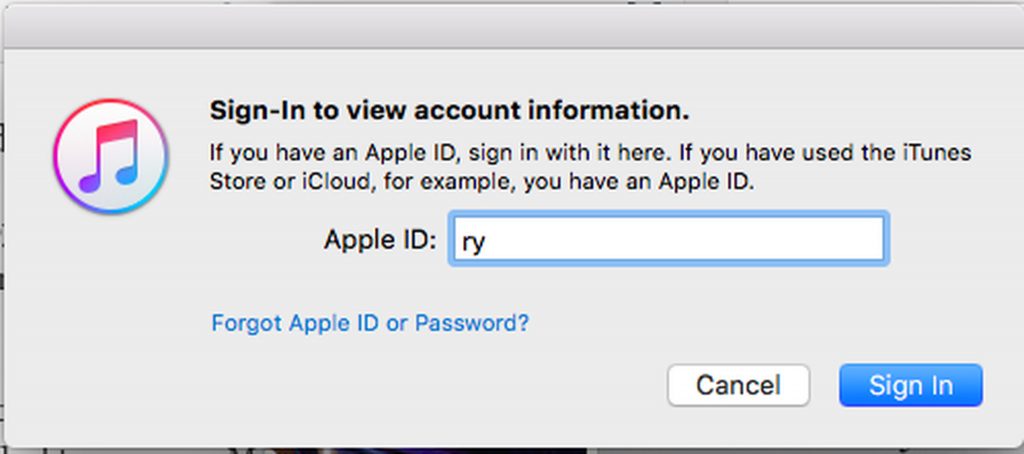 Check Purchase History. In the Account info window, find Purchase History and click See all. You will find here all the movies, songs and other digital files you downloaded from Apple. Look for the purchase you want to get a refund for and click Report a problem.

Enter more information. When you click Report a problem, you will be taken to Apple's website where you need to provide more information regarding the issue. You will be asked to sign in and after you do, click Refund option and enter your reason for the refund request. Take note that UK and EU users don't need to explain refunds within 14 days of purchase.
Get a Refund via Reportaproblem.apple.com
If you don't want to use iTunes for whatever reason, you can ask a refund using your web browser.
Go to Apple's problem reports website. Open your browser and type in reportaproblem.apple.com. It is a page dedicated to reporting problems with App Store products within 90 days of purchase. You will be asked to log in with your Apple ID and password.

Scroll down to the purchase you want to be refunded. You can navigate to the different Apple digital content by clicking the tabs at the top (Apps, Subscriptions, Movie, TV Programmes, Music, and Books) and find the purchase you want to request a refund. You can also check your purchase details by clicking the Receipts tab.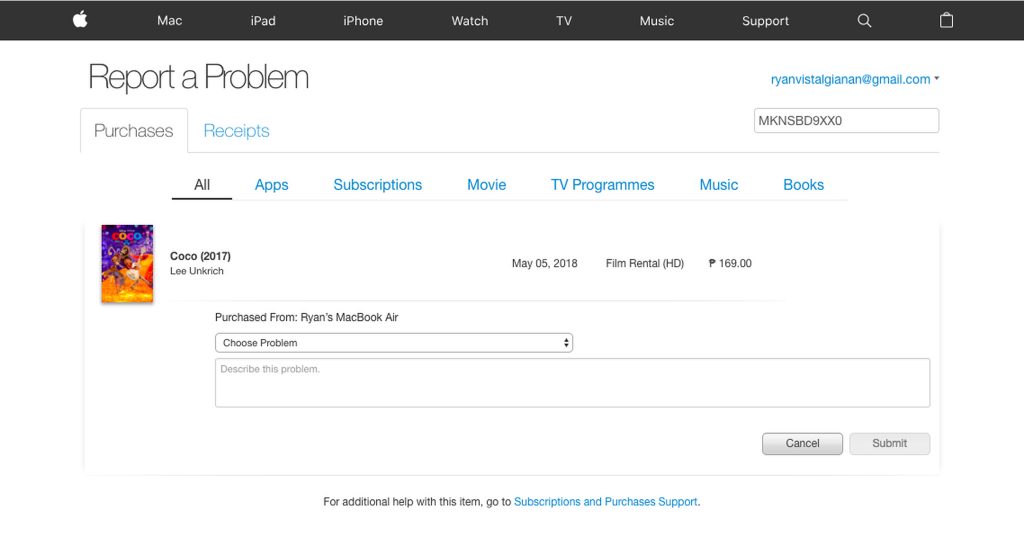 Submit your refund request. Once you've found the app or movie or music you want to be refunded, click Report a Problem to the right of the item and select the reason for the refund. Then, type in as much information as needed to describe your issue or problem. Once everything's filled out, click Submit.
Get a Refund using your iOS Device
The problem with Apple is that there is no direct link to get a refund for your purchases. It would be nice if there's a refund button on the App Store next to your purchases, and process the refund application from there. If you're stuck with your iPhone or iPad and with no access to a computer then requesting for a refund can be a bit more complicated. To ask for an Apple App Store refund using your iOS device, follow this procedure:
Open your Mail app. Go to your email and find the invoice of the purchase you want to be refunded. You can search your mailbox for 'Apple,' and it will show you all emails from Apple or you can directly search for 'Your receipt from Apple' which is usually the subject of the invoice email. Your email will be filtered to show all Apple invoices by date, and you can sort these emails to find the purchase you are looking.
Report a problem. Once you've found the invoice for the purchase you want to be refunded, tap Report a problem next to the app.
Follow the instructions on Apple's problem reports page. Once you tap the Report a problem button, you will be taken to the Report a Problem page on Safari where you need to select the reason for the refund and add a description of the problem you encountered.
The results of the refund process might take days or weeks, depending on the reason for your refund. However, you should hear from an Apple representative, within a few days, if they need more information to verify your reason for the request.


If you're running into errors and your system is suspiciously slow, your computer needs some maintenance work. Download
Outbyte PC Repair
for Windows,
Outbyte Antivirus
for Windows, or
Outbyte MacRepair
for macOS to resolve common computer performance issues. Fix computer troubles by downloading the compatible tool for your device.
See more information
about Outbyte
and
uninstall instructions
. Please review
EULA
and
Privacy Policy
.