Reading time:
5
Minutes
Windows is made of thousands of system files, and it is impossible for users each and every one of them. There are those that are more familiar because they are frequently encountered, but there are thousands more that users don't know about.
So, when a user comes across a file that is not familiar, that file is often considered as malicious. And in some cases, that might be true, since malware is known for imitating legitimate Windows system files and processes.
But more often than not, what you've probably encountered is a system file that you do not know of, such as MRT.exe. At first glance, you'll think that MRT.exe is a virus, especially because it is an executable file.
If you're wondering what the MRT.exe file is about and whether it is malicious or not, this article would give you updated information on this Windows file and its nature.
What is MRT.exe?

MRT stands for Microsoft Removal Tool, and it is a software component of Windows. Microsoft Removal Tool, now known as Windows Malicious Software Removal Tool (MSRT), protects Windows from prevalent malware. This free tool scans and removes threats on your computer, then reverses the changes done by these malicious applications.
This tool runs on:
Windows 10/11
Windows Server 2019
Windows Server 2016
Windows 8.1
Windows Server 2012 R2
Windows Server 2012
Windows 7
Windows Server 2008
The Microsoft Removal Tool was initially released in 2005, protecting Windows computers against common infections. It is usually released as a part of the Windows Update or as a standalone tool. The tool generally runs quietly in the background, unless a threat is detected.
MRT.exe is the primary executable file used to run this tool. It is not a core Windows system file, so deleting it will not affect your computer's performance.
The MRT.exe file should be located in the C:\Windows\System32 folder, and should be about 117, 810 KB in size.
Is MRT.exe a Virus?
Basically, MRT.exe is not a virus since it is a genuine Windows file associated with a Microsoft utility. So when you see it running in Task Manager, don't quit the process immediately and investigate it first. If you have Automatic Updates turned on in Windows, this utility will be automatically downloaded and should run on the second Tuesday of every month. So don't be surprised to see the process running in the background even though you have nothing going on.
Is MRT.exe a legitimate file? Your first should be the location of the MRT.exe file. As mentioned above, it should be located in the System32 folder. If you don't know how to get there, simply open File Explorer or any folder, click This PC from the left menu, choose your installation drive (usually C:) > Windows > System32, then look for the file there. There's a lot of files inside that folder so you can use the search function at the top of the folder to find MRT.exe.
Now, if you see the file there, that's good. But if you see another MRT.exe file outside that folder, say, in the Documents folder or an external hard drive, then that's something you should be wary about. Any MRT.exe file outside the System32 folder must be fake.
Another thing you have to check is the behavior of the file. According to some users, deleting the MRT.exe file that is outside the System32 folder does not work. If you try to delete it, even going as far as permanently deleting it from the Recycle Bin, it will just come back after a while. That is definitely suspicious.
Your third clue is the app signature. When you go to Task Manager and you see the MRT.exe file running there, then you need to look at the digital signature. Right-click on the process, click Properties, then go to the Digital Signatures tab, It should be signed by Microsoft Windows, as shown in the image below. If you see a different signer there, then that's a fake MRT.exe file.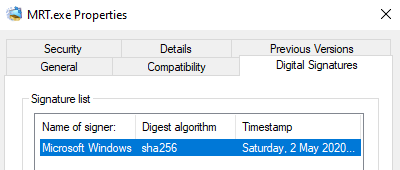 The most important clue is what your anti-malware program tells you. If it detects nothing from the file, then it is probably clean. To be safe, use multiple security programs to check, double-check, and triple-check.
Here are some of the common detection names of fake MRT.exe files:
TROJ_GEN.R03BC0OC318
TROJ_GEN.R002C0OCP18
Trojan:Win32/Occamy.C
Trojan:Win32/Tiggre!rfn
How to Remove MRT.exe?
Since MRT.exe is not a core Windows system file, you can safely remove it from your computer without suffering from serious consequences. You can simply download the tool again when you need to scan your computer. But if the MRT.exe file is not causing any trouble, it is better to keep it because that's one additional layer of protection for your device.
But if you believe that MRT.exe is malicious and it is causing performance issues for Windows, then you need to remove it from your computer immediately. The easiest way is to get rid of it using your antivirus program on your computer. Simply run a scan and the software should automatically delete or quarantine malicious files, such as the fake MRT.exe.
If the file came with a PUP or potentially unwanted program, you need to uninstall it as well to make sure that all traces of the virus have been deleted. To uninstall the PUP, open Control Panel > Uninstall a Program, then choose the malicious app from the list. Highlight the app, then click the Uninstall button.
To protect your computer from fake and malicious system files, such as MRT.exe, make sure you download files only from reputable sources. In the case of the Microsoft Removal Tool or Windows Malicious Software Removal Tool, you can download it from Microsoft's website or from Windows Update. Avoid clicking on links or opening email attachments from unverified emails. And most importantly, keep your security software running at all times for real-time protection.
Give us some love and rate our post!