Reading time:
4
Minutes
When you're using a laptop, whether for work or for school requirements, a good battery life is preferred so you can do more with it and you will need to charge it less often — which also contributes to battery health.
Windows 10/11 devices are generally equipped with built-in power settings to help you maximize every drop of your battery juice. This is why Windows 10/11 is one of the best operating systems for laptops. It even has a Power Saver mode that minimizes the energy consumption of your processes to help you stretch out whatever charge is left on your device.
Unfortunately, battery drain is one of the biggest issues right now for computers running on Windows 10/11 and uses hybrid graphics. Modern laptops are now equipped with two graphic cards with varying capabilities and consumption, and they are designed to be able to support both high and low performance situations. However, this seems to be causing some conflict with some power settings on Windows 10/11.
Several users, and even tech experts, have noticed a significant and rapid battery drain on Windows 10/11 using Hybrid Graphics. Instead of the usual energy usage, the battery gets consumed rapidly even when the computer is on Sleep. But before we elaborate on this problem, let's try to understand more about what hybrid graphics is and why Hybrid Graphics causes rapid battery drain
What is Hybrid Graphics?
This concept involves multiple graphic cards in one laptop computer, which promotes higher performance and productivity, while at the same time, saving energy consumption in GPUs. When you're using hybrid graphics, you can quickly switch between a lower powered integrated GPU for lower power use and heat and a more powerful discrete GPU when you need more performance. NVIDIA and AMD both have hybrid graphics installed in their most modern laptop models.
Why Battery Drains Fast When Using Hybrid Graphics
For this scenario to occur, you must meet two requirements:
A Windows 10/11 operating system ( regardless of the build or version)
A hybrid graphics processor unit (regardless of the monitor) that is used to display to an external monitor
When you use an external monitor, the Desktop Window Manager process (dwm.exe), which is in charge of managing the applications before projecting it to your screen, enables hardware acceleration to render the graphical interface of your computer. This means that it is using the high-powered GPU unit to support the rendering of the extra display. When you disconnect the external monitor, quit the video or other DirectX application on the other screen, the DWM should automatically switch back to the low-power GPU since the workload has decreased.
But for some reason, the Desktop Window Manager process fails to automatically switch back to the other GPU and continues to reference the discrete GPU or dGPU even after the external monitor has been unplugged and no apps are currently running on it. This means that Windows 10/11 continues to sustain power to the dGPU. This causes your battery to drain fast when you're using hybrid graphics.
Unfortunately, Microsoft has not yet released any information about this bug on Windows 10/11 so an official fix is out of the question as of now. What you can do is apply some of the workarounds we've listed down below.
How to Fix Rapid Battery Drain When Using Hybrid Graphics
If your battery juice is being sucked dry by your hybrid GPUs, here are some of the fixes you can try.
Fix #1: Disable One of the Graphic Cards.
If you're not using both graphic cards all the time, you can choose to disable any of the graphic cards, depending on your usage. To disable it, you need to uninstall the device driver by following the steps below: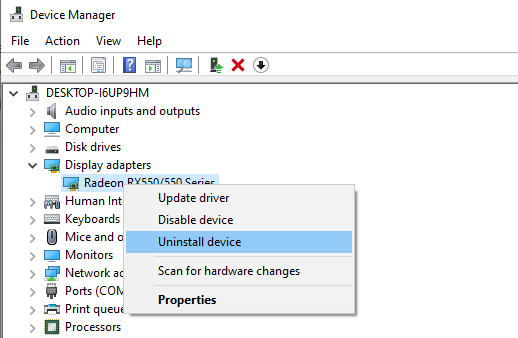 Press Windows + X on your keyboard.
Click on Device Manager from the menu that pops up.
Expand Display adapters and look for the graphic card you want to disable.
Right-click on it then choose Uninstall device.
In the uninstallation window, click Delete the driver software for this device.
Follow the onscreen instructions to complete the uninstallation process.
Restart your computer when prompted.
Fix #2: Run the Power Troubleshooter.
Windows 10/11 is equipped with various troubleshooting utilities to fix common issues, including power and battery problems. If your battery drains fast when using Hybrid Graphics, you can run the Power Troubleshooter to fix this glitch. This tool automatically detects and fixes power issues on Windows 10/11, including rapid battery drain problems.
Here's what you need to do:

Click Start then type in troubleshoot in the search bar.
Click on Troubleshoot settings from the search results.
Click Troubleshoot from the left menu.
On the right pane, scroll down and find Power under Find and fix other problems.
Click on the Run the troubleshooter button and follow the onscreen instructions.
The above workarounds should help you deal with the rapid battery drain caused by your computer's hybrid graphics.
Summary
Hybrid graphics are great because they offer you the flexibility to switch GPUs depending on the required graphics performance of the app you're using. Unfortunately, Windows 10/11 has yet to perfect the switching between GPUs. So if you are experiencing a rapid battery drain on Windows 10/11 using Hybrid Graphics, check out the solutions above while we're waiting for Microsoft to release an official fix.
Give us some love and rate our post!