We all know how annoying Windows 10/11 updates can be. After we've been through the operating system's highly-marketed 'Get Windows 10/11' drama, Microsoft is at it again.
This coming October, after installing a Windows 10/11 update, users will notice how the operating system pushes you to use its Microsoft Edge browser. If you're someone who grew up with Chrome and Firefox, it's hard to imagine using a different browser for your online activities — a subpar one at that.
Beta testers had a chance to try out Microsoft's upcoming October Windows update and they revealed this new annoying feature. Once you've installed the update, Windows 10/11 will start warning you whenever you install a non-Microsoft Edge browser for the first time. This includes Google Chrome, Firefox, Vivaldi, Opera, among others. Once you do that, you'll be greeted by a message that warns users about the download.
But come to think of it, has installing Chrome ever caused harm to your computer? It is not malware, so Windows 10/11 should have no business warning you about the legitimate application you have chosen to download.
In the end, it all boils down to Microsoft's goal of pushing users to use Microsoft Edge.
What is Microsoft Edge?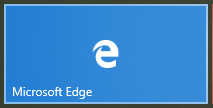 Microsoft Edge is a built-in browser in Windows 10/11, Windows 10/11 Mobile and Xbox One. It replaced the now phased-out Internet Explorer. It is a power-efficient browser that allows you to stream videos at a cinematic level thanks to the 4K Ultra HD and Dolby Audio support. It also offers a way to preview, manage and organize your open tabs so they don't descend into chaos.
However, Edge's performance is nowhere near that of Google Chrome or Firefox. We're not saying that Microsoft Edge is bad. It actually has some good points about it, as mentioned above. But it can never replace the other popular browsers that we're familiar with, and there is a reason for that. Microsoft Windows 10/11 browsers like Microsoft Edge can't compare to Chrome and Firefox when it comes to speed and performance.
Tip: One way to make your browser and your computer faster is to use an app such as Outbyte PC Repair to delete junk files, such as web browser cache, old downloads, error logs and other trash, that might affect your computer's performance.
So what do you do when this warning appears?
Just ignore it.
It won't stop you from installing or running the non-Edge browser anyway. Microsoft only wants you to think that you're installing an application that may harm your computer. This warning is an implied message from Microsoft that Windows is trying to protect you from making a potentially risky mistake.
But you don't have to worry. Microsoft Windows 10/11 browsers that are non-Edge do not pose any risks to Windows users. Microsoft just wants you to think that way so you'll be forced to use Edge.
This warning will only pop up when you install a new non-Edge browser for the first time. So if you already have an installed browser prior to the update, you don't have to worry. You'll only be affected if you decide to uninstall and then reinstall your non-Microsoft Edge browser. If you do, just ignore the message and proceed with the installation.
Aside from pushing Microsoft Edge to its users, the October 2018 update has also made it difficult for users to disable or edit certain features of the operating system. For example, when you go to Settings > Apps, you should see these options:
Allow apps from anywhere (Default)
Warn before installing apps from outside the Store
Allow apps from the Store only
The new options are:
Turn off app recommendations
Show me app recommendations (Default)
Warn me before installing apps from outside the Store
Allow apps from the Store only
This means that you will be overwhelmed by warnings whenever you install an app not from the Microsoft Store.
A Marketing Strategy?
Microsoft's attempt to divert users away from competition towards its propriety software is not something new. The company has made several attempts to push Windows 10/11 users towards apps and software that Microsoft recommends. If you've been using Windows 10/11 for quite a while now, you've probably seen your fair share of OneDrive, Cortana and other Edge ads disguised as alerts in the past. This 'warning' is just one of Microsoft's attempts at marketing.
Fortunately, we're still a couple of weeks away from October, and we don't know exactly when the update is going to be rolled out. There are a lot of things that could happen between now and the update launch, so let's just hope that Microsoft listens to the opinions of the beta testers. It is still uncertain whether this 'warning' will reach its final version or will be totally scrapped due to public sentiments.
Give us some love and rate our post!