The Windows 10/11 October 2018 update has brought a lot of surprises to Windows users, including a few bugs. And one of these bugs has something to do with Windows' built-in zip functionality.
The bug has been reported by several users already, and it seems Microsoft is also aware of this Windows 10/11 1809 bug. According to reports, the 'Do you want to replace these files' dialogue box has disappeared although it should be present whenever the content of a zip file is moved. This is risky because there's a high chance you might overwrite a file without you knowing it, and there's no way you're able to get it back.
The built-in zip feature has been available in Windows for many years now, but not all Windows users are aware it exists. The integrated zip function lets you quickly create zip archives with files or to unpack zip files without the need for a third-party tool or software.
Normally, whenever you unpack a zip file in Windows and the file is already available in the destination folder, a warning message usually pops up to let you know you might overwrite some files. But because of the Windows 10/11 1809 zip bug, the files in the destination folder will be automatically overwritten without warning. There are also users who reported that no files are copied or overwritten when dragging files from a zip archive to a folder with the same files. It might seem like the file is being copied because you see the copy progress bar, but when you check the folder again, nothing has changed.
Here are some of the reports by users about the Windows 10/11 1809 zip bug:
"It's okay on Win 10 build 1803. It's the most recent one 1809 that's bugged. I just don't get a confirmation or a copy/paste window and the file just transfers which is annoying because I have no idea when it began or when it'll finish. Moved back to 1803 for now." – Deranox
"Using Windows Explorer to open the zip: the prompt is indeed gone, but in my case it actually doesn't overwrite the already extracted file." – lux44
"This is "funny". I have noticed this strange behaviour 2 weeks ago but I ignored it.
In my case it silently overwrites files when extracting/copying from zip files.
So yes, I can confirm this nasty bug." –dcsn
"This seems to be a very serious and widespread problem which could lead to user data loss. This is another thread about it. A reply would be very much appreciated.
The issue is that in 1809, overwriting files by extracting from an archive using File Explorer doesn't result in an overwrite prompt dialogue and also doesn't replace any files at all; it just fails silently. There are also some reports that it did overwrite items, but did so silently without asking." – /u/jenmsft
Reports said that the Windows 10/11 zip file problems had been present in the build 19H1 until 18219, but Microsoft fixed the bug in the build 18234. Although the 18234 changelog does not include the fix, users have noticed the changes. Microsoft doesn't always include all the fixes or improvements in the changelog because the list is often too long. However, users are left wondering why the Windows 10/11 zip copy fail hasn't been fixed in 1809 yet. Users of Windows 10/11 1809 have to wait until November before a patch or update is released.
So while we're waiting for that November update, here are some of the steps users can do to resolve these Windows 10/11 zip file problems.
Delete all your junk files. Aside from hoarding precious storage space, junk files can also affect your computer's performance and may cause glitches here and there. It is a good maintenance habit to clean out your storage every once in a while to prevent issues, such as these Windows 10/11 zip file problems, from cropping up. If you want to delete your junk files completely and easily, you can use an app such as Outbyte PC Repair to scan and clean out your computer. It also detects issues before they happen so you can quickly resolve them when they do appear.
Perform a clean boot. There is a chance that some third-party process is affecting your computer's performance. Try entering into clean boot mode to see if this solves your problem. To do this, follow these steps:
Click the Start button and type in 'msconfig' in the Search
Hit Enter. This should open up the System Configuration Utility.
Tick off the Load System Services and Use Original Boot Configuration options, and uncheck Load Startup Items.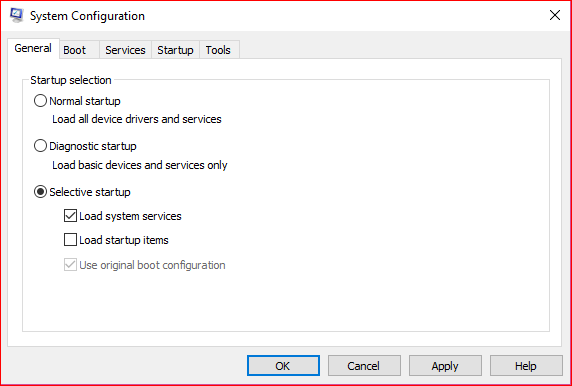 Go to the Services tab and click Hide All Microsoft Services.
Click Disable All, then hit OK/Apply.
Restart your computer.
This would make your Windows enter the Clean Boot mode and disable all the third-party processes that might be causing your Windows 10/11 zip copy fail problem.
Boot in safe mode. If doing a clean boot does not fix your issue, you can try booting into safe mode next. This limits Windows operation to basic function, and your operating system boots with only the core drivers and services.
To boot your computer into safe mode, follow these steps:
Turn off or restart your PC.
Once it restarted or powered on, listen for the computer beep, then tap the F8 button in 1-second intervals.
You will see your hardware information, then the Advanced Boot Options menu will appear.
Use the arrow keys to highlight Safe Mode, then hit Enter.
Try unzipping your file while you're in safe mode and see if it works.
Use third-party software to unzip your files. If all else fails, you can enlist the help of a third-party unzipping tool such as 7zip, WinZip, WinRAR, iZip, PeaZip, among others. Most of these tools are free, though some can be upgraded to the paid version for more features. All you need to do is install your preferred archive tool and use it to create an archive or unpack one.
Summary:
This Windows 10/11 1809 zip bug is a hassle because you don't know if your files are being overwritten or not – you don't even know if your files are being copied at all! So while you're waiting for Microsoft to patch things up, you can try the solutions above to see if they can fix the bug for you.
Give us some love and rate our post!