Reading time:
4
Minutes
Windows 10/11 offers a built-in Photos app that serves as a versatile tool for browsing, viewing, organizing, and performing basic editing tasks on photos. It provides users with a convenient all-in-one solution for managing their image files.
Beneficial as it may be, Windows 10/11 Photos app can also give users a number of headaches. A commonly reported one is when users can't change import settings in the app. It's not an unlikely scenario: when you try to change the destination folder that your photos go into by clicking "Add this folder to pictures," the app crashes and then closes. Sometimes the problem persists even with a good repair, reset, or reinstall.
Some users also report trying for hours to get Windows 10/11 to import pictures like how Windows 7 or other versions do it. They are, however, finding the Photos app to be cumbersome for the task.
Let's dig deeper into these import setting issues. We will also explore how you can maximize your use of Windows 10/11 Photos – or leave when it's no longer working out.
Windows 10/11 Photos App: How to Use It
Let's suppose you want to use and make the most out of the app. Here are some starting points:
Start and Set Defaults – The app can be found as a big tile in the Start menu. If it's not, simply press Start and type in photos to bring it up via search. In Windows 10/11, the Photos app is already established as the default image viewer.
Browse Photos – You can choose from three interfaces when looking for photos on the app. There's Collection, Album, and Folders. Choose any of those by clicking the related tab, situated above the main interface and below the Photos app label. Collection offers a view of your most recent photos, shown in reverse order by date. Albums features a lineup of automatically created photo albums. Folders is simply a tab for all photos on your device in specific folders. These, by default, are your OneDrive photo folder and assigned Pictures folder in Windows.
Use the Photo Viewer Interface – When you get to a particular photo, the interface turns black and offers the maximum length or width of the window. There are manual arrow control on the bottom for you to navigate forward or backward in the album. There are other controls on top, including Share, Zoom, Slideshow, Draw, Edit, and Rotate.
Discover the Photo Editor – This isn't an entirely groundbreaking feature. But the photo editor can perform some light cropping as well as adjusting. You can also do some photo enhancements with it.
Save Your Edits – You can hit either Save to overwrite the original file, or Save a Copy to save the edited copy to a Windows Explorer folder.
What If Windows 10/11 Photos App Is Unable to Change Import Settings?
Now, let's get to the main issue. If Windows 10/11 Photos is unable to change import settings within the app, there are several steps you can take. You can try to close and reopen the app, or uninstall and reinstall it. Other basic checks you can make include restarting your Windows computer and regularly optimizing your system using a reliable PC cleaning tool.
Here are more specific steps to get these things done:
Have the Latest Windows Update
Make sure your Windows has the latest update. Here are simple steps to follow:
Select Start.
Go to Settings > Update & Security > Windows Update > Check for Updates.
Choose Install now if there's an available update.
Repair and Reset Windows 10/11 Photos
If the app seems to have problematic import settings or other functions, try resetting it for a quick refresh. Here are the steps:
Select Start.
Choose Settings > Apps > Apps & features.
Select Photos and choose Advanced options under the name of the app.
Choose Repair on the page that opens with information about the app. Some Microsoft apps, though, don't have this option.
If repairing the app doesn't seem to fix the problem, choose Reset.
In addition, you can also tweak your current import settings in the app. Right-click on your device in Windows Explorer, click Import Pictures and Videos, and you will likely have all your old settings change as you prefer.
Uninstall and Reinstall the App
If the Photos app still isn't working properly, try this workaround. Here's the procedure:
Click Start.
Choose Photos from the list of apps. Right-click on it.
Select Uninstall, and select it again to confirm.
Reinstall the app by choosing the Microsoft Store icon found on the taskbar.
In Microsoft Store, choose See more > My Library > Apps.
Choose Photos, and then Install.
Run Troubleshooter
If the import settings issue won't let up, run the troubleshooter for Microsoft Store apps. Simply choose Start > Settings > Update & security > Troubleshoot > Windows Store Apps.
Try an Alternative Photo App
Sometimes the Photos app still won't perform as expected. It might even make your Windows 10/11 computer freeze up, in need of a reboot. Don't you think it might be time for a change? It makes sense to seek an alternative to Windows 10/11 Photos app, especially if you're working on something at the moment and urgently need to get back to it.
An alternative also comes in handy if you find Photos complicated and needing a lot of time to load images.
One option is FastStone Image Viewer, which gives us major Picasa vibes. It supports several image formats including JPEG, PNG, GIF, RAW, and PSD. Its user interface is similar to Windows Explorer's, and it works faster than Windows Photos.
Summary
The Photos app is the built-in, default image browser and viewer in Windows 10/11. Since its launch, it has promised different ways of organizing and even lightly editing users' photos. It's not free of problems, though, including certain cases where users can't change import settings on the app as they please.
As a related feature, see how you can customize your Windows 10/11 experience with our guide.
Try one or more of the basic fixes we detailed above and see if they can successfully address the issue.
Give us some love and rate our post!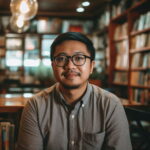 Vic is a tech enthusiast who loves to be up-to-date with the latest and greatest technology in the world. He creates content that educates and helps users with their tech-related questions. Vic manages our website to ensure that our readers have a seamless experience while browsing. He excels in troubleshooting errors and resolving Windows issues for gaming and work purposes.