In today's interconnected world, technology offers seamless solutions for connecting various electronic devices. For instance, if you want to remotely access your computer from an Android device, it can be easily achieved through remote access capabilities.
Remote desktop is a way to remotely control another computer, and it can be done through software or one of these two common strategies:
Remote Desktop Protocol – Made by Microsoft, RDP requires client and server software on the home as well as remote computers. The server software is built into Windows 10/11 and is also available for Linux, while the clients are available for most operating systems.
Virtual Network Computing – VNC relies on the Remote Framebuffer (RFB) protocol and works with Windows, macOS, and Linux desktop environments using the X Window System.
There are various important reasons to remote-desktop between your phone and computer, including gaining access to a forgotten file, enabling a media server, updating software, and switching off or rebooting your machine.
Here are specific techniques to remotely access your computer from your phone:
Method # 1: Using RDP
RDP server software is part of Windows 10/11 and is available for Linux via xrdp, which you will also find for macOS. Windows users can use Remote Desktop to control Windows 10/11 Pro and Enterprise; Windows 8/8.1 Enterprise and Pro; and Windows 7 Professional, Ultimate, and Enterprise. Once you find that RDP is running on your computer, get your hands on the free Microsoft RDP app for Android. Follow these instructions:
Using the mobile app, tap the Plus symbol to initiate a new connection.
In the PC name field, enter the IP address or hostname of your computer.
Add your computer's username and password. Remember to set a Friendly name, and then hit Save.
Begin remotely controlling your computer from your phone by tapping the icon for the connection.
Method # 2: Chrome Remote Desktop
Quick, easy, and virtually painless to set up, this fix works on Windows, Mac, Linux, Android, and iOS. If you're a Chrome user and want to try this method, follow these steps:
Head over to the Chrome Remote Desktop beta site. Click on the download arrow found in the bottom corner of Set up remote access.
This brings up a dialog box to install the Remote Desktop extension. Click Add Extension.
Wait for a few seconds for it to download and install. Afterwards, enter your computer name and click Next.
Choose your login PIN – make sure it's hard to crack! Once done, click Start.
Windows users should get a popup box asking you to confirm that these changes will be done to your device. Click Yes.
Download the Chrome Remote Desktop app for your phone. As soon as the app launches, you should see a list of your computers. Tap the one that needs to be connected.
Enter your Pin and hit Connect.
Once you're done with remote access, tap Stop Sharing at the bottom to terminate the connection.
Method # 3: Other Nifty Tools for Remote Connection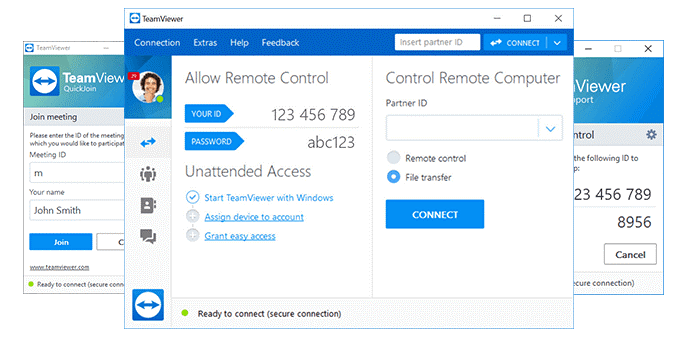 Here are some Android apps that can take care of your mission:
KiwiMote – This high-rated Play Store app lets you control your computer through WiFi. With server software that's lightweight, portable, and running on various OS, it supports all Android versions above 4.0.1.
TeamViewer – This allows remote control of computers running on Windows, Linux, and Mac. It even permits remotely controlling other Android devices as well as Windows 10/11 portable devices without requiring you to be on the same WiFi or local network.
Unified Remote – This app harnesses Bluetooth or WiFi to remotely control your computer. It comes preloaded with support for over 90 well-known programs.
Final Notes
There are countless other options for remote access, but we hope we brought you a good selection of choices for your remote needs.
Always ensure, too, that your computer is in tiptop shape and runs fast and smoothly through a safe, efficient computer repair tool for Windows systems.
Good luck and share your thoughts below!
Give us some love and rate our post!