There are several methods to transfer files from one Mac to another, as well as copy files to and from any iOS devices but the newest and easiest way is through AirDrop. Airdrop is an iOS feature that was built into iOS 7 and Mac OS X 10.7 or Lion, devices that were made from 2012 onwards support AirDrop. It moves files quickly and securely.
Furthermore, AirDrop is not just for photos. You can transfer any file you want and need like an interesting website, your to-do list, notes, a location you've pinned in Apple Maps, and contact information just to name a few. But even though AirDrop is a very cool and handy feature, it is seldom used by many users, not because of its complexity but because most people don't think of it when people want to copy or move files. Usually, when people want to share photos or videos, they send them through a text message, messengers, or upload them to file-sharing websites. In this article will show you how to use AirDrop and how to configure its settings so that you don't receive malicious files from people you don't know – no internet needed.
How to Use AirDrop
AirDrop uses a unique combination of technologies to transfer files quickly and securely, even if both devices have no internet access. It is a device-to-device direct transfer method that lets you share files wirelessly. It uses Bluetooth to scan and find devices you can connect with or send files. Then, the sending device creates a secure peer-to-peer wireless connection with the receiver. But both camps need to have both Bluetooth and Wi-Fi turned on to use the feature. However, you don't need to use the internet or connect to a local Wi-Fi network to send files through AirDrop which makes it a practical option for sharing files.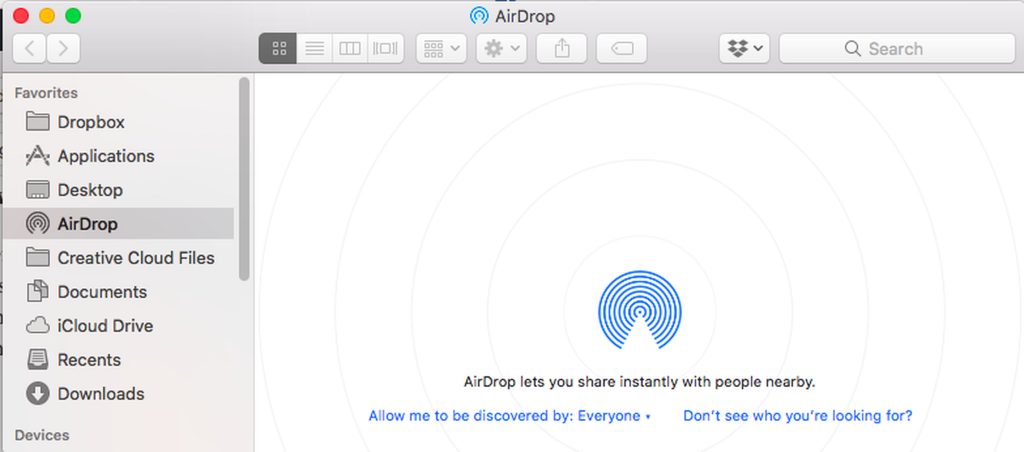 Another great thing about AirDrop is that there is no file size limit and you are allowed to transfer. Since you are not sharing files over a network, you don't have to share bandwidth with anyone. You can send huge files (like movies) in just seconds, however, note that the speed of transfer is affected by the distance between the devices (the nearer, the faster the transfer) and interference. Keep in mind that AirDrop only works with devices within the range of your Bluetooth, which is around 10 meters or 30 feet. Another tip when receiving large files on your Mac, make sure you have enough storage space by cleaning out junk files using Mac repair app. It clears valuable space, allowing you to transfer large files faster and smoother.
How to Turn On AirDrop
AirDrop is the most convenient way of transferring files for Macs and iOS devices. To use the feature both devices need to have Bluetooth and Wi-Fi turned on, and neither should be acting as a personal hotspot. To turn on AirDrop from an iPhone or an iPad, follow these steps: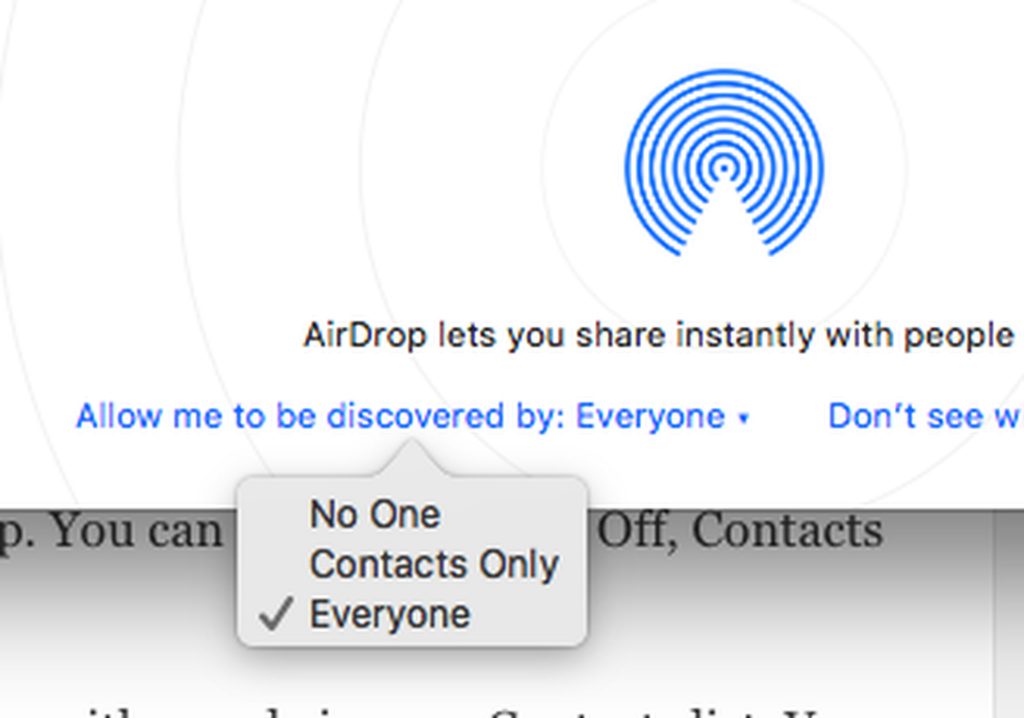 Swipe up from the bottom of the screen to access Control Center.
Confirm that your Bluetooth and Wi-Fi are at the top of the panel.
Tap AirDrop and a menu will pop up. You can choose between Off, Contacts Only, and Everyone.
Note: Choosing Contacts Only lets you share files with people in your Contacts list. You will be prompted to sign into your iCloud account, so you need to be connected to the internet. Choosing Everyone, on the other hand, lets you transfer files to just about anyone without internet or an iCloud account. There are instances when selecting Everyone also prompts you to log into your iCloud account, but click Cancel, and you'll still be able to share with everyone.
If you're using a Mac, there are two ways to access AirDrop. You can either go to Finder and click Go > AirDrop or press Cmd + Shift + R. A window will pop up showing the list of devices available to receive files.
How to Transfer Files Using AirDrop
To transfer files from your iOS device:
Access an application that is capable of sharing like Photos, Safari, Maps, Pages, Notes, Keynote, iMovie, iPhoto, Numbers, Photo Booth or Contacts.
Choose the file you want to share.
Once you've chosen the file, tap the Share icon. A sharing menu will appear showing a list of devices that have AirDrop turned on and within range of you.
Tap the icon of device you want to send the file to and the file will be sent on its way to the receiver.
To Send files from a Mac to another Mac or an iOS device:
Open AirDrop, and then drag the file to the icon of the receiving device.
You can also right-click on the file, click Share > AirDrop and choose which device you want to send the file.
A notification will appear on the other device prompting them to decline or accept the transfer. If you send a photo to a Mac via AirDrop, the receiver can either save it to the Photos app or the Downloads folder. If the picture were sent to an iOS device, it would be automatically saved to the Photos app.
For other files, the receiver can choose which app to open the file with, depending on the file type. You can send any file via AirDrop as long as you see the Share option. Once the file has been successfully sent, you will see a confirmation displayed on the sending device.
How to Keep AirDrop Secure
AirDrop lets you transfer files to everyone that has the feature turned on and within your range. Devices that can accept AirDrop could be your own devices, owned by your friends, family members, neighbors, or by strangers. Because of this, it is essential to make sure that your AirDrop is secure.
To edit your AirDrop settings on Mac, open AirDrop by pressing Cmd + Shift + R or navigating to Finder > Go > AirDrop. At the bottom of the window, click 'Allow me to be discovered by:' and you will see three options:
No one – turns off Airdrop
Contacts Only – displays your device only to people in Contacts
Everyone – displays your device to everyone else
Note: if you're using an iOS device, you can change this setting by navigating to Settings > General > AirDrop.
Do not set to Everyone because if you do, the possibility of receiving unsolicited and even malicious files rises. You can only set this to Everyone if you need to receive a file from someone not in your Contacts list, but remember to change it back after.
Give us some love and rate our post!