Windows is the most popular operating system because of its user-friendly interface and easy-to-use system. However, the Windows OS is more complicated than it looks. It requires several system processes running in the background to ensure the smooth performance of the OS.

Csrss.exe is one of the system processes critical to the proper operation of Windows. Csrss.exe, also known as Client Runtime Server Process, is a common system process that should be left running in the background because it manages some critical aspects of the operating system. If this process is not running or has been stopped, various errors and performance problems could occur.
However, some Windows users who are not familiar with the Client Runtime Server Process or csrss.exe, think that this is a malware. It is possible for malicious software to disguise itself as csrss.exe, but you need to investigate thoroughly to avoid making a mistake.
This article will explain what the csrss.exe process is, what it does, why it is important, and when it is a malware. We'll also show you the steps to troubleshoot common csrss.exe errors that Windows users often encounter.
What is CSRSS.exe?
The csrss.exe process is a critical software component of Windows which is in charge of the user-mode part of the Windows subsystem. It is essential for the running of the Windows operating system and should not pose any threat to your computer.
CSRSS.exe stands for Client Server Run-Time Subsystem, which should be kept running all the time. Before the release of Windows NT 4.0 in 1996, the csrss.exe process was in charge of the whole graphical subsystem, such as managing windows, screen display, and other important operating system functions. But after Windows NT 4.0 was launched, most of these functions were transferred from the csrss.exe process to the Windows kernel.
However, theClient Server Runtime Process is responsible for critical functions, such as managing console windows, creating and deleting threads, as well as implementing the shutdown process. In short, the csrss.exe process is designed to take care of various system functions in the background, and deleting this process will result in errors.
By default, the csrss.exe file is found in the C:\Windows\System32 folder. If the csrss.exe file is located somewhere else, there is a huge possibility that it is malware posing as the csrss.exe process.
Can CSRSS.exe be Removed?
The CSRSS.exe process should never be stopped and the CSRSS.exe file should never be deleted, unless you think it is a malware. It is a crucial part of the Windows operating system and performs some critical system functions, so removing it will cause some errors on your computer. Besides, it only uses a small amount of computer resources, so it doesn't affect your computer's performance.
If you try to stop the Client Server Runtime Process in Task Manager, a warning will pop up saying that ending the process will cause Windows to be unusable and might shut down.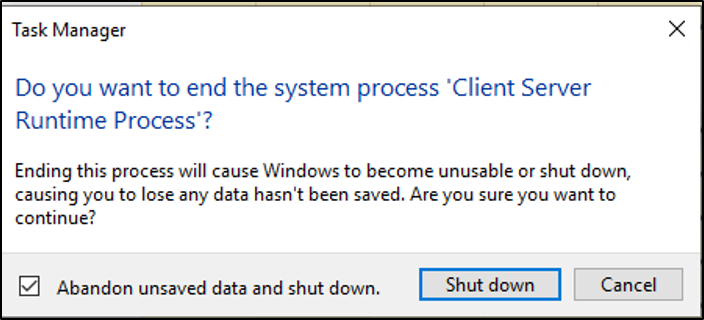 Even if you abandon your unsaved data and click the Shut down button, it will just return an Access is Denied message. This means that the Client Server Runtime Process is a Windows protected process that you can't quit.
Is CSRSS.exe Safe?
Some Windows users who are not familiar with the various Windows system processes might think that the CSRSS.exe is not safe. This is because malware often disguise themselves by running under the same process, such as csrss.exe. It is also possible for the malware to inject its malicious code into an already running csrss.exe.
Is CSRSS.exe a virus? It can be. The trick here is finding out whether it is a legitimate process or malicious software. It is actually very easy to figure out whether the csrss.exe process running on your computer is a virus. If you have two csrss.exe processes running on your computer, then one of them is definitely malware. Or if you're experiencing performance issues that make suspect of malware infection, it is possible that csrss.exe has been infected.
The best way to check which one is fake is by right-clicking on each process, then choose Open File Location. If the file is located in the System32 folder, then it is not a virus. But if a different directory opens up, then that process is the malware.

If someone tells you that your computer has a virus just because you see the CSRSS.exe process, don't fall for that trap. The Client Server Runtime Process is a critical system process and every computer running on Windows has this process.
However, if you are really concerned about malware, running a scan using your antivirus software should help you determine whether your worries have a sufficient basis or not.
How to Get Rid of the CSRSS.exe Virus
If you suspect your computer to be infected with malware disguising as CSRSS.exe, you need to extra careful in deleting the CSRSS.exe because you might be getting rid of the legitimate system process.
Here are the steps to get rid of the CSRSS.exe virus:
Boot into Safe Mode by pressing the F8 button repeatedly when you restart your computer. This should launch the Advanced Boot Options.
Click on Safe Mode with Networking, then save your settings.
Once you're on Safe Mode, run a scan of your computer using your antivirus software. Follow the instructions on how to delete the virus detected on your computer.
Remove junk files and other infected files using a PC cleaner app called Outbyte PC Repair. This is to ensure that no leftover files associated with the virus remain on your system.
Reboot your computer in normal mode.
To check if the CSRSS.exe has been removed:
Open Task Manager using any of the methods below:

Press Ctrl + Alt + Delete, then choose Task Manager.
Right-click on any of the empty area in the Taskbar, then select Task Manager.
Search for Task Manager using the search bar.

In the Task Manager window, scroll down to Client Server Runtime Process.
Right-click on the process and choose Open File Location.
If the Csrss.exe is located in the C:\Windows\System32 folder, then it is not a virus.
Summary
The CSRSS.exe is a critical system process necessary for the operation of the Windows OS. This process can't be stopped because it is protected by the operating system, since it is responsible for some important system functions. However, if you think that CSRSS.exe is a virus, you can easily get rid of it using your antivirus program. Just be careful when removing the CSRSS.exe because you might be deleting the genuine CSRSS.exe process instead.
Give us some love and rate our post!