PDF (Portable Document Format) files are incredibly versatile and have become a very popular way for people to share and exchange documents. PDFs are often used for contracts, agreements, presentations, guidelines, and so much more.
There are many benefits of using PDF for business, but they can also be used personally. They work with numerous types of software and operating systems, and are incredibly reliable. PDFs are also secure, compact, and flexible.
One issue that some may have with PDFs, however, is that they are not easily editable in many cases if someone wants to make adjustments or clarify things. However, this is where annotations come in.
This guide is going to go through what annotations are in PDF files, and why they are generally used.
What Are Annotations in PDF Files?
In simple terms, PDF Annotations are various kinds of additions and objects that can be attached to PDFs. These generally attempt to provide more information or context to text or images already in the PDF, but can also clarify things or expand on ideas for the benefit of the reader.
They generally make PDF files easier to follow and understand, and are great for giving feedback, which is never a bad thing. There are many different types of annotations that you can leave on a PDF. This could be a little text box expanding on or clarifying an idea, a shape or object to draw attention to a certain part of the document, or even things like a link or embedded video.
These annotations can be added to anywhere that you see fit, and let you customize your PDF a little bit more. Adding these annotations is incredibly simple in most cases, and they can help you communicate your ideas and intentions with a much lower chance of things being misunderstood.
Reasons to Use Annotations in PDF Files
Now that you are aware of what annotations are and the various types that can be used, let's take a closer look at some of the reasons people will use annotations in PDF files.
Proofreading or Making Edits
There is no doubting the incredible importance of proofreading, and as such, one of the major reasons annotations are used is to proofread or make edits to a document. If someone is reading or editing a PDF, annotations allow them to suggest changes or make note of things they believe might be incorrect. Getting feedback on your PDFs is quite important, especially if they are being sent to clients or customers.
Also, using annotations for editing also prevents changes to the actual file itself to ensure that you are always in control of what is actually in the main content of the PDF. For example, if you are writing a novel and are sending it for edits, getting the changes as suggestions in the form of annotations in a PDF is often better than the editor changing the document itself without your authorization.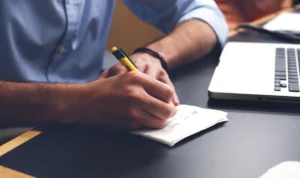 If the document you are sending is long and complicated, adding notes in the form of annotations can be a wonderful idea. These notes will help the reader not only stay focused, but better understand the content as a whole.
In addition to you leaving them short notes to clarify certain things, readers can also use annotations themselves to take notes. Sure, they could use another piece of software for notes, but doing it right in the document ensures that the context always remains, and they instantly know what they were talking about when referring back to the notes.
Making the Document Easier to Read
Annotations are also frequently used to make sure a document is as easy to read as possible. Reading a document that is text-only is fine, but it can be complicated to follow and keep track of everything, especially if the subject matter is complex.
Adding annotations can help make sense of different terms or sections, and allow for the author to add context. There are many ways to provide additional context or information with annotations. You can highlight/underline certain areas and provide a few lines of additional information or add arrows or lines in a diagram or image.
You can also add links to automatically jump to other sections of the PDF that you are referring to, and do so much more. It is easier to read and understand a PDF with annotations throughout than one that is simply a big block of text.
In conclusion, we hope this guide has been instrumental in teaching you about what annotations in PDF files are, and why we should use them. Whether personal or professional in nature, adding annotations to PDF files can be a great way to expand on ideas, clarify things, or draw attention.
Give us some love and rate our post!