Are you trying to read an eBook on Kindle, but it's not working?
Have you checked the format of your eBook? Maybe it's in a PDF format, which is why you cannot open it on Amazon. If so, you need to convert it into ePUB format using a PDF to ePUB converter. The article below will guide you regarding how to convert PDF to ePUB.
Difference Between PDF And ePUB
Portable Document Format (PDF) is a popular format for saving eBooks and is widely used by professionals, students, and readers. Although it is a secure way of storing files, it certainly has limitations. The files or eBooks in a PDF format are locked, making it impossible to alter or edit those files. Also, the locked format of PDF makes it non-responsive on multiple devices. Now imagine you are reading an eBook in PDF format on your mobile device, but with the small screen, you are constantly zooming in and out. Troublesome right!
This is where ePUB comes in. ePUB is a widely used XML format to create eBooks. The major advantage of using an ePUB is that it is compatible with all reading formats, including iPads, iPhones, Tablets, Kindle, and Adobe Digital Editions for both iOS and Android.
So, how to convert PDF to ePUB?
Tools You Can Use to Convert PDF To ePUB.
Converting a PDF eBook into ePUB may look difficult to you, but by using a reliable and authentic PDF to ePUB converter, you can do it within minutes. Here is a list of some top PDF to ePUB converting tools that will make your task simpler.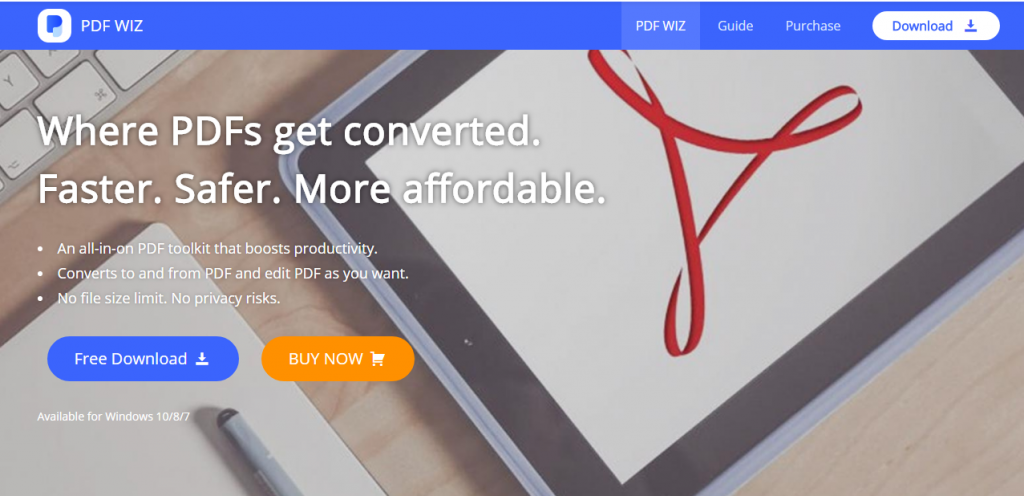 PDF WIZ
PDF WIZ is an offline converter that is 100% safe and super easy to use, even for a beginner. You can convert PDF files to any format you may like, including Word, PowerPoint, Excel, HTML, ePUB, and more. You can also convert multiple formats into PDF files without compromising the speed of your conversion. Besides converting PDF to ePUB, it also allows you to split, merge, and compress PDF files.
This PDF to ePUB converter enables you to extract images and pages from a PDF file. It also allows you to convert PDF files in bulk without restricting the file size and preserving formatting.
After downloading the PDF WIZ go through the following steps to convert a PDF file to ePUB:
Step 1: Open PDF WIZ and choose the option "convert to ePUB."
Step 2: Select the option "Add files" or simply drop or drag the PDF files you want to convert.
Step 3: Choose the number of pages you wish to convert and the location for your converted file, and click on "Convert Now." Your converted file will be saved to your Windows.
Calibre
Calibre is an open-source program known for managing e-Book collection in an organized way. The software supports Windows, Linux, and Mac OS, making it a prominent choice among users. Calibre allows you to organize your library, add as many eBooks as you like, access eBook collection on the internet directly through the web browser, and even let you convert eBooks into countless other formats. The PDF to ePUB converter is free to install and is 100% safe to use.
Install the software on your Windows or Mac device and follow the below-mentioned steps to convert PDF files to ePUB.
Step 1: Open Calibre on your Windows.
Step 2: Click on the "Add book" button and click on the "Convert Books" option to proceed with the conversion.
Step 3: To choose your desired conversion format go to the "Conversion Tab" and select "ePUB."
Step 4: Press "Ok" to start your PDF to ePUB conversion.

Zamzar Online Converter
Zamzar is an online file converter that can be accessed from any web browser, including Firefox, Chrome, Google, and Safari. You don't have to download or install anything and simply open the software online to start conversion. The PDF to ePUB converter provides an easy to use interface.
Zamzar converts PDF to ePUB and also allows video, image, Word, and audio conversions. One downside of using Zamzar is that it does not allow you bulk conversions, and you can only convert a file of 100MB.
To convert PDF to ePUB using Zamzar, follow the given steps.
Step 1: First, open the Zamzar using your web browser.
Step 2: Next, on the home screen, select the option "Add Files" and upload the PDF file you need to convert.
Step 3: From the format list, choose the "ePUB" option.
Step 4: Press the "Convert Now" button to start the PDF to ePUB conversion process.
Step 5: Lastly, select the "Download" option to save the file on your desktop.
To ePUB
To ePUB is a fast and reliable online tool that you can use to convert any PDF file into an ePUB format. You just have to open the website link and insert the file that you want to convert. You can easily upload and convert up to 20 PDF files at a time without any difficulty, and the website has a simple user interface.
Apart from converting PDF to ePUB, you can also convert an eBook into multiple other formats, including Kindle, MOBI, AZW3, FB2, and more.
To convert a PDF file to ePUB using ToePUB.com, follow the below-given steps.
Step 1: Open the official webpage of ToePUB.com to convert PDF to ePUB online.
Step 2: Select the option of "Drop your files here" and begin uploading one or multiple files to start converting your files.
Step 3: The website will automatically convert all the files into the ePUB format and then download the file to save it to your device.
Converting PDF to ePUB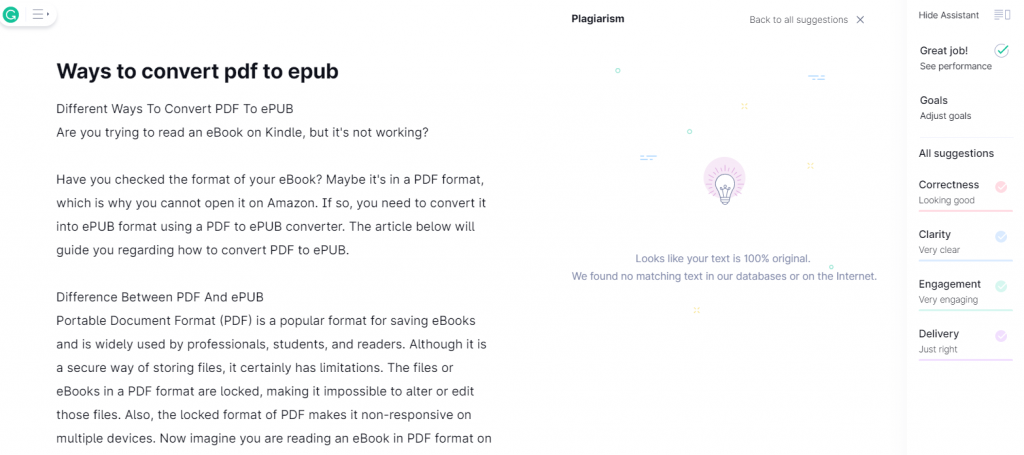 There are multiple tools and software that can help you convert a PDF file into ePUB. The benefit of using an offline tool like PDF WIZ is that it does not have any security issues. Since the software is installed in your system, the converted files will not be uploaded to an online server. Moreover, a desktop converter will enable you to convert several PDF files simultaneously, making it much convenient and faster to use.
Give us some love and rate our post!