Inbox Toolbar is a browser hijacker that attaches itself to all popular browsers (Internet Explorer, Mozilla Firefox, and Google Chrome). Once inside your PC, it will take over your browser and change its settings to suit its purpose of promoting phony search engines and redirecting users to sites that they are not interested in visiting. Most victims of the Inbox Toolbar adware find its activities to be very annoying and share the common desire to have it removed ASAP.
What Does the Inbox Toolbar Do?
As a browser hijacker, Inbox Toolbar will do all sorts of disruptive things as you browse the internet. To begin with, the app will change your default home page and the default search engine to Inbox.com/homepage.aspx. When you search for anything using this promoted search engine, you will receive search results that are full of links, annoying pop ups, and mal-adverts. Visiting the promoted sites or clicking on the adverts is very bad for your computer's health as they are often contaminated with nasty malware, including various ransomware strains.
How to Remove Inbox Toolbar Adware
There are several ways of getting rid of the Inbox Toolbar malware, but by far, the most convenient and comprehensive is to use a powerful anti-malware solution such as Outbyte Antivirus. For the anti-malware to do the job as you would expect, you have to run your device on Safe Mode with Networking.
Why Safe Mode you ask? Because when in Safe Mode, the malware will not have the opportunity to mess with your computer's defense systems. And although there is no recorded account of the Inbox Toolbar disabling anti-malware defenses, it is not enough reason not to be careful.
The following are the steps that you need to take to start your device on Safe Mode with Networking on both Windows 10/11 and 7 devices.
Hold and press the Windows + R keys to open the Run app.
Into Run, type 'msconfig' and hit the Enter key.
Go to the Boot tab and tick Safe Mode.
Under Safe Mode tick Network.
Now, restart your computer. Note that unless you untick your choices, your computer will always start in Safe Mode with Networking after this.
Now that you are in Safe Mode with Networking, use the internet to download an anti-malware software as well as a PC repair tool. You might be wondering why you need a PC repair tool for this. Well, it is the repair tool that will clear your computer of any cookies, junk files, temp files, downloads, and so on and in the process, deny the Inbox Toolbar adware the data it needs to determine what annoying ads to serve you with.
You can also use the PC repair tool to more easily remove any problematic apps, as well as to remove startup items that are slowing your computer down.
From our experience with the Inbox Toolbar malware, it is best to follow up the efforts of the anti-malware software with at least one or two Windows recovery options, but before we get into these, let us look at some other ways of removing the Inbox Toolbar virus.
Task Manager
Like all other apps on your device, the Inbox Toolbar malware leaves a footprint in the Task Manager's Processes tab. Thus, you can actually remove the adware by stopping this process, going to the file location, and dragging everything to the Recycle Bin.
To do this, just press the Ctrl, Alt, and Delete keys on your keyboard to navigate to the Processes tab, and find the Inbox.exe process. To stop this process, right-click and choose End Task. Right-click again to Open file location.
The following screenshot shows a list of all the files that you will need to delete using this method: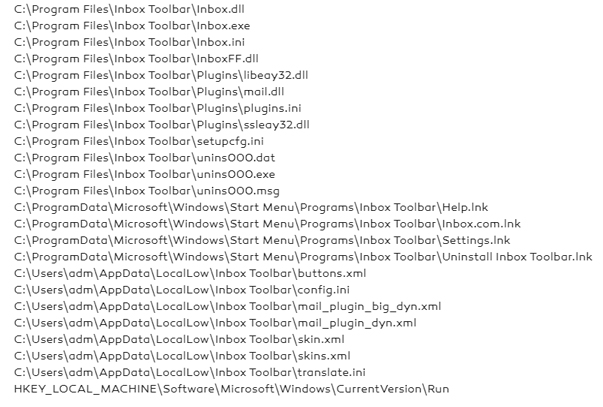 An easier way of doing this is by using the Control Panel to uninstall the Inbox Toolbar adware. You will easily find it in the list of programs on your PC.
Remove the Inbox Toolbar from Your Browser
After all is said and done, you still need to remove the Inbox Toolbar adware from your browser.
Mozilla Firefox:
Open Mozilla and go to Tools > Add-ons > Extensions.
If there are any suspicious extensions, place your cursor on the three dots and right-click. Choose Remove.
Google Chrome
Go to More tools > Extensions.
Find the extension that you want to remove and click Remove.
Opera Mini
From the main menu, in the top-left corner of the Opera browser, go to Extensions > Extensions.
Go to the extension that you want to remove and click the X button near the top-right corner.
Safari
To remove an extension on the Safari browser, take the following steps:
Go to Safari > Preferences.
Click Uninstall next to the extension that you want removed.
Windows Recovery Tools
If you have done all the above, using a Windows recovery tool such as Reset this PC or System Restore isn't really necessary, but it is not a bad option either, especially if you skipped the solution that required the use of an anti-malware tool.
System Restore
By far, the most popular Windows recovery tool is System Restore as it is easy to use, and more often than not, does not bring about a lot of changes to your computer's settings and apps.
To get to the System Restore Option on Windows 10/11, take the following steps.
Go to the Settings app by pressing the Windows + I key.
Under Update & Security, select Recovery.
Under Advanced Startup, select Restart now.
Once your computer restarts, choose System Restore from the list of options.
Choose a restore point.
When prompted to Scan for affected programs, make sure that the Inbox Toolbar program is on the list. Otherwise, it won't be removed.
Now, complete the process by following the instructions on the screen.
If used correctly, the System Restore process can be used to get rid of most malware entities from an infected computer.
How to Prevent an Infection from the Inbox.com Toolbar Adware
Now that you have successfully removed the Inbox Toolbar adware, how do you prevent from infecting your device in the future? The most common way that the Inbox Toolbar malware is spread is through infected software i.e. the kind of software that you are likely to get from phony sites and The Pirate Bay. So, stay away from these as much as you can.
At the same time, avoid sites that have no security seal or those that are filled with suspicious adverts as they too act as Inbox Toolbar vectors.
Hopefully, this article has been of help to you on the matter of the Inbox Toolbar adware. If you have any questions, feel free to ask them in the comment section below.


If you're running into errors and your system is suspiciously slow, your computer needs some maintenance work. Download
Outbyte PC Repair
for Windows or
Outbyte Antivirus
for Windows to resolve common computer performance issues.Fix computer troubles by downloading the compatible tool for your device.
See more information
about Outbyte
and
uninstall instructions
. Please review
EULA
and
Privacy Policy
.
Give us some love and rate our post!