Since the pandemic started, drastic and radical changes have happened in the lives of people. For one, strict health and safety protocols have been implemented to curb the spread of the virus. People have also been forced to lock themselves in their homes. Because of all these changes, the whole world had to rely so much on digital media to stay connected.
With more and more people going digital, cyber attackers remain alert. They are constantly looking for ways to take advantage of the current loopholes of digital media. And they are now actively targeting users of various social media platforms, devising strategies and running Facebook virus campaigns that would benefit them.
Just recently, a lot of people have found themselves tagged in malicious posts by a family member, a close friend, a colleague, or someone they know. While these posts appear to be normal, what they don't know is that attackers are using them to spread malware. This campaign is called malicious tagging. In this campaign, users are tricked or lured to download malware by clicking on a post or link.
Malicious Tagging: An Overview
The malicious tagging malware begins with a Facebook notification that a friend has tagged the victim in a post. When clicked, the victim sees many other users tagged in the same post. Also, the post contains a link to an adult video or a site that advertises ways to earn money digitally.
The sad thing about this malicious tagging malware is that the victim never realizes that he/she has been exposed to malware because he/she has been tagged by someone he/she knows.
When the victim clicks the video or the link, a window pops up. It will then prompt him/her to download a Flash Player update to proceed with watching the video or opening the website. In some cases, it will suggest performing activities like downloading other media files to find out more information or details about the post.
Now, here's the tricky part. Instead of seeing what you are expecting, you end up with identity theft. The malware will scan the victim's device for any personal or banking information and steal it. In other cases, it will take over the victim's Facebook account, create another fake post, and automatically tag his/her friends. In order to deactivate the malware or retrieve the victim's social media account, he/she may be asked to pay a certain sum of money. This is how the malicious tagging malware works.
Now, what about comment tagging?
Comment Tagging: How It Works
Another type of tagging propaganda on social media is the so-called comment tagging malware. Although it's more or less similar to malicious tagging, in this attack, victims receive a social media notification about being tagged by someone they know. As soon as they click on the notification, they realize that more people have also been tagged in the comment section.
This malicious post can be easily identified because it looks quite attractive with titles like "Earn $100 in a Day," or "Make Money Online."
Once the victims click on the link, the malware automatically downloads onto the device. After that, when the victims click on the images and files that come with the download, the malware entity is executed, starting to perform malicious activities.
This type of malware was already prevalent in 2015, 2016, and 2018.
What Users Have to Say About the Issue
Many users are expressing their anger and frustration toward those who tagged them on a malicious Facebook post without their consent. Some of them are even raging, forcing them to block all those people who tagged them in their posts.
Unfortunately, many Facebook users only have fallen as victims of the malicious tagging malware. According to them, even if they don't have any idea about these malicious posts, they are receiving notifications from Facebook about being reported by people because of tagging.
What to Do About This Tagging Issue on Facebook
One Facebook user has shared what to do about this tagging problem on Facebook. The steps are simple and you can follow them as well to increase your privacy: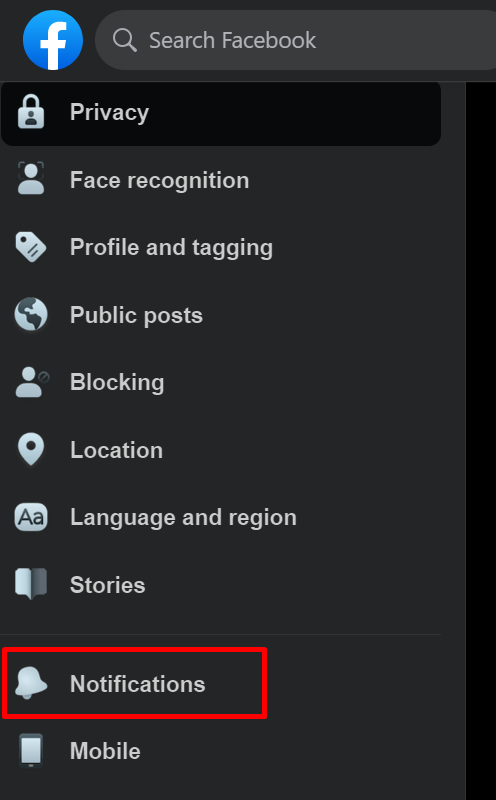 Go to your Facebook account and click Settings.
Navigate to the Notification settings.
At this point, scroll down to the What Notifications You Receive section.
Select Tags.
Finally, go to the Get Notifications When You're Tagged by option.
Choose Friends.
How to Control Who Tags You on Facebook Comments
You cannot stop others from tagging you on Facebook comments, but the good news is that you can control who tags you. But before we share how to control Facebook comment tags, let's first define and understand two terms that you'll frequently encounter in this article: Timeline and Tags.
The Timeline is where you post and share your stuff on Facebook, such as photos, application activities, posts, tags, and other posts your friends have shared with you. It's like your activity history and it reflects how you want to represent yourself on social media.
Tags, on the other hand, are ways to get people's attention to your content. For example, if you have uploaded a photo, you can tag a specific friend in it. This informs him/her that you have just shared a photo that he/she may be interested in. You can tag pages and people in photos, notes, status updates, check-ins at certain places, or other types of posts. Likewise, your friends can also tag you in their activities.
For some reason, some do not fancy the idea of being tagged by others in their activities. But is it possible? Well, there are specific tagging settings you can adjust.
This allows you to control the tags that your friends add to the content you have uploaded. For instance, if you uploaded a class photo on Facebook and don't tag anyone in it, your friends who have seen the post can choose to add tags. But again, you can control this.
To change this setting, do the following:
Go to the Edit section of the page.
Using the drop-down menu that appears, decide whether you want to enable or disable Tag Review. By default, this should be disabled.
Review Tags Before They Appear on Facebook.
If you are tagged in a post, who do you want to see it? For example, if you are friends with John and Michael, but both of them are not connected. If John adds a photo of you, the photo will be shared with his friends. But because Michael is not a friend, he cannot see that photo.
To modify this setting, here's what you should do:
Click Edit on the right portion of the page.
Go to the section where you can adjust who sees the posts you are tagged in.
You are then presented with three options: Only Me, Friends, and Custom. By default, the setting is set to Friends. This means that your friends can see a post that you are tagged in. Adjust the setting to your liking. If you choose the Only Me option, the post will only be seen by you. If you select Friends, then it will be shown to all your friends. However, if you choose Custom, you can specify who you want to see your posts.
Review Tag Suggestions.
Facebook has this facial recognition software that helps users with tagging people on photos. This function is pretty straightforward. If a friend uploaded 50 photos and you are present in about 20 of them, Facebook can recognize your face and suggest to your friend to tag you in the photos.
If you don't want to appear in these suggestions, you can disable this setting. Here's how:
Click Edit on the right side of the page.
Using the drop-down menu, change whether you want No One or your Friends to see tag suggestions.
How to Stop Strangers from Tagging You on Facebook Comment
If you are asking, "Can I stop someone from mentioning me on Facebook comments? The answer is no. This feature is still not available on Facebook. But you can take measures to prevent strangers from mentioning you on Facebook.
Here are a few things to consider to protect yourself from being a victim of this comment tagging malware on Facebook:
Prevention Tip #1: Review the Domain First.
Before you even click on a link, make sure to review the domain first. Do not download any suspicious extensions as well, especially if you have not yet read or understood the privacy policy.
Prevention Tip #2: Remove Yourself from the Tag.
Once you receive the notification about you being tagged in a post, remove yourself from the tag right away.
Prevention Tip #3: Report the Post as Spam.
After removing yourself from the tag, make sure to report the post as spam. This is to get Facebook's attention. Once they take notice, they will review the post and take necessary actions.
Prevention Tip #4: Steer Clear of Too-Good-to-Be-True Promotions.
No matter how enticing the ad seems, stay away from it. Most of these ads are probably a scam. Once you click on them, you won't earn a single dime. Instead, you will lose a significant amount of money due to the damage that the malware has done.
These too-good-to-be-true promotions are easy to identify. Most of the time, they come with these keywords: exclusive, shocking, earn money in a day, easy way to earn, sensational, and more!
Prevention Tip #5: Never Assume.
Even if it's a close friend who tagged you on Facebook, don't assume. Your friend might have also fallen victim to the scam or his/her account might have been hacked.
Prevention Tip #6: Spread Awareness.
Make sure that the people around you are aware of the tagging malware on Facebook. Inform them not to click on these links to avoid becoming victims, too.
Prevention Tip #7: Adjust the Privacy Settings.
Facebook has a review feature that allows you to approve or reject the posts you are tagged in before they show on your Timeline. To take advantage of this feature, do the following: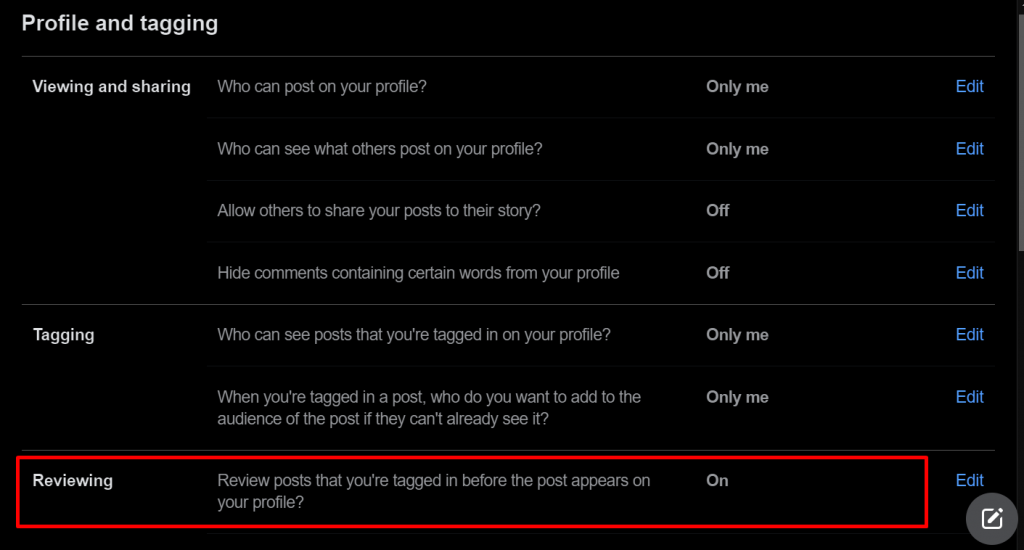 Click the gear icon and select Settings.
Choose Timeline and Tagging from the emerging menu.
Hit the Edit button next to the Review Posts Friends Tag You In Before They Appear on Your Timeline section.
Enable the Timeline Review feature from the drop-down menu.
Prevention Tip #8: Check Your Activity Log.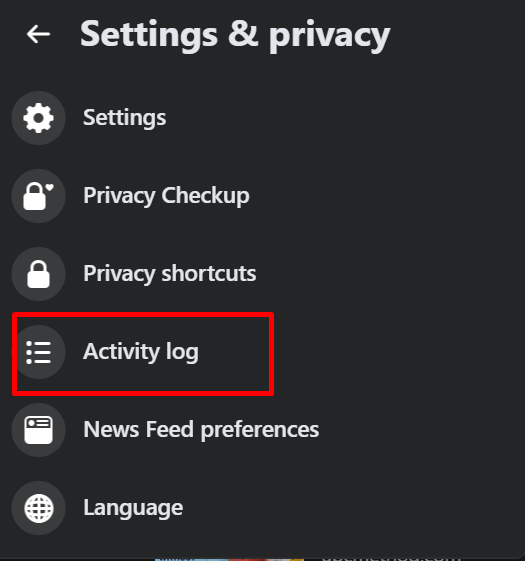 The Activity Log is where you review all posts that you are currently tagged on Facebook. To access this, click the Sprocket icon and choose Activity Log. From here, you can control who sees your posts so you can increase or decrease your profile's visibility. You may also use this feature to remove tags you don't approve of.
Prevention Tip #9: Take Advantage of the Block Lists Feature.

If you want to prevent someone from mentioning you on posts and comments on Facebook, consider adding him to the block list. This will remove all your virtual connections on Facebook.
Blocking is entirely a mutual thing. Once initiated by one party, there will be no further communication, and that includes tagging. The person you blocked will not be notified. That makes things less awkward.
Moving forward, your Facebook activities will no longer be visible to the blocked individual and vice versa.
Prevention Tip #10: Unfollow Posts That You Are Tagged In.
If you are unhappy with the tags, immediately go to the post and click the Unfollow Post link above the comment box. This way, you will no longer be notified in case any update happens in the post.
Prevention Tip #11: Secure Your Account.
If you can still access your account, try changing your password. If you can't access it, secure it instead. Now, if someone is consistently posting something and he/she keeps tagging you in it, consider removing him/her from your friend's list. Better yet, report that person.
To change your password, do the following: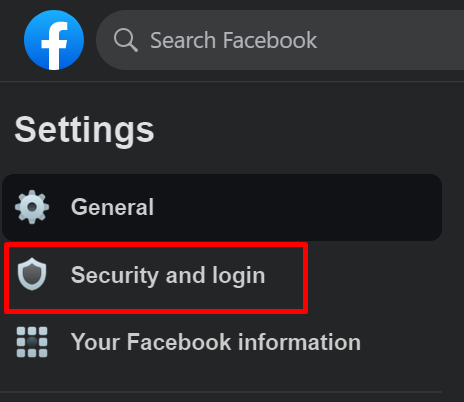 Click the arrow down button in the upper right corner of Facebook.
Choose Settings and Privacy and select Settings.
Click Security and Login.
Hit the Edit button next to the Change Password section.
Enter your current password and provide a new password.
Hit Save to apply the changes.
To secure your account, simply follow this link and follow the instructions provided.
Prevention Tip #12: Review Your Account Activity Regularly.
It is also wise to regularly review your account activity to see if anything looks suspicious. Here are a few things you should take a closer look into:
Check your login history for any suspicious login attempts.
Review your recent posts, comments, and likes.
Check your activity log and remove any unnecessary actions.
Check any recently installed games and apps and remove anything you don't trust.
Delete posts, photos, pages, events, and groups that you did not create.
Scammers will always find a way to steal information from unsuspecting users. Sometimes, they even reach a point where they create fake websites that mimic that of Facebook's. Victims will then be asked to log in using their email and password. So, before you provide your login information, always check the URL.
Prevention Tip #14: Log Out of Facebook When Not in Use.
If you share your computer with other users, make it a habit to log out of your account after using it. If you forgot to do it, try logging out remotely. Here's how: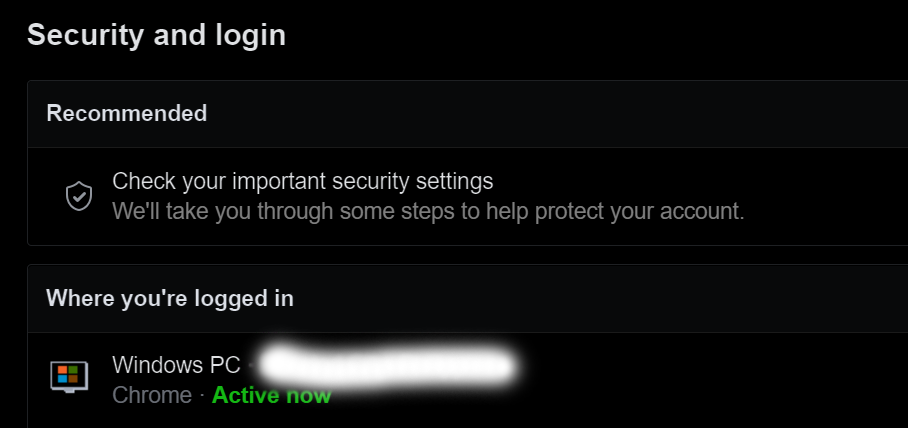 Go to the Security and Login section of Facebook.
Navigate to Where you're logged in.
Click the See more button to see all sessions where you are currently logged in.
Click on the session that you wish to end.
After that, click the three-dotted menu and hit Log Out. Doing so will immediately log you out of Facebook on that specific device.
Prevention Tip #15: Do Not Accept Friend Requests from People You Don't Know.
To gain the trust of people, scammers may create fake profiles and accounts. Becoming friends with them may allow them to spam your timeline. Worse, they may also tag you in unwanted posts and send you malicious messages.
Conclusion
We know how stressful it is to receive unsolicited tags from Facebook friends. And to date, there is still no way to stop friends from tagging you on posts. Yes, tagging is indeed a great and handy feature. It's something that we all can take advantage of, especially during these unprecedented times when we need to spread information. But when your virtual friends begin to tag you in unwanted links, posts, photos, and videos, then it is another story.
Of course, you can always un-tag yourself from these posts. However, prevention is still better than constantly un-tagging. The bottom line is to always be careful about the things you click, especially when you're online or while using Facebook. Clicking on any malicious link can open a can of worms, both for you and your friends. And you don't want that to happen, right?
If you receive a Facebook notification about a friend tagging you in the comments, do not click on any link you see. Trust us, the only interesting thing about that post is the malware that could cause irreversible damage to your computer or ruin your reputation. What you should do is immediately notify the friend who tagged you and inform him/her to run a malware scan on his/her device using a trustworthy anti-malware tool. Also, suggest changing his/her Facebook password and activate 2FA as soon as possible.
On your end, you can take measures, too. Secure your privacy settings and adjust who can see posts that you are tagged. Activate the Review Posts You Are Tagged in Before the Posts Appear on Your Profile feature as well. All these can be conveniently accessed on Facebook's Settings section.
Share with us your experience in controlling your tag settings. Let us know below!


If you're running into errors and your system is suspiciously slow, your computer needs some maintenance work. Download
Outbyte PC Repair
for Windows or
Outbyte Antivirus
for Windows to resolve common computer performance issues.Fix computer troubles by downloading the compatible tool for your device.
See more information
about Outbyte
and
uninstall instructions
. Please review
EULA
and
Privacy Policy
.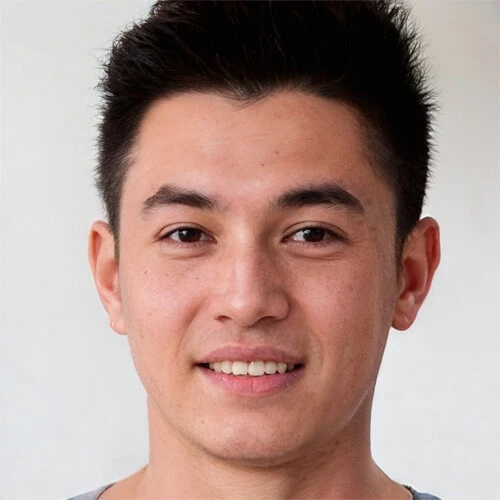 Vic is a search engine optimization expert, helping to optimize websites to make them more user-friendly. He's been in the industry for more than 10 years, and his work speaks a lot about his experience and expertise in the IT and digital marketing fields. 
Vic is the one in charge of keeping our website running smoothly and efficiently, to make sure that our readers have a wonderful experience while visiting the website. He's good at troubleshooting errors and fixing Windows issues that come up either when playing games or working on the computer. 
Vic is a certified gadget freak who feels the need to surround himself with cutting-edge technology. And this passion has helped him a lot in creating content that informs and guides users on using and troubleshooting the latest technology. He is an avid researcher who is always hungry for the latest news and updates on the most cutting-edge technology.