Reading time:
4
Minutes
Cybercriminals keep on inventing new ways of spreading their maleficence on the internet. A common strategy that they now use involves infecting computers with special programs that use a device's computing resources to mine cryptocurrency such as Monero, Bitcoins, and Ethereum.
What is the Bitcoin Virus?
The Bitcoin virus refers to any malicious software that is specially created to mine Bitcoins and other cryptocurrencies on infected computers. The virus infects both Mac and Windows devices and can also attach itself to popular web browsers, such as Google Chrome, Mozilla Firefox, Microsoft Edge, and Opera Mini.
Symptoms of Infection by the Bitcoin Virus
Mining cryptocurrencies requires a lot of computing power and as a result, it is pretty easy to tell if your computer has been infected by a crypto-miner such as the Bitcoin virus. Here are the most common signs:
· Slower than usual computer performance
Mining cryptocurrency requires lot of computing power and as a result, it has the tendency to slow don computer enormously. So if your device is super slow, it may be infected by a crypto-miner.
· Increase in network traffic
Under normal circumstances internet usage is usually steady and marked for everyone. But when a computer is used to mine cryptocurrencies, there is usually a spike in usage, especially when the cryptojacker is updating the block chain. A trained eye can easily see something is up when the network activity behaves this way.
· Unusual server activity
If the malicious code used to mine cryptocurrencies is injected into server systems, they can exhibit behaviors that are far from ordinary such as taking too much time to respond to requests.
How to Remove Bitcoin Virus
To remove the Bitcoin virus from your computer, you need an anti-malware software that proved effective against these types of cyber threats before. A good candidate for this task is Outbyte Antivirus. It will do a deep cleanse of your system and remove the offending program.
It is as easy as it sounds, but you will also need to run your computer on Safe Mode with Networking for the anti-malware to work its magic without interference from other apps or auto start items. Here is how to get to Safe Mode with Networking on a Windows 10/11 device:
Shut down your computer and interrupt the normal boot process at least three times but turning it on and off. Windows will then enter the Automatic Repair mode.
Select an account to continue and provide credentials where needed.
Wait for Windows 10/11 to perform an automatic diagnosis of your PC.
On the Automatic Repair screen, select Advanced options then choose Troubleshoot.
Go to Advanced options > Startup Settings > Restart.
As soon your computer restarts, press F5 to choose Safe Mode with Networking.
Safe Mode with Networking gives you the option of downloading Outbyte Antivirus if you don't have it on your computer already.
Aside from an antivirus, you will also need a PC repair tool to nurse your PC back to health by repairing broken registry entries, deleting junk files that clog the system, and optimizing the RAM to better serve your computing needs. A PC repair tool also makes it easier to monitor CPU usage, which makes it far much easier to discover malware.
Windows Recovery Tools
The Windows OS has a handy set of tools that help recover the function of a PC following crushes, malware infections, updates, or hardware malfunction. They can be used as standalone solutions to the Bitcoin virus infection or as working to compliment the work of the anti-malware and PC cleaner.
System Restore
System Restore is a popular Windows recovery tool because if used right, it does not occasion a lot of change in the configuration of a device. It can also be used to remove an active malware infection if the restore point that is used was created before the infection.
Assuming that you took the steps described in the Safe Mode with Networking section, you already know how to get to the System Restore option, so, there is no need of repeating that bit. All you need to do is to select System Restore in place of Startup Settings i.e. Advanced options > System Restore.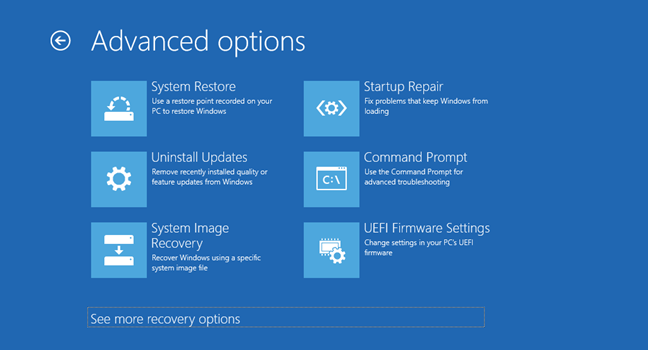 After you have selected System Restore, now choose a restore point from the list of restore points that are available on your device. If there are no restore points, too bad as this option is off limits to you. Because most Bitcoin virus malware exist as standalone programs, you should see it or them in the list of affected programs. If you do not see such programs, (assuming they have not been removed by the anti-malware) choose an older restore point.
Refresh this PC
This Windows recovery tool assumes that you still need to keep your files and folders even after being infected by the Bitcoin virus. To pursue it, take the following steps.
Right-click on Windows icon on your screen to open the Apps & Features Select Settings.
Go to Change PC settings > Update & Recovery > Recovery.
Under the option to Refresh your PC without affecting your files, click Get Started.
Finish the process of refreshing your PC by following the instructions on the screen.
Refreshing your PC this way should return to a default state in which only Windows apps and settings exist. From here, you can install the programs that you want one by one.
How to Avoid the Bitcoin Virus
The Bitcoin virus is mostly gotten when the victim uses their computer to visit untrustworthy sites, so if you could avoid these, you will greatly reduce your risk of infection. There are also reports of the Bitcoin virus being delivered by other malware entities most likely bots. These can be dealt with if you have an anti-malware software installed on your computer.
Finally, you need to be wary of online scams that promise impossible discounts or "earn $1000 from home" because they are obviously fake and are just posted so that they can bait unsuspecting victims.
That will be all about the Bitcoin virus. If you have any questions or suggestions, feel free to use the comment section below.


If you're running into errors and your system is suspiciously slow, your computer needs some maintenance work. Download
Outbyte PC Repair
for Windows or
Outbyte Antivirus
for Windows to resolve common computer performance issues.Fix computer troubles by downloading the compatible tool for your device.
See more information
about Outbyte
and
uninstall instructions
. Please review
EULA
and
Privacy Policy
.
Give us some love and rate our post!