Reading time:
6
Minutes
The Internet is a very scary place, especially for children. There are so many predators and attackers out there that specifically target young Internet users. There have been multiple reports about kids being harassed, bullied, or attacked in online games, social media and other platforms.
One of the most dangerous sites on the Internet is YouTube. And the scary thing is that it is also the favorite site kids love to visit. With all those Peppa Pig episodes, animes, cartoons, toy reviews, online game reviews, music, and all other entertaining videos, YouTube is a very attractive website for kids.
Lazy parents often turn to YouTube to keep their kids busy, to keep them quiet while they are in a meeting, or so that they don't have to run around the house and handle their kids' mess. Most parents are guilty of this in one way or another.
But YouTube is a very dangerous website because basically anyone can upload a video. In 2015, the company released an app called YouTube Kids designed for young YouTube viewers. The new app only offers cartoons, educational videos, and other kid-friendly content.
However, malicious people still found a way around these restrictions by uploading fake cartoon videos with disturbing content, obviously not fit for kids. We have seen Peppa hitting her brother George, Spiderman peeing on Elsa, PAW Patrol member going to a strip club, and the disturbing and satanic dog, Mr. Pickles.
What does this mean? These fake videos only show that there is really no kid-friendly YouTube. Parents have become concerned how these types of videos were able to get through YouTube's filtering. According to YouTube's head of Family and Learning Content, Mike Ducard, these inappropriate videos are very rare and like a needle in a haystack. He also emphasized that YouTube is doing its best to make the app family-friendly.
The company has also started banning channels that were posting inappropriate videos, such as Toy Freaks. The said channel, featuring a dad and his daughters, was taken down due to seemingly exploitative and abusive videos.
Algorithms are not enough to filter these abusive and disturbing videos. Human intervention is needed in creating a safe online environment for kids. We have to do our own part to make sure our kids are safe while watching online videos. Here are some steps parents can take to protect our kids' screen time.
Turn off the search feature on YouTube Kids.
One of the ways to restrict the content being served to your children is by disabling the search function. When search is disabled, the videos being presented to your child would then be based on Google's algorithm.
Turn on restricted mode on YouTube.
Another way to filter the videos is by enabling restricted mode on regular YouTube. This will weed out illicit and questionable content.

To do this, go to your YouTube account's settings and turn on Restricted Mode. You need to be signed in to your Google account to be able to edit the Settings. This mode will hide videos and content that have been flagged by other users and are deemed inappropriate according to YouTube standards.
Lock YouTube Parental Controls.
YouTube's filtering tool located at the top of the page is a good way to weed out videos with inappropriate content. But if your kids are accessing YouTube from a regular browser or smartphone, the filtering tool is not enough. Fortunately, you can set up YouTube parental controls via your Google account and turn on YouTube safety mode to make it a little safer for children and teens.
We've discussed above how to turn on Restricted Mode for YouTube, so this time we'll show you how to keep it that way. You might want to lock the Restricted Mode so that it is always activated for all your family members and users.
When you go to YouTube, sign into your Google account, click Settings and scroll down to the bottom of the homepage to access the Restricted Mode link. Turn on Restricted Mode, then log out of your Google account. This will permanently turn on Restricted Mode and will need you to sign in again to turn it off so nobody can mess with it.
Block and report.
Of course you should also do your part in making the Internet, especially YouTube, a safer place for kids. If you see a video that you're not comfortable showing to your kids, then don't hesitate to report and block it. Don't just ignore it and wish that your kids won't see it. Algorithms have limited capacity, and malicious people are becoming smarter in skirting filters and restrictions, so parents have to be vigilant at all times.
Install ad blocker.
YouTube is filled with ads and banners–whether in-video, or within the page itself. Aside from being annoying, the content of the ads cannot be filtered because, hey, they're paying for it. To minimize ads, what you can do is install an ad blocker on your browser. There are several ad blocker options you can choose from, depending on what browser you use for accessing YouTube.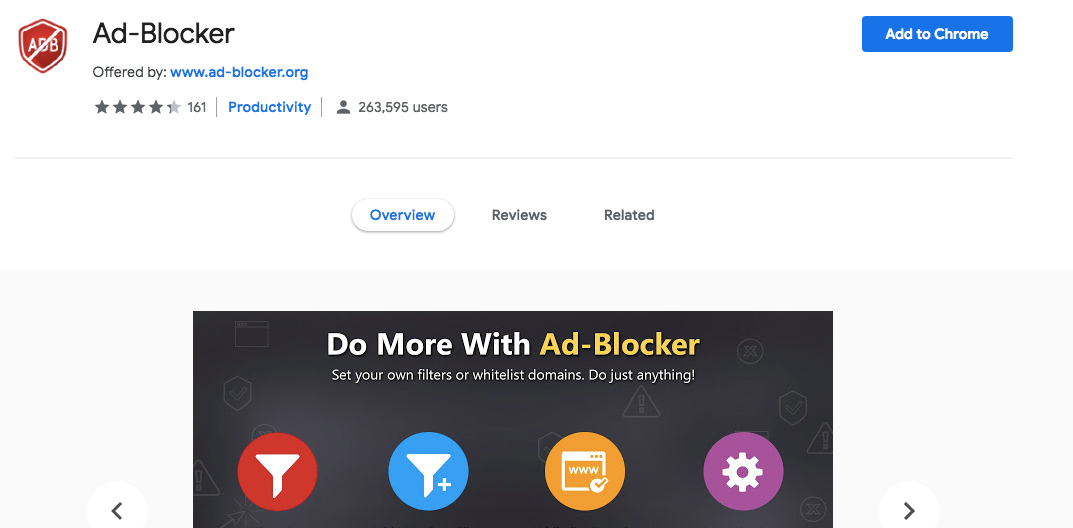 Set up a dedicated Google account for YouTube.
Using one Google account for the family lets you monitor what your kids are viewing. You can review all videos that have been uploaded, downloaded and watched using that account, as well the channels your kids are subscribing to.
Create a personal video playlist.
Do you want to control which videos your kids should watch? Then creating your own video playlist would do the trick. Once YouTube loads, it will pull up the pre-selected videos on your video list.
Tip: To make sure you have enough space for your saved or downloaded videos on your Android device, you can use an app such as Android cleaning tool to clean out your junk. Once you've gotten rid of all those unnecessary files, you can download videos, add them to your playlist and let your kids watch them even without an Internet connection.
Watch with your kids.
There's no better protection than watching together with your kids. You can personally see what they're watching and stop the video immediately if there's something you don't think should be seen by kids. This is important for toddlers and young kids who do not know how to differentiate good from bad content. For older kids, it's ok to check up on them from time to time to see what they're watching.
Conclusion:
Having a kid-friendly YouTube is not something that can be done by YouTube alone. Parents must contribute by being vigilant about what our kids are watching and blocking inappropriate content that slips through YouTube's algorithm. Setting up YouTube parental controls is also a good way of making sure that kids don't watch videos they are not supposed to watch.
Give us some love and rate our post!
Vic is a tech enthusiast who loves to be up-to-date with the latest and greatest technology in the world. He creates content that educates and helps users with their tech-related questions. Vic manages our website to ensure that our readers have a seamless experience while browsing. He excels in troubleshooting errors and resolving Windows issues for gaming and work purposes.