Whether you've entirely given up on Android or you want to switch to a new device, one of the things you should do is delete your Gmail account. Android is closely linked to Google. In fact, when you buy a new Android phone or tablet, most of them are pre-installed with Google services like Gmail, Hangouts, Chrome, etc. You also need a Gmail account to download apps from Google Play Store.
Removing your Gmail account from an Android device is a tricky process. It is not as simple as deleting the Google apps installed on your phone and then removing your Gmail account because you might lose valuable data this way. Within this article will instruct you how to delete Gmail while still being able to save your data.
Let Us Start
But before you get started, it is advisable to do some spring cleaning first. Use Android cleaner tool to remove junk files from your device before backing up your data. Creating a backup of your essential data is important, whether you're planning to get rid of your device or you want to reset it to factory settings. The same is true for your Gmail account. Deleting your Gmail account without backing it up can result in loss of:
Access and data. You will lose access to all of your Google services using that Gmail account, including Gmail, Drive, Photos, Calendar, and more.
If you used your Gmail account to subscribe or purchase content (apps, music, movies, books, etc.) online, you might lose these content if not backed up properly.
Synced data. You will lose synchronized data on Google Chrome like bookmarks, favorites, and apps on your web browser.
The contacts on your Android phone are usually synced with your Gmail account.
Account's username. If you entirely delete your mail account, your username won't be available for future use.
You need to be careful if you are deleting your Gmail account because there are a lot of Google services that rely on it and carelessly removing it would lead to severe consequences. To make sure you don't lose your data and content, don't forget to back up your Google Account first.
How To Backup Your Data
The first thing you need to do before deleting your Gmail account is making a backup of all your Gmail data and its content, especially if you've been using your Gmail account for a long time. All the content associated with your Gmail on your phone or tablet is usually synced to your Google account, including photos, emails, calendar, etc. So to back up your Google account, all you need to do is download an archive of all your content.
Backing up your Google account is straightforward. Follow these steps:
Log into your Gmail account and go to your My Account
Click Control your content.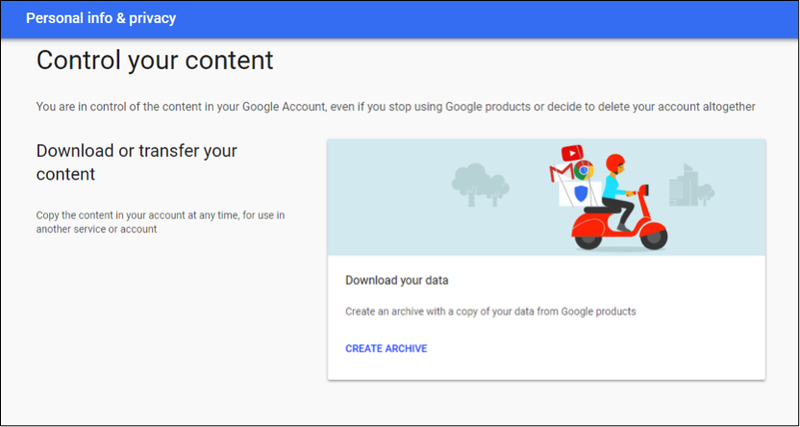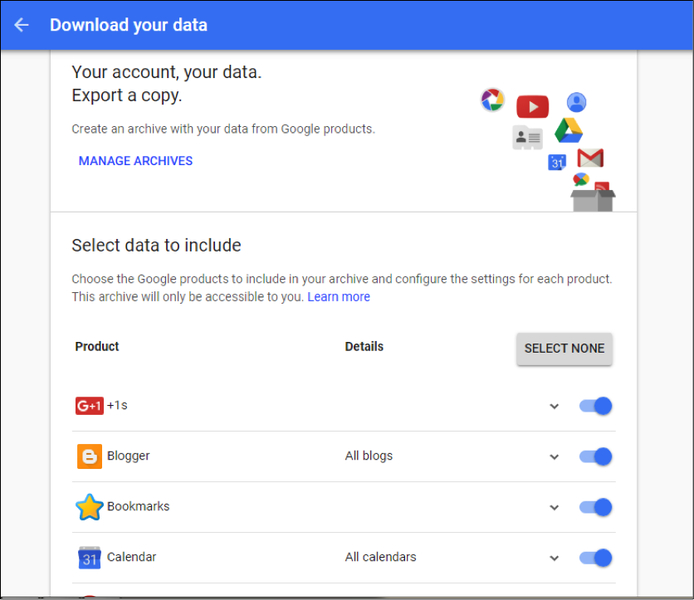 Select the services you want to back up from the list, and then click Next.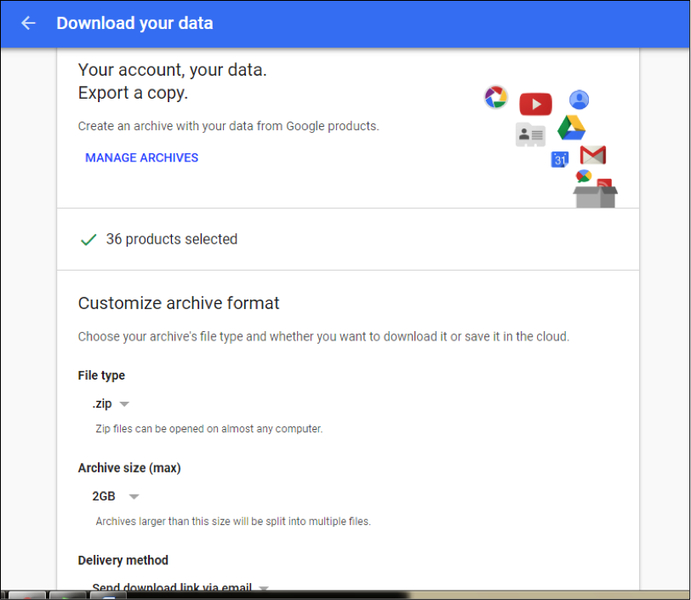 Choose the file type you want to save your data with, the maximum archive size and how you want the data to be sent to you. You can choose to have the download link sent to your email or add the files to the cloud (Drive, Dropbox or OneDrive). Next, click Create Archive.
It might take a long time for the process to finish, depending on how extensive the archive is.
That's all you need to do to back up your Gmail account. However, you also need to check out the sites where you used your Gmail address to sign up. You might still be able to log into these websites, but any notifications or recovery info will be lost since your Gmail account no longer exists.
Once you've done your spring cleaning and backed up all of your important data, it's time to delete your Gmail account.
How To Delete Gmail Account On Android
If you want to remove your Google account from your Android device, follow these steps:
Go to your device's Settings and tap Accounts.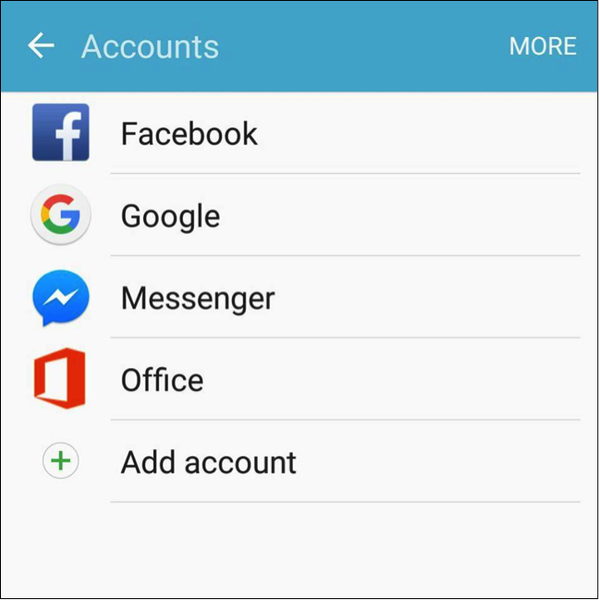 Tap the Google account you want to remove.
Tap the three dots located in the upper-right corner of the window. You will see the option to sync or to remove the Gmail account.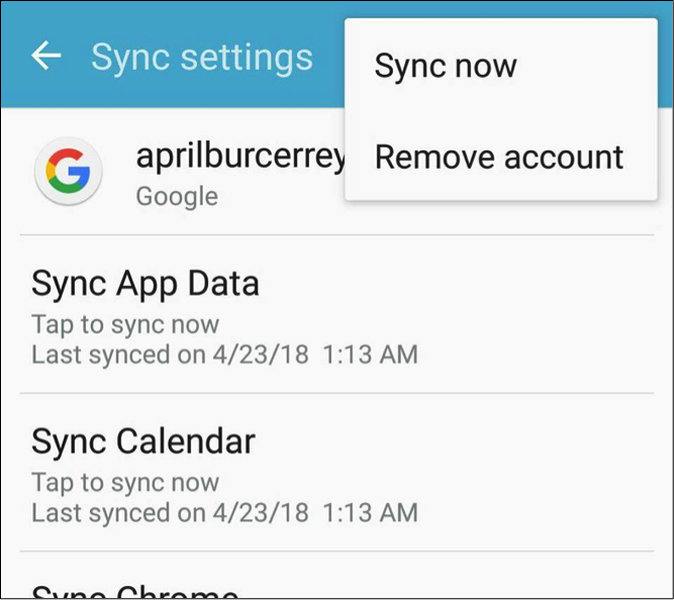 Another way to remove Gmail account from your Android device is by doing a factory reset. To reset your phone or tablet to its factory settings, follow these steps:
Go to your device's Settings.
Select Backup and reset.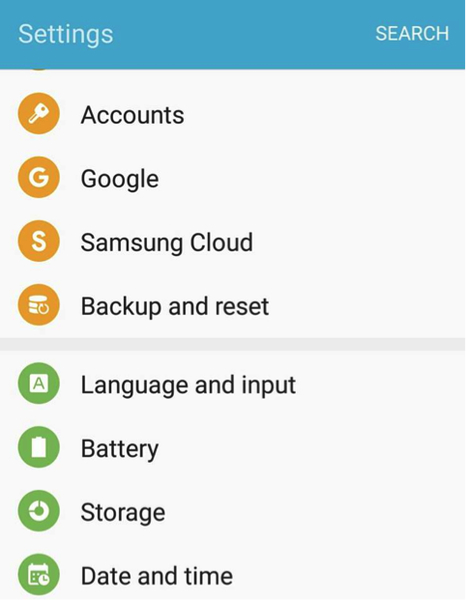 Tap Factory data reset, which is located at the bottom. You will be given a list of the things that will be erased from your device storage.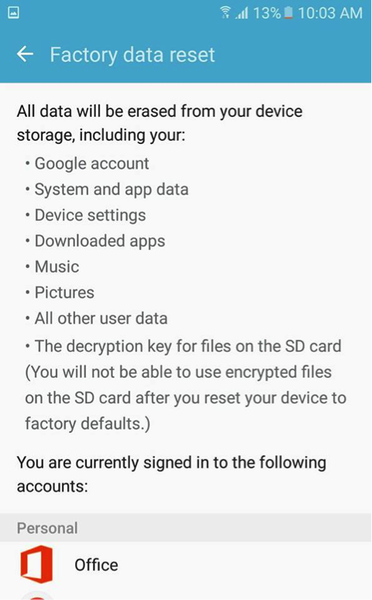 Once you're sure you've got everything you need, click Reset Device.
Resetting your device not only removes your Google account. It also eliminates all the content of your device.
If you want to entirely delete your Gmail account (you can remove the entire account or just some services), you can do the following:
Log into your Gmail account and go to My Account by tapping your profile icon at the top right corner of the page. You can also go to this link: https://myaccount.google.com/.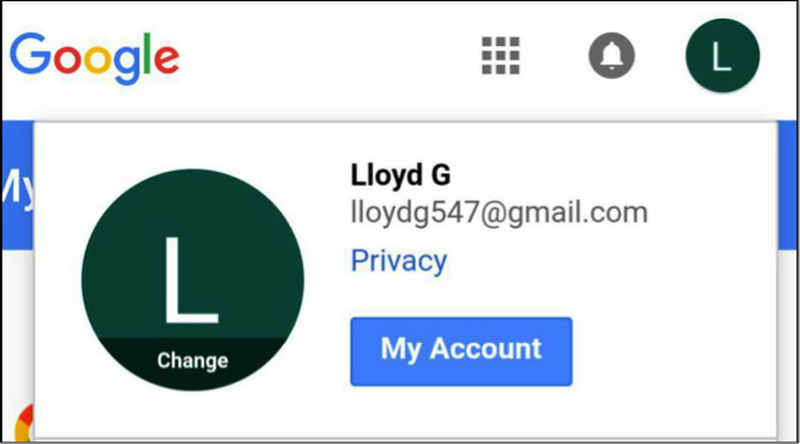 Scroll down to the bottom of the page and click Delete your account or services.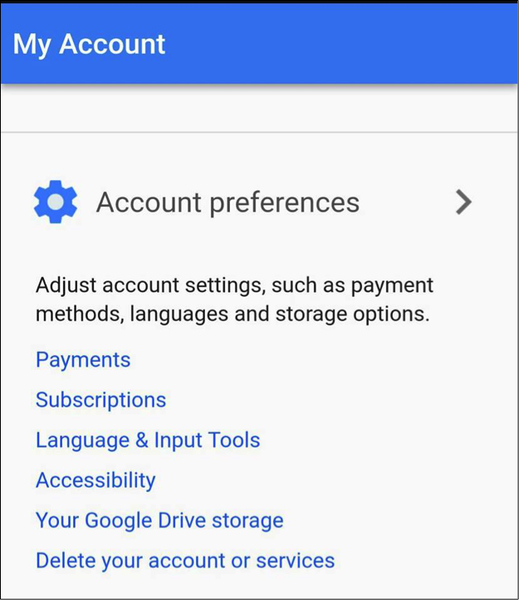 You have the option to delete your whole Gmail account or just some of the services like email, drive, photos, etc. If you want to remove the services, just tap the Delete products.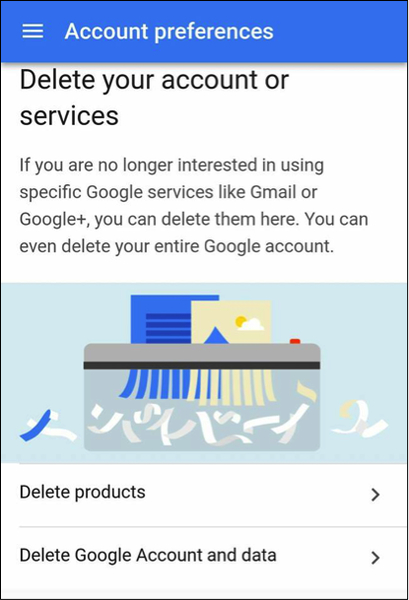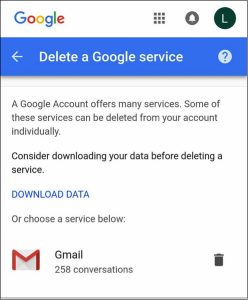 Google will give you the option to download all your data first. If you want to make sure you have a backup of all your files, just click the Download Data first. Once you have saved all your content, select a product you want to delete and tap the trash icon next to it.
If you're going to remove the Google account itself, choose Delete Google Account and data.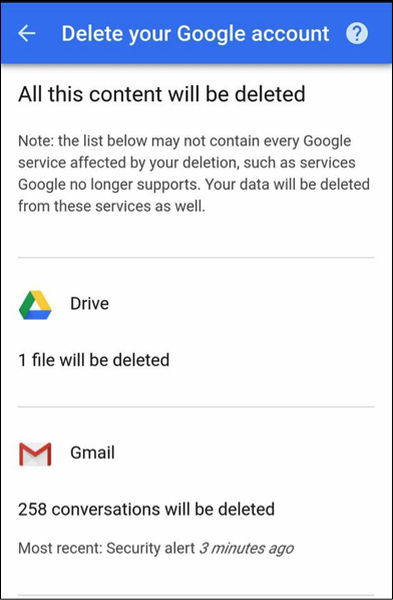 Tick off the two boxes below to confirm that you want to delete your account, then click Delete account.
By default, your account gets permanently deleted when you choose this option. However, Google allows a short period (2 to 3 weeks) for you to recover your account if in case you regret deleting it. Once your account has been restored, you'll be able to sign in and use all of the Google services just like before.
To recover your account, follow these steps:
Go to Google's Account recovery page.
Select I'm having other connection problems.
Follow the security steps to recover your account.
This recovery process should work most of the time if there are no accidents. So before you decide to delete your Gmail account, think it over twice or even thrice. Even if you backed up your data, setting up a new Gmail account and transferring your files could be a huge hassle. Try to find a workaround your problem and make deleting your Gmail account as a last resort.
Give us some love and rate our post!