Have you ever left your phone at home while you're waiting for an urgent call or an email, so you wished there was a way to access it remotely? Or are you too busy (or lazy) to get your phone you left in the bedroom while you're working in your home office? Fortunately, there are several ways to do that. If you're an Android user, you can access your phone even if it's not with you. You can reply to messages and emails, retrieve bookmarks, or log into your home network just by using some apps. It is fresh and pretty handy, especially during emergencies.
Airdroid is a handy mobile app that lets you control Android from PC. All you need is a web browser to do things that you usually do with your Android device –remotely at that. There's no need to get up and get your device to reply to a message or look for a USB cable to access or transfer your files, photos, and videos. You can do all that with Airdroid. You can remotely control Android from PC anytime, anywhere. You can send SMS messages, view app notifications, copy files, and fully control your Android phone or tablet from any computer.
Your Android Features
Before we go through the process here are some basic Airdroid features, including:
Notification mirror – Airdroid mirrors notifications from any allowed apps to your PC. It also lets you reply to Facebook Messenger or WhatsApp messages from your desktop Airdroid app.
Backup and sync –This feature allows you to quickly back up photos and videos from your device to your computer using a shared clipboard.
SMS and Contacts management –Aside from having access to mobile messenger apps, you can also send and receive test messages and manage your contacts using a desktop.
Record screenshot – No need to root your device record phone screenshot.
Speed boost –Improve your phone's speed by cleaning up memory.
There are also Airdroid features that are limited to the desktop app:
Find phone –Lets you locate your device if it's misplaced, missing, lost or stolen.
Remote camera – This lets you see through the front and back cameras.
App and media –These allow you to manage photos, videos, and even ringtones.
How to Use Airdroid to Control Android from PC
To be able to use Airdroid, your two devices must be connected via the same Wi-Fi network. You can download the desktop application for PC or Mac, or you can go to visit web.airdroid.com on your computer and sign in to your AirDroid account. If you want to install the desktop client, go to the developer's website and choose the version for your computer. The installation is pretty straightforward, you need to follow the on-screen instructions, and you're good to go.
The next step is signing up for an Airdroid account. This will be the same account which you will use for your Airdroid mobile app so don't forget your logins. You can create an account and sign in using the desktop app or the web version of Airdroid.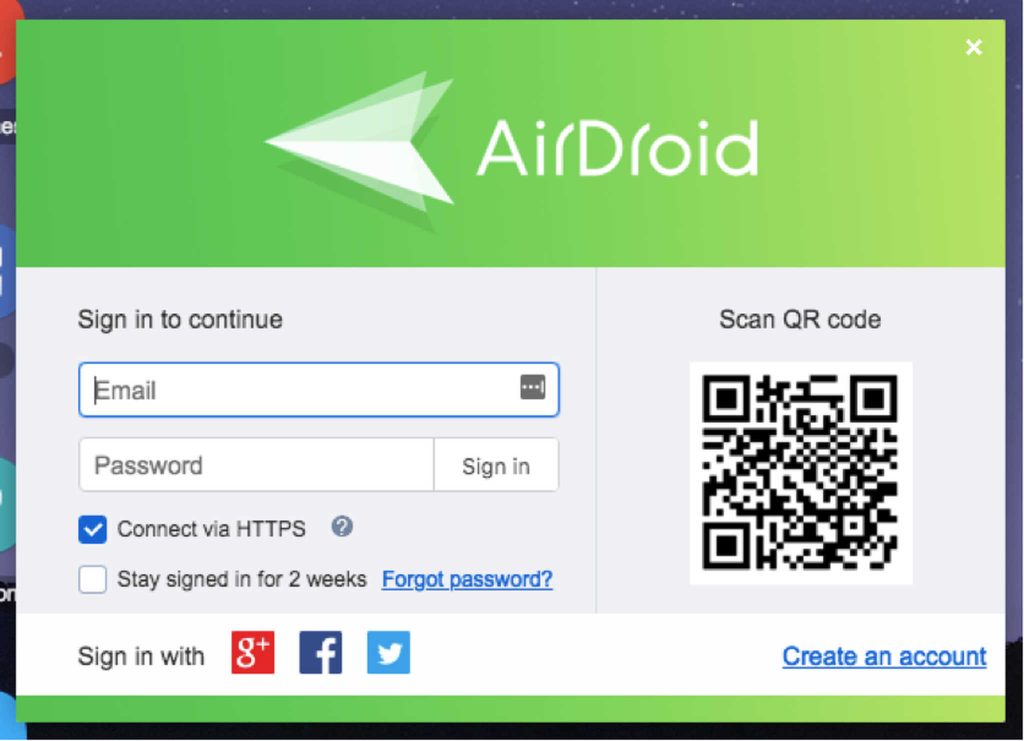 Once you have created your account, it will ask you to add mobile devices to your account. So the next step is to set up Airdroid on the Android device. You can download it from Google Play Store or the developer's website.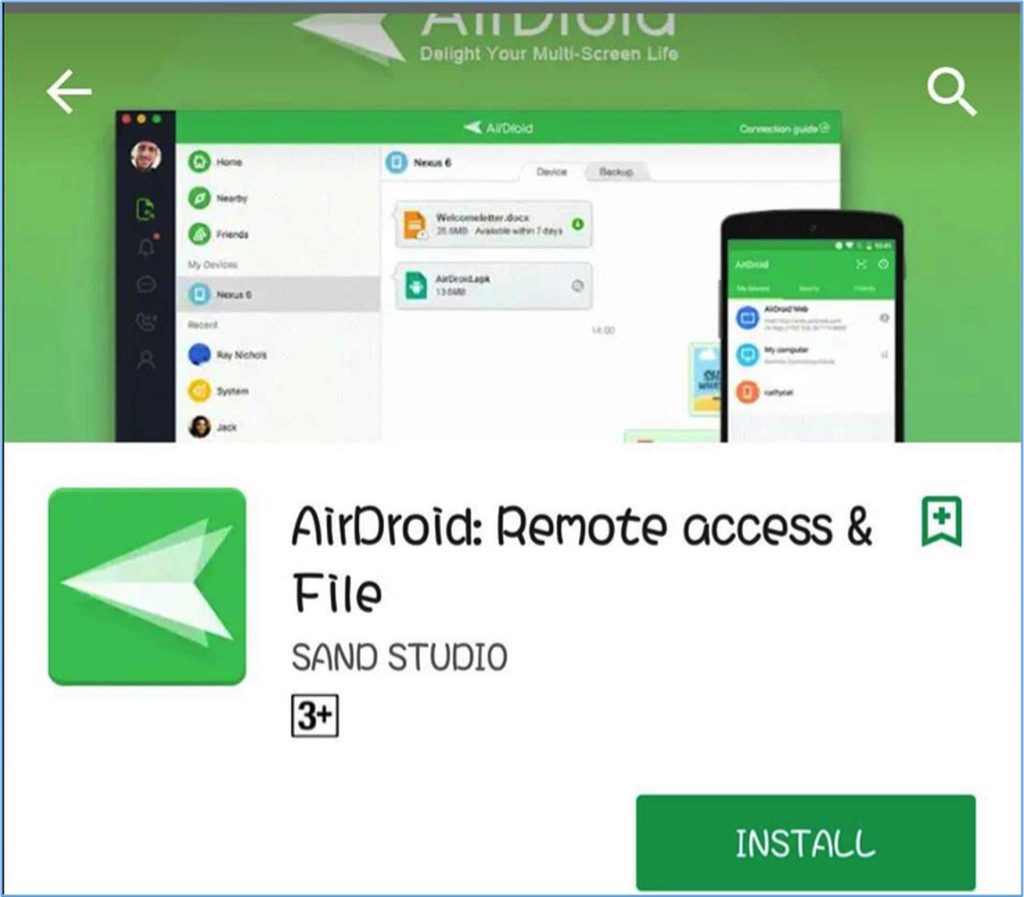 Once you have installed the app, sign in using the same Airdroid login you created on the desktop app or browser. Go back to your desktop app, and you will see the new device you have added.
Another way to connect your device is by scanning the QR code on the computer using your phone's camera. Tap the QR code on your device, which will open the camera on your phone. Once the camera is activated, aim it at the QR code on the screen of your computer, and your phone will automatically read it and connect your device.
From there, you can access and manage your device using the Airdroid desktop app or web browser. If your computer and Android device are connected through the same Wi-Fi network, the Airdroid apps on your devices will connect using Local Connection Mode. However, if you're connected on different systems but both are connected to the Internet, the Airdroid apps will connect using Remote Connection Mode.
From your Airdroid desktop app or web browser, you can see all the details regarding your device. You can look at your battery percentage, network connection, the carrier signal, and the mode of connection of the device (Remote or Local).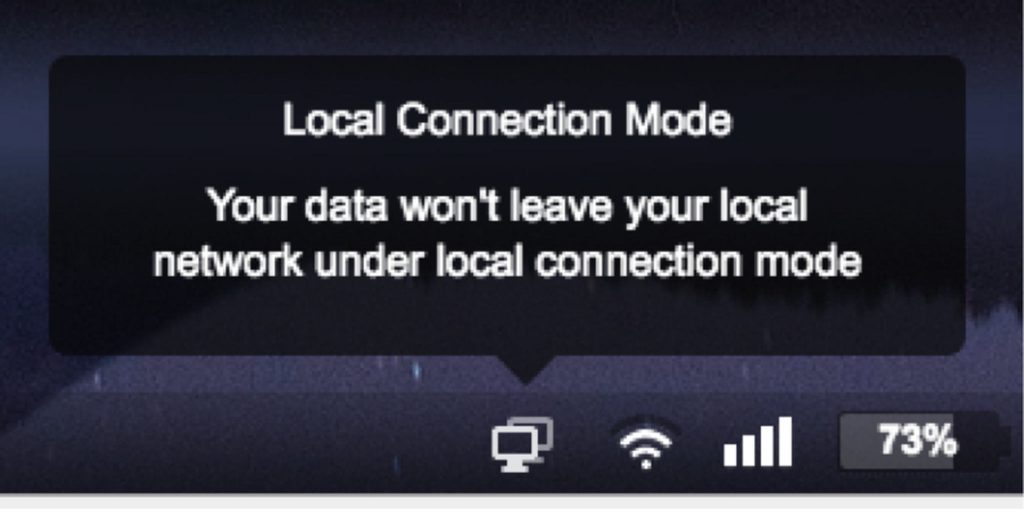 You can see more details about your device by clicking the Detail button under the device name. When you click this button, you will see information about your device's storage, files, music, photos, contacts, messages, and apps. You can practically see everything about your device on the app.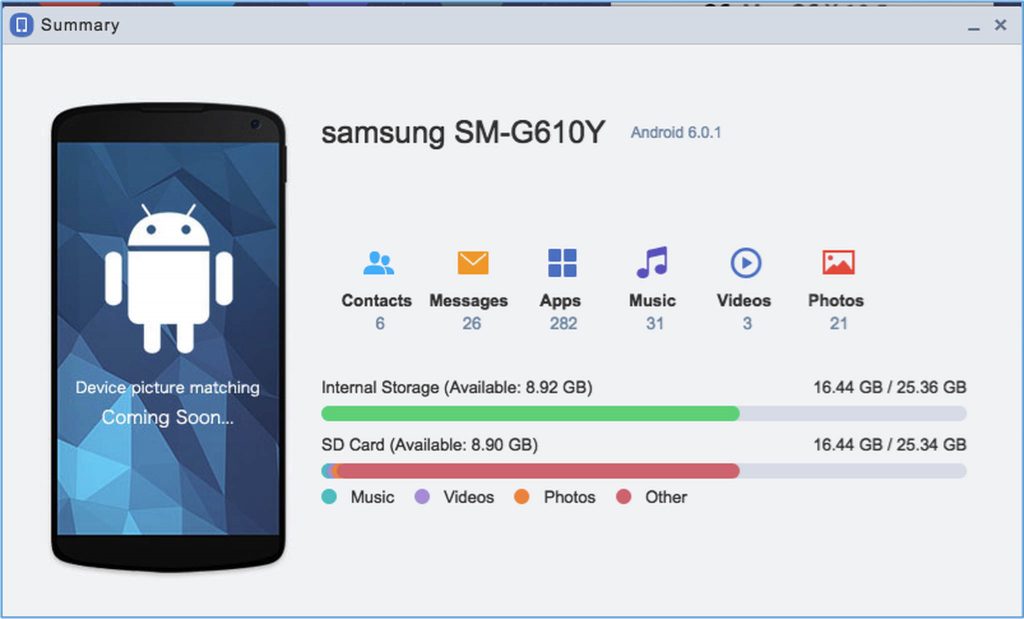 Take note, however, that your Android device should be unlocked for the connection to be successful. The link will be disrupted once your phone's home screen is locked.
How to Transfer and Manage Files
To see the contents of your device's internal storage or microSD card, click the Files icon on the Airdroid app screen.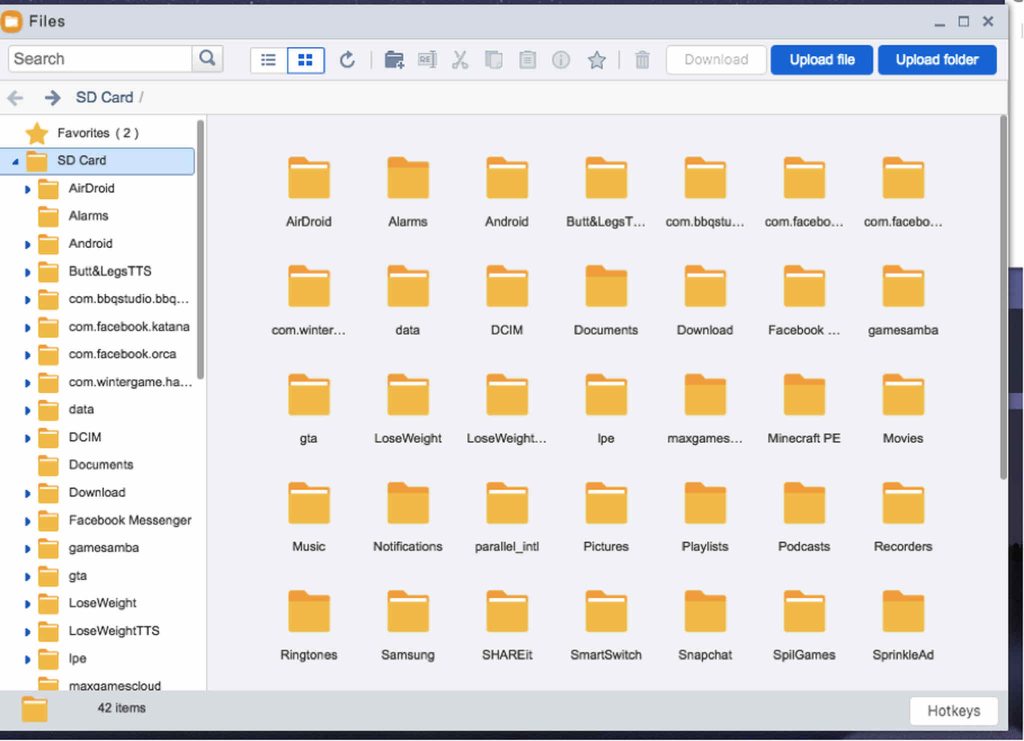 You can quickly upload or download files and folders to your device using the app. It will also be easier to delete files from here instead of removing them using the file manager on your Android. Just go through your folders and find the files you want to delete, right-click on it and click Delete. You also have the option to Download the file or folder as a ZIP file, cut, copy, rename or create a desktop shortcut. Any changes you make on the file using Airdroid desktop will be translated directly to your Android device. So if you deleted some files on the desktop app, they would also be deleted on your device.
Sending and Receiving Messages
You can send and receive text messages using the Messages panel of the app. No need to grab your phone when you're working on your desktop to reply to a message –you can do it there.
Aside from messages, you can also access your call logs and take action from there.
Managing Apps
If you want to view the apps installed on your device, you can go to the Apps panel where you can see all your apps by icon or list. You can install, uninstall, and download the .apk file of your apps from here.
You can also install an APK file you have downloaded on your computer. Just click the Install App button on the upper-right corner of the screen and choose the APK file you want to install. However, you will need to confirm each installation and removal of apps on your Android device.
To disconnect the app, right-click on the desktop app and choose Sign Out from the menu. Or tap the Me tab on your Airdroid mobile app, scroll down to the bottom and tap Sign Out. With this app, you can now replace your USB cable to control Android from PC.
Here's a bonus tip: To avoid lags and freezes, improve your Android device's performance with an app like Android cleaner tool. It wipes out junk from your phone while boosting your RAM, ensuring maximum performance at all times.