It is irritating when you answer a call just to find out that it's spam. It is even more annoying when you have to drop whatever you're doing just to accommodate the call, only to realize that it's a total waste of your time. Spam calls are entirely bothersome, but we're lucky because there are several ways to block them. We will teach you how to prevent spam calls with this article, and get rid of this nuisance for good.
Three Types of Spam Calls To Block
But before we do that, let us first take a look at the three common types of spam calls and what makes them annoying.
The first type is what we get from telemarketing people calling us to sell products and services. These telemarketers are usually from your carrier or internet service provider, offering upgrades, boosts or new products to keep you subscribed to their company for a longer time.
The second type is what we consider as robocalls or automated phone calls with pre-recorded sales messages. These are often used for political and charitable campaigns.
The third type comes from shady people who want to con or take advantage of others. They pretend to be bank employees or government agents, who, in some way or another, will try to get you to reveal your sensitive information.
How To Block Spam Calls
So what are the best methods on how to block spam calls? We have listed down four useful tips below to help you get rid of these nuisance calls.
1. Use an Android Call Blocker.
The easiest way to minimize or get rid of spam calls is by installing a nuisance call blocker on your device. There are a lot of dedicated Android call blockers on Google Play Store that rely on databases of millions of spam numbers. So when you get a call from one of the numbers on that database, a message will pop up on your screen warning you about the call. You also have the option to send the call directly to voicemail, so you don't have to do anything at all.
There are several nuisance call blockers for Android – some are free while others are paid apps. Here are some of the popular ones on Google Play Store:
Google Phone – The earlier version of this app warns callers of spam caller by flashing a bright red on the screen and labeling the call as "Suspected spam caller." In the latest version, you will no longer be notified, and it will go straight to voicemail.
Hiya – This is a free caller ID and call blocker app. It identifies incoming calls and blocks numbers you want to avoid. You can create a blacklist of unwanted phone numbers, making it easier for you to receive or reject calls.
Truecaller – This app is a caller ID, SMS spam blocker, and dialler all rolled into one. One of its unique features is the flash messaging, where you can share your location, status or an emoji to your friends in a flash.
Number – This is an easy-to-use SMS and call blocker. It blocks calls and SMS from one person, an area code, or the world.
Should I Answer? – The name of the app summarizes what it does. It displays the phone number of the person calling and the corresponding phone rating. Therefore you can decide if you want to answer the call or not.
Additionally, carriers usually offer apps and services to help their subscribers block unwanted calls. Features vary from carrier to carrier, with some features being provided for free while others for a fee. Most of these services work the same way as the apps listed above, which means they will warn you when you get a spam call or block it directly, so you don't have to deal with it yourself.
By the way, before you install any Android call blockers, make sure your phone is working smoothly and efficiently by removing junk files using Android cleaning tool.
2. Block Spam Calls One by One.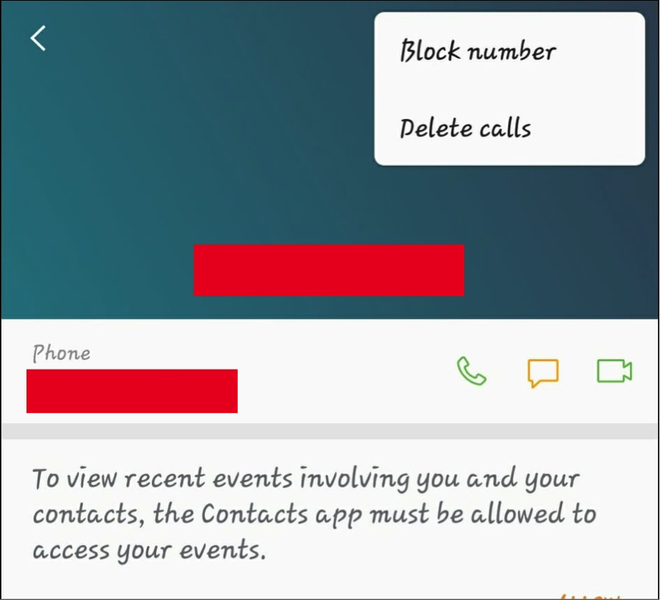 If you're getting annoying calls from specific companies or individuals on a regular basis, the most natural solution is to block their numbers directly. To prevent a number, open the Phone app on your device, find the number you want to block, tap the three dots at the upper-right of the screen, then click Block number. It is the easiest solution if you're getting spam calls from a few numbers. But if you're getting a lot of spams from a lot of different numbers, it can be time-consuming to block them one by one.
3. Block Spam Calls by Receiving Calls Only From Your Contact List.
Whether you're tired of getting spam calls or you're not comfortable getting calls from unknown numbers, then the solution is to block all numbers excepts those on your contact list. The best way to do this is to download and install Calls Blacklist, another call blocker designed only to allow numbers from your contact list. There are other options on Google Play Store, but this is the most popular among the call blockers with this specific feature.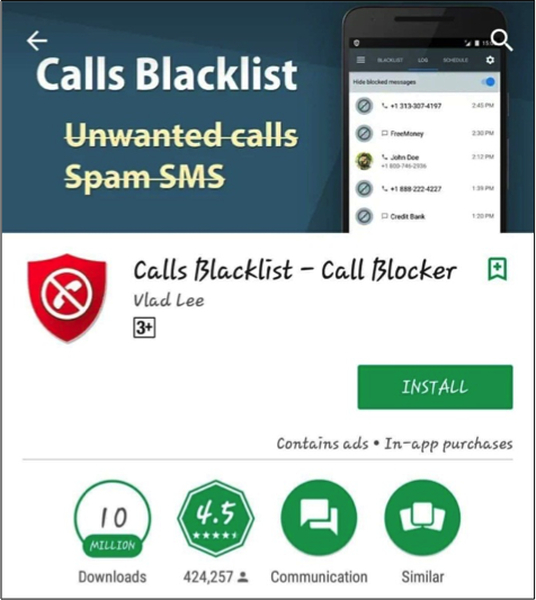 Download the app, open Settings, and select Blocking to open all your blocking options. Next, tap on "Block all numbers except contacts," and you're good to go. Whenever a number not saved in your contact list calls, your phone will not ring, but you will be able to see the call within the app. Convenient, right? The only drawback of this method is that you won't be able to receive calls from friends or family members who might be using a new or different number.
4. Register Your Number on the Do Not Call List.
The Federal Trade Commission (FTC) manages the Do Not Call list, or the National Do Not Call Registry where people sign up their number if they don't want to receive telemarketing calls. You can register your mobile number for free at donotcall.gov. Take note, however, that signing up does not prevent all other spam calls like political messages, surveys, or calls from shady people.
Now that you've read these methods on how to block spam calls, you no longer have to worry about getting unwanted calls in the future. You can choose one of the ways mentioned above or combine multiple methods for the best results. For example, you can register your number with The Do Not Call Registry and install a nuisance call blocker at the same time. It all depends on how much and what types of spam call you are getting.