So, you got yourself a new Android device? Congratulations! Every new Android unit presents a unique opportunity for customization. However, with all the customization options available, you may end up confused about where to start.
Well, the good news is that we've put together this comprehensive Android user guide to ensure you get the most out of your Android unit. By the end of this article, we hope that you've learned everything you need to know about Android and be able to customize your new device to your liking and preference.
Explore Your New Android Device
Since you've just got yourself a futuristic device, it's right to explore what it can offer. You see, there is much to enjoy about Android, from its touchscreen features to its massive library of apps available for download. Then again, you should not let all these features blind you. Sure, they make your device look powerful, but you still have to keep your composure to ensure your device has no missing or broken parts.
The moment you lay your hands on the box, go through its packaging and check the inclusions. Is there a SIM ejector tool included? How about a charger and a headset? If these tools are included in the box, then you have saved a lot of money. Think of how much each one of them may cost. In addition, review the warranty details. You might need them in the future.
Setting Up a Google Account
The moment you switch on your Android device, you will be prompted to input your Google account details. If you don't have one, you will need to create one. Although this is entirely optional because you can still use your device without signing up for a Google account, there's no better way to use your tool than to access the services and apps designed by Google for Android.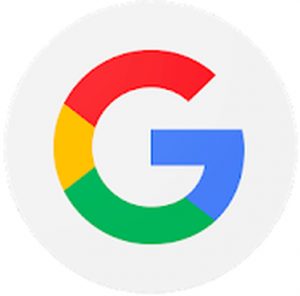 Google created Android. So, technically, your Android device is tightly associated with Google. A Google account will be used in many different aspects including backing up the settings of your device, monitoring the apps installed, as well as linking to Google services like Google Calendar, Google Contacts, Google Drive, and Gmail. If you decide not to create an account with Google as you set up your new Android device, you can skip this part and add an account in the future under the Settings of your device.
Gear Up for Data Downloading
More often, your Android device is already charged and ready-to-use upon purchase. But as you set it up, you will need more power, which means you need to get its battery charged. You don't want it shutting down while in the midst of a crucial process. Right? Once it is fully-charged, you will have to connect to a wireless network to download some useful apps. Again, this is optional. You can download later or when the need arises.
Get Rid of Unnecessary Apps
Your new Android device usually comes with several pre-installed apps. Some may be useful to you, while others aren't. Unnecessary apps may consume so much space, causing your device to slow down. Unfortunately, you can't get rid of all pre-installed apps, unless you decide to root.
Now, if you want to maximize what your Android device can do, despite not being able to uninstall all default apps, go to Settings > Apps. Next, find the apps that are pre-installed on your device. Here you can uninstall apps that can be uninstalled. For those who can't, the best thing you can do is to uninstall updates and disable them.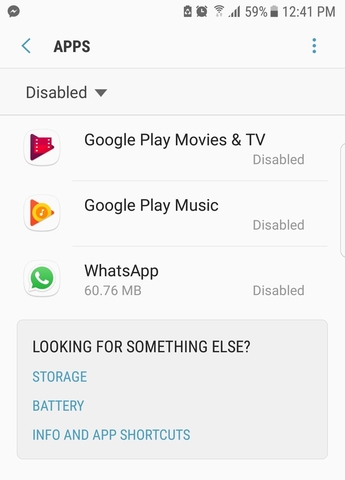 Here is an important tip for you. If it is your first Android device, you might want to keep the pre-loaded apps around until you're sure that they won't help you in any way and that they do not play a vital role in your device.
Customize Your Device
Just because you are comfortable with the set of apps in your old Android device does not mean you have to download and install them on your new unit, too. Having a new device is a beautiful opportunity to make better decisions when it comes to choosing apps.
What are we talking about? Go to Play Store and find other alternatives to the apps you have been using. For instance, you can make the switch from your phone's pre-installed browser to Google Chrome because it is packed with more features.
Once you've installed all the apps you need, you can begin customizing your device. Set new ringtones, lock screen, and wallpapers. Fill your home screen with different widgets and app shortcuts. Do not forget to adjust the screen brightness and volume as well.
Make Your Device Secure
In time, your device will be filled with a lot of personal and sensitive information such as credit card details and other own numbers. That said, it's right to set up some reliable security measures to protect your identity and privacy.
A pattern and PIN lock are the two most common security features available on your device. Newer Android devices have fingerprint scanners, which are more secure options.
Update, Update, Update!
Now and then, app developers release updates to the apps they created. Sometimes, these updates are meant to fix a minor issue or improve speed. To update the apps, go to Play Store > My Apps & Games > Update All.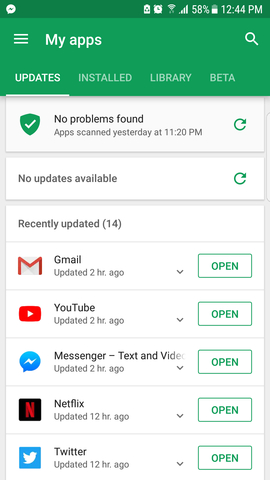 But, there are also times when the OS of your Android device needs to be updated, especially if it has been out on the market for quite some time already. To know if there are recent updates, go to Settings > About Phone > System Updates.
Enable Mobile Data Tracking
If you are not subscribed to an unlimited monthly data plan, you will need to monitor how much data you have used within a specific billing cycle. Exceeding the limit because of those adorable puppy videos on Facebook would mean an additional expense for you.
Don't worry. Tracking your mobile data consumption is easy. Navigate to Settings > Data Usage then set the billing cycle and how much data is included in your plan. Now, set a data limit and enable data warnings. By doing this, the next time you almost reach your limit, a notice will show up. Once you've consumed your monthly data plan, it will automatically turn off the data connection.
If you can't find this data tracking feature on your device, calm down. Play Store has plenty of available apps for you. My Data Manager is one.
Google Assistant
If your Android device is running on Marshmallow 6.0 or any of the later versions, you're in for a treat. Your device has a virtual assistant called Google Assistant that functions like Siri of iOS.
To access it, press and hold the Home button for a few seconds. You may also launch it by using the "OK, Google" voice command. Now, you can ask it to give the information you need. Tell it to display the most recent news or even ask the weather for today. It can also give you the best and fastest route to a specified destination.
Know Your Device
You've done a lot on your Android device. Now, it's time to go through the menus and submenus and try to remember what tools and features are there. It should save you a lot of time in the future, or it could lead you to discover new things about your Android gadget. Don't let your device be a total stranger. Make it somewhat like another version of yourself. Take the time to explore it and be familiar with its features. After all, you'll be using it for a while.
Other Helpful Measures to Take
You've invested a lot of money to have a new Android device. So, you have to take good care of it and make sure it performs at its best.
One of the best ways to take care of your Android device is to download tools such as android cleaning app. A free to download tool on Google Play Store, this app closes the apps and background programs that are slowing down your device. It even scans through your files and gets rid of junk, so you don't have to worry about not having enough storage space. Even better, it helps extend your device's battery life by up to 2 hours! Soon, the developers of this useful app will release an update so that it can also get rid of harmful apps and viruses to give you total control over your privacy and personal information.
In Conclusion
Setting up your new Android device can be quite overwhelming, but we are hoping that this Android beginner's guide has answered all your questions and guided you in the process. Okay, we've shared enough. Let us hear from you. What did you do when you got a new Android gadget? Share it with us in the comments section below.
Give us some love and rate our post!