Reading time:
5
Minutes
Through the years, Google's mobile operating system, Android, has continuously evolved and improved. A lot has been introduced and changed since its inception. Hence, it's not surprising why Android has become one of the most powerful operating systems today with its many hidden features. Sure, you already know how to send messages and make phone calls using your Android unit. But, we bet there are Android tips and tricks in this list you're still not aware of. Interested to know what we are talking about? Continue reading to find out.
1. Disabling Pre-Installed Apps
Most of the Android devices come with pre-installed apps that we do not know how to remove. Worse is that they continuously annoy us with regular updates. Although we cannot remove them permanently, we can disable them to keep them from occupying your free space.
To disable a pre-installed app, here's what you should do:
Go to Settings > Applications > All.
Select the app that you want to disable.
Untick the Show Notifications
Tap on the Disable button and then press
At this point, you will no longer be notified about any updates related to the app you chose.
If you want to enable it the app again, repeat the first three steps. Next, tap on the Enable button, then
2. The "Easter Egg" Surprise
It is probably one of the best Android tricks on this list. Regardless of the Android version, your device is running on; you are certainly in for an "Easter Egg" surprise. For instance, the Lollipop version of Android has this little Flappy Bird mini-game. To access your surprise, follow the steps below.
Go to Settings > About Phone.
Tap Android Version repeatedly until a new screen with your wallpaper shows up. Continue tapping on the screen until a lollipop appears.
Press on the center of the lollipop to start playing.
For the other Android versions, the process is more likely similar. However, in Android Version 6.0, you will see marshmallows instead of a lollipop.
Google Chrome also has an "Easter Egg" surprise for you in times when there is no Internet connection. Once the pixelated dinosaur shows up, tap on the screen, and an obstacle course begins. Jump over the obstacles by hitting the screen.
3. Reveal the Hidden Menu
Do you know that your device has a secret door that grants you access to a plethora of interesting information such as battery life and application statistics? Yes, you read that right. To access the hidden menu, just dial the number and character combination *#*#4636#*#* and then press Enter.
4. Expand the Numeric Keypad
You can change the settings of your keyboard so it will also display the numbers as keys alongside the letters. That way, you will no longer have to switch keyboards to access them.
To do this, do the following:
Go to Settings > Language & Input > Keyboard Google > Look and Feel > Custom Input Styles.
Next, tap on the Plus (+) symbol to add a custom keyboard.
Select your preferred language.
Under the Type option, select PC and press
Now, select Languages under Google Keyboard Settings.
Tick the custom option you just created.
You should now have a keyboard that is similar to that of a computer.
5. Use Voice Recognition Even Without Internet Connection
No Internet connection? Not a problem! You can still use Google's voice recognition feature to search for things on the web. To do so, you should first download Google's voice recognition package of your chosen language.
Assuming you already have the package, you can proceed with the following steps:
Launch the Google It's the icon with a letter G that is colored red, yellow, green, and blue.
Go to Menu > Settings > Voice > Offline Speech Recognition.
Under the All tab, select your preferred language.
If the app is not installed, tap onto your choice and press
Once the package is downloaded, you can already use Google's voice recognition even without Internet connection.
6. Fake Your Location
It is possible to fool GPS services so you can post on your social media accounts from different countries. Here's how:
Go to Settings > Developer Options.
Enable Mock Locations.
Now, download an app to simulate a particular location. One good app to use is Fake Location. Go to Google Play Store to download it.
Once you have the app downloaded on your Android device, open it and set the pin to a location where you would want to be. You are now ready.
7. Enable Safe Mode
Sometimes, some apps interfere with your system making it run slow. Though apps like Android cleaner tool can be used to detect these annoying applications, there are instances when your last resort would be to restart your device and use it in safe mode. In this mode, third-party apps will be disabled, and only system apps will work.
That is how you can restart your Android device in safe mode:
Press the Power Off The Shut Down option should then appear.
Tap and hold the Shut Down option until a warning pops up asking you if you want to restart in safe mode.
Press
8. Use a Mouse If Your Screen Is Broken
Is your Android's screen broken? Doesn't it respond to touch? The best way to control your device is to use a computer mouse with an OTG cable. Once the mouse connects to your device, a mouse pointer will appear on your screen.
9. Zoom on Anywhere
Do you have problems with your vision? Don't worry because you can quickly zoom in on your screen, whether you are in a browser or not.
Go to Settings > Accessibility > Magnifier Gestures.
Select Magnification Gestures.
Activate the magnification feature by toggling the switch.
To zoom in, tap on the screen three times and control it using your two fingers.
10. Force Reset
At times when your Android device is going crazy and does not respond to anything you do, you can always force-reboot it. Hold the power button for 2 to 3 seconds, and your device will automatically restart.
What cool Android tips do you know? Share it with us in the comments section below.
Give us some love and rate our post!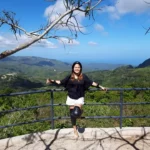 Stephanie is a wordsmith with a passion for technology. Although not a tech expert herself, Stephanie has a unique talent for transforming complex tech concepts into relatable and engaging stories. She brings her writing expertise to the tech world, sharing her insights and perspectives on the latest trends and innovations. With a love for storytelling and a knack for simplifying technical jargon, Stephanie's writing style makes tech accessible and relatable for readers of all backgrounds. When she's not writing, you can find her exploring her local coffee shops or getting lost in a good book.