Travel awakens the mind and enriches the soul, and in an increasingly digital and interconnected world there's barely any reason not to do it in an easy, organized fashion. You can satisfy your wanderlust with smartphone apps that take care of anything from flight bookings to hotel accommodations to planning the best itinerary ever.
Here is our comprehensive guide to 20+ Android apps that every traveler must have (2023 edition) – be sure check them out and they just might be the must-have apps for travelers in the coming year.
Booking trips and getting around
Stay the night: Hotels and other accommodations
Airbnb – If you're not a fan of typical hotel stays on your trip, book through Airbnb with its virtually unlimited choice of places to stay, from rustic vacation houses in resort cities to tree houses off the beaten path. This leader in the sharing economy connects travelers with owners of rooms, homes, apartments, and other unique accommodations for rent.
Hotel Tonight – If your flight happens to get delayed at your layover or your Airbnb plans fall through, this app is ready to save the day with last-minute deals. It partners with hotels to offer discounts and deals on empty rooms.
Roomer Travel – This travel marketplace app helps people sell prepaid reservations to others who can use them, typically at a lower cost. It's a great way to recoup money when your trip gets canceled, or save some cash by taking over someone else's reservation.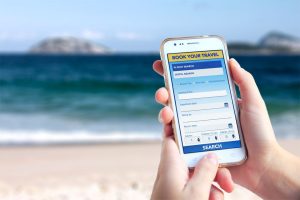 Trip planning and organizing
Convenience and everyday apps
Google Translate – A foreign country can be a handful when it comes to communication, as you don't speak the same language that locals do. Let this app do the talking and help you communicate in different tongues.
Netflix – What better time to binge on your favorite TV series and movies than while waiting for your flight at the airport, or while you're at the hotel lobby waiting to be picked up by the local tour operator?
Wi-Fi Finder – It can get costly to subscribe to international data plans, especially if you're traveling on a shoestring budget. The solution: this app and its ability to locate available paid and free Wi-Fi locations in your area.
Duolingo – If your trip has been booked months ahead of time, why not try tackling the country's language? This app provides beginner-level courses and allows you to chat with bots in certain languages to put your learnings to test.
Circa – Moving through different countries in a short period of time? This simple time zone tracker lets you check what time it is where you are and where you're headed next.
XE – Take control of your finances while traveling through this currency app, which helps you convert every currency particularly in situations where you cannot use your credit card.
WhatsApp – Install this app before you venture out if you're keen on making new friends (it has more than a billion users), chatting with them, or keeping in touch with friends and loved ones back home.
AndroidCare-Cleaner, Booster, Battery Saver & VPN – This free app extends phone life and comes in handy when you have power-hungry apps on your device. It can optimize overall performance, help cool your phone, control and save your battery, and do a quick security scan of installed apps.
Nothing beats careful thinking and preparation in making your travel safe, fuss-free, and full of wonderful possibilities, and the best travel apps for 2019 can help you get things done. Before leaving, make sure to keep your device in tiptop shape for the adventure ahead.
What do you consider the best travel apps for Android? Share with us own favorites!
Give us some love and rate our post!