20+ Android Apps That Every Traveler Must Have (2019 Edition)
Travel awakens the mind and enriches the soul, and in an increasingly digital and interconnected world there's barely any reason not to do it in an easy, organized fashion. You can satisfy your wanderlust with smartphone apps that take care of anything from flight bookings to hotel accommodations to planning the best itinerary ever.
Here is our comprehensive guide to 20+ Android apps that every traveler must have (2019 edition) – be sure check them out and they just might be the must-have apps for travelers in the coming year.
Booking trips and getting around
Stay the night: Hotels and other accommodations
Airbnb – If you're not a fan of typical hotel stays on your trip, book through Airbnb with its virtually unlimited choice of places to stay, from rustic vacation houses in resort cities to tree houses off the beaten path. This leader in the sharing economy connects travelers with owners of rooms, homes, apartments, and other unique accommodations for rent.
Hotel Tonight – If your flight happens to get delayed at your layover or your Airbnb plans fall through, this app is ready to save the day with last-minute deals. It partners with hotels to offer discounts and deals on empty rooms.
Roomer Travel – This travel marketplace app helps people sell prepaid reservations to others who can use them, typically at a lower cost. It's a great way to recoup money when your trip gets canceled, or save some cash by taking over someone else's reservation.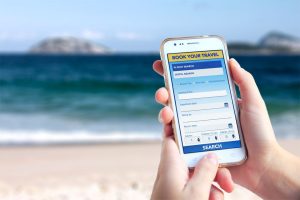 Trip planning and organizing
Convenience and everyday apps
Nothing beats careful thinking and preparation in making your travel safe, fuss-free, and full of wonderful possibilities, and the best travel apps for 2019 can help you get things done. Before leaving, make sure to keep your device in tiptop shape for the adventure ahead.
What do you consider the best travel apps for Android? Share with us own favorites!


If you're running into errors and your system is suspiciously slow, your computer needs some maintenance work. Download
Outbyte PC Repair
for Windows,
Outbyte Antivirus
for Windows, or
Outbyte MacRepair
for macOS to resolve common computer performance issues. Fix computer troubles by downloading the compatible tool for your device.
See more information
about Outbyte
and
uninstall instructions
. Please review
EULA
and
Privacy Policy
.