When you try to open a website in Firefox over a secure connection using the HTTPS protocol, do you get the SSL_ERROR_RX_RECORD_TOO_LONG error?
SSL connection errors can occur unexpectedly in any browser, including Firefox. The most common cause is incorrect SSL certificate configuration on the server site. You would see the error code: SSL_ERROR_RX_RECORD_TOO_LONG message when you load your website.
This means that the browser cannot verify the secure data, which is usually due to an incorrectly configured SSL certificate.
When this happens, a Secure Connection Failed tab appears with the error code SSL_ERROR_RX_RECORD_TOO_LONG. This can be a major issue, and here are some other issues that users have reported:
SSL_ERROR_RX_RECORD_TOO_LONG when accessing websites and social media – If you see this message while visiting your favorite websites, be sure to try some of our solutions.
SSL_ERROR_RX_RECORD_TOO_LONG when using Windows 10/11 – This error can occur on any Windows version. Even if you're running Windows 7 or 8.1, you should give some of our solutions a shot because they're fully compatible with all versions of Windows.
SSL_ERROR_RX_RECORD_TOO_LONG when using Kaspersky – According to users, this issue can be caused by your antivirus. Many people claimed that Kaspersky was to blame, but if you don't use Kaspersky, try disabling your antivirus and see if that helps.
SSL_ERROR_RX_RECORD_TOO_LONG when using VPN – If your proxy is not properly configured, it can cause this issue. Check the proxy configuration or use a VPN to resolve the issue.
This occurs when Firefox is unable to establish a secure connection to the website you are attempting to access. Though you can ignore the Firefox SSL_ERROR_RX_RECORD_TOO_LONG error and hit the Try again button a few times in the hopes that it will fix the problem, it is much easier to identify and eliminate the underlying cause. To find out, read the sections below.
What Is the SSL_ERROR_RX_RECORD_TOO_LONG Firefox Error?
When you encounter this error, you will receive an error message similar to the ones below:
An error occurred during a connection to xyz.com. SSL received a record that exceeded the maximum permissible length. Error code: SSL_ERROR_RX_RECORD_TOO_LONG
The page you are trying to view cannot be shown because the authenticity of the received data could not be verified.
Please contact the website owner to inform them of this problem.
The error message itself states that the received data's authenticity could not be verified and indicates a security issue, most likely at the server's end, which prevents you from accessing it.
Because the underlying cause is not specified, this error message, which is limited to Firefox, is best understood by the website's administrator.
This is a server-side error which means the only option for a website visitor is to ignore the error or force the browser to trust and open the website temporarily. Only the owner of a website can provide a permanent solution to this problem.
This server-side error occurs only in Firefox. However, switching to another browser will only result in a slightly different error message.
The problem is caused by a misconfigured SSL/TLS certificate. If you own a website, the error code: SSL_ERROR_RX_RECORD_TOO_LONG indicates that you have not properly configured your TLS/SSL certificate. Please continue reading to see the solution for the website owner.
If you're the website owner, you can confirm the issue by using this OpenSSL command:
openssl s_client -connect domain.tld:*port*
You should get the following output if the error has been confirmed:
error:140770FC:SSL routines:SSL23_GET_SERVER_HELLO:unknown protocol:s23_clnt.c:766:
It means the connection was successful, but the handshake failed because there was no configured SSL certificate for the port, and the connection was terminated. Please see the article for the best SSL_ERROR_RX_RECORD_TOO_LONG solution.
What Causes the Firefox SSL_ERROR_RX_RECORD_TOO_LONG Issue?
The SSL_ERROR_RX_RECORD_TOO_LONG message from Firefox is usually caused by a server misconfiguration. Contrary to what many of these guides claim, there isn't usually much a regular internet user can do to resolve the SSL_ERROR_RX_RECORD_TOO_LONG message. The majority of the advice is hazardous. It requests that the user change something to accommodate what is, in reality, poor security on the part of the website he/she is attempting to visit.
Let's start with the two most common server-side causes of the SSL_ERROR_RX_RECORD_TOO_LONG message:
You have an incorrectly configured listening port – If you want your website to establish secure connections, you must configure it to use Port 443.
You do not support an adequate TLS version – This issue arose several years ago with the introduction of TLS 1.2 and is resurfacing with TLS 1.3.
The vast majority of the time, the SSL_ERROR_RX_RECORD_TOO_LONG message is caused by one of these two server-side issues. Let's go over how to fix both of these, followed by some possible other client-side fixes—as well as what not to do on the client side.
How to Fix SSL_ERROR_RX_RECORD_TOO_LONG Firefox Error
Before you proceed with the solutions below, make sure to run an optimizer like Outbyte PC Repair to get rid of bugs and other issues that might complicate the problem.
If you use Mozilla Firefox, here's how to easily resolve the SSL_ERROR_RX_RECORD_TOO_LONG error and access your website.
Fix #1: Upgrade the TLS version.
You must look for the TLS version and upgrade the SSL/TLS library. TLS 1.3 is already active in most major browsers, and many servers have begun to upgrade.
So, what steps should you take to improve TLS version support? You'll need to update your SSL/TLS library. The OpenSSL library, which was updated to 1.1.1 and now supports TLS 1.3, is used by the vast majority of servers and systems.
If you are unable to support TLS 1.3 for whatever reason, ensure that you support TLS 1.2. TLS 1.0 and SSL 3.0 support should now be completely deprecated, and disabling TLS 1.1 is also strongly advised. So, to summarize:
Add TLS 1.3 support as soon as possible.
At the very least, ensure that you support TLS 1.2.
Turn off support for SSL 3.0, TLS 1.0, and (strongly recommended) TLS 1.1.
Upgrading OpenSSL will differ from server to server, but there is plenty of documentation to assist you.
Fix #2: Uninstall Firefox extensions.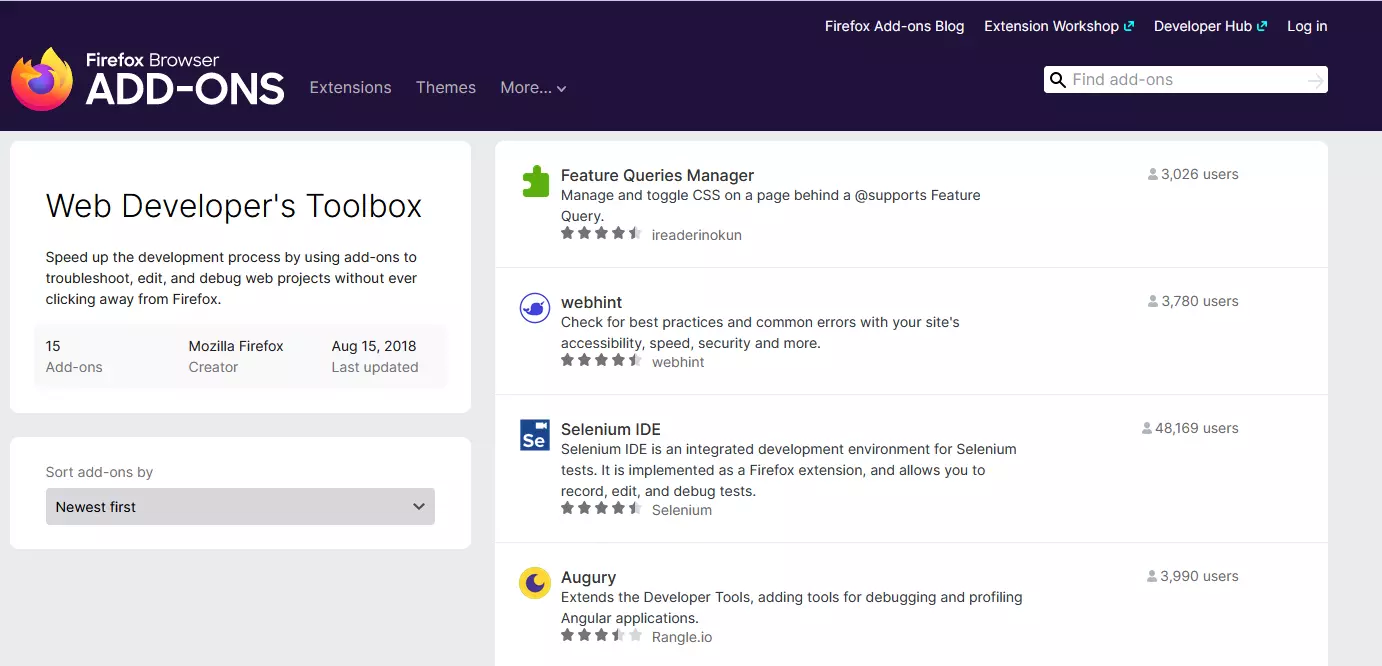 Extensions are software modules that enable one or more browser functions. If you downloaded one that is incompatible, the browser's overall performance may suffer. As a result, the SSL_ERROR_RX_RECORD_TOO_LONG error may occur. Uninstalling Mozilla Firefox extensions from your website may solve the problem.
To uninstall Extensions, follow the steps outlined below.
To access the main menu, click on the three horizontal lines in the upper right-hand corner.
From the dropdown menu, select Add-ons.
You can also access the add-ons page by pressing Ctrl+Shift+A while the Mozilla Firefox window is open.
To remove an extension, click the three dots next to the Extension name and then click 'Disable.'
Finally, navigate to 'Help' and click on it from the main menu.
Locate and select the 'Restart with add-ons disabled' option from the available options.
Fix #3: Clear the browser cache.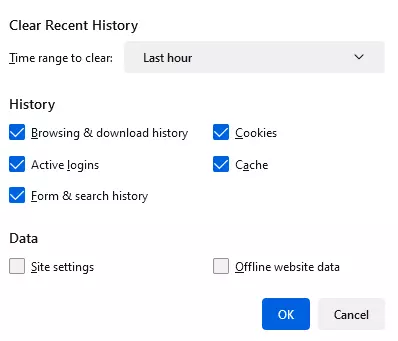 The first step in resolving this error should be to clear your browser cache. It's possible that the error is caused by outdated or corrupted cached data in your Firefox browser. As a result, if the scenario applies, you can try clearing the cache in your Firefox browser to see if the SSL_ERROR_RX_RECORD_TOO_LONG error is resolved.
To clear the browser cache and cookies in Mozilla Firefox, follow the steps below:
To begin, open your Firefox browser and select the three-bar menu button in the top-right corner.
Now, tap on the History option, followed by Clear recent history.
Next, select Everything as the Time range to delete browsing data.
Then, check the Cache, Cookies, and other checkboxes to clear the relevant data.
Then, to delete the browser cache and cookies, click the OK.
Finally, reopen your Firefox browser to see if the error has been resolved.
If the error persists, you will need to try some advanced fixes to resolve it. So, proceed to the next possible solution to eliminate the error.
Fix #4: Edit your TLS preference.

You can experiment with changing your TLS preference by manually configuring the TLS Version acceptance level. It is possible that the certificate for the website you are attempting to access is compatible with an earlier TLS version, such as TLS 1.1 or TLS 1.2. However, Mozilla Firefox only accepts the most recent TLS version, TLS 1.3, by default. To resolve this error message, you can modify your TLS preference by configuring the TLS acceptance level.
Here's how you can go about it:
To begin, launch Firefox and type "about:config" into the address bar.
Now, on the newly opened page, click Accept the Risk and Proceed
Then, to see all of the search results, click the Show All
In the search results, look fortls.version.max. You can also look for it by typing security.tls.version.max into the search box.
Then, click the edit button next to it and ensure that the value is set to 3 or 4.
Locate and double-click tls.version.min.
Then, change its value to 1 and save the changes.
You can now visit the problematic website to see if the error has been resolved.
Fix #5: Update Firefox.
Updating your browser on a regular basis is critical because the developers may have fixed the bug for you. So, check to see if your Mozilla Firefox is up to date; if not, you can easily update it by following the steps outlined below.
To access the menu, click the three horizontal lines in the upper right-hand corner of your browser.
Navigate to the 'Help' menu item.
Next, click on 'About Firefox,' and you will see the image below if it has already been updated; otherwise, Mozilla will begin looking for updates automatically.
Fix #6: Check the proxy settings.
This error message in Firefox could be caused by a misconfigured proxy setting on your computer. You can test this by turning off your proxy settings in Firefox. You can try the following steps:
To begin, launch Firefox and navigate to the three-bar menu.
Now, select Settings and navigate to the General
Next, scroll down to the bottom of the General tab to find the Network Settings section and click the Settings
After that, select No Proxy and check to see if the problem has been resolved.
If disabling proxy settings in Firefox resolves the error, you can be certain that a misconfigured proxy was the root cause. You can try correctly configuring a proxy. However, if you lack the necessary expertise, we would advise against tampering with the proxy configurations.
Other Solutions to Resolve SSL_ERROR_RX_RECORD_TOO_LONG Error
Here are a few more pieces of non-harmful advice that may help you resolve Firefox's SSL_ERROR_RX_RECORD_TOO_LONG message. They probably won't because most of them don't address the root cause of the problem, but give them a shot because who knows?
Try browsing in Incognito mode – We mentioned this earlier, but it can sometimes resolve the issue.
Attempt to use a VPN – While this may work in some cases, it is not a foolproof solution.
Contact the site owner – If you are not the site owner, you should notify him or her of the Firefox SSL_ERROR_RX_RECORD_TOO_LONG error. As previously stated, this is almost always the result of a server-side error and is not something that a regular internet user can resolve.
What Not to Do
Now, let's go over some things you should never do if you're a Firefox user experiencing the SSL_ERROR_RX_RECORD_TOO_LONG error message. Many of these are simply bad advice, and even if they did solve your problem, they would also open up a slew of new attack vectors. You almost have to ask yourself if visiting this site is worth the risk of infecting your computer or worse. Almost always, the answer is no.
So here are a few examples of what NOT to do:
Don't switch to HTTP.
There's a reason Google is putting pressure on the entire internet to migrate to HTTPS. HTTP has faithfully served the internet for nearly two decades, but it was never intended for secure data transmission. HTTP was created at a time when commercial activity was prohibited and the internet was only used to share information between the government and academia. HTTPS arose out of necessity when commercial activity was eventually integrated into the internet.
HTTP is now the industry standard. The standard. Your communication with websites should be encrypted as a matter of course. If this is the only way to get to a website, that's a warning sign.
Don't Turn off your Antivirus.
This is yet another piece of terrible advice. First and foremost, if your antivirus is conflicting with your Firefox browser, it's because it's been misconfigured, and you – or someone with the means – should investigate. However, simply turning it off is illogical advice.
Wrapping Up
To resolve the SSL_ERROR_RX_RECORD_TOO_LONG error in Firefox, affected users should clear their browser cache, disable Firefox add-ons, update their browser, disable proxy, and so on. However, because this issue is caused by a server misconfiguration, the website owner should upgrade to a reliable SSL certificate.
Give us some love and rate our post!