Windows Update issues are a fairly regularly occurrence for computer users, with different update error codes linked to totally different causes and solutions. Microsoft has been dealing with plenty of these issues since releasing Windows 10/11 update.
The error code 0x80073701 usually crops up when users download Windows 10 version 1607 and then try to install KB3206632 or KB3213986 updates for x64-based systems.
Here is a quick guide to navigating this problem and learning how to fix the 0x80073701 error.
What Is Windows Update Error Code 0x80073701?
This error has been linked to file damage in your Windows system, with the corrupted system file entries posing a real threat to the well-being of your machine. There are several events that can lead to system file errors, such as an incomplete installation, a partial uninstall, and improper deletion of apps or hardware.
Error 0x80073701 is ERROR_SXS_ASSEMBLY_MISSING, which means there are some system files that are missing, causing the update installation failure.
The particular 0x80073701 errors leads to several issues, including:
Slow computer performance
Unexpected system restart
Automatic shutdown
Severe data loss
Blue Screen of Death (BSOD), and
Different issues tied to Windows update installation
According to Microsoft, this error doesn't result in severe system issues like software or hardware incompatibilities, registry corruption or hack, malware infection, or similar serious breaches. It's yet to announce, however, the official solution to this error.
How to Fix Error 0x80073701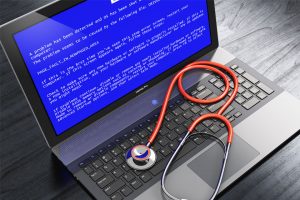 There are a number of handy solutions that you can try before you seek desperate measures, such as going for a fresh new installation of Windows 10/11. Here are some of them:
Running the Windows Update Troubleshooter – Windows features quite a few built-in troubleshooters, which can help fix some of its common issues. Here are steps to follow:

Open the Settings app by clicking on the Start menu located at the bottom left section of your screen and the gear icon above it.
Open Update & Security. Navigate to the Troubleshoot menu afterwards.
Click on the Windows Update troubleshooter option. Follow the on-screen instructions to identify if there's something wrong with Windows Update services as well as processes.
Once the troubleshooter is done, proceed to the Troubleshoot tab in the Setting apps once again. Open the Internet Connections
Restart your machine and try to update it again.
Ensure that the process works smoothly by disconnecting all peripheral devices except for the keyboard and mouse. Especially during updating, some device can make your system freeze or slow down.
Resetting Windows Update – Complete the steps below:

Press Windows key + X. Select Command Prompt (Admin).
Disable BITS, Cryptographic, MSI Installer,and the Windows Update Services by typing the following commands in the Command Prompt window and pressing Enter after each one:

net stop wuauserv
net stop cryptSvc
net stop bits
net stop msiserver

Rename the SoftwareDistributionand Catroot2 folders by typing the following commands and pressing Enter after every one:

ren C:\\Windows\\SoftwareDistribution SoftwareDistribution.old
ren C:\\Windows\\System32\\catroot2 Catroot2.old

It's time to enable BITS, Cryptographic, MSI Installerand the Windows Update Services, which you disabled earlier. Perform this by inputting these commands and hitting Enter after each one:

net stop wuauserv
net stop cryptSvc
net stop bits
net stop msiserver

Close Command Prompt now and restart your computer.
Checking the Windows Date and Time Settings – These can cause issues if they are left under the wrong value, so follow the instructions below to reset the date and time:

Right-click Windows key. Select Control Panel.
Select the option Clock, Language, and Region.
Click Change settings.
Afterwards, mark Synchronize with an Internet time server. Click on Update now.
Hit OK and close everything. Reboot your computer.
Downloading and Installing the Update KB3081440 – Go to the official Microsoft website and download the update from this link. Doing so will automatically remove remnants of Make sure, though, to select the update supporting your type of OS, whether 32-bit to 64-bit.
Running the System Update Readiness Tool – Resolve the error by following these steps:

Run the exe tool.
Run System File Checker. From the command line, run the sfc /scannow command.
Examine the language packs installed on the system, and then uninstall the unnecessary ones.
Review the cbs logs. Uninstall the patches that were missing assemblies. Reboot the server.
Reinstall Service Pack 1.
What To Do Now
Whether you're a novice or an advanced computer user, one of the solutions we outlined above just might work for you.
Remember that whether you encounter error code 0x80073701 or not, it's important to get your computer running fast and smooth at all times, and finding and fixing what's causing speed and stability problems on it. A safe, high-quality PC repair tool does the job for you.
What worked well in your case? Hit us up in the comments!
Give us some love and rate our post!