Total downloads: 3.100.000+
Compatibility: Win 10, 8, 7
Download Size: 19 MB
Download time: 5sec, dialup: 3min
Requirements: 300 MHz Processor, 256 MB RAM, 50 MB HDD
Software developer: Outbyte Computing Ltd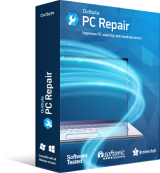 Optimize Your Computer
Outbyte PC Repair is an optimization tool designed for computers running the Windows operating system. It can help stabilize the OS, optimize its settings, and get rid of junk from inside the system. This tool was created by Outbyte Computing Pty LTD, along with other tools like driver updaters, Mac optimizers, and others. The utility was built to streamline the process of maintaining your computer. Instead of manually tweaking certain settings that users may or may not be familiar with, a single click with the app click can initiate a full scan of the PC and fix the issues identified. Outbyte PC Repair's Power Tools are designed to boost your computer's speed, privacy, and battery. Let's look at the main features of this utility.
Resolve PC Errors
PC Repair has the ability to fix the most common PC issues to keep your computer's peak performance and prevent sudden breakdowns. Invalid redirects, shared dll errors, and system malfunctions are some of the issues that PC Repair automatically fixes to restore system efficiency and stability. This way, you don't have to worry about various errors popping up when you're using your computer.
Boost Performance
If you want your computer to run fast and smooth all the time, then Outbyte PC Repair can help you squeeze every bit of extra juice out of your PC. You can see a quick performance overview of your PC in one dashboard so you know how every component is working. You can check the CPU load and speed, the amount of available RAM, and even your hard drive's write and read speeds.
Enjoy Privacy Protection
Most websites use tracking cookies to spy on your activity, so they can deliver targeted ads to your computer. Companies often sell the info they gathered to marketers, ad agencies, and other third parties. PC Repair can help protect your information by deleting all of the tracking cookies in a single click. The tool also alerts the user to potentially dangerous websites. It also has a real-time privacy feature that lets you control the privacy of your data. The tool disables your PC's telemetry features and automatically cleans older browser history and cookies.
Clean Up Disk Space
Your hard drive can get bogged down by unused temporary or cached files over years of use. These files can sit there over time and pile up into multiple gigabytes. PC Repair helps you identify and delete these files from your hard drive so you can claim back precious storage space on your PC.
Remember!
If you are having trouble installing Outbyte PC Repair on your computer, here are some things you need to check:
Double-check your internet connection to make sure you can connect to our server.
Disable your security software or Firewall temporarily because it might be conflicting with the installation of Outbyte PC Repair. Don't forget to turn it back on once successful.
Disable Windows Firewall temporarily while installing the Antivirus. Don't forget to turn it back on once successful.
Re-download the installer to make sure it is not corrupted.